Control PMSM by iMX RT1052 som FET1052-C system on module
Motor control and precision control are new requriements of some applications, to have the device worked in optimized condition, improving motor controlling technology is critical. Thus it BLDC and PMSM are more efficient alternative solutions by manufactuers facing with the challenge.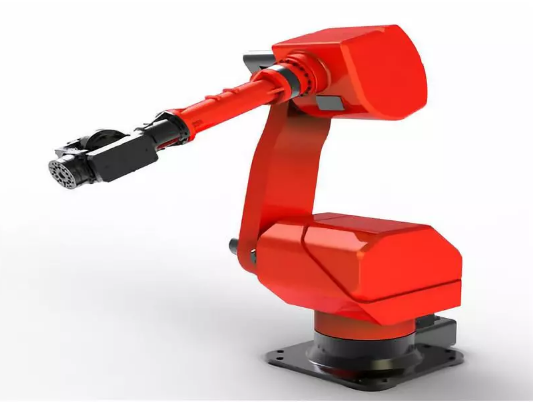 In resent years, digital control AC sever system which takes PMSM as controlling target has gradually replaced DC sever system and analog AC server system. Digital AC sever system based
on vector control can help improving controlling performance.
By NXP i.MX RT1052 processor, can control AC motor movement, speed and armature current precisely. It's a cross-over processor with low power effcient but high performancemm.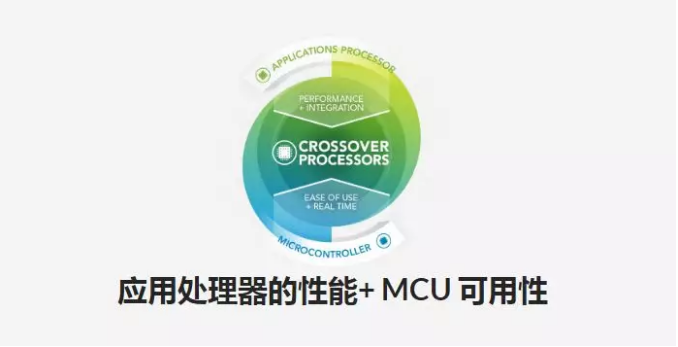 FET1052-C SoM Features
Fast response and low latency
■ Cortex-M7 architecture, frequency 528MHz, CoreMark 3020 /1284 DMIPS;
■ 512KB TCM, latency as low as 20ns;
■ Low power consumption, integrated with DC-DC converter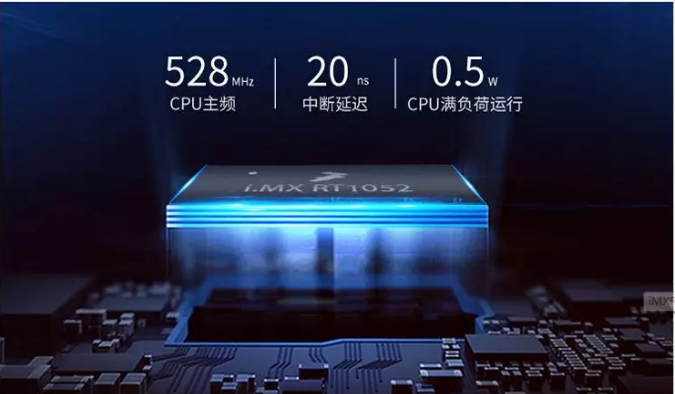 High scalability
■ SoM can support up to 124 GPIO, also LCD, Camera, USB, UART, CAN, Ethernet and PWM.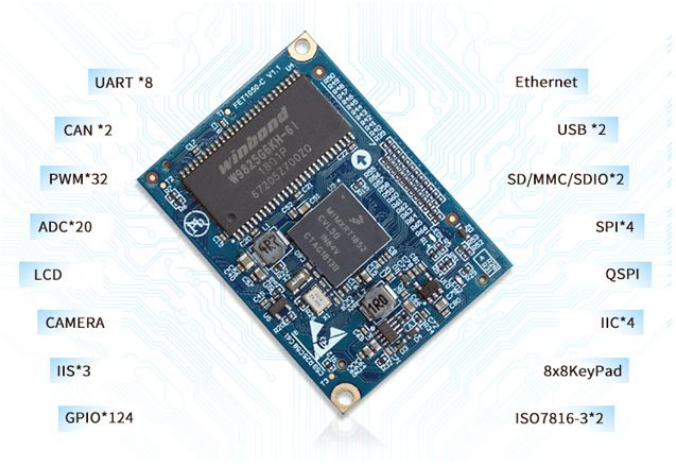 High security
■ HAB with QSPIFlash, 128-bit AES and random number generator, circuit designing in full consideration of signal integrity and good electrica. Industrial grade working temperature width ranges
from -40 to 85℃ allow the device can work well in tough environment condition.
Solution details based on FET1052-C
PMSMs diagram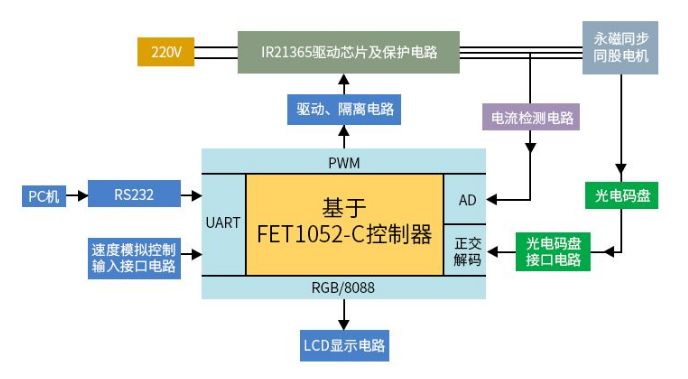 ■ RS232 for PC and FET1052-C communication voltage converting;
■ Speed analog control input circuit for speed controlling signal by analog input;
■ LCD for speed displaying and HMI operating;
■ Optical encoder circuit for connection between optical encoder and i.MX RT1052;
■ Current detection circuit for U and V current detecting;
■ Drive and isolation circuit to isolate converter
Current detection circuit
i.MXRT1052 can support two high-accurate AD controllers and each can support up to 16 channels.
Up to 12-bit l inear successive approximation algorithm with sampling rate 1MS/s,
分辨率的线性逐次逼近算法,1MS/S的采样速率,支持中断与轮训方式采样,可实现对电机的三相电压采样,无需进行相位补偿。但由于是单极性,所以对交流采样时要加提升电路,使交流信号电压范围在0V~3.3V之间。本方案中使用了3路A/D转换输入,分别为2路电流检测和1路模拟信号输入采样。电流检测就是把交流电机的两相定子电流转换成相应的二进制代码,以方便处理。 因为本系统是三相平衡系统IA+IB+IC=0,因此只要检测其中两路电流,就可以得到三相电流。 由于霍尔元件输出的是弱电流信号,因此,应将该电流信号转换成电压信号,然后经过滤波加法处理,由于霍尔电流传感器的输出的是有正负方向的电流信号,而i.MXRT1052片内A/D转换器为单极性输入为0~3.3V的电压信号,因此要有电压偏移电路。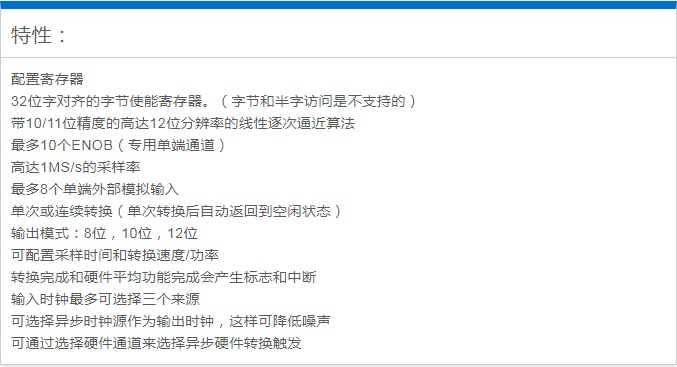 Photoelectric coder光电码盘接口电路
i.MXRT1052 can support four ENC. 支持四路正交解码器(ENC),利用来自位置/速度传感器的5个输入信号(PHASEA,PHASEB,INDEX,TRIGGER和HOME),正交解码器模块对轴位置,转数和速度进行解码,正交编码脉冲电路可用于连接光电编码器,以获得旋转机械的位置和速率等信息。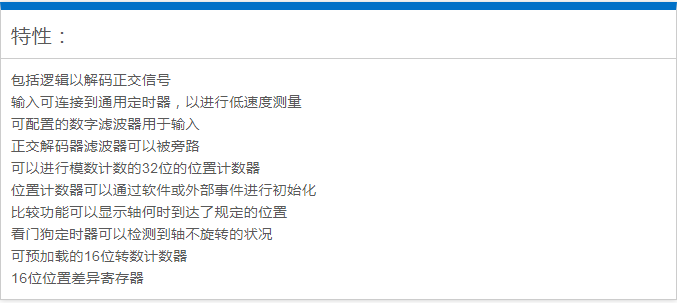 驱动隔离电路
可使用由IR公司所生产的IR2132来驱动G4PH50UD-E(IGBT),构建成三相逆变器。因为i.MXRT1052所产生的PWM波形频率比较高,用一般的低速光耦会使得驱动电路的开关时间变长,在低速,小负载时会严重影响到电机的低速性能,所以可选用高速光耦,有效提高逆变器的快速性。
i.MXRT1052最高支持32路PWM输出,包含PWM子模块,每个子模块都设计为控制单个半桥功率级。提供故障通道支持。该PWM模块可以产生各种开关模式,包括高度的复杂的波形。 支持控制所有已知的电机类型,也是控制不同开关模式电源(SMPS)拓扑的理想选择。

RS232通讯、显示电路
i.MXRT1052最高支持8路UART、2路CAN接口,方便扩展其他功能应用;支持8/16/24位LCD接口,支持最大1366×768分辨率,支持4.3、7寸电阻触摸,支持8/16-bitMPU/8080接口。支持2D图形加速引擎,支持emWIN图形界面; 飞凌嵌入式OK1052-C开发板支持裸机、FreeRTOS、ucLinux操作系统开发,方便客户不同场合的产品应用。
MCU模式支持Keil、IAR、 ARM-GCC等编译器,同时还支持Amazon FreeRTOS、SDK、ARM mbed以及软件库、在线工具和相应支持的全球ARM生态系统来实现快速原型制作和开发。 MPU模式依然采用工程师最为熟悉的Ubuntu+GCC开发方式。
三、FET1052-C核心板分为两种配置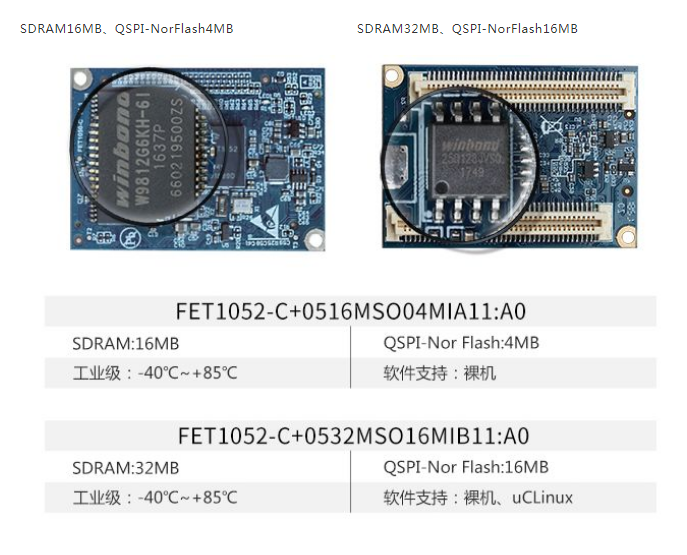 本次方案充分展示了FET1052-C在电机控制方面突出的性能优势以及接口丰富程度,两个PMSM电机控制方案可以参考发布在NXP官网的应用笔记AN12200(Dual FOC Servo Motor Control on i.MXRT)。