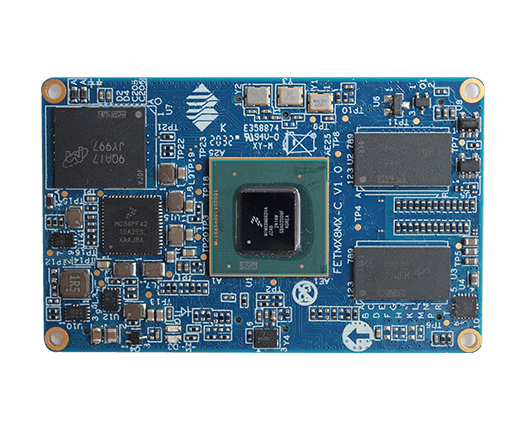 ▊ Spec.
---
Overview of FETMX8MQ-C System on Module
CPU
NXP i.MX8MQ
Architecture
quad-core Cortex-A53+Cortex-M4
Frequency
1.3GHz
RAM
2GB
ROM
8GB
Working temp width
-40℃~ +85℃
Dimensions
40mm*64mm
Package
ultra think board-to-board connector
Voltage input
12V
OS
Linux5.4.3+QT5.13.2, Android TBD
FETMX8MQ-C System on Module Peripheral Source
Peripheral
QTY
Spec .
USB
2
CPU has 2 PHY intergrated USB 3.0 / 2.0 controllers; can support Super-speed(5Gbit/s), high-speed(480Mbit/s),full-speed(12Mbit/s) and low-speed(1.5Mbit/s)
PCIe
2
PCIe 2.0
MIPI_CSI
2
each lane can support high speed mode(80Mbps – 1.5Gbps), 4lane can support 4K@30fps
MIPI_DSI
1
up to 1920x1080@60Hz
HDMI
1
HDMI 2.0a up to 4096x2160@60Hz
Ethernet
1
RGMII, carrier board carries AR8031 available for 1000M/100M/10M Ethernet auto-negotiation
SD
1
can support both 1-bit/4-bit SD and SDIO: SDR104 mode with 4 parallel lanes,

, can support SDIO device or SDXC card transmission rate up to

832 Mbps; DDR50 mode  with 4 parallel lanes, can support SDIO device or SDXC card transmission rate up to 400 Mbps.
UART
≤4
4 UART can be configured to 5-wire serial, can support baud rate up to 4Mbit/s. One can be used as A53 debug port,  one can be used as M4 debug port. Users can expand UART by USB or SPI.
SPI
≤3
ECSPI contains a 64 x 32 RXFIFO and a 64 x 32 TXFIFO, tranferring rate up to 52Mbit/s
I2C
≤3
in standard mode, it can support up to 100Kbit/s; in fast speed mode, it can support up to 400Kbit/s
SAI
≤5
available for I2S, AC97, TDM and Codec/DSP; 5 SAI: 1 16TX and 16 Rx SAI; 1 8 TX and 8 RX SAI; 3 SAI with 2 Tx and 2 Rx
SPDIF
1
S/PDIF input/output
PWM
≤4
16-bit increment counter; 12-bit prescaler for clock frequency deviding; can support audio and melody generating; can support configure output with high voltage valid or low voltage vaild
Parallel bus
1
8-bit NAND Flash, contains supporting to Raw MLC / SLC, up to 62-bit BCH ECC and ONFi3.2 compatibility; clock rate up to 100 MHz, data rate up to 200 MB / sec
QSPI
≤2
single data rate/ dual data rate operating mode
▊ How to buy
---
Payment term: 100% payment in advance no matter sample orders or bulk purchasing orders.
1. Order Online
We have an online store on Alibaba, please contact us to start ordering
2. Western Union
Tell us which item and model you want to order, and we will send you a PI with Western Union account.
3. Bank Transfer(T/ T)
Tell us model and quantity, and we'll send you a PI with our company's bank account for payment.
▊ Shipment
---
Payment term: 100% in advance
1. Delivery: Goods will be sent out by express as requested
2. Lead time: generally, goods could be sent out within five working days for a sample order, for a bulk requirement order, please contact us to check stock status and estimated delivery time.
3. Shipping charge: buyers should bear related shipping cost.
▊ Recommended single board computer(SBC)
---