How Do 5G Smart Gateway 3.0 Make A Firmware Upgrade?
This article to Forlinx embedded 5G intelligent gateway 3.0 (FCU2303) platform, this article mainly introduces the 5G intelligent gateway how to carry out system firmware updates, other models of gateway product testing may be slightly different, only for reference use.
Introduction
The 5G Smart Gateway 3.0 (FCU2303-1046A Embedded Control Unit) is based on NXP's LS1046A quad-core processor design with a main frequency of up to 1.8GHz and an ARM Cortex-A72 architecture. Native support for 8 Gbit Ethernet, PCIe, USB 3.0, RS485 and other functional interfaces, support for Ubuntu operating system, size 231.9 x 53 x 155mm.
Features:
4-core ARM Cortex-A72 processor with up to 1.8GHz 2GB DDR4 RAM, data throughput up to 2.1GT/s, performance up to 45000 CoreMark scores;
Fanless design, more stable system operation, better temperature control, shell sealing is stronger, adapt to more environmental conditions.
m.2 Type 2230 interface, i.e. E KEY standard interface, the default external INTEL 3168NGW WIFI module;
The m.2 Type 2280 interface, or M KEY standard interface, can extend unlimited space by attaching the NVME protocol's PCIE hard drive;
Native support for 8 gigabit Ethernet interfaces;
The Hardware Data Path Acceleration Architecture (DPAA) supports packet resolution, classification, and distribution (FMan), queue management (QMan) for scheduling, packet sorting, and congestion management, and hardware buffer management (BMan) for buffer allocation and de-allocation. The software layer supports a complete DPDK environment, as well as OVS-DPDK for high-performance packet processing in network applications;
The use of high-speed COM Express board-to-board connector, transmission rate of up to 10GHz, for high-speed function interface to provide guaranteed COM Express Mini Type 10 compatible design, the core board can be flexible interchangeable;
Ubuntu 18.04.1 LTS system with rich third-party applications and plug-ins for user development.
Application areas
Suitable for industrial routers, edge computing gateways, IP-PBX, and other products, as well as edge computing, energy Internet of Things, smart cities, industrial automation, video surveillance, and other applications.
System firmware updates
The 5G Smart Gateway 3.0 (FCU2303) platform can use a USB drive to burn the file system into the eMMC or to update Firmware in QSPI Flash. Provided that Uboot starts normally, the burn update system requires a FAT32 format U disk storage burn mirror, the USB stick file description is as follows:
Please use a regular genuine USB stick, the first partition of the USB stick is FAT32 and greater than 4G.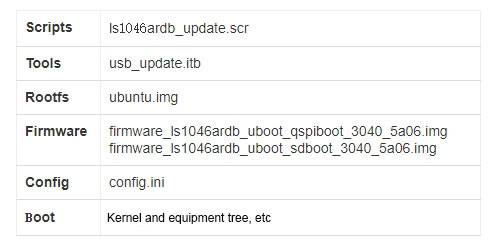 The USB stick FAT32 partition holds the following files:

Rootfs and Firmware can choose to place one or all of them. The config profile of config.ini is as follows:

The default configuration only updates the file system and kernel device tree when burning, and if you need to update QSPI Flash at the same time, modify the "qspiflash" field in the config.ini file to "true". Updating QSPI Flash is not recommended by default, and there is a risk of bricking if burning QSPI Flash fails.
Plug the USB drive into the USB port of the smart gateway and start the 5G smart gateway to enter the burn-out process. The complete burn-out print information is shown in the following image.
Related products: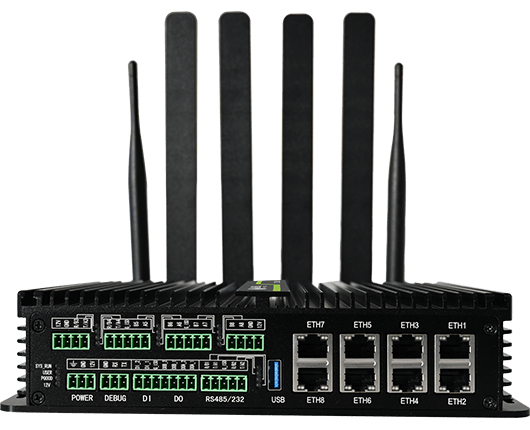 FCU2303 5G Gateway