Forlinx i.MX8M Plus Development Board Launch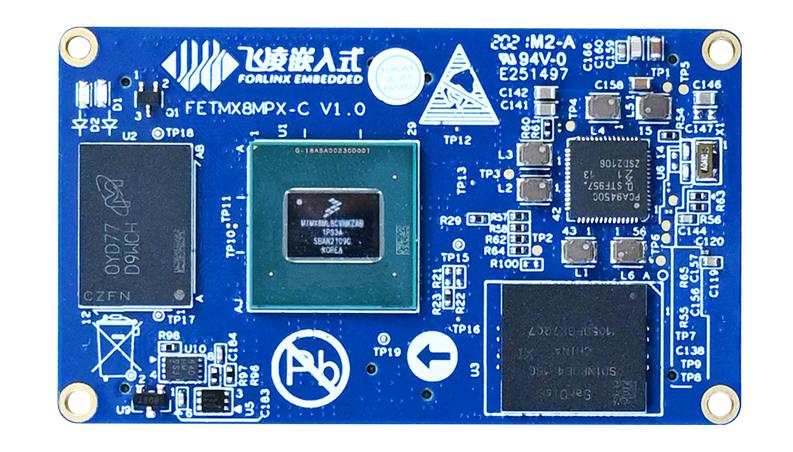 iMX8MP-C Arm Core Board
What is iMX8M?
i.MX8M is a heterogeneous application processor for edge intelligence and edge computing launched by NXP. Except high-performance CPUs, it also has powerful GPU, NPU, and ISP for high computing power and AI application.
This CPU is NXP i.MX8M series processor integrated with a dedicated neural processing engine (NPU), which can realize edge-end advanced machine learning inference in fields such as industry and the IoT.
OKMX8MP-C Development Board built by Forlinx based on this i.MX 8M Plus processor, besides inheriting the above CPU capabilities, we also integrate LPDDR4, eMMC, PMIC, and other key components on it, to form the smallest stand-alone operation system; Meanwhile, considering the different needs of low-cost basic applications and high-end NPU applications, DDR can choose 2GB, 4GB, 6GB, and 8GB versions;
Below, we will analyze the key advantages of this i.MX 8M Plus arm core board, to let you have a deeper understanding of it.
MACHINE LEARNING / AI
Machine Learning in industry and factory automation brings together the need to inspect, analyze and act on data at the edge. Adding intelligent vision-based systems opens up better methods for interacting with machines. The i.MX8M Plus applications processor integrates dual camera image signal processing acceleration and a neural net processor to accelerate machine learning at the edge. In addition, the SoC includes ECC and a TSN-enabled Ethernet controller for Industry 4.0.
IMAGE SIGNAL PROCESSOR (ISP)
The i.MX8M Plus includes capabilities for ML / AI inputs based on two-camera ISP and eight microphones creating a comprehensive ML solution. According to NXP, the integrated ISP brings real-time image processing to high-definition video and performs algorithms that extract the maximum image details in high-contrast scenery including various lens distortion correction.
INDUSTRIAL NETWORKS AND RELIABILITY
The new i.MX 8M Plus has critical industrial features such as dual CAN-FD interfaces, time-sensitive networking support with Ethernet and ECC. The i.MX 8M Plus processor is designed to support industry 4.0 applications through multiple high-speed interfaces, time-sensitive networking (TSN) capability, ethernet port supporting multiple data collection and gateway applications.
Another industrial advantage is real-time processing by an integrated Cortex-M7 processor that performs local, real-time control. This feature can eliminate the need for an external microcontroller for the system. High reliability is gained by the applying Error Correcting Code (ECC) in critical points of the system. The 14 nm FinFET process provides lower soft error rates while delivering high processing speed and low power consumption.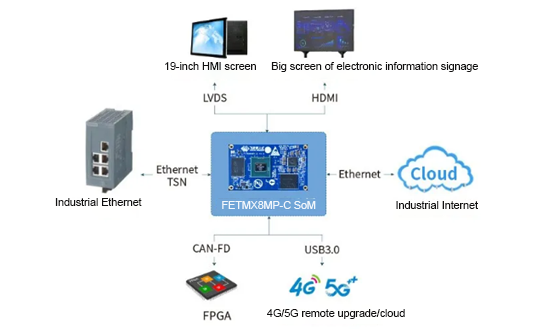 ADVANCED MULTIMEDIA
The i.MX 8M Plus processor features an H.265 video encoder efficient for live video streaming compression to the cloud, local storage, etc. A Video Processing Unit (VPU) efficiently encodes and decodes high-definition video. In addition, a variety of advanced graphical features are provided.
One of the main offerings, supporting increasing demand from the application side is the unique Voice solution. The processor can perform local voice processing tasks such as speaker and voice recognition at low power use and high-performance efficiency.

Related products: