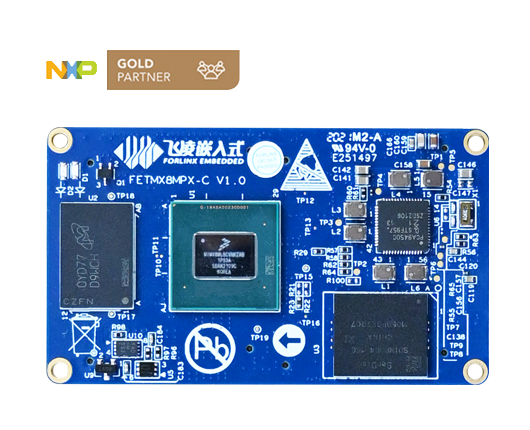 FETMX8MP-C System On Module (SoM) is based on the NXP i.MX 8M Plus processor. This processor focuses on machine learning and vision, advanced multimedia, and industrial automation with high reliability.
The scalable and size-optimized i.MX 8M Plus is the perfect basis for using all the i.MX 8M Plus functions in areas where intelligent and fast processing of multimedia data is required in the smallest of spaces. Be it in the smart home (home automation), the smart city (person/traffic monitoring), Industry 4.0 (intelligent robot control, HMI) or in IoT applications (edge computing).
The FETMX8MP-C system on module series have three models with different iMX8M processors. For the complete iMX8M product list, check out Forlinx's iMX8M System on Module product families.
Feature of i.MX 8M Plus SoM
Powerful quad-core or dual-core Arm® Cortex®-A53 processor at 1.6GHz, with a Neural Processing Unit (NPU) operating at up to 2.3 TOPS.
• Built-in image signal processor (ISP) and two camera inputs to create an effective advanced vision system.

• Multimedia functions include video encoding (including h.265) and decoding, 3D/2D graphics acceleration, and multiple audio and voice functions.

• Real-time control through Cortex-M7, powerful control network by dual CAN FD and dual Gigabit Ethernet, with time sensitive networking (TSN).

• 2 USB3.0, 1 PCIe3.0, 2 SDIO3.0, 2 CAN-FD, and other high-speed communication interfaces to meet 5G network, high-definition video, dual-band WIFI, high-speed industrial Ethernet, and other applications.
---
Industrial-grade system on module with high performance and low power consumption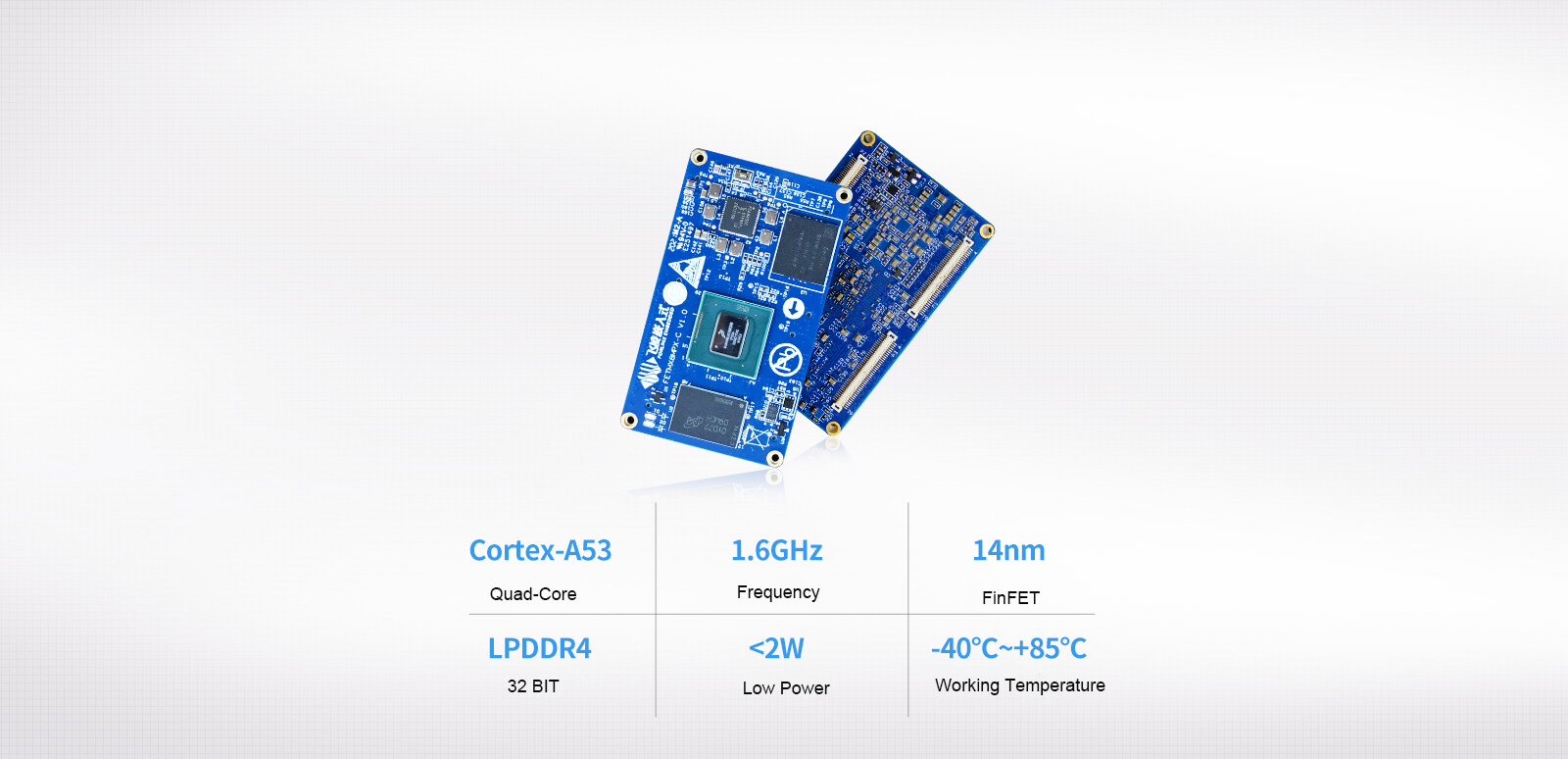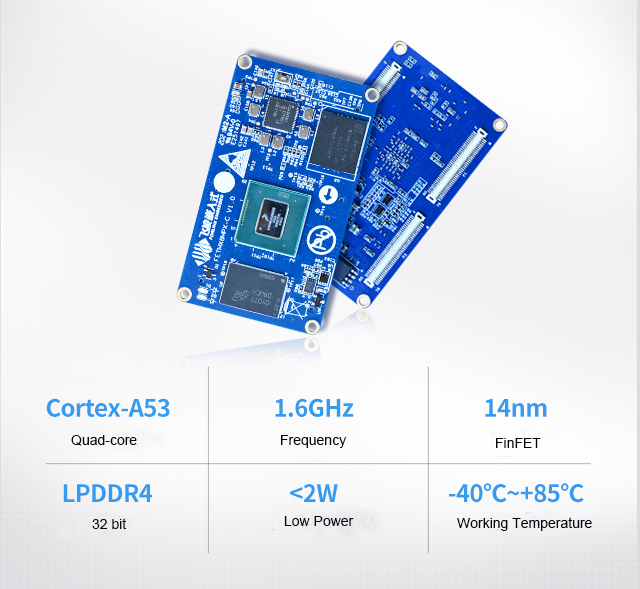 High-speed Communication Interface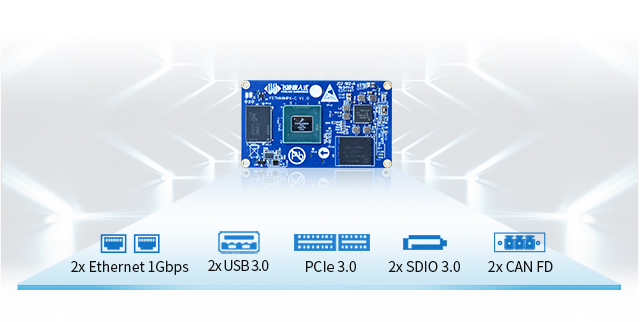 4K picture quality and HiFi voice experience
The HDMI interface supports up to 4K display output; it also has LVDS, MIPI-DSI display interfaces,
and can support three display interfaces, three screens with the same display, and three screens with different displays;
The latest audio technology, Cadence® Tensilica® HiFi 4 DSP @ 800 MHz, 6x I2S TDM, DSD512, S/PDIF Tx + Rx, 8-channel PDM microphone input, eARC, ASRC.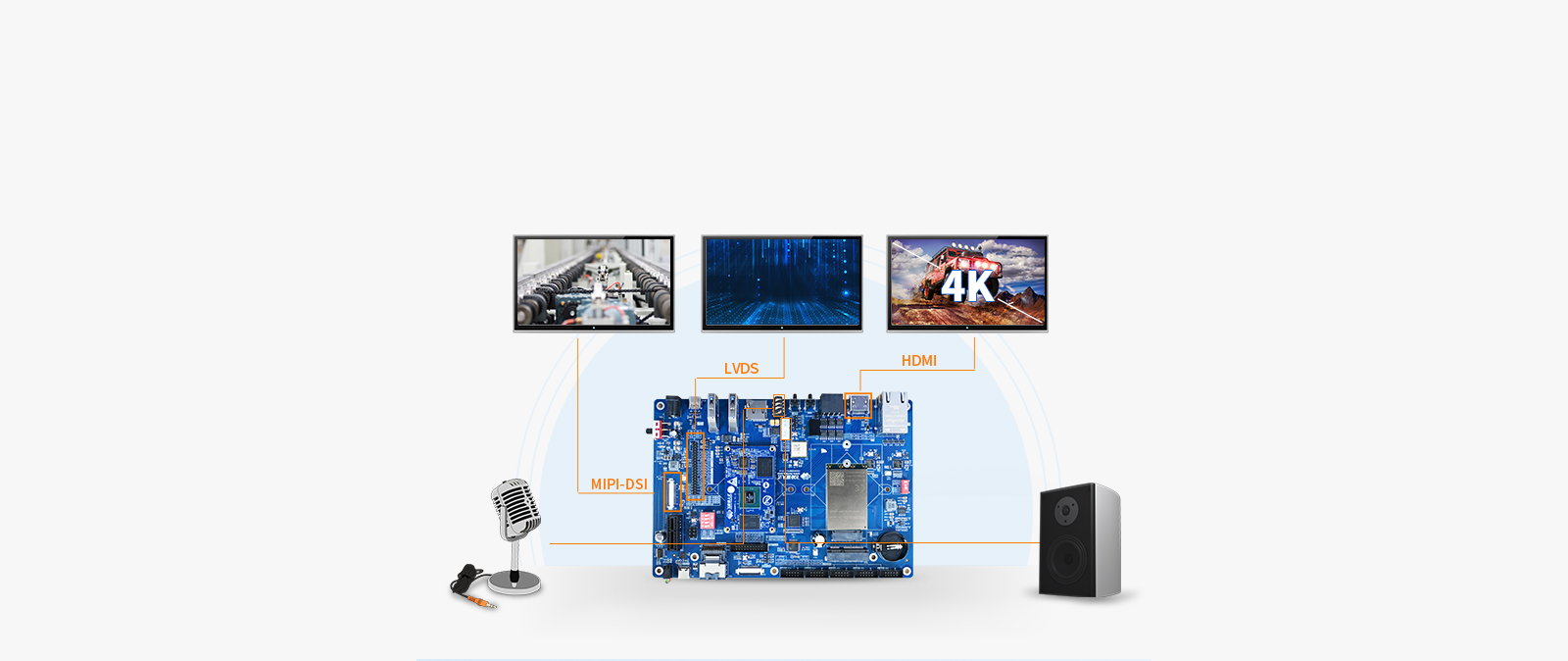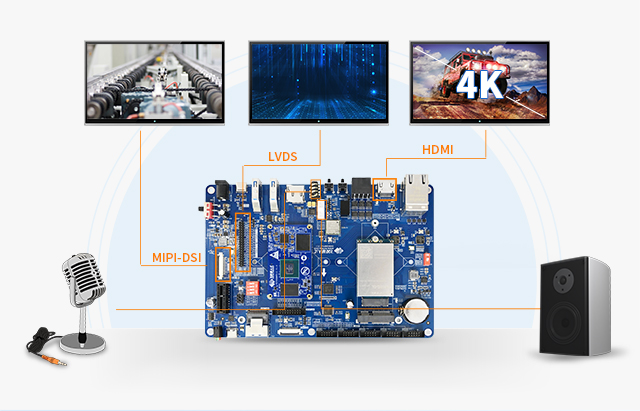 Advanced Multimedia Technology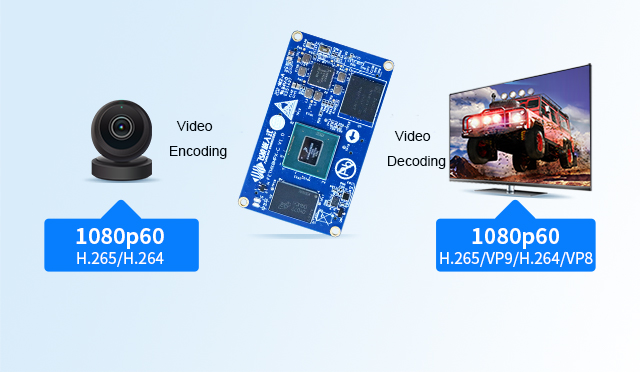 3D/2D Graphics Acceleration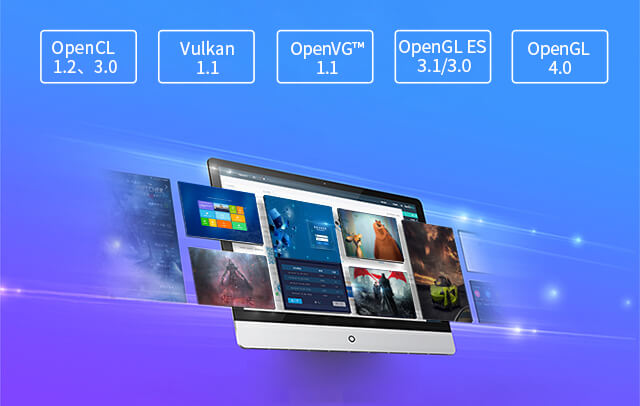 Machine Learning And Vision
Built-in NPU, AI computing capability 2.3TOPS, meeting the needs of lightweight edge computing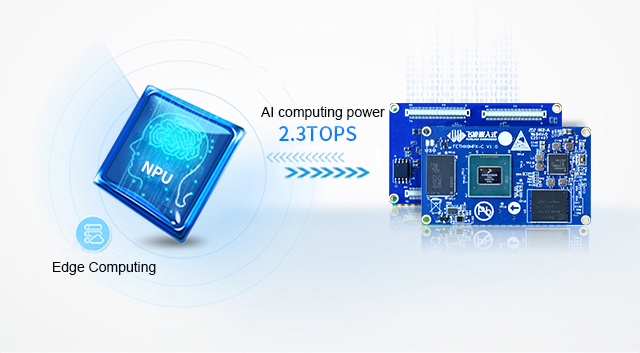 Built-in image signal processor (ISP)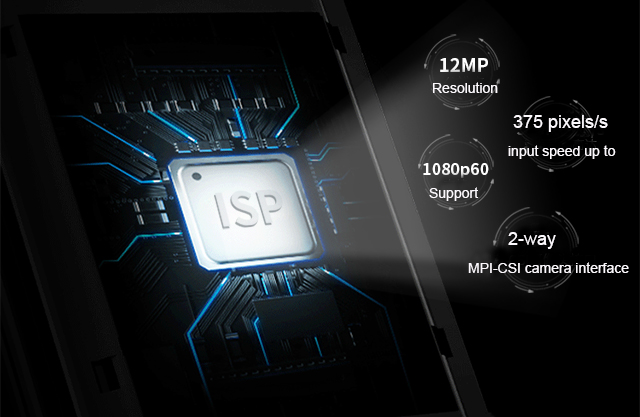 ▊ Product Video
---
OKMX8MP-C Single Board Computer Demo | iMX8M Plus NXP based
▊ Specifications
---
iMX8M Plus System On Module Basic Parameters

CPU
NXP i.MX 8M Plus
Architecture
Quad-Core Cortex-A53, Single-Core Cortex-M7
Frequency
1.6GHz
RAM
2GB/4GB/6GB/8GB LPDDR4(Standard 4GB)
Flash
16GB eMMC
OS Support
Linux5.4.70, Android11
Working Voltage
5V
Interface Mode
Ultra-thin board-to-board connector (4*80pin pitch 0.5mm)
Working Temperature
-40℃~+85℃
Size
62mm × 36mm, Thickness 1.6mm, 8-layer ENIG PCB
iMX8M Plus System On Module Function Parameters

Function
QTY
Parameters
USB
2

The CPU contains 2 USB 3.0/2.0 controllers with integrated PHY;

Host mode: Support Super-speed (5Gbit/s), high-speed (480Mbit/s), full-speed (12Mbit/s), low-speed (1.5Mbit/s).

Device mode: SS/HS/FS

PCIE
1
Support 1 PCI Express Gen3.
MIPI_CSI
2
Provides two 4-lane MIPI camera serial interfaces, which can work up to 1.5 Gbps.
MIPI_DSI
1

Provides a 4-lane MIPI display serial interface, which can work up to 1.5 Gbps.

• 1080 p60

• WUXGA (1920x1200) at 60 Hz

• 1920x1440 at 60 Hz

• UWHD (2560x1080) at 60 Hz

• WQHD (2560x1440) by reduced blanking mode

HDMI
1
Supports HDMI 2.0a display resolution up to 4Kp30Supports HDMI2.1 eARC
LVDS
1

Single channel (4 lanes) supports 720p60

Dual asynchronous channels (8 data, 2clocks) support 1920x1200p60

Ethernet
≤2
Ethernet ≤2 supports 2 RGMII interfaces, one of which supports TSN
SD
≤2
SD2, 4-bit, support 1.8/3.3V mode switching SD1, 8-bit, only support 1.8V mode
UART
≤4
The maximum baud rate supported is 4Mbps.
SPI
≤3
The maximum supported rate is 52Mbit/s, master-slave mode can be configured
I2C
≤5

The highest rate supported in standard mode is 100Kbit/s;

The highest rate supported in fast mode is 400Kbit/s.

CAN
≤2
The CAN FD protocol is used to implement the CAN communication controller, and the CAN protocol conforms to the CAN 2.0B protocol specification. (CAN FD requires CPU version support)
SAI
≤6
Synchronous Audio Interface (SAI), a full-duplex serial interface that supports frame synchronization, such as I2S, AC97, tdM, and codec/DSP interfaces.
SPDIF
≤1
A standard audio file transmission format, jointly developed by Sony and Philips.
PWM
≤4
With 16-bit counter;
QSPI
≤1
Has been occupied by the core board, connected to the 16MB Nor Flash
JTAG
1


Note: The parameters in the table are hardware design or CPU theoretical values
Product Name Description
i.MX8M Plus System On Module
General name of products for Forlinx external promotion
i.MX8MPQ-C System On Module
Quad-core processor, currently on sale
i.MX8MPD-C System On Module
Dual-core processor, unreleased
i.MX8MPX-C
It means that the PCB is compatible with quad-core (Quad) and dual-core (Dual)
▊ Carrier Board
---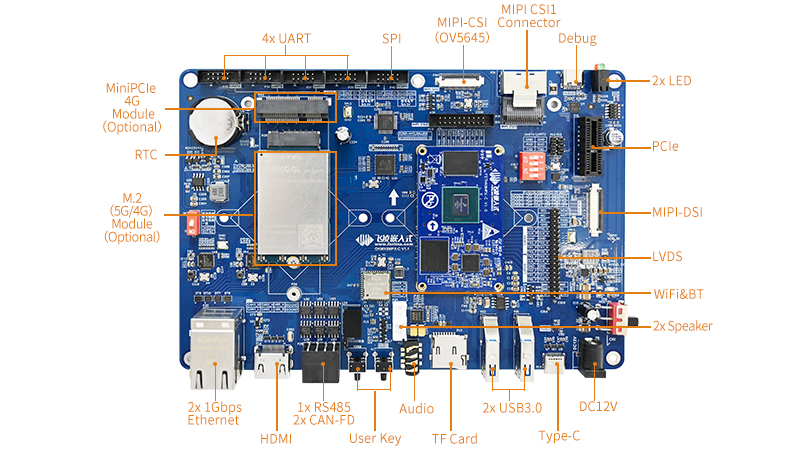 iMX8M Plus single board computer
Forlinx offers OKMX8MP-C Development Board for evaluating the FETMX8MP-C System on Module, the base board has taken great computing and multimedia capabilities of the i.MX 8M Plus processor to provide dual Gigabit Ethernet ports, one with TSN, and WiFi/BT and M.2 B-key and mini-PCIe sockets with optional 5G and 4G modules.

The feature-packed board also offers media interfaces including HDMI 2.0a, LVDS, MIPI-DSI with optional touchscreen, 2x MIPI-CSI with optional cameras, and audio I/O. Other major ports include 2x USB 3.0, Type-C, serial, and 2x CAN-FD.

Forlinx offers design services for customization of the base board according to specific requirements.
▊ Downloads
---
Datasheet:

FETMX8MP-C System on Module Datasheet

Product Manual:

OKMX8MP-C Single Board Computer Overview

Hardware Manual:

iMX8M Plus EVK Hardware Manual

▊ Accessories
---
Provides the modules and accessories used in Forlinx's i.MX 8M Plus SBC.
See here for communication modules, Evaluation Kit, LCD screen, SBC expansion module and further accessories »
Technical Support
Forlinx provides software resources including kernel and driver source code, together with detailed user manual, schematic documentations to help customer start their development rapidly.
▊ How To Buy
---
1. Order Online
We have an online store on Alibaba, please contact us to start ordering
2. Order offline
pls send your inquiry to our mailbox [email protected];
3. Payment Terms
Samples(100% T/T in advance),Bulk Order(please contact with our sales)

▊ Shipment
---
1. Delivery: Goods will be sent out by express as requested.
2. Lead time: generally, goods could be sent out within five working days for a sample order, for a bulk requirement order, please contact us to check stock status and estimated delivery time.
3. Shipping charge: buyers should bear related shipping cost.
▊ Related News
---
▊ Other Forlinx's NXP iMX8 Products
---