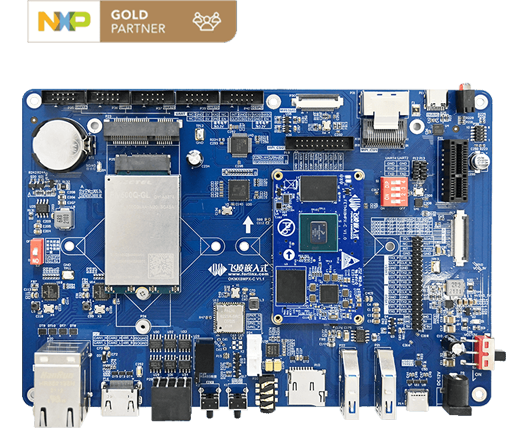 OKMX8MP-C single board computer(SBC) is powered by the high-performance processor, NXP i.MX 8M Plus, built-in NPU, ISP, AI computing capacity up to 2.3TOPS, can meet most compact Edge AI Solution. The flexible I/O interfaces are convenient for users' application developments. The SBC supports 2 Gigabit Ethernet, 2 CAN-FD, 4 UART, 4G, 5G, dual-band WiFi, PCIe3.0, USB3.0, HDMI2.0, LVDS, MIPI_CSI, MIPI_DSI and other interfaces. Industrial-grade design with ESD, EMI solutions, OKMX8MP-C is widely used in various fields, such as smart cities, industry 4.0, smart medical devices, intelligent transport and other applications.
Features
1. a Neural Processing Unit (NPU) operating at up to 2.3 TOPS;

2. Dual Image Signal Processor (ISPs): Resolution up to 12MP and input rate up to 375MPixels/s;

3. Powerful quad Arm® Cortex®-A53 processor plus real-time control with Cortex-M7, up to 800MHz;

4. Robust control networks supported by dual CAN FD and dual Gigabit Ethernet with Time Sensitive Networking (TSN);

5. Dual 8LVDS display.
Advantages Of OKMX8MP-C Single Board Computer
1. UBOOT adds MIPI and LVDS display drivers;

2. Increase UBOOT LOGO Keep function;

3. Increase UBOOT's use of the kernel device tree to configure hardware functions;

4. Adapt to the WIFI module, and solve a series of bugs in the module;

5. Fix a series of problems in the three-screen display and HDMI startup and plug-in process.
iMX8M Plus Core Board Features:
1. EEPROM chip is reserved on the core board to ensure hardware consistency;

2. The core board adopts LPDDR4, up to 8MP, 4GT/S;

3. Some high-speed signal circuits of LPDDR4 have passed the simulation test, and the stability is guaranteed;

4. The bottom structure considers the shell and industry design, which is convenient for productization;

5. The communication interface considers EMC protection requirements, and adds static electricity and isolation design.
---
Industrial-grade system on module with high performance and low power consumption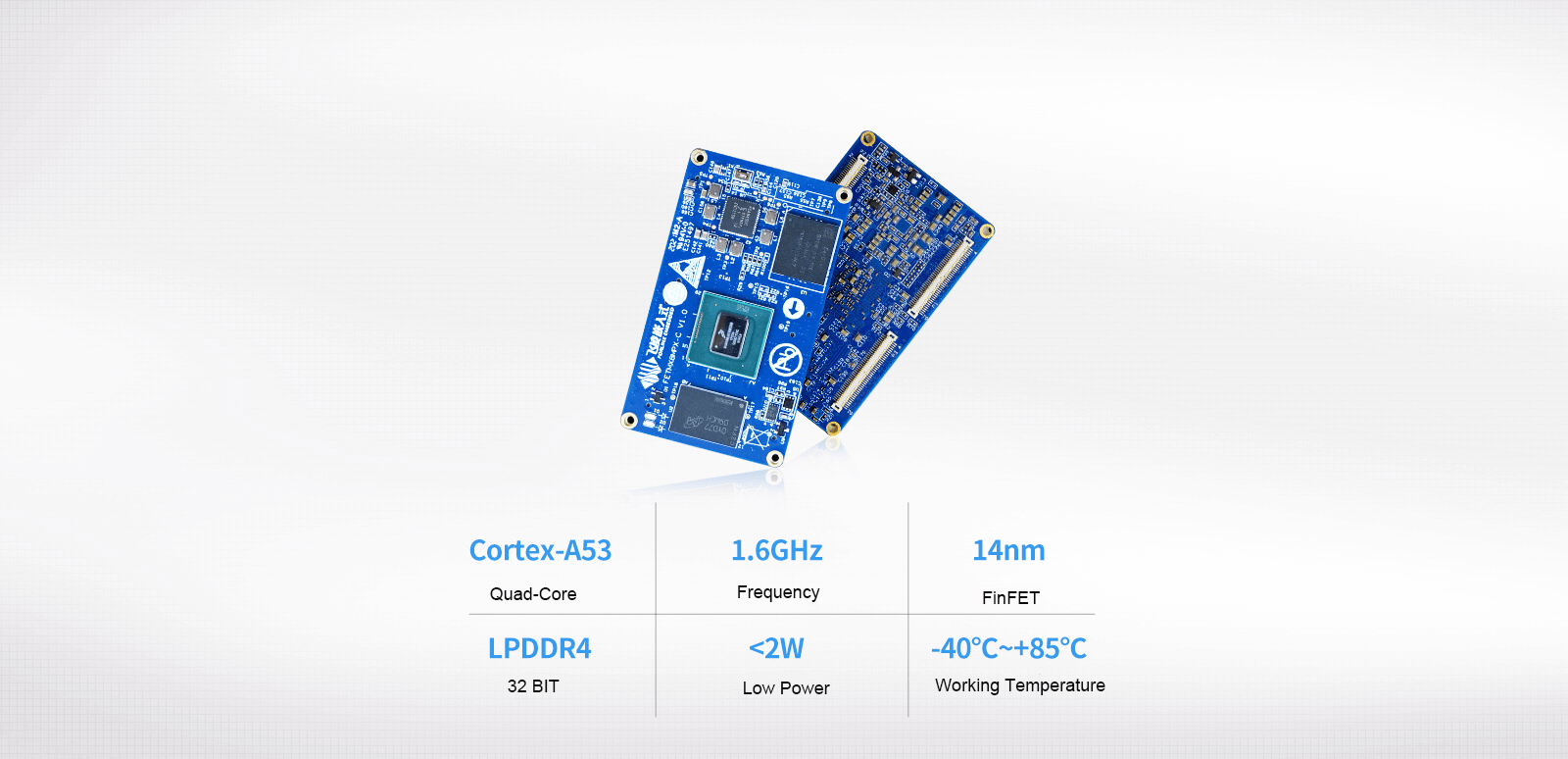 High-speed Communication Interface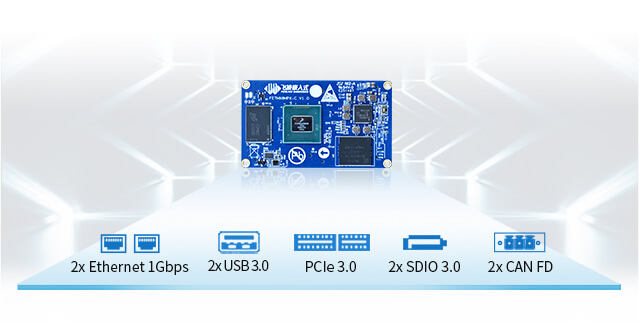 4K picture quality and HiFi voice experience
The HDMI interface supports up to 4K display output;
it also has LVDS, MIPI-DSI display interfaces, and can support three display interfaces, three screens with the same display, and three screens with different displays;
The latest audio technology, Cadence® Tensilica® HiFi 4 DSP @ 800 MHz, 6x I2S TDM, DSD512, S/PDIF Tx + Rx, 8-channel PDM microphone input, eARC, ASRC.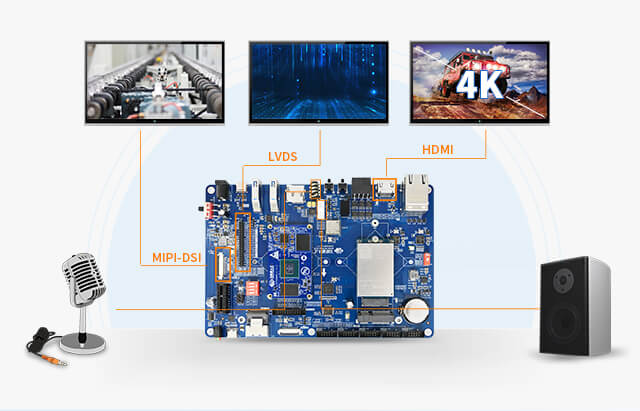 Advanced Multimedia Technology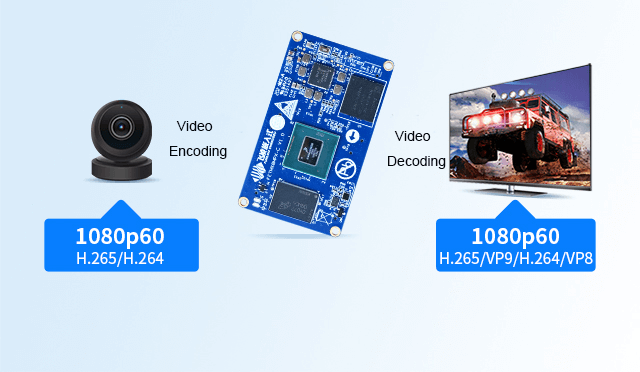 3D/2D Graphics Acceleration

Machine Learning And Vision
Built-in NPU, AI computing capability 2.3TOPS, meeting the needs of lightweight edge computing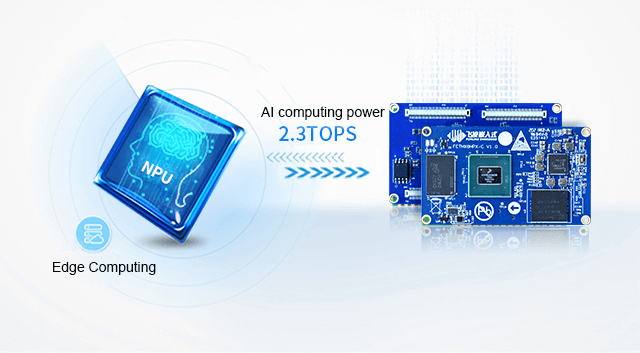 Built-in image signal processor (ISP)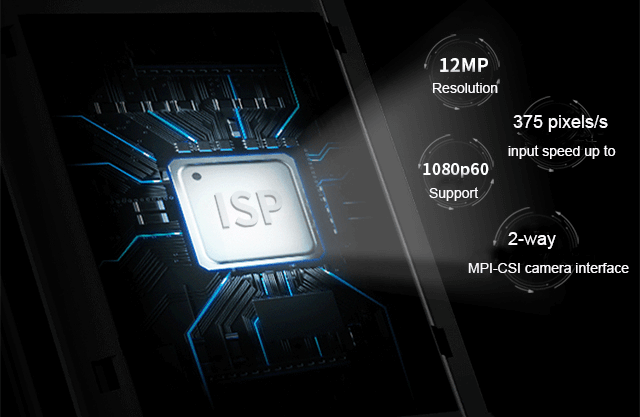 Industrial grade quality
Industrial-grade temperature width test -40℃~+85℃ (except WiFi module) Communication interface static electricity level 4 and 1.5KV isolation protection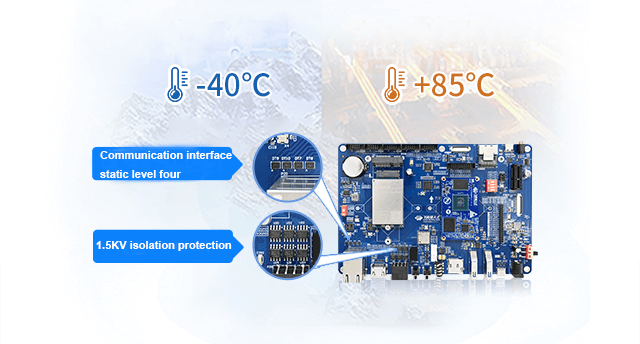 Rich communication interface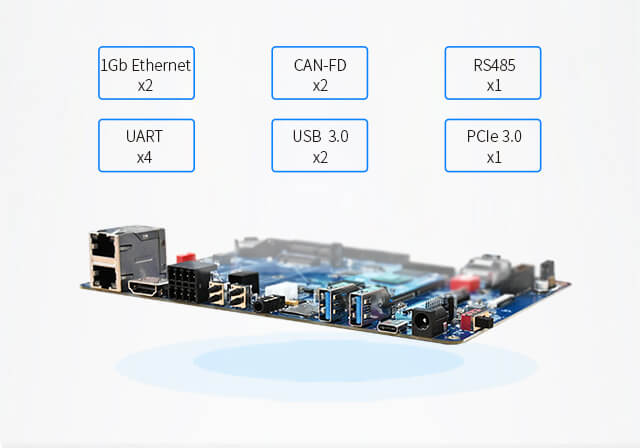 Flexible optional wireless module
Support dual-band WiFi, 4G module, 5G module with SDIO3.0 interface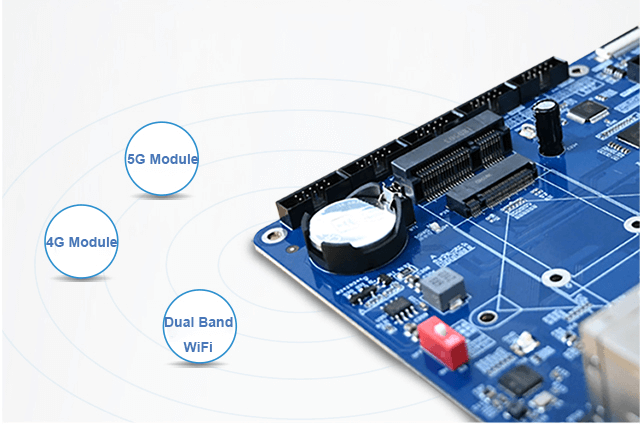 Interface resources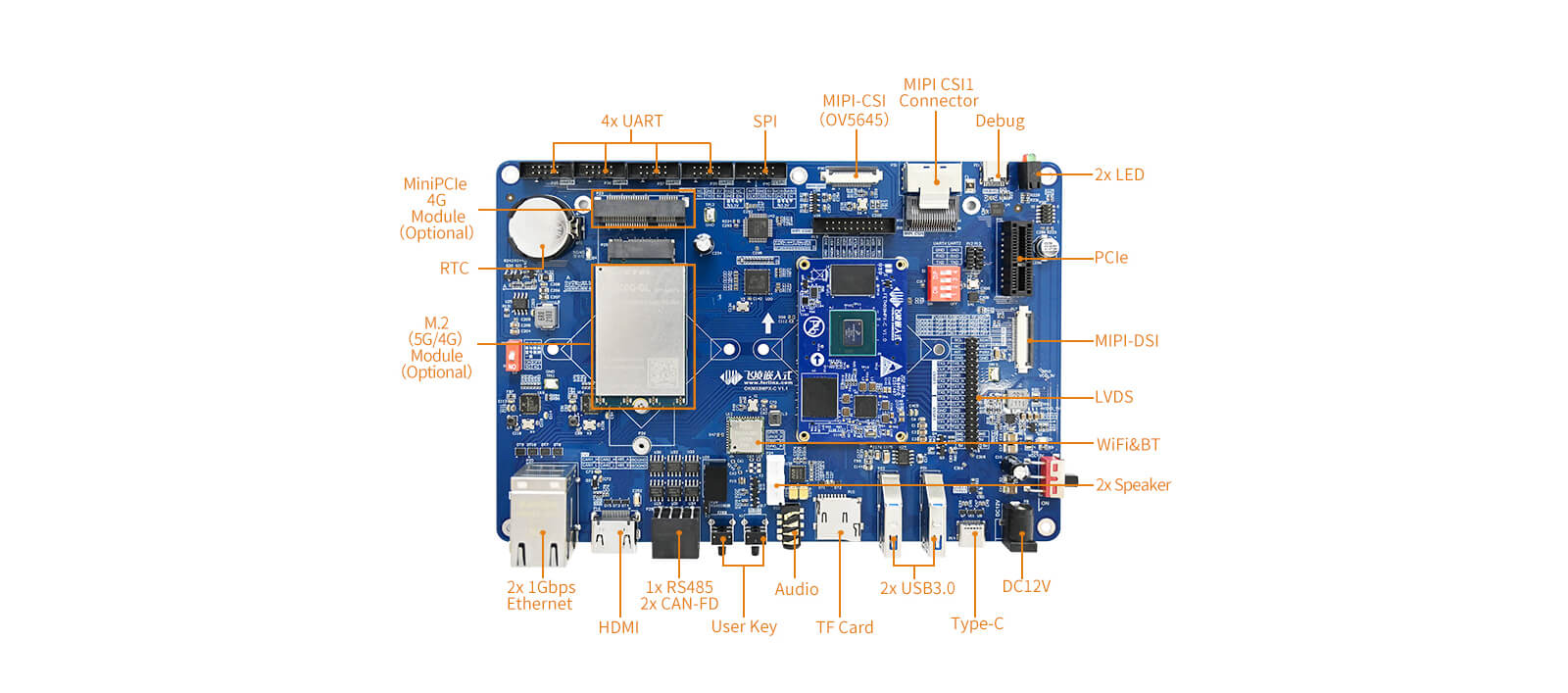 ▊ Product Video
---
OKMX8MP-C SBC Demo | NXP iMX8M Plus processor based
▊ Hardware Features
---
iMX8M Plus System On Module Basic Parameters
CPU
NXP i.MX 8M Plus
Architecture
Quad-Core Cortex-A53,Single-Core Cortex-M7
Frequency
1.6GHz
RAM
2GB/4GB/6GB/8GB LPDDR4(Standard 4GB)
Flash
16GB eMMC
OS
Linux5.4.70, Android11
Working Voltage
5V
Interface Mode
Ultra-thin board-to-board connector (4*80pin pitch 0.5mm)
Working Temperature
-40℃~+85℃
Mechanical dimensions
62mm × 36mm, Thickness 1.6mm, 8-layer ENIG PCB
iMX8M Plus System On Module Function Parameters
Peripheral source
QTY
Parameters
USB
2

The CPU contains 2 USB 3.0/2.0 controllers with integrated PHY;

Host mode: Support Super-speed (5Gbit/s), high-speed (480Mbit/s), full-speed (12Mbit/s), low-speed (1.5Mbit/s).

Device mode: SS/HS/FS

PCIE
1
Support 1 PCI Express Gen3.
MIPI_CSI
2
Provides two 4-lane MIPI camera serial interfaces, which can work up to 1.5 Gbps.
MIPI_DSI
1

Provides a 4-lane MIPI display serial interface, which can work up to 1.5 Gbps.

• 1080 p60• WUXGA (1920x1200) at 60 Hz

• 1920x1440 at 60 Hz

• UWHD (2560x1080) at 60 Hz

• WQHD (2560x1440) by reduced blanking mode

HDMI
1
Supports HDMI 2.0a display resolution up to 4Kp30Supports HDMI2.1 eARC
LVDS
1

Single channel (4 lanes) supports 720p60

Dual asynchronous channels (8 data, 2clocks) support 1920x1200p60

Ethernet
≤2
Ethernet ≤2 supports 2 RGMII interfaces, one of which supports TSN
SD
≤2
SD2, 4-bit, support 1.8/3.3V mode switching SD1, 8-bit, only support 1.8V mode
UART
≤4
The maximum baud rate supported is 4Mbps.
SPI
≤3
The maximum supported rate is 52Mbit/s, master-slave mode can be configured
I2C
≤5

The highest rate supported in standard mode is 100Kbit/s;

The highest rate supported in fast mode is 400Kbit/s.

CAN
≤2
The CAN FD protocol is used to implement the CAN communication controller, and the CAN protocol conforms to the CAN 2.0B protocol specification. (CAN FD requires CPU version support)
SAI
≤6
Synchronous Audio Interface (SAI), a full-duplex serial interface that supports frame synchronization, such as I2S, AC97, tdM, and codec/DSP interfaces.
SPDIF
≤1
A standard audio file transmission format, jointly developed by Sony and Philips.
PWM
≤4
With 16-bit counter;
QSPI
≤1
Has been occupied by the core board, connected to the 16MB Nor Flash
JTAG
1


Note: *TBD is under development
Note: The parameters in the table are hardware design or CPU theoretical values.
iMX8M Plus Development Board Function Parameter
Peripheral source
QTY
Parameter
USB3.0 Type-C
1
USB 3.0 of USB Type-C supports DFP, UFP and DRP
USB3.0
2
USB Type A socket lead out, only used as Host
MIPI_CSI
2
CSI1: daA3840-30mc-IMX8MP-EVK, resolution 3840X2160CSI2: OV5645, the camera supports a maximum resolution of 2592X1944
MIPI_DSI
1
The backplane leads to the 4 lane MIPI_DSI interface through the FPC socket, which is adapted to the Forlinx 7-inch MIPI screen by default, with a resolution of 1024 x 600@30fps.
LVDS
1
LVDS 1 dual asynchronous channels (8 data, 2clocks) support 1920x1200p60, all signals are led out
HDMI
1
Support HDMI 2.0a display resolution up to 4K@30fps Support HDMI2.1 eARC
Ethernet
2
Support 10/100/1000Mbps self-adaption, lead through RJ45. One of them supports TSN
PCIE
1
The backplane adopts standard PCIEx1 card interface and supports PCI Express Gen3
TF Card
1
The development board supports one TF Card, and can support UHS-I TF cards, with a rate of up to 104MB/s.
4G
1
Use it with 5G modules, support 4G modules using miniPCIE sockets, and use Quectel EC20 by default
5G
1
Use it with 4G modules, support 5G modules using M.2 Key B socket, and use Quectel RM500Q by default
WiFi
1

The default onboard AW-CM358M IEEE 802.11 a/b/g/n/ac dual-band WIFI, up to 433.3Mbps transceiver rate;

Bluetooth 5, up to 3Mbps rate

Bluetooth
1
Audio
1
The development board is adapted to the WM8960 chip, the headphone output and MIC input are integrated into a 3.5mm headphone jack, and it supports 2 channels of 1W8Ω speaker output, which are led out through the XH2.54 white terminal.
I2C
3
Used to mount audio, RTC, camera and other equipment on the backplane.
PWM
2
Used to adjust the backlight brightness of the display
RTC
1
With independent RTC chip on board, the time can be recorded by button battery after the bottom board is powered off.
UART
4
The backplane board carries USB to 4 serial ports, which are led out through socket pins for users to plug in equipment.
ECSPI
1
The development board leads to ECSPI2 through a 2 x 5 2.0mm pitch socket for users to plug in equipment.
CAN
2
Electrical isolation, support CAN-FD (requires CPU version support), and conform to CAN2.0B protocol
RS485
1
Electrical isolation, automatic control of the sending and receiving direction.
KEY
4
Switch machine, reset button, and 2 user-defined buttons.
LED
2
User-defined LED lights, red and green.
DEBUG UART
2
Cortex-A53 and M7 debug serial port, the default baud rate is 115200
JTAG
1
The development board leads to the JTAG signal through a 2 x 5 2.0mm pitch socket.
Note: The parameters in the table are hardware design or CPU theoretical values.
Product Name Description
FETMX8MP-C System On Module
General name of products for Forlinx external promotion
FETMX8MPQ-C System On Module
Quad-core processor, currently on sale
FETMX8MPD-C System On Module
Dual-core processor, unreleased
FETMX8MPX-C
It means that the PCB is compatible with quad-core (Quad) and dual-core (Dual)
▊ Downloads
---
Datasheet:

FETMX8MP-C System on Module Datasheet

Product Manual:

OKMX8MP-C Single Board Computer Overview

Hardware Manual:

iMX8M Plus EVK Hardware Manual

▊ Accessories
---
Provides the modules and accessories used in Forlinx's iMX8M Plus SBC.
See here for communication modules, Evaluation Kit, LCD screen, SBC expansion module and further accessories »
Technical Support
Forlinx provides software resources including kernel and driver source code, together with detailed user manual, schematic documentations to help customer start their development rapidly.
▊ How To Buy iMX8M Plus SBC?
---
1. Order Online
We have an online store on Alibaba, please contact us to start ordering
2. Order offline
pls send your inquiry to our mailbox [email protected];
3. Payment Terms
Samples(100% T/T in advance), Bulk Order(please contact with our sales)



▊ Shipment
---
1. Delivery: Goods will be sent out by express as requested
2. Lead time: generally, goods could be sent out within five working days for a sample order, for a bulk requirement order, please contact us to check stock status and estimated delivery time.
3. Shipping charge: buyers should bear related shipping cost.
▊ Related News
---
▊ Other Forlinx NXP Series Products
---