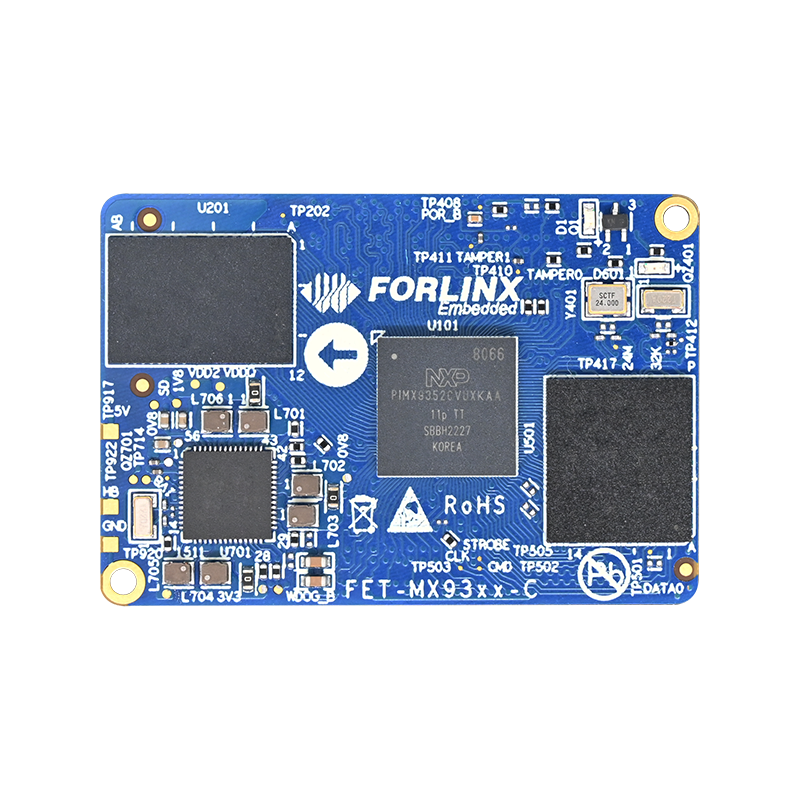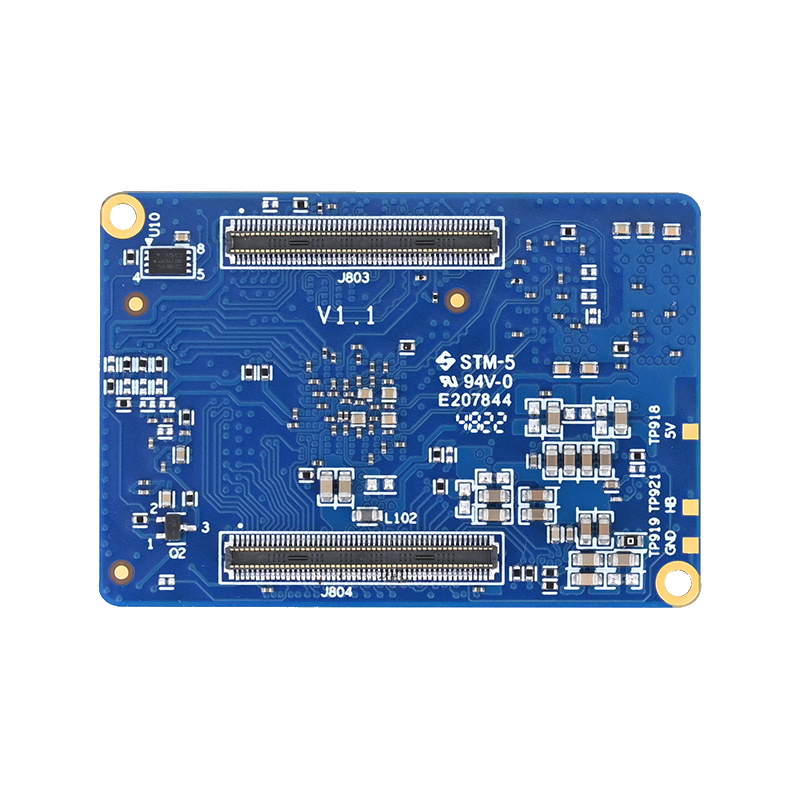 FET-MX9352-C SoM and OK-MX9352-C SBC are designed and developed based on NXP i.MX 93 series processors.
FET-MX9352-C System on Module based on NXP i.MX 93 family i.MX9352 SoC
FET-MX9352-C System on Module(SoM) is the world's first system on module/computer on module designed by Forlinx as an alpha partner based on i.MX 93 family i.MX9352 SoC. It contains two Cortex-A55 cores and one Cortex-M33 core, speed up to 1.5GHz. 8x UART, 2x Ethernet(contains 1 TSN), 2x USB2.0, 2x CAN-FD and other common interfaces.It's more advanced than i.MX6 and i.MX8 family, integrating NPU engine for deep learning accelerating. It has a compact appearance can fit various applications.
Forlinx iMX93 SoM is particularly available for applications:
Industrial Controls
Contactless HMI
Power Automation
Healthcare
IoT
EV charger
---
FET-MX9352-C SoM

Cortex-A55+ Cortex-M33 for Multi Tasks Processing with Low Latency
i.MX9352 is a hybrid processor contains two Cortex-A55@ 1.7GHz cores for multi tasks processing and one Cortex-M33 real-time core;
It integrates upper computer and slave computer in one, but with simplified and compact appearance, which will be beneficial for cost cutting down.
Communication between A core and M core based on built in high speed bus, is more efficient and reliable.

TSN and CAN-FD: Meeting Digitizing Demands for Industries and Automotive
FET-MX9352-C supports two Gigabit Ethernet ports with one enabled with TSN, in addition to ensuring clock accuracy,
it will promote communication between IT and OT, helping to build network with low latency.

0.5 TOPS NPU: Empowering Low Cost and Light AI Applications
i.MX9352 processor contains an innovative ARM Ethos U-65 microNPU, each cycle with 256 MAC,
0.5 TOPS can meet the demand for high efficient, fast and safe machine learning at edge side.

Industrial Grade Materials: Fit for Harsh Environments
All materials including capacitor, resistor and connector on FET-MX9352-C system on module are industrial grade, can support the SoM to work in -40℃~+85℃ operating environment very well.

Various Peripheral Interfaces with High Scalability

Long-Term Availability
i.MX 93 family processors will be launched in 2023 and is scheduled with long-term supply, the availability will be at least 15 years.

▊ i.MX 9352 SoM & SBC Video
---
i.MX 93 Demo | FET-MX9352-C SoM & OK-MX9352-S SBC
▊ Hardware Features
---
FET-MX9352-C SoM Features

Processor

NXP i.MX93 i.MX9352

CPU: 2× Corte[email protected] + 1× Cortex-M33@250MHz

NPU: 0.5 TOPS

RAM

1GB LPDDR4

ROM

8GB eMMC

Power input
DC 5V

Operating temperature width

-40℃ ~ 85℃

Packaging

board to board connector(2x 100-pin connector with pitch of 0.4mm, combined height 1.5mm)

Dimensions

33x 48mm
Specifications

Interface

QTY

Spec.

LVDS

1

single 4-lane supports 720p60, and can support up to 1366x768p60 or 1280x800p60

RGB parallel

1

RGB888, up to 1366x768p60 or 1280x800p60

MIPI DSI

1

1x 4-lane MIPI-DSI, pixel from LCDIF;

compatible with both MIPI DSI v1.2 and MIPI D-PHY v1.2;

up to 200MHz pixel clock, pixel filling rate 140 Mpixel/s, 24-bit RGB;

supports resolution 1080p60 or 1920x1200p60, each lane with data rating up to 1.5Gbps

Ethernet

≤2

supports 2x RGMII, one supported with TSN;

the one with TSN Ethernet QoS supports 802.1Qbv and 802.1Qbu and time based scheduling;

10/ 100 / 1000Mbps, complies with IEEE 802.3

UART
≤8

up to 5Mbps
CAN-FD
≤2
complies with CAN-FD and CAN 2.0B
USB
≤2

two USB2.0 controllers with PHY integrated
SD card
≤1


complies with USB3.0;

SDR up to 200MHz, and DDR speed up to 50MHz

SDIO
≤1

SDIO3.0
SAI
≤3


SAI1 supports 2 lanes, SAI2 supports 4 lanes, and SAI3 supports 1 lane;

supports full-duplex serial, such as I2S, AC97, TDM and codec/ DSP

SPDIF
1

supports raw capture mode

supports L-PCM and IEC61937;

PDM
1
24-bit, supports liner phase response and AOP MIC

MIPI CSI

1

compatible with MIPI CSI-2 v1.3 and MIPI D-PHY v1.2;

supports up to 2 RX data lanes (and 1 RX clock lane);

pixel clock up to 200MHz, up to 150Mpixel/s pixel filling rate under rated voltage and super speed voltage

SPI

≤8

master/ slave mode can be set

I2C

≤8

up to 100Kbit/s under standard mode, 400Kbit/s under fast speed mode, 1000Kbit/s under enhanced fast speed mode, 3400Kbit/s under high speed mode, and 5000Kbit/s under super fast speed mode;

slave mode is available for high speed mode and super fast speed mode

I3C

≤2

supports 400Kbit/s fast speed mode and 1000Kbit/s enhanced fast speed mode, it's backwards compatible with I2C;

clock up to 12.5M, supports HDR-DDR mode

ADC

≤4

1x 12-bit 4-lane 1MS/s ADC

JTAG

1

to debug Cortex-M33
▊ i.MX93 Development Board
---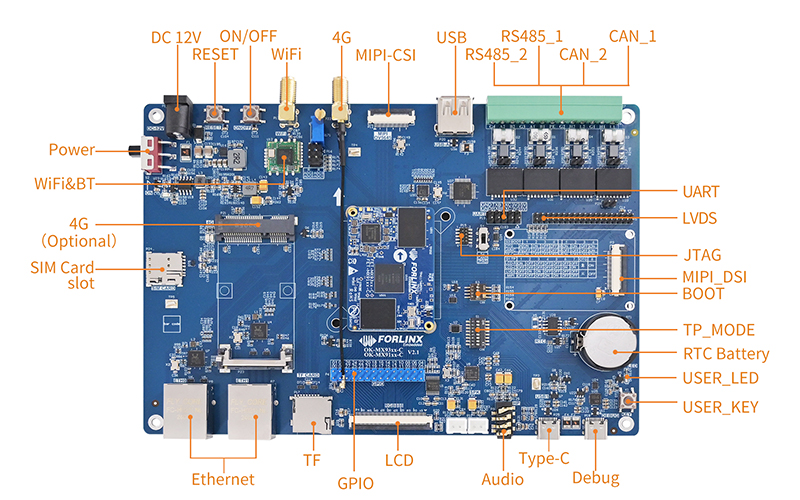 OK-MX9352-C Development Board
To minimize your development workload, we can provide starter kits that can be used as complete development platforms for evaluation and application development.
OK-MX9352-C development board consists of carrier board and SoM, and SoM could be connected to carrier board via 2x 100-pin connectors, which will be much convenient for plug/ unplug operations with high reliability.
OK-MX9352-C Evk has multiple peripheral interfaces, such as Ethernet, UART, CAN-FD, RS485, etc. Besides, the 4G module and WiFi are well supported even in harsh environments, which could be a reliable reference for users, and finally help users to fasten their product time to market.
▊ Downloads
---
Datasheet:

FET-MX9352-C SoM and OK-MX9352-C introduction

▊ Accessories
---
Provides the modules and accessories used in Forlinx's i.MX93 development board.
See here for communication modules, Evaluation Kit, LCD screen, SBC expansion module and further accessories »
▊ How To Buy
---
1. Order Online
We have an online store on Alibaba, please contact us to start ordering
2. Order offline
pls send your inquiry to our mailbox [email protected];
3. Payment Terms
Samples(100% T/T in advance),Bulk Order(please contact with our sales)



▊ Shipment
---
1. Delivery: Goods will be sent out by express as requested.
2. Lead time: generally, goods could be sent out within five working days for a sample order, for a bulk requirement order, please contact us to check stock status and estimated delivery time.
3. Shipping charge: buyers should bear related shipping cost.
▊ Related News
---
▊ Other Forlinx Hot Products
---