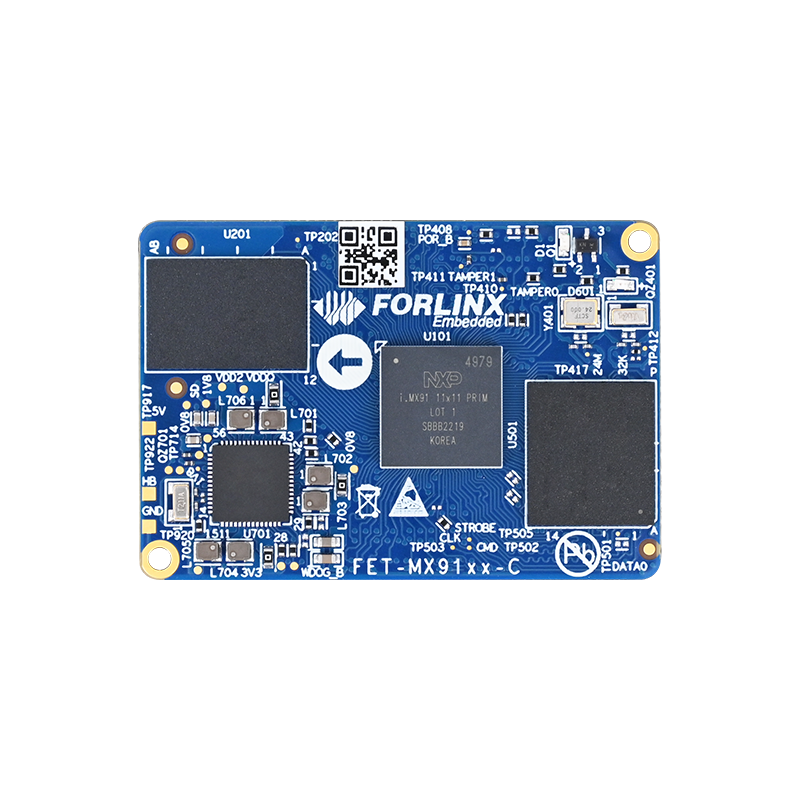 FET-MX91xx-C System on Module Based on NXP i.MX91x
FET-MX91xx-C SoM is designed & developed based on NXP's new generation i.MX91x series Cortex-A55 featuring processors running at speed up to 1.4GHz, 8x UART, 2x Ethernet, 2x USB2.0, 2x CAN-FD and other common interfaces are all available. What's more, it's compatible with Folinx newly launched i.MX93x SoMs, providing easy application selection for customers.


New Generation Linux Controller

i.MX93x VS i.MX91x
i.MX91x and i.MX93x both belong to i.MX9 series processor family,
but i.MX91x has more streamlined configuration and lower cost compared to i.MX93x.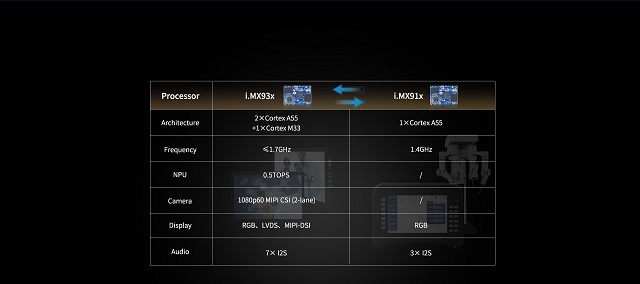 Various Peripheral Interfaces - Easy for Extending


Super-long Longevity
i. MX91x series have joined NXP's long-term supplying product program, with a 15-year longevity, which will be a warranty for supplying.




▊ Video
---
Coming Soon: Forlinx's FET-MX91xx-C SoM & SBC based on NXP i.MX91x series
▊ Hardware Features
---
FET-MX91xx-C SoM Features

CPU

NXP i.MX91x

MPU: 1×Cortex-A55@ 1.4GHz

RAM

1GB LPDDR4

ROM

8GB eMMC

Voltage input

DC 5V

Operating temperature width

-40℃ ~ 85℃

Package

Board-to-board connector(2*100-pin, 0.4mm pitch, combined height 1.5mm)
Specifications

Interface

QTY

Spec.

LCD

1

Parallel RGB888, up to 1366×768p60 or 1280×800p60

Ethernet

≤2

2x RGMII

Transmission rate 10/100/1000 Mbps, complies with IEEE 802.3

UART

≤8

Baud rate up to 5Mbps

Supports serial data transceiver configuration, including programmable parity bit

CAN-FD

≤2

Supports CAN-FD and CAN 2.0B

USB

≤2


Two USB2.0 controllers integrated with PHY

SD

≤1


Complies with SD3.0

Supports SDR up to 200MHz and DDR up to 50MHz

SDIO

≤1


SDIO3.0

SAI

≤3


A Synchronous Audio Interface (SAI) is available

SAI1 supports 2 lanes, SAI2 supports 4 lanes, and SAI3 supports 1 lane

Support full-duplex serial with frame synchronization, such as I2S, AC97, TDM and codec/ DSP

PDM

1


24-bit, supports linear phase response and AOP MIC

Camera

1

8-bit parallel camera interface

SPI

≤8

Supports to configure master or slave mode

I2C

≤8

Rating up to 100Kbit/s in standard mode, and 400Kbit/s in fast-speed mode, 1000Kbit/ s in enhanced fast-speed mode, 3400Kbit/s in high-speed mode, and 5000Kbit/s in super fast speed mode

I3C

≤2

2 Improved I3C;

Support 400Kbit/s fast mode and 1000Kbit/s fast mode enhanced version, and backward compatible with I2C

Support up to 12.5M clock rate, support HDR-DDR mode

ADC

≤4

12-bit 4-lane 1MS/s ADC
▊ Carrier Board
---
OK-MX91xx-C Single Board Computer
To minimize your development workload, we can provide starter kits that can be used as complete development platforms for evaluation and application development.
The OK-MX91xx-C single board computer from Forlinx is based on the new generation of NXP i.MX91xx series and adopts a separate SoM+carrier board design. It supports 8xUART, 2xEthernet, 2xUSB2.0, 2xCAN-FD bus, and other common interfaces. And it's compatible with Folinx Embedded newly promoted i.MX93x series, and supports Linux system. Featuring open system architecture design, it can provide technical information for your secondary development.
▊ Accessories
---
Provides the modules and accessories used in Forlinx's i.MX91 development board.
See here for communication modules, Evaluation Kit, LCD screen, SBC expansion module and further accessories »
▊ How To Buy
---
1. Order Online
We have an online store on Alibaba, please contact us to start ordering
2. Order offline
pls send your inquiry to our mailbox [email protected];
3. Payment Terms
Samples(100% T/T in advance),Bulk Order(please contact with our sales)



▊ Shipment
---
1. Delivery: Goods will be sent out by express as requested.
2. Lead time: generally, goods could be sent out within five working days for a sample order, for a bulk requirement order, please contact us to check stock status and estimated delivery time.
3. Shipping charge: buyers should bear related shipping cost.
▊ Other Forlinx Hot Products
---