New Products of i.MX9 Series - Forlinx Embedded FET-MX91xx-C SoM Makes COMPUTEX Debut!
COMPUTEX 2023, a four-day event, is held from May 30 to June 2, 2023, with a new position of "Together we create" and focusing on the themes: "High-performance computing", "Artificial intelligence application", "Next-gen connectivity"," Hyper-reality","Innovations and startups", "Sustainability",etc. Many manufacturers participate in the exhibition with their new-launched products. Among them, NXP officially introduces the latest family member of the i.MX 9 series application processor-the i.MX 91x.
At the same time, a set of embedded boards equipped with the i.MX 91x processor are unveiled at the NXP booth, attracting on-site visitors to stop and look around, which are the Folinx SoM- FET-MX91xx-C and the EVK- OK-MX91xx-C.
As a " NXP Gold Partner", Folinx has started the product development work in the "α" phase of i.MX91x. The SoM, FET-MX91xx-C, is Forlinx's second product based on i.MX 9 series processors. It continues the high standards of workmanship and superior quality.
i.MX91x processor adopts Cortex-A55 architecture, with a main frequency of 1.4GHz, supporting for 8 UART, 2 gigabit Ethernet, 2 USB 2.0, 2 CAN-FD and other common interfaces. FET-MX91xx-C SoM is pin-compatible with FET-MX93xx-C SoM. This allows users to reduce development time and cost.

i.MX91x and i.MX93x both are NXP's new generation- i.MX9 series processor, but i.MX91xx has streamlined configuration and lower cost.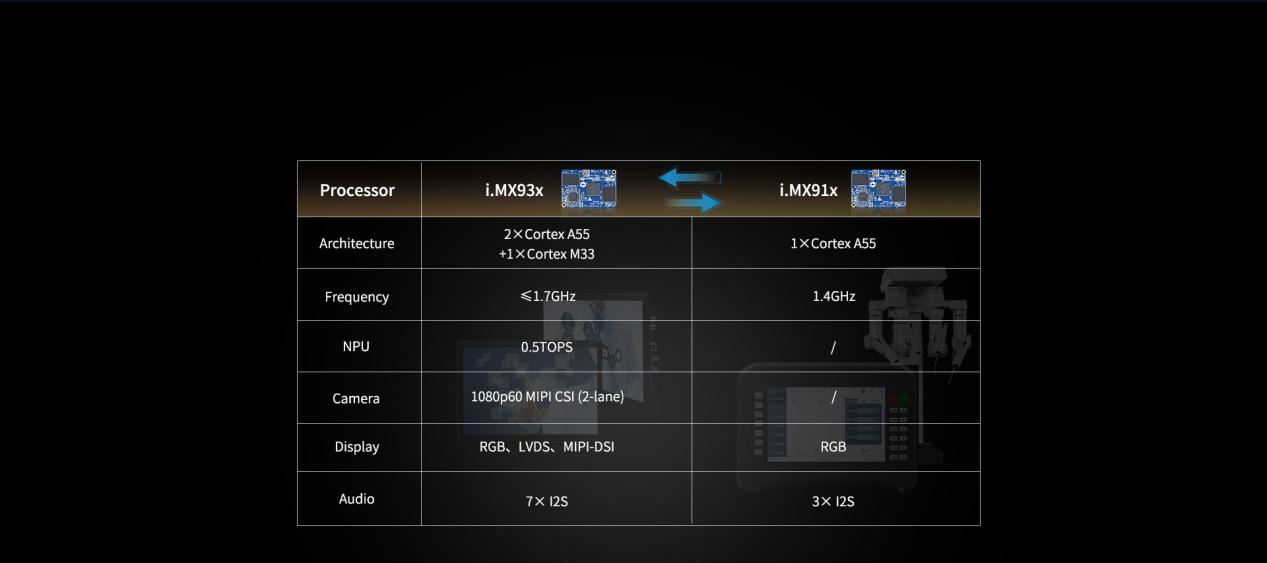 The FET-MX91xx-C SoM exports common-used function interfaces of i.MX91x processor so it has rich peripheral resources, which combines powerful usability and versatility, allowing for easy expansion of rich features.

i.MX91xx series have joined the long-term supply plan of NXP products with a 15-year longevity so they can provide a stable supply for your products.
In general, the FET-MX91xx-C SoM, which debuted at COMPUTEX 2023, is a low-power, low-cost, and versatile product, suitable for industrial automation, smart cities, smart homes, smart buildings and many other fields, and will empower a variety of industries to upgrade intelligently.