LoRa Base Station Solution based on SoM FETMX6UL-C2
IoT industry had a fast development in the past two years. This to large extent profits from the development and breakthrough of LPWAN.According to data statistics from GSMA, by 2020, the whole IoT industry will have greater development power, especially the application of LPWAN coonectivity will account for around 60% of the whole IoT connectivity. With the intelligent upgrading, LPWAN will be widely applied in new solution such as parking, transportation, security, meter reading, environmental inspection, structure detection, etc.
Application of LPWAN is mainly devided to two mainstream camps,NB-IoT by 3GPP licensed band based on cellular mobile communication technology and LoRa or SigFox based on non-licensed spectrum. Compared with SigFox and NB-IoT, LoRa is more mature, earlier commercialized.
And also LoRa has more advantages in stability, penetrability and anti-interference, which is suitable for detection application about lower frequency data collection. Gateway is essential in conectivity of LoRa with Ethernet, node will transfer data to gateway, and then the gatway will process and transfer data to cloud by 4G, WIFI or Ethernet. On the contrary, command will be transmitted by network to gateway, then gateway will parse the command, and emit it to appointed node to execute the command.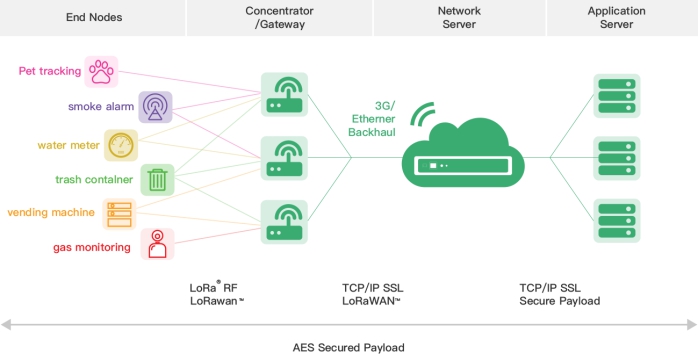 LoRa Gateway Wireframe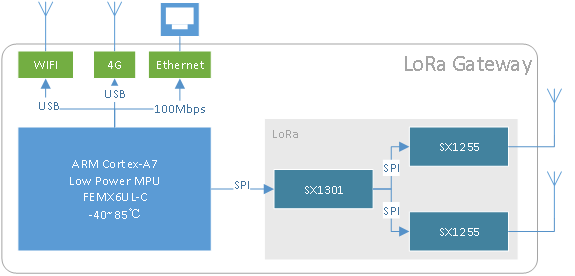 LoRa Gateway Features
Project

Item

Spec.

Configuration

Kernel

ARM Cortex-A7@ 528MHz

RAM

256MB

Flash

256MB

Uplink Communication

4G

150Mbps

Ethernet

100Mbps

WIFI

150Mbps

Downlink Communication

LoRa

Environment

Working Temp

-40 to +85℃
Advantage of FETMX6UL-C2
The FETMX6UL-C2 is an system on module with lower power performance designed based on NXP i.MX6UL with frequency of 528MHz, its unique PMS makes it lower power performance than ARM9 series items. The SoM has rich sources that it's available for dual Ethernet, dual USB host ports, and also SPI bus. It has excellent stability performance in tough working environment with temp width ranges from -40℃ to +85℃.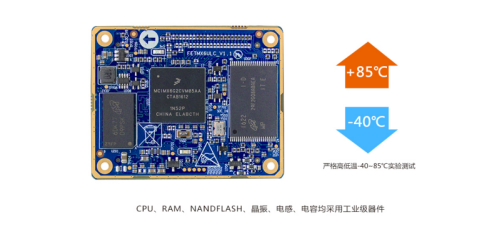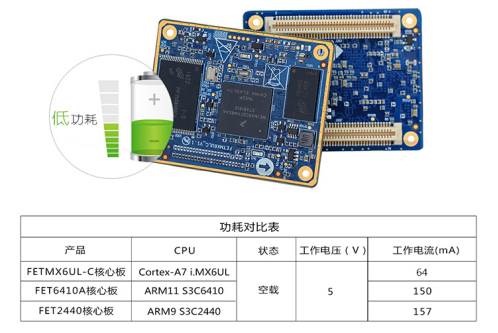 FETMX6UL-C2 Features

CPU

NXP i.MX6UL

CAN

2-ch

Architectur

Cortex-A7

USB

2-ch

Frequency

528Mhz

SD/ MMC/ SDIO

2-ch

RAM

256MB LvDDR3

Ethernet

2-ch, 10M/ 100M

Flash

256M Nand Flash

UART/ IrDA

8-ch

Voltage Input

5V

EINT/ GPIO

supported

GPU

PXP

Video Codec

software codec

Dimensions

50mm* 40mm

EBI

supported

Connection

b-b connector

JTAG

supported

OS

Linux3.14.38

Camera

1-ch, 5.0Mp

LCD

RGB 888

PWM

8-ch

Audio

3-ch

ADC

10-ch

IIC

4-ch

ISO7816-3

2-ch

SPI

4-ch

Keypad

8* 8

QSPI

1-ch

SPDIF

1-ch




Related products: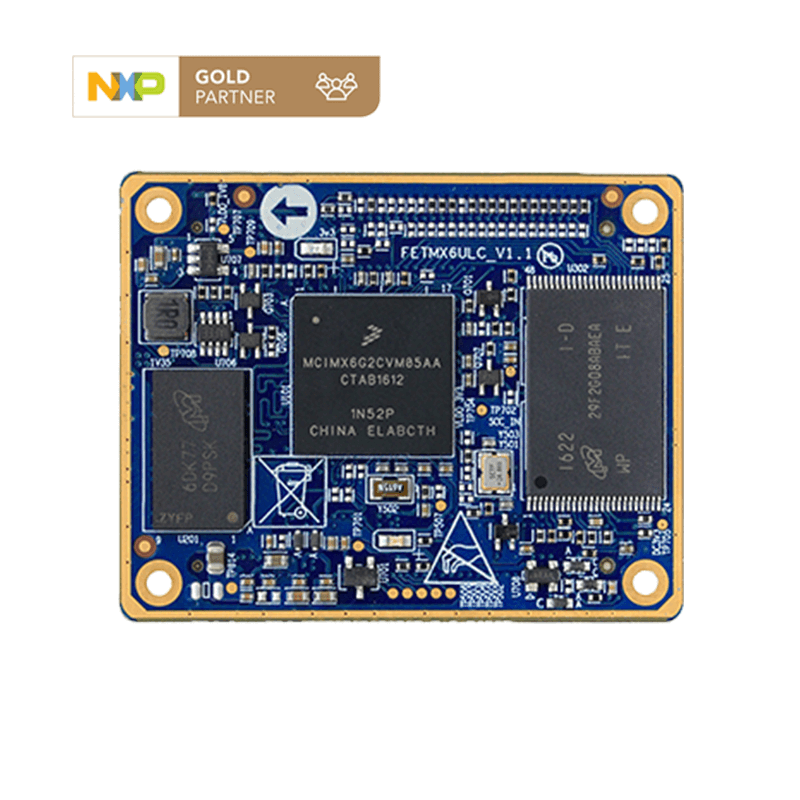 FETMX6UL-C2 System on Module