Intelligent Inspection Robot Application Solution Based on FET3588J-C Core Board
Robots can be broadly divided into three categories: industrial robots, service robots, and special robots. Although the market size of special robots is relatively smaller than the other two, with the accelerated evolution of new technological and industrial transformations, the deep integration of 5G, artificial intelligence, and robotics technology has expanded the application scenarios for special robots. They are increasingly playing a crucial role in various industries.
This article will introduce a special robot, namely intelligent inspection robot, whose function is to replace manual inspection and maintenance of equipment. Additionally, we will explore the main functions of the intelligent inspection robot and introduce the FET3588J-C SoM recommended by Forlinx Embedded as the main control platform for the robot.
In the process of rapid urban development, more and more pipelines are laid underground. How to maintain such a large area of underground pipe gallery quickly and accurately? Considering the complex and potentially hazardous environment of underground tunnels, the underground space intelligent inspection robot emerges. Intelligent robot inspection and monitoring systems, as well as disposal systems, can be installed in underground tunnels to construct a smart operation and maintenance software platform. This platform enables regular detection and monitoring of the basic attributes within the space, ensuring the normal operation of the facilities.
Intelligent inspection robots are generally divided into three main parts: the robot operation, the IoT sensing, and the application. They are respectively used for "ensuring the normal operation of the robot," "perceiving the underground space," and "processing and responding to the data collected by the IoT sensing part."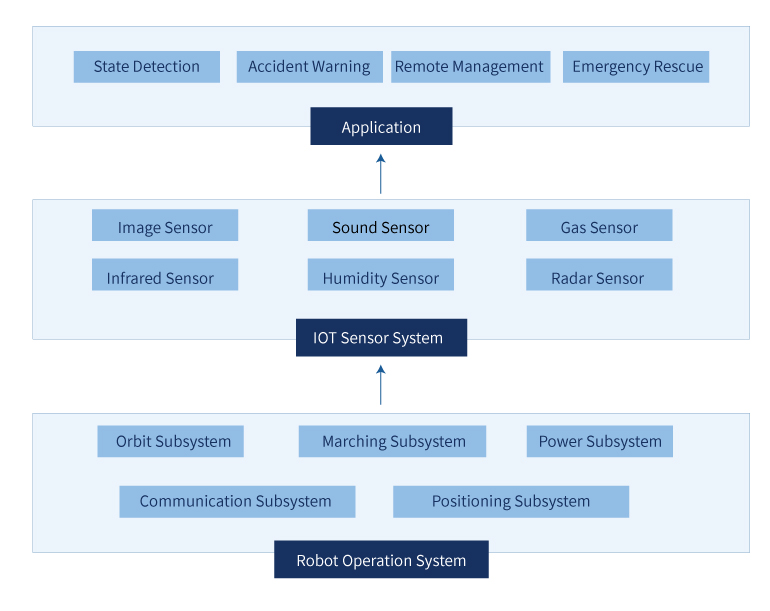 (1) Real-time Detection and Environmental Monitoring
The robotic system can monitor the site environment in real-time through the high-definition camera. It can collect information such as humidity, temperature, and harmful gas concentration at the equipment site through external temperature and humidity sensors, which is then uploaded to the cloud via 4G or 5G.
(2) Fully Automatic Inspection
According to its own time settings or remote control from the cloud, the inspection robot can perform routine tasks and specialized training inspections through real-time GPS and 5G positioning of its location.
(3) Automatic Charging and Automatic Return at Low Power
It can independently judge the state of battery power, automatically return when the battery power is insufficient, and cooperate with the charging equipment to complete the autonomous charging;
(4) Autonomous Obstacle Avoidance Function
During the monitoring process, the robot incorporates NPU machine vision to recognize and differentiate track obstacles and pipeline obstacles from the camera-collected data. It can immediately stop and upload alarm information.
(5) Automatic Generation of Inspection and Monitoring Reports
It organizes the information collected from this inspection and produces an inspection and monitoring report of the site status after CPU simplified processing to visualize the site data.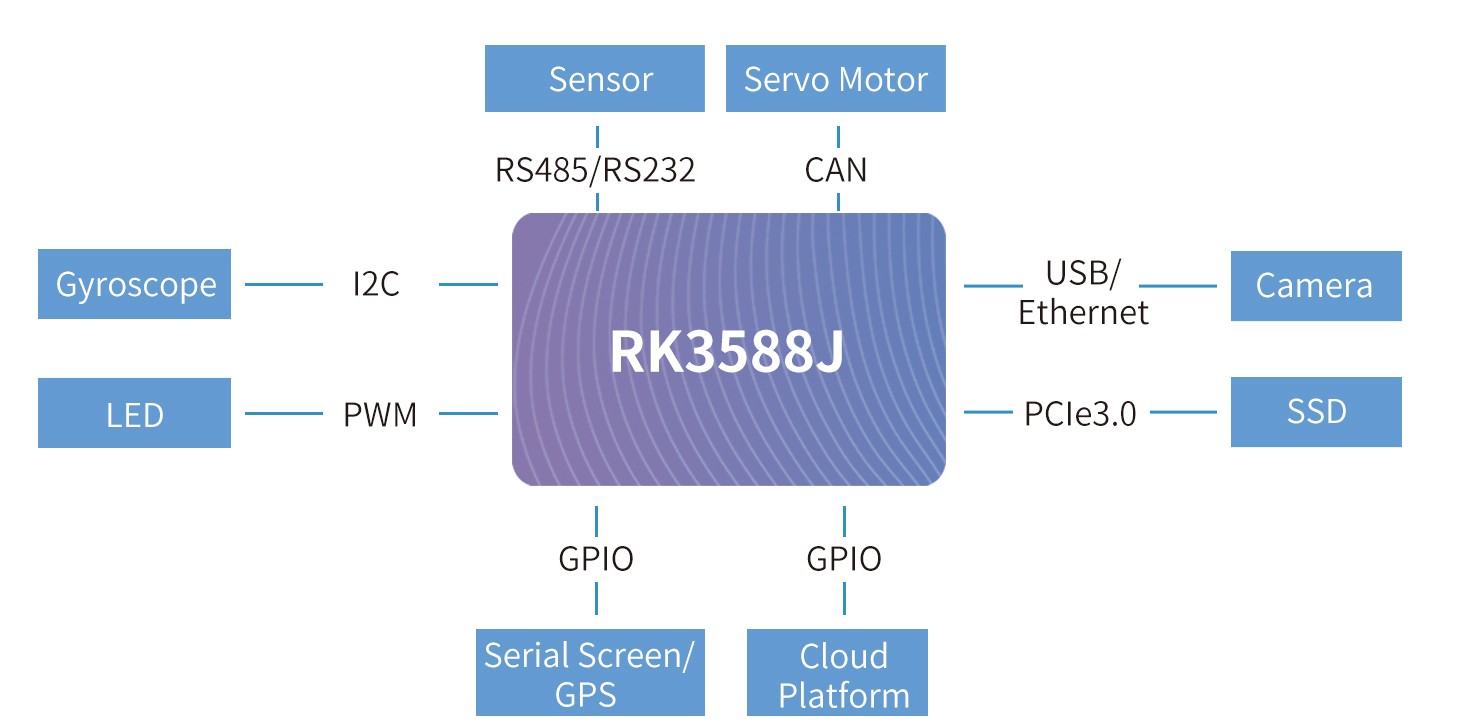 Forlinx Embedded has launched the FET3588J-C core board as the main control platform for this intelligent inspection robot product to meet customers' needs for machine vision and high-speed interfaces.
The FET3588J-C is developed and designed based on the Rockchip RK3588 processor. It features quad-core Cortex A76+quad-core Cortex-A55 architecture, with the main frequency of A76 core up to 2.4 GHz, and the main frequency of A55 core up to 1.8 GHz, which enables efficient processing of the collected information from inspections.
Built-in Rockchip self-developed three-core NPU can work cooperatively or independently, so as to flexibly allocate computing power and avoid redundancy. The comprehensive computing power can reach 6 TOPS, which greatly improves the computing speed and energy efficiency ratio of neural network, and can better realize the function of active obstacle avoidance;
The RK3588J supports 48 million pixels ISP 3.0, which enables lens shading correction, 2D/3D noise reduction, sharpening and defogging, fisheye correction, gamma correction, wide dynamic contrast enhancement, and other effects that greatly enhance image quality.
It also offers high stability and can operate for long periods in harsh industrial environments ranging from -40°C to +85°C, making it suitable for applications in various scenarios. In addition, it also supports Linux 5.10, 66/Android 12 high-version and high-stability operating system, with more perfect driver and open system source code, so that customers can quickly enter the product testing stage.
Related products: