RSU Application Case Based on the Forlinx i.MX 8M Plus SoM
Roadside Unit (RSU) is a communication gateway deployed alongside roads and serves as an essential component of the V2X roadside system. Its function is to collect real-time information regarding traffic, road conditions, and vehicle flow. This information is then transmitted through communication networks to the V2X platform, enabling communication with on-board devices, traffic signals, electronic signs, and other terminals. RSUs facilitate vehicle-to-infrastructure communication, real-time interaction with traffic signals, intelligent computing, remote interaction, and provide support for autonomous driving and intelligent transportation.
This article will explore the enhancement of driving safety and efficiency through RSU technology driven by the NXP i.MX 8M Plus processor, as well as its application prospects in the field of smart transportation.
What are the uses of RSU (Roadside Unit)?
1. RSU can perform real-time detection of road conditions and optimize traffic flow. Based on the connected external sensors, RSU can collect data, conduct statistical analysis, and estimate relative traffic density of road conditions. By communicating with the On-Board Unit (OBU), RSU can provide applications such as speed guidance, speed limit warnings, congestion alerts, etc., to enhance traffic efficiency, reduce accident rates, and contribute to improving traffic conditions.
2. RSU plays a crucial role in aiding autonomous driving services. In current autonomous driving systems, road conditions are mainly perceived through radar and cameras. However, RSU becomes essential for providing non-line-of-sight road information, such as moving objects like vehicles and pedestrians behind obstacles, as well as real-time weather conditions and complex road situations ahead, including potholes, sharp turns, road flooding, and traffic accidents. RSU can provide accurate road condition information and weather updates to autonomous vehicles, greatly enhancing driving safety.
3. RSU can assist vehicles in achieving high-precision positioning and navigation. Traditional vehicle GNSS navigation systems can experience degraded satellite signals in urban canyons and similar areas due to high-rise building obstructions, which can affect the accuracy of positioning and navigation. RSU can help mitigate this issue by providing additional localization data and enhancing the positioning capabilities of vehicles in such challenging environments. RSU can serve as a differential positioning base station to provide high-precision positioning for passing vehicles and guide them in making informed decisions while driving.
The requirements for an RSU typically include the following:
1. Having powerful data processing capabilities
2. Having high-speed data uplink and downlink capabilities
3. Adapting to complex outdoor scenarios requirements
4. Having the ability to integrate multiple communication modules
5. Supporting remote device upgrades and management
6. Small size for easy installation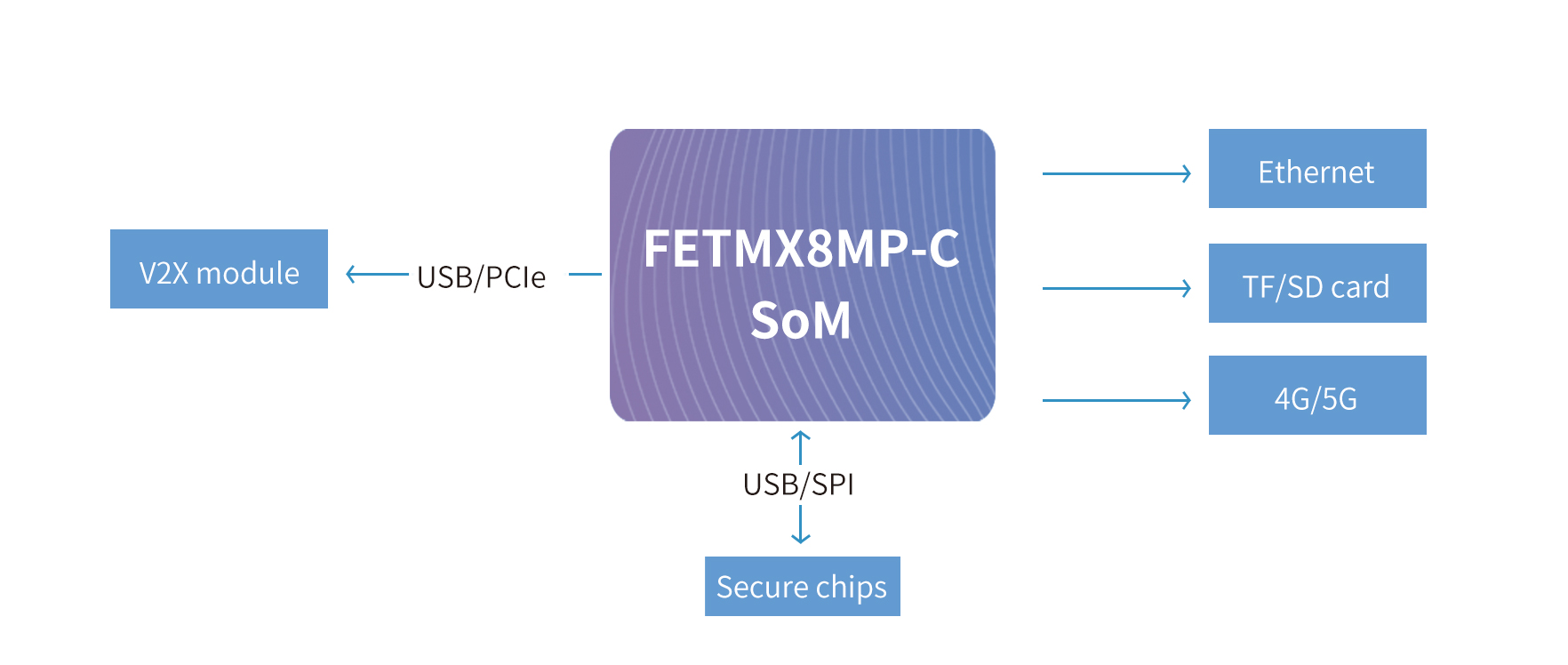 1. This solution is designed by Forlinx NXP using the high-performance i.MX 8M Plus processor, which not only features a powerful CPU but also a strong GPU.
2. The solution is equipped with a neural processing unit (NPU) with a maximum operating speed of up to 2.3 TOPS (Trillions of Operations Per Second), enhancing the edge computing capabilities of the RSU.
3. Industrial grade quality (-40℃ to +85℃) to meet the application of outdoor scenes.
4. The solution features ultra-thin board-to-board connectivity and a structural size of 62mm × 36mm, aiming to minimize the overall device dimensions while ensuring functional integrity.
5. The solution offers versatile interface capabilities, enabling integration with modules for C-V2X, 4G/5G communication, high-precision positioning, and various other functionalities. Additionally, it supports a wide range of peripheral expansion capabilities.
This solution offers outstanding performance, stable operation, and rich functional interfaces. Through microwave communication with Onboard Units (OBUs), it enables functions such as vehicle-to-infrastructure cooperation, intelligent computation, and remote interaction. It provides assistance to autonomous driving and intelligent transportation.
Related products: