New Arrival | Forlinx Released FET-G2LD-C SoM
In May 2022, Forlinx officially launched FET-G2LD-C SoM, carries Renesas RZ/G2L processors. As a leading embedded ARM board manufacturer in China, Forlinx has strong cooperation with Renesas Electronics.
About Renesas Electronics, many engineers know it is a global leading supplier of microcontrollers, analog power devices and SoC, with very strong technical strength. RZ/G2L is a high-performance, ultra-efficient processor launched by Renesas Electronics for pan-industrial field with many advantages. Heterogeneous multi-core Cortex-A55+Cortex-M33, rich functional interface resources, outstanding multimedia performance, extensive applications and ease of use.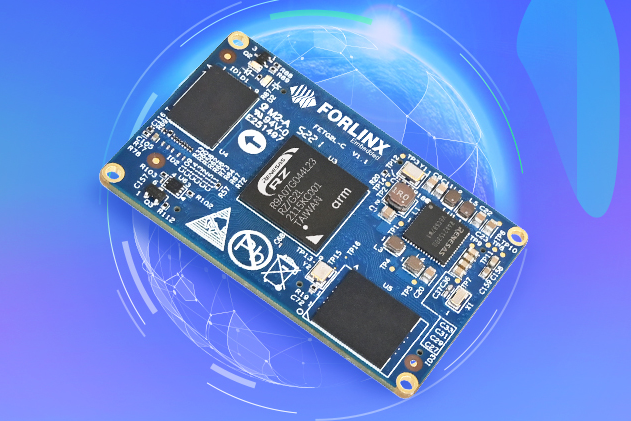 FET-G2LD-C SoM carries two [email protected], and integrates a MCU Cortex-M33@200MHz for real-time control. And a GPU Mali-G31@500MHz and supports a variety of display interfaces. With rich functional interface resources, like multi-channel UART, Ethernet, CAN-FD, etc. Extensive applications and ease of use, applicable to industrial, healthcare, power, transportation and other pan-industrial application scenarios.
1. Stable industrial grade temperature (-40℃~+85℃)
All components of FET-G2LD-C SoM are industrial-grade temperature, including CPU, RAM, ROM, resistors, capacitors, inductors, connectors, operating temperature -40°C~+85°C. Thus it is resistant to high temperature and severe cold, easily cope with various harsh environments. Moreover, FET-G2LD-C SoM has excellent electrical performance due to Forlinx rich experience of design and product implementation on ARM boards. Strict ambient temperature test, pressure test, and long-term stability operation test are carried out in the design stage to ensure it is stable and reliable in various terminals and sites.
2. 10years + super long service life
RZ/G2L has a 10-year+ life cycle guarantee, and its Linux kernel is the super long-term support (SLTS) Kernel maintained by CIP. Thus FET-G2LD-C SoM has ultra-long-term supply support, which is very important for long-life cycle products such as healthcare and industrial control.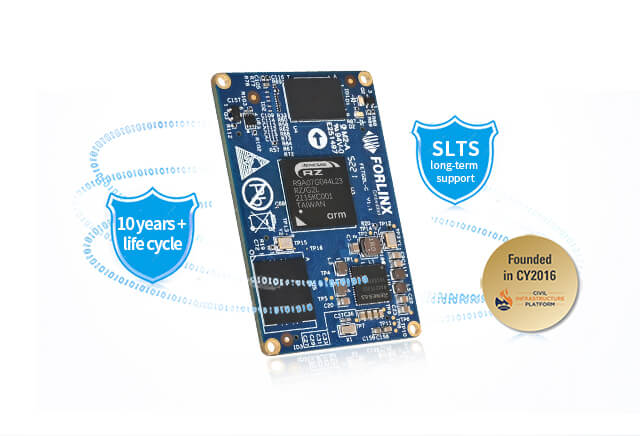 3. Rich Peripheral Interfaces
FET-G2LD-C SoM is very ease of use and versatility with rich peripheral interface resources, like 2 Gigabit Ethernet controllers, 2 CAN-FD, 2 USB2.0, 7 UART, MIPI-DSI, Parallel RGB, MIPI-CSI, DVP, SD, IIS, IIC, SPI, QSPI, PWM, ADC, etc. It can easily expand various functions, help user develop products without functional limitations.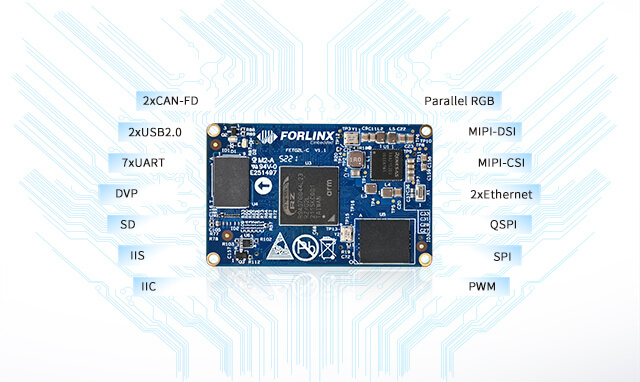 4. Powerful multimedia for HMI and Image Acquisition
FET-G2LD-C SoM has rich multimedia resources, supports a variety of display, camera, audio interfaces, and meets the needs of HMI and image acquisition in multiple scenarios. A 3D GPU Mali-G31@500MHz, support Vulkan, OpenGL, OpenCL. It also support VPU video hardware encoding and decoding, perform encoding and decoding of H.264 1080P, make the display of HMI more beautiful and friendly, bring a stronger human-computer interaction experience.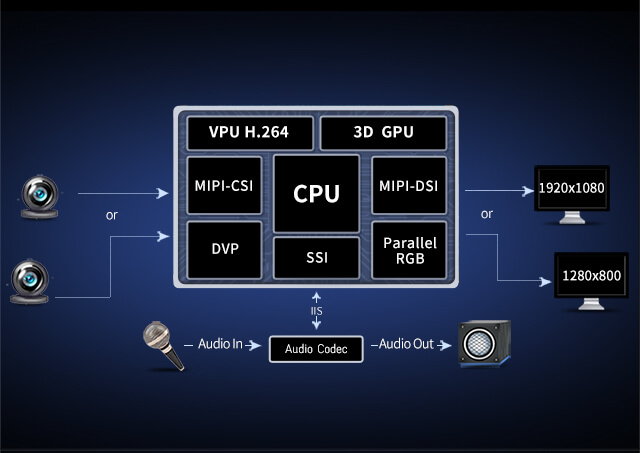 5. Multi-function Timer Pulse Unit, MTU3a Enchantment
Its timer resources include 1-channel 32-bit MTU3*, 8-channel 16-bit MTU3*, 8-channel 32-bit PWM*, and 3-channel watchdog*. The integrated Multi-Function Timer Pulse Unit 3, MTU3a, consists of eight 16-bit timer channels and one 32-bit channel. It can realize PWM complementary input and output for encoder signal input and motor control.
(Note: resources with * are multiplexed)
6. Target Applications
The versatility and industrial-grade quality of FET-G2LD-C SoM make it suitable for many industries such as healthcare, power, industry control, transportation, IoT, environmental monitoring, etc. Its excellent stability performance can help users empower products stably.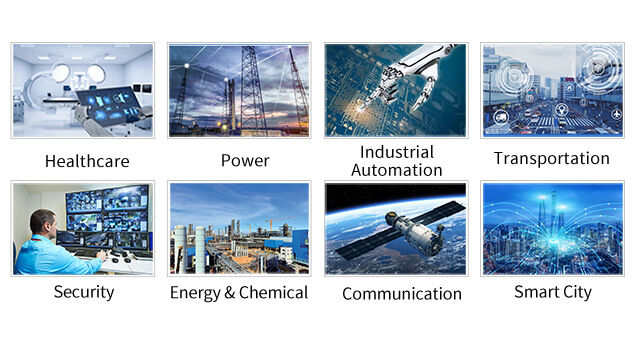 FETG2LD-CSoM Basic Parameters

Processor
Renesas RZ/G2L (R9A07G044Lxx)


MPU Core:

Arm [email protected], 1-core or 2-core


MCU Core:

Arm Cortex-M33@200MHz, 1-core



GPU:


• Arm Mali-G31
• OpenGL ES 1.1/2.0/3.1/3.2, Vulkan 1.1, OpenCL 2.0



VPU:

Encoding / Decoding
• H.264 / AVC (High Profile / Main Profile / Baseline Profile)
• H.264 / MVC (Stereo High Profile)
• up to 1920 x 1080 x 30 fps



ISU:


• image input up to 5M (2800×2047)
• image output up to Full HD (1920×1080)
• Support color format conversion
• RGB / ARGB / YcbCr422 / YcbCr420 / RAW(Grayscale)
RAM
1GB / 2GB DDR4
ROM
QSPI NorFlash: 16MB
eMMC: 8GB / 16GB optional
Working Voltage
DC 5V
Working Temperature
-40~85℃
Package
board to board connector(3*80pin Spacing 0.5mm, height 2mm)
Dimensions
38mm x 60mm
OS
Linux4.19
7. OK-G2LD-C SBC with rich functional interfaces
The carrier board of FET-G2LD-C SoM reserves very rich interfaces. And add EMC protection design on RS485, CAN. Facilitate user evaluation and development.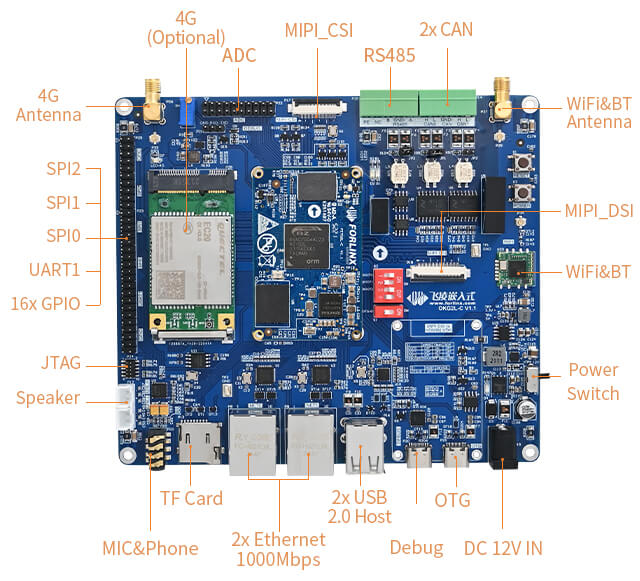 OK-G2LD-C SBC Function Parameter
Interface
QTY
Spec.
MIPI DSI
1
The carrier board leads out 4 lane MIPI_DSI through FPC socket;
default adaptive Forlinx 7-inch MIPI screen, resolution 1024 x 600@30fps
Reserve support Forlinx MIPI-DSI to LVDS & HDMI module;
MIPI CSI
1
Lead out through 26Pin FPC socket and 2 x 10Pin 2.0mm sockets;
Support OV5645, up to 2592X1944
USB Host
2
Two USB 2.0 extended by the hub (up to 480 Mbps)
USB OTG
1
USB2.0 lead out through USB Type-C(up to 480 Mbps)
Ethernet
2
10/100/1000Mbps, RJ-45
WiFi
1
Module: RL-UM02WBS-8723BU-V1.2
WiFi: IEEE 802.11b/g/n 2.4GHz
Bluetooth: BT V2.1/BT V3.0/BT V4.0
Bluetooth
1
4G
1
Support 4G module EC20 by default
QSPI
1
One QSPI Flash chip on QSPI1 to store user data
TF Card
1
The carrier board leads out SD signal through TF card holder, which can mount TF Card
Audio
1
WM8960 default onboard;
Support headphone output and MIC input, integrated on one 3.5mm headphone jack;
Support two 1W8Ω speaker output, lead out through XH2.54 white terminal
CAN
2
CAN-FD with Electrical isolation
RS485
1
Automatic control of sending and receiving direction, with electrical isolation
I2C
3
to mount audio, RTC, camera and other equipment on carrier board
PWM
1
adjust backlight brightness
RTC
1
Independent RTC chip onboard. The time will be recorded by button battery when carrier board is powered off.
SCIF(UART)
1
Lead out through 2.54mm pins
SPI
3
Lead out through 2.54mm pins
ADC
8
Lead out through 2.54mm pins
ADC_CH4 is additionally connected to a sliding rheostat to facilitate user debugging
JTAG
1
Lead out through 1.27mm pins
To support clients' product development, Forlinx provides technical support and after-sales service, and free download of related product technical files.
Besides, Forlinx also provide software/hardware design services, customize carrier board according to clients' requirements.
Please inquiry our sales for details.
Related products: