NXP i.MX Application Processor - iMX8 Series Product Introduction
The NXP i.MX series application processors are based on 32- and 64-bit ARM technology, providing multi-core solutions, suitable for multimedia and display applications, with high performance and low power consumption, scalability, safety and reliability. The members of the i.MX series family include i.MX28 series, i.MX6 series, i.MX7 series, i.MX8 series, i.MX RT series.
i.MX RT series:
Arm® Cortex®-M7/M4/M33
The cross MCU has real-time functions and MCU availability, and is suitable for next-generation consumer and industrial IoT applications.
i.MX 8 series:
Cortex-A53, Cortex-A72, Cortex-A35 + Cortex-M4
A powerful solution with advanced neural network processing, graphics, machine vision, video, audio, voice, and many supporting safety-critical applications.
i.MX 7 series:
Cortex-A7 + Cortex-M4
Low-power solutions for security, wearable and portable IoT applications
i.MX 6 series:
Cortex-A9, Cortex-A9 + Cortex-M4 or Cortex-A7
A universal solution that provides balanced features, performance and scalability for automotive, consumer and industrial applications.
This article takes NXP i.MX 8 series as the main introduction. According to NXP Semiconductors (NXP) official data on the iMX8 series of application processors, the iMX8 series of application processors can achieve a comprehensive sensory experience by combining the requirements of voice, video and audio. This series of processors integrates powerful media functions into a single chip, laying a solid foundation for the new transformation of the sensory world. The new series of processors have excellent processing performance for voice, video and audio, and cooperate with important ecosystems such as Amazon and Google to bring seamless and smooth connection and intuitive experience, and then meet the current demand for computing and sensory.
The i.MX8 series application processor has IMX8I, MX8M, IMX8Mini, IMX8M Nano, IMX 8X series members according to different configurations, and provides Cortex-A72 + Cortex-A53, Cortex-A35 cores, and also provides real-time task processing Cortex-M Core (Cortex-M4 and Cortex M7) solutions, therefore, NXP i.MX8 series application processors are used in advanced graphics, advanced imaging, advanced machine vision, high-end audio, high-end voice, high-end video and high-security embedded applications, etc. Multiple application scenarios across domains are very applicable.
NXP i.MX8 family series configuration
i.MX8
i.MX8 is the highest-end configuration SKU in the series. It has 6-core Cortex-A (A72+A53) with 2 core Cortex-M4, and is also equipped with 1 DSP core and 2 GPU cores, graphics acceleration and high-speed interface. It is well-suited for high-end visual and multimedia applications.
• Realize high-speed multi-operating system platform deployment with advanced full-chip hardware virtualization and domain protection;
• Deploy rich and complete independent graphics across 4 HD screens or 1x 4K screen;
• With SafeAssure® fault recovery display controller, ensure that all displays are always running;
• Integrate visual and voice recognition interaction with powerful visual pipeline and audio processing subsystem;
• With the help of pin and power compatible packaging and software-friendly copy of accurate IP blocks, rapid deployment of multiple products;
• Android™, Linux®, FreeRTOS, QNX™, Green Hills®, Dornerworks XEN™;
• Automotive AEC-Q100 grade 3 (-40 to 125°C Tj), industrial (-40 to 105 °C Tj), consumer electronics (-20 to 105 °C Tj);
• NXP's 10-year and 15-year product long-term supply plan provides comprehensive support.
i.MX8M
Based on Arm Cortex-A53 and Cortex-M4 cores, i.MX 8M series application processors have industry-leading audio, voice and video processing functions, and are suitable for a wide range of applications from consumer home audio to industrial building automation and mobile computers.
• With high-quality video, providing full 4K UltraHD resolution and HDR (Dolby Vision, HDR10 and HLG);
• Provide the highest level of professional audio fidelity, with more than 20 audio channels, each channel 384KHz;
• DSD512 audio function;
• Suitable for fanless operation, low cooling system cost and long battery life;
• Flexible memory options;
• The latest high-speed interface provides flexible connections;
• NXP's 10-year and 15-year product long-term supply plan provides comprehensive support.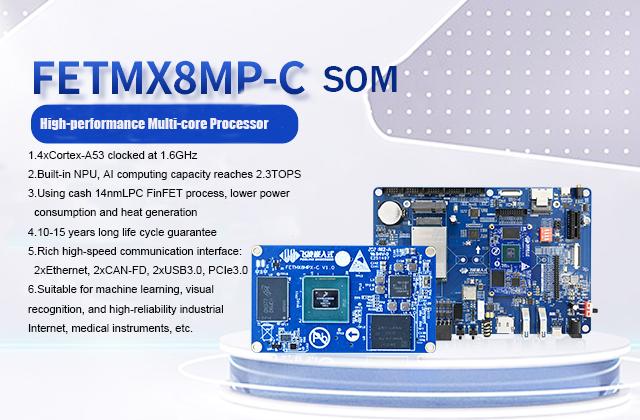 i.MX8M Mini
The mid-range i.MX8M Mini is equipped with SKUs and is constructed with advanced 14LPC FinFET process technology. It contains four ARM Cortex-A53 and Cortex-M4. Its size is only one-fourth of that of a mobile phone chip, and its power consumption is also higher than similar products. It is 75% lower and can be used in many applications on the Internet of Things. It provides faster speed and higher power efficiency. The product performance is nearly 10 times higher than that of i.MX6. The i.MX 8M Mini family is positioned in any general industry and thing. The networking application is a chip for edge computing applications, and it is also the first product line in the NXP i.MX series to add a machine learning core. With the support of commercial and industrial grade certification and NXP product long-term supply plan, the i.MX 8M Mini family will meet a wide range of product system requirements.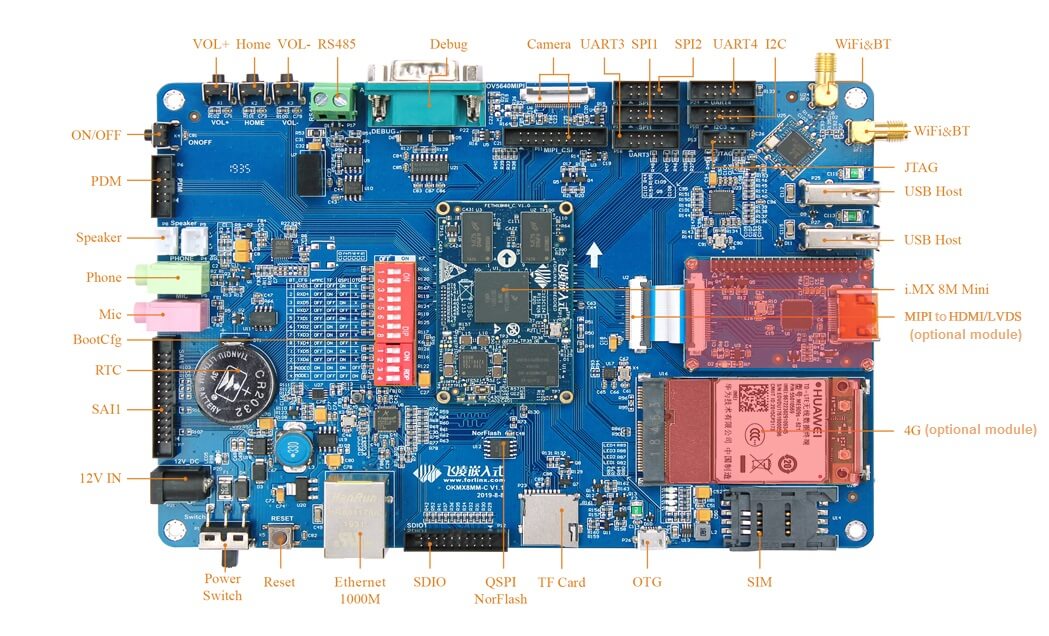 i.MX 8M Nano
NXP i.MX 8M Nano is the latest product in the i.MX 8M series. It is compatible with i.MX 8M Mini pin and software, and also compatible with i.MX 8M software, providing customers with scalability, maximizing the reuse of design and software in multiple applications, and improving development efficiency. Strict industry standards make i.MX 8M Nano ideal for emerging edge consumer applications such as industrial applications and voice.
Compared with the pin-compatible i.MX 8M Mini application processor, the i.MX 8M Nano application processor provides many new features, including an upgraded 3D GPU to support OpenGL ES 3.1 and Vulkan, thereby supporting the next generation of Android, And provide OpenCL 1.2 to speed up machine learning applications. In addition, the product introduces a fast Cortex-M7 core with a main frequency of up to 750MHz and supports double-precision floating point, which increases the overall performance by as much as 4 times.
i.MX 8X
The i.MX 8X series expands the scalability of the i.MX 8 series, including the common subsystems and architectures of the i.MX 8 high-end series, and achieves unparalleled cost-effective scalability and the highest level of software reuse through pin compatibility. The i.MX 8X series processors are highly integrated and can support graphics, video, image processing and voice functions, and can meet the requirements for safety certification and high energy efficiency.
Related products: