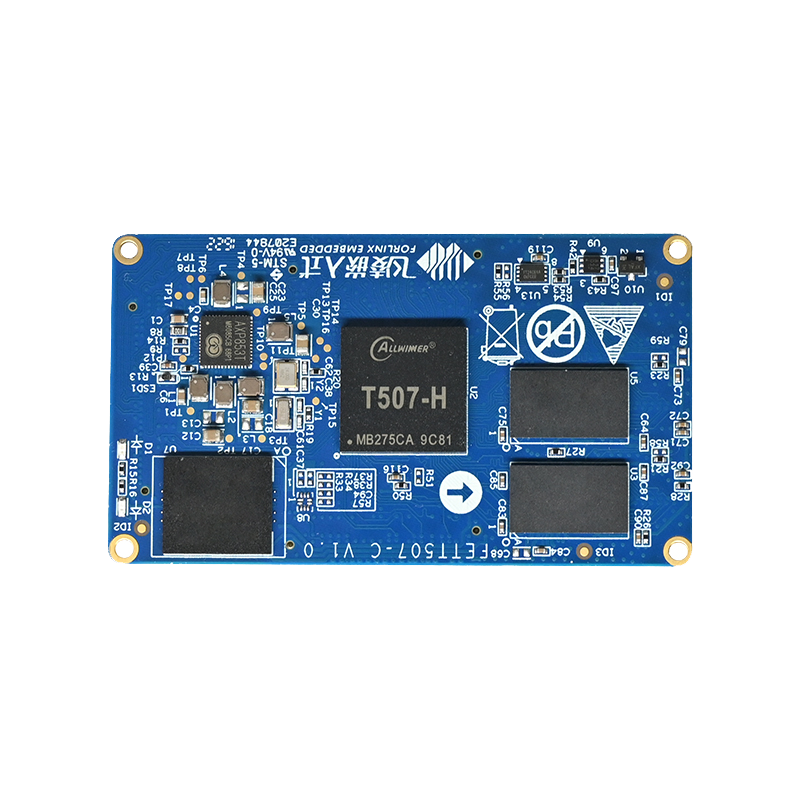 FETT507-C System on Module based on Allwinner T507
FETT507-C system on module(SoM) is based on Allwinner quad-core industrial SoC T507 belongs to Cortex-A53 architecture runs at speed up to 1.5GHz, and it integrates with G31 GPU, carries 2GB DDR3L and 8GB eMMC on-board. It supports most mainstream video and image codec forms. It has advantages of industrial grade, low power performance and plenty peripherals, can support Linux, Android and Ubuntu TBD very well, applicable for car electronics, power industry, medical, industrial control , IoT and all kinds of smart devices.
Industrial grade SoC
FETT507-C system on module is based on industrial grade SoC T507 certified by AEC-Q100, more than 10 years of longevity.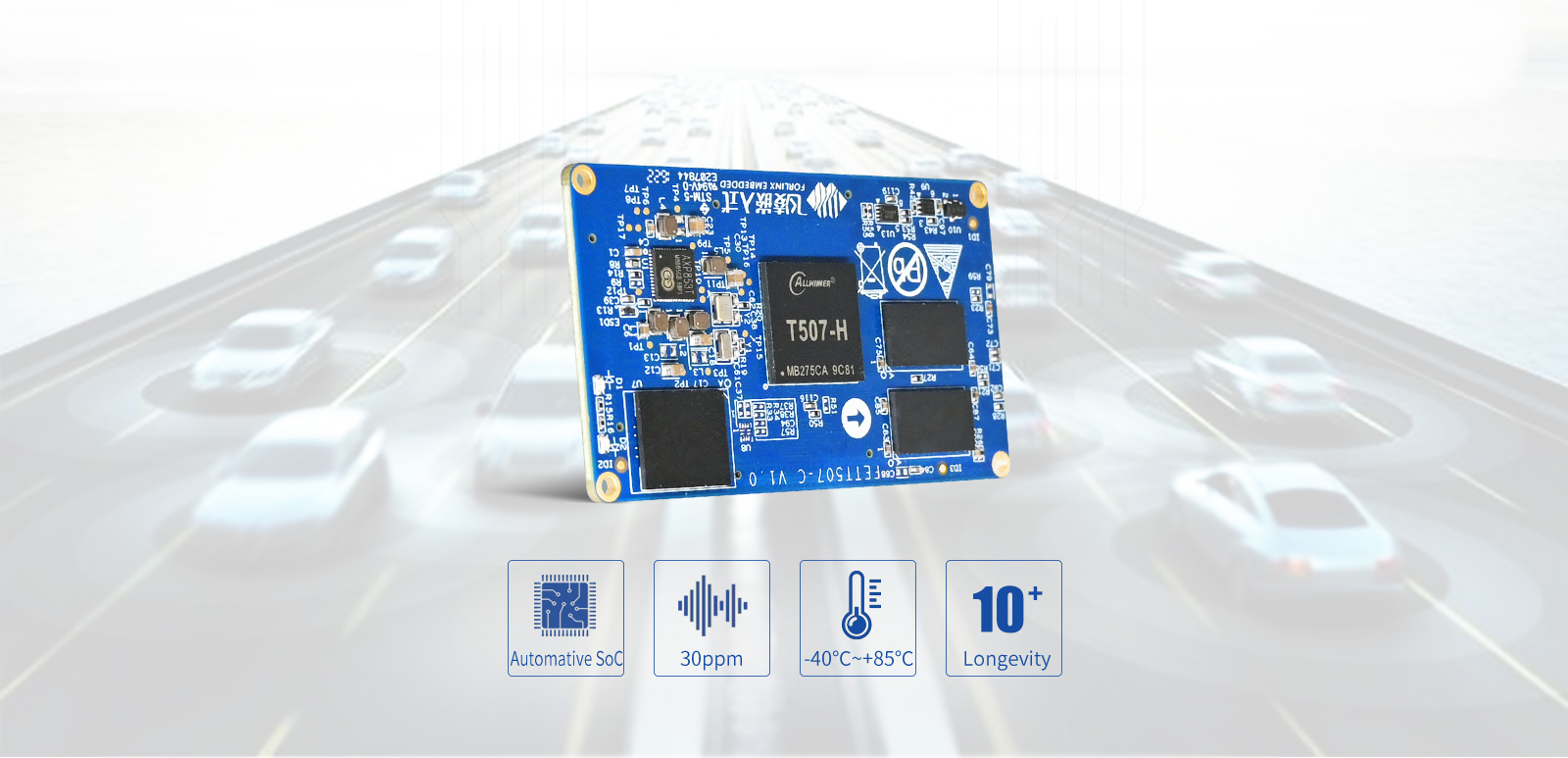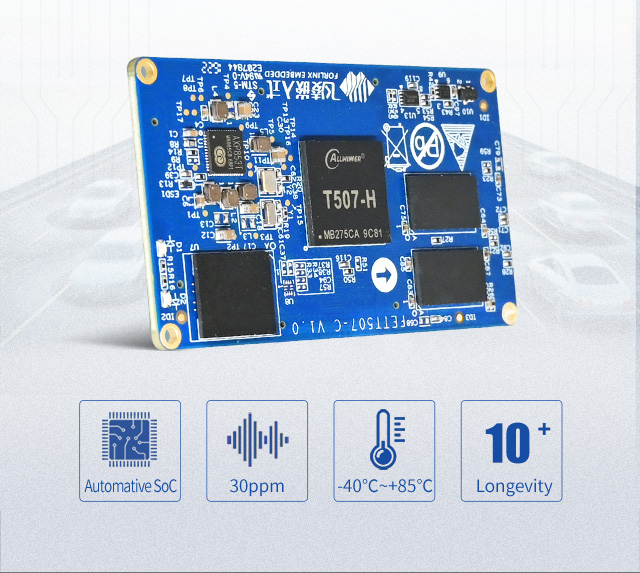 Advanced Performance
FETT507-C system on module is based on Cortex-A53 featuring quad-core SoC T507 running at speed up to 1.5GHz;
Integrates with GPU G31 MP2; Carries 2GB DDR3 RAM and 8GB eMMC ROM on-board, can support Android, Linux and Ubuntu very well.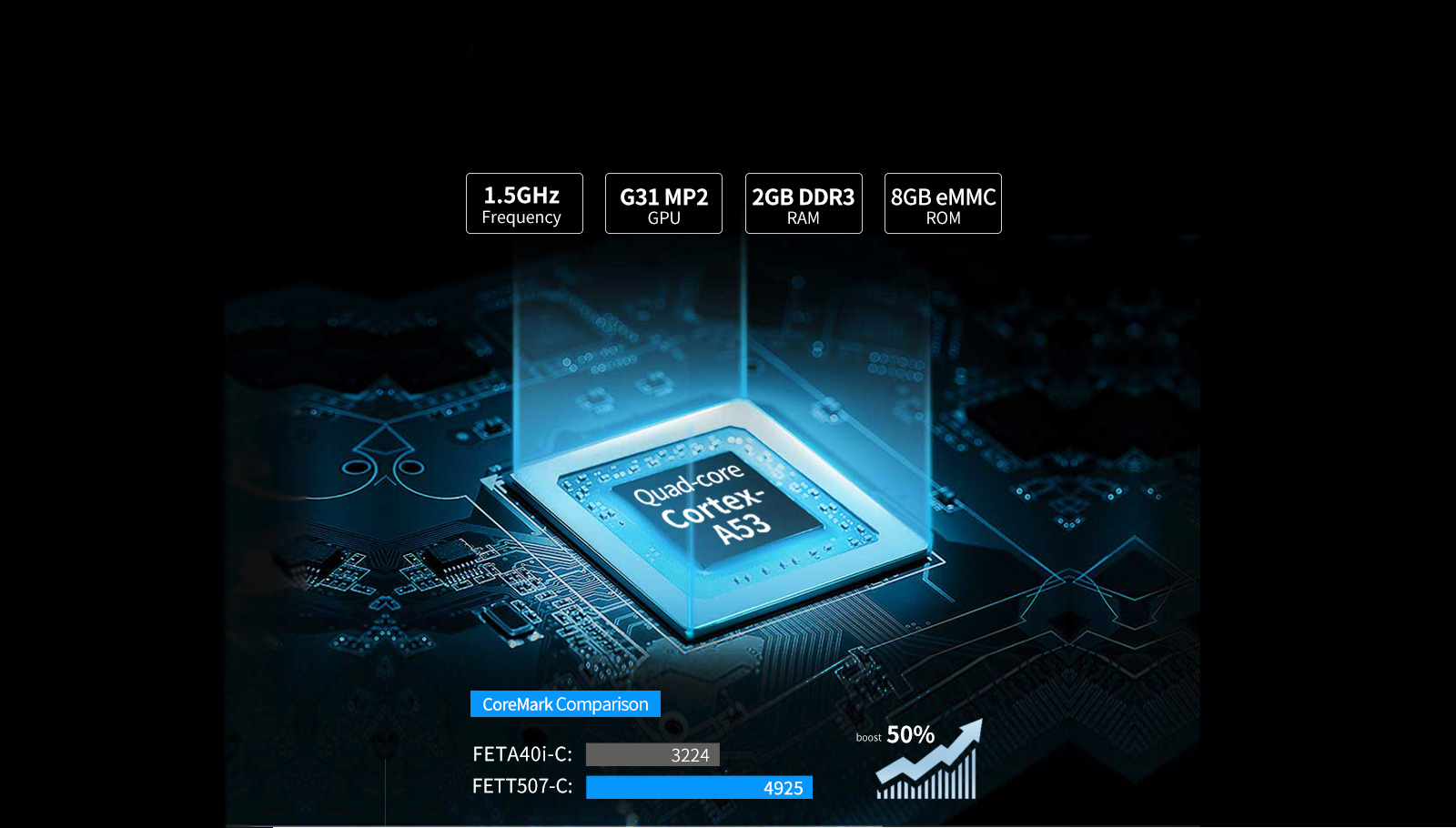 Ultra low power consumption and fanless

SoM designed based on low-power Cortex-A53 featuring SoC, CPU full-loaded consumption only 2.25W, which is applicable for fanless designing, allows device can long-term run stably.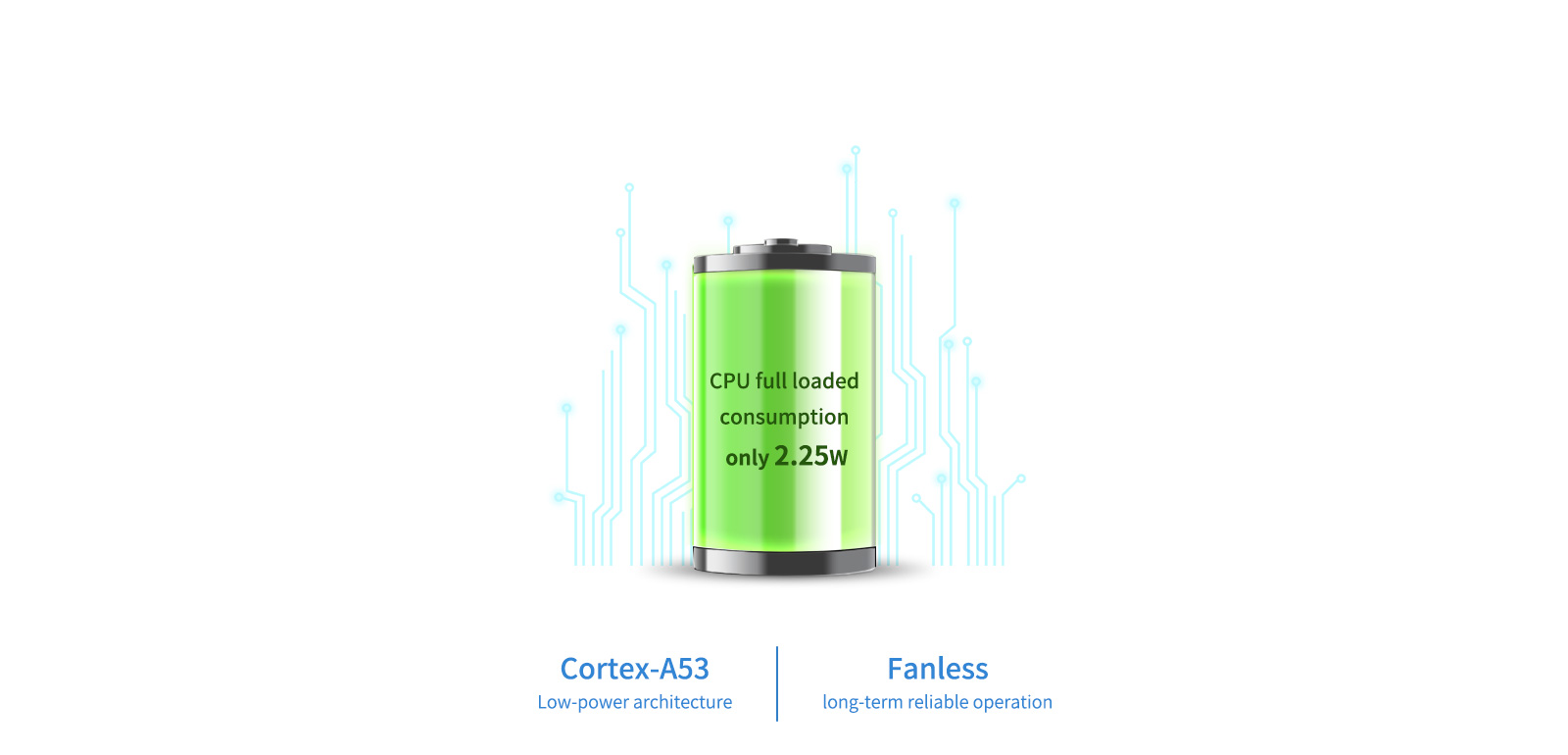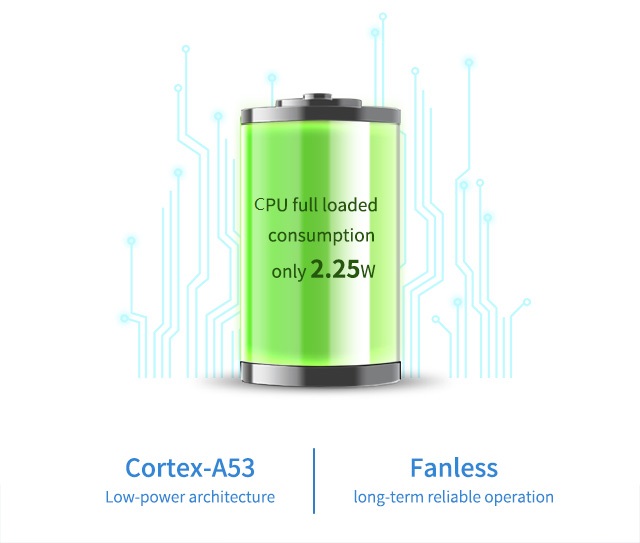 Various functional peripherals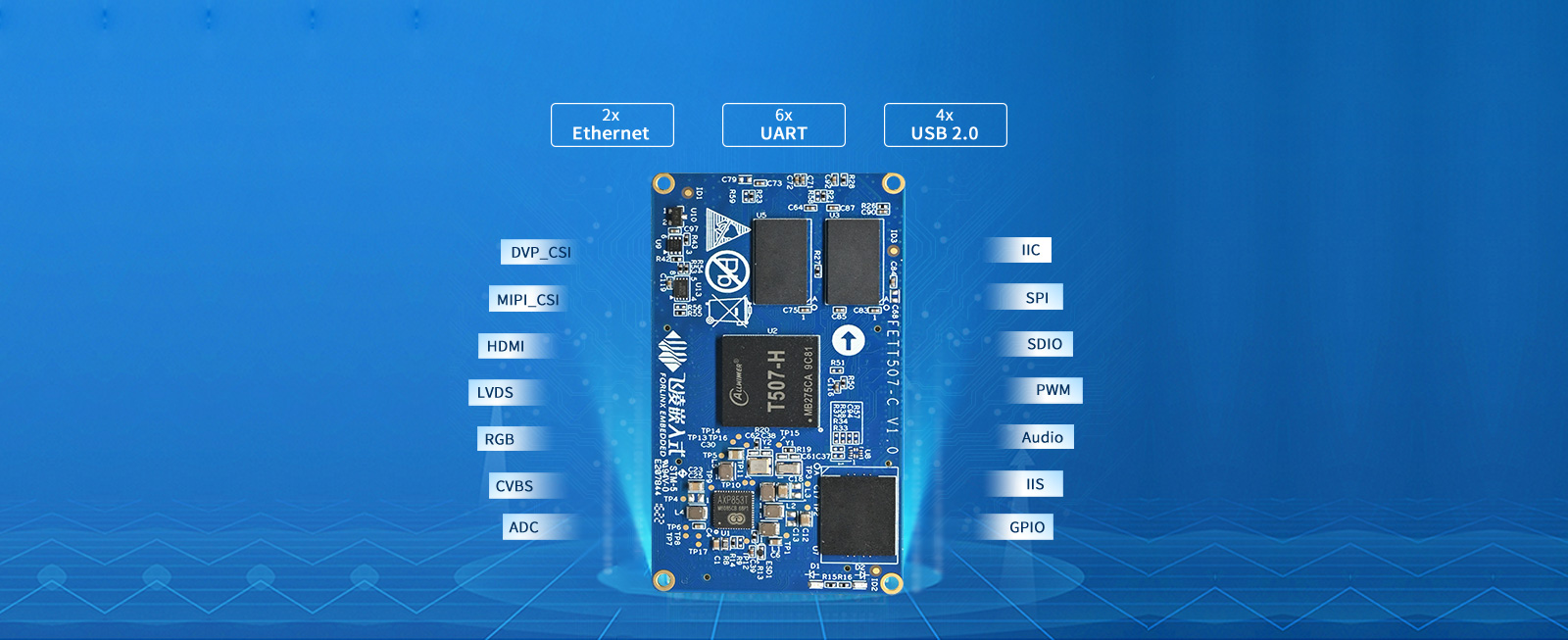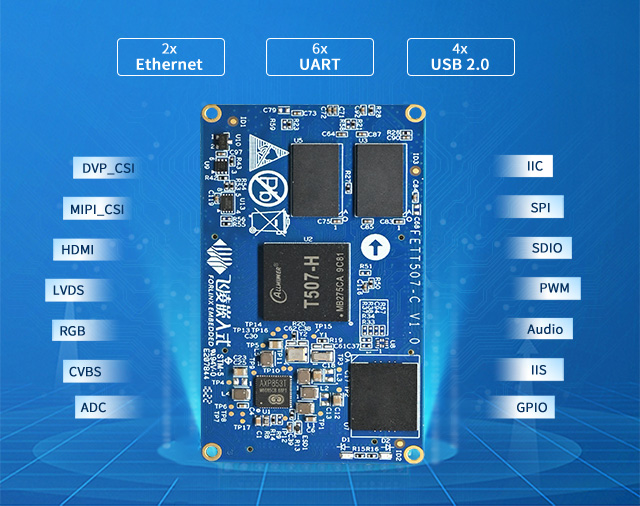 AHD camera input

Can support AHD input converted to MIPI-CSI, can support 4 AHD camera capture.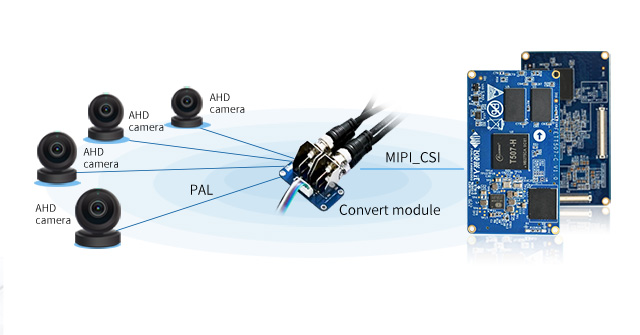 Multi video output interfaces

RGB, LVDS, HDMI and CVBS output interfaces are all supported, can support dual-screen playing synchronously and asynchronously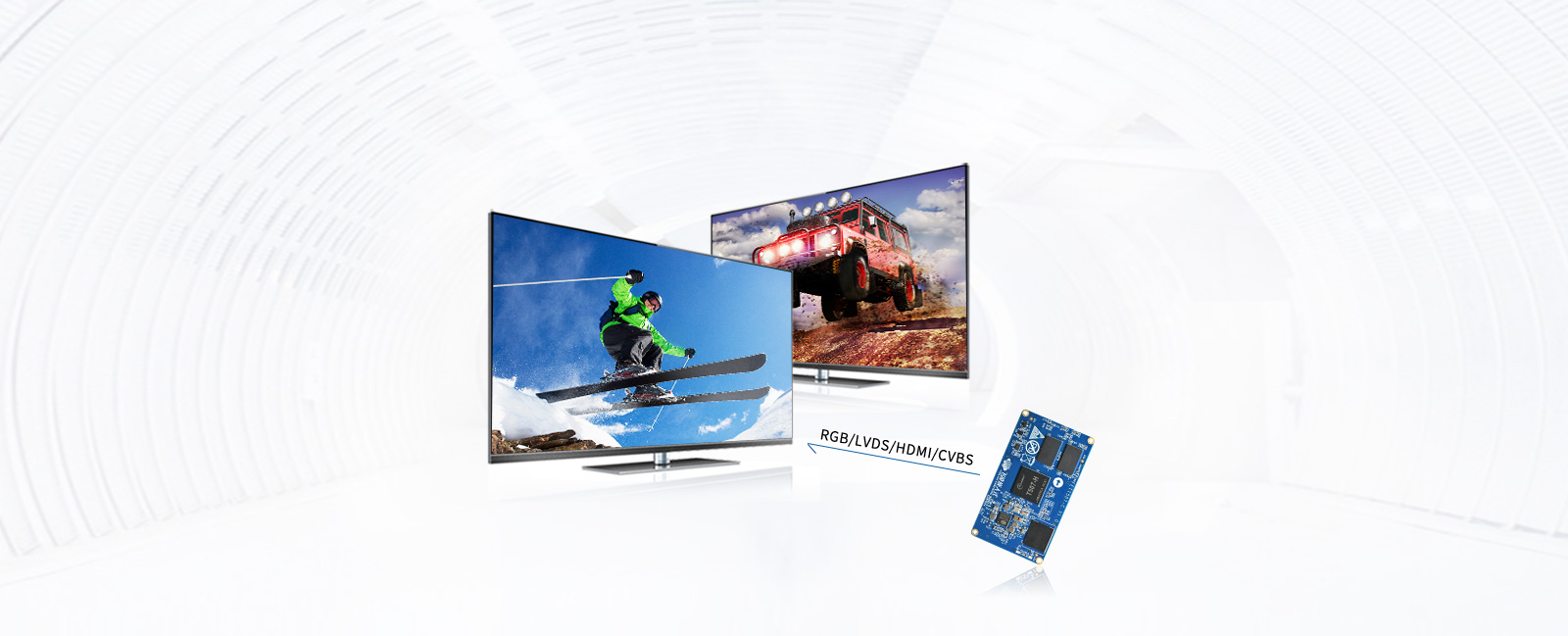 4K video output

Supports HDMI 2.0a, output resolution up to 4K.


Supports 4K hardware codec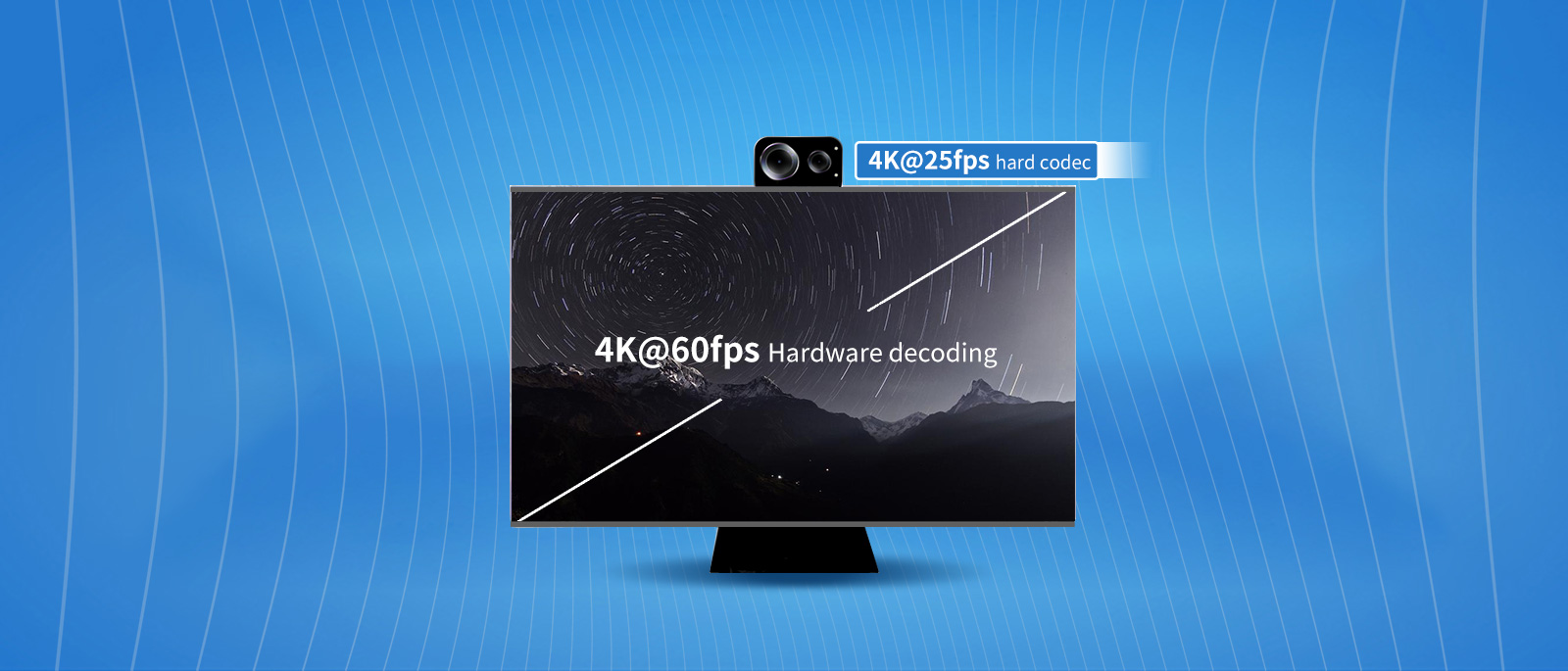 OS

Linux4.9+Qt5.12, Android10.0 and Ubuntu18.04 are all well supported and easy-to-go.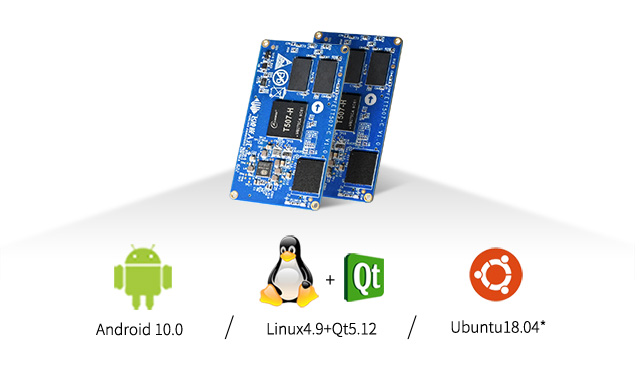 Target Applications

Applicable for car electronics, power industry, medical, industrial control, IoT and all kinds of smart devices.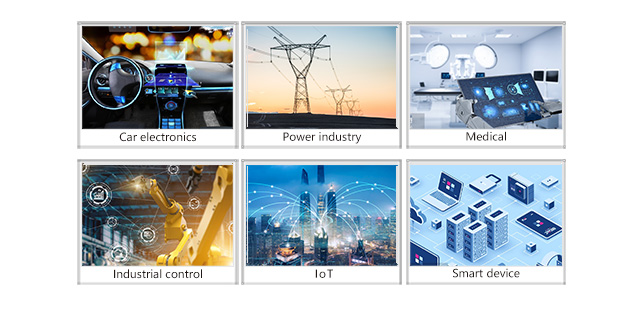 Single Board Computer Pin Diagrams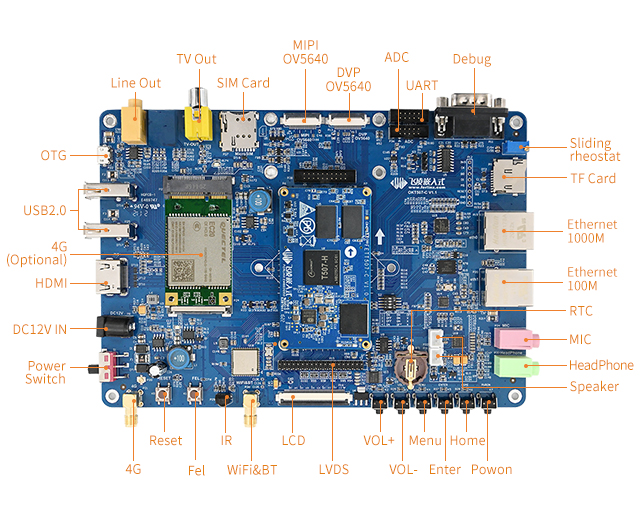 ▊ FDU Medical HMI
---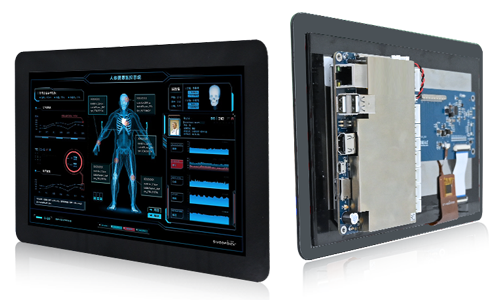 Forlinx launched FDU070K02 & FDU101K02, an HMI specially designed for medical. It supports touch with medical gloves, dual screen simultaneous display or differential display, taking into account the scene flexibility and convenience of use.
The FDU medical HMI support network, display, RS232/485, and USB, it also support communication interfaces such as CAN, 4G, and WIFI. All of them are equipped with ESD4 electrostatic protection.
Adapted to a variety of screen sizes, not limited by usage scenarios and space. It currently supports 10.1-inch screen (1280 * 800 resolution) and 7.0-inch screen (1024 * 600 resolution).
▊ Hardware Features
---
Overview of FETT507-C System on Module
CPU
Allwinner T507
Architecture
quad-core Cortex-A53
Frequency
1.5GHz
RAM
2GB DDR3L
ROM
8GB eMMC
Working Temperature
-40℃~ +85℃
Dimensions
40mm*70mm
Package
ultra thin board-to-board connector
Voltage input
5V
OS

Linux4.9+QT5.12, Android10, Ubuntu18.04 TBD

GPU
G31 MP2 available for OpenGL ES 3.2/2.0/1.0, Vulkan1.1, OpenCL 2.0
FETT507-C System on Module Features
Peripheral
QTY
Spec.
TVOUT
1
CVBS output, NTSC mode and PAL mode
HMDI
1

Video:

- 2D Video up to 4K@60fps;

- 3D Video up to 4K@30fps;

Audio:

-IEC60985 L-PCM unpressed audio form, up to 192 kHz;

-IEC61937 pressed audio form, up to 1536 kHz

LCD/LVDS
1

LCD and LVDS are multiplexed;

LCD:

- RGB(DE/SYNC) up to 1920x1080@60fps;

- Serial RGB/dummy RGB up to 800x480@fps;

- i8080 up to 800x480@60fps;

- BT656 up to 1280x720@60fps or 1920x1080@30fps;

- RGB888, RGB565, RGB666;

- can support R/G/B separate Gamma correcting

LVDS:

- dual-lane up to 1920x1080@60fps;

- single-lane up to 1366x768@60fps

MIPI_CSI
1

supports image tailoring;

supports MIPI Version 1.0;

up to 1.0Gbps/Lane;

video capturing rate up to 8M@30fps or 4*1080p@25fps;

CSI_DVP
1

can support 8/10/12/16 bit DC;

supports BT656, BT601, BT1120;

supports ITU-R BT.656 TDM, up to 4*720p@30fps id DDR sampling mode;

supports progress and interlace video input;

video capturing rate up to 5M@15fps and 1080p@30fps;

pixel clock up to 148.5MHz

USB2.0
4

OTG:

- can support 1* OTG;

- High-Speed (HS, 482), Full-Speed(FS, 12Mbit/s) and Low-Speed (LS, 1.5Mbit/s) in master mode;

- High-Speed (HS, 482 Mbit/s) and Full-Speed (FS, 12Mbit/s) in slave mode

HOST:

- can support 3* host;

- can support High-Speed (HS, 482 Mbit/s),Full-Speed(FS,12Mbit/s) and Low-Speed(LS, 1.5Mbit/s) devices

SD
2

SDHC0(SD3.0):

- 4bit BUS width;

- SDR mode [email protected] IO pad;

- SDR mode [email protected] IO pad;

- DDR mode [email protected] IO padSDHC1(SDIO3.0):

- 4bit BUS width;

- SDR mode [email protected] IO pad;

- DDR mode [email protected] IO pad

RMII
1
10/100Mbps auto-negotiation
RGMII
1
10/100/1000 Mbps auto-negotiation; RGMII could be multiplexed to RMII for dual fast Ethernet expanding
UART
≤6

UART0, UART5: 2-wire, UART1, UART2, UART3, UART4: 4-wire;

Comply with 16550 UARTs;

speed up to 4Mbit/s;

can support 5~8 data bit and 1/1.5/2 stop bit;

can support RS-485/9-bit mode

TWI
≤5
standard mode(up to 100kbit/s) and fast mode(up to 400kbit/s)
SPI
≤2
3-wire/ 4-wire SPI: up to 100MHz
SCR
1
ISO/IEC 7816-3:1997(E) and EMV2000(4.0)
PWM
≤6

3 couples of PWM: PWM01 consists of PWM0 and PWM1, PWM23 consists of PWM2 and PWM3, PWM45 consists of PWM4 and PWM5;

can support pulse(configurable), circle and complementary pair output;

can support capture input;

programmable dead zone output;

built-in programmable dead zone time generator, controllable dead zone time;

three types of output waves: continuous wave; pulse wave, complementary wave;

output reference range: 0~24MHz/100MHz; duty ratio: 0%~100%;

minimum resolution: 1/65536; supports PWM output and input interrupt

JTAG
≤1
CIR
1

supports NEC data;

supports remote controller or wireless keyboard CIR;

64x8 bit FIFO for data buffer;

sampling clock up to 1MHz

GPADC
4

can support 4 general purpose ADC, 12-bit resolution;

maximum sampling rate 1MHz;

can support data comparison and interrupt;

can support DMA transactions;

signal input range: 0~1.8V;

supports three working modes: single conversion, continuous conversion burst conversion

LRADC
1

6-bit resolution

sampling rate up to 2kHz

supports hold Key and general Key

supports normal mode, continuous conduction mode and single work mode;

Power supply voltage: 1.8V

Power reference voltage: 1.35V, analog input

detected voltage range: 0〜LEVELB(maximum 1.266V)

LINEIN TBD
1
reserved, not available
LINEOUT
1

supports dynamic range controller to adjust DAC playing;

2 DAC channels:

- can support 16-bit and 20-bit sampling rates;

- 8kHz ~ 192kHz sampling rate;

- 95±2db SNR@A-weight, -80±3db THD+N, output up to 0.55Vrms1 audio output:

- one differential LINEOUTP/N or single-end LINEOUTL/R

DMIC
1

can support up to 8 digital PDM micphones;

can support sampling rate 8kHz to 48kHz

OWA
1
1* OWA sending
I2S
≤4

one built-in audio HUB;

supports 2 Digital Audio MIXER(DAM);

supports 3* I2S/PCM peripherals and 1* I2S/PCM for connecting internal HDMI;

supports left-justifying, right-justifying, standard I2S, PCM, tdM;

I2S supports 8 channels, 32-bit/192kbit sampling rate;

I2S and TMD mode up to 16 channels, 32-bit/96kbit sampling rate
▊ Accessories
---
Provides the modules and accessories used in Forlinx's SBC.
See here for communication modules, LCD screen, SBC expansion module and further accessories »
Technical Support
Forlinx provides software resources including kernel and driver source code, together with detailed user manual, schematic documentations to help customer start their development rapidly.
▊ How to buy
---
1. Order Online
We have an online store on Alibaba, please contact us to start ordering
2. Order offline
pls send your inquiry to our mailbox [email protected];
3. Payment Terms
Samples(100% T/T in advance),Bulk Order(please contact with our sales)
▊ Shipment
---
1. Delivery: Goods will be sent out by express as requested
2. Lead time: generally, goods could be sent out within five working days for a sample order, for a bulk requirement order, please contact us to check stock status and estimated delivery time.
3. Shipping charge: buyers should bear related shipping cost.
▊ Other Forlinx Allwinner Series Products
---