What Folinx's FCU1103 can do in the area of Industrial IoT?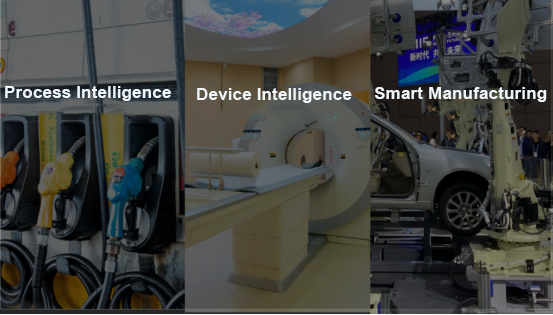 The Industrial Internet of Things makes industrial production smarter
Through the industrial Internet of Things technology and platform, enterprises can carry out predictive maintenance of important equipment (such as machine meters, machine tools, etc.), reduce the possibility of equipment failure, greatly reduce the cost of downtime; It can also optimize the supply chain management system.
There are mainly the following aspects:
1, Enterprise raw materials procurement, inventory, sales: raw materials supply chain management system can apply sensing network technology, improve supply chain efficiency, reduce costs.
2, Production process optimization: the use of Internet of Things-related technologies, to achieve production line process detection, real-time parameter collection, production equipment monitoring, material consumption monitoring, so as to improve product quality, optimize the production process.
3, Product equipment monitoring: the sensing technology and manufacturing technology fusion, to achieve the use of product equipment records, and remote diagnosis of fault equipment.
4, Environmental monitoring: industrial production process will produce a variety of pollution sources, in the enterprise sewage outlet installation of wireless sensing equipment, real-time monitoring of sewage, and can be remotely closed sewage outlet, to prevent sudden environmental pollution accidents.
5, Industrial safety production management: such as the Internet of Things sensor embedded in mining equipment, oil and gas pipelines, miners equipment, staff into the corresponding site work can be real-time monitoring of the safety status of staff, real-time perception, if there is a sudden accident, can be rescued in the first time.
With industrial IoT technology or platform, enterprises can connect and monitor the people, machines, materials, methods, rings, measurement and other elements of the workshop in real time, and with the help of machine learning technology, understand and learn the connected data, achieve anomaly warning and failure prediction, and promote the improvement of the overall operational efficiency (OEE) of the entire workshop under the guidance of the bottleneck constraint theory (TOC) or lean production "one flow" theory, and thus promote upstream product development, supply chain planning and organization, production scheduling, Organizational performance and personnel skills, ERP/PLM/MES system and other all-round optimization and upgrading, through monitoring, control, optimization, automation, intelligent development trajectory, and ultimately achieve less humanization, automation, intelligent plant.
Industrial Internet of Things Gateway
Industrial Smart Internet of Things is a kind of gateway with edge computing power. Open software architecture design, providing fast and flexible customization, rich and diverse interfaces, local real-time data analysis and intelligent processing, industrial-grade standard design, wide temperature, strong electromagnetic interference, can adapt to different industry scenarios.

Feature 1: Powerful data acquisition capabilities
Industrial Intelligent Internet of Things (IoT) has a wealth of interfaces, including RJ45/RS232/RS485/CAN/IO/USB/WIFI, and is compatible with Modbus, Profinet, CAN and other industrial protocols, supporting 3G/4G, WIFI, wired, NB-IOT and other communication protocols to ensure the accuracy and integrity of data collection.
Feature 2: Can adapt to a variety of harsh industrial site environment
From processing chips and communication modules to electronics, Forlinx's embedded intelligent Internet of Things (IoT) is designed and manufactured to high industry-grade standards to ensure long-term and stable operation in harsh industrial environments.
Feature 3: Open system architecture
Industrial Smart Internet of Things (IoT) with an open system architecture that supports SDKs for third-party application platforms.
Solution framework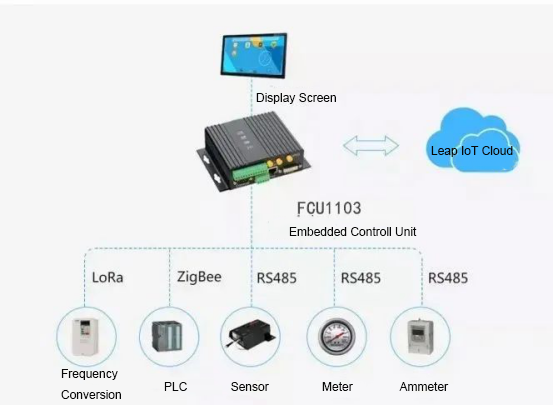 Product recommendation:
FCU1103 embedded control unit

● High performance, low power consumption and high reliability with NXP (formerly Freescale) i.MX 6 UltraLite processors
● Product open source, users can make their own hardware and software tailoring
● CPU native support ISO7816 protocol, can directly adapt to ESAM/PSAM encryption module
● Power-down protection function, after power-off can maintain the normal operation of the system for 15 seconds, to ensure that important information is not lost
● Rich interface resources, 4 DI, 4 DO, 2 485, 2 CAN, 1 network (expandable to 2), all using electrical isolation and interface protection
● Intuitive status indicators, so that the system operation, network communication, interface status, etc. at a glance
● A variety of modes of communication, on-board 100 megabits of internet access, Bluetooth and Wi-Fi, 4G (or GPRS) modules
● Standard SD card slot with support for SD, SDHC and SDXC cards with a maximum measured capacity of 64G
● Standard 3.5mm stereo headphone connector with built-in microphone, 1W× 2 speakers or 3.5mm mono microphone connections
● Support for 7-inch LVDS touch screen
● Support SD card one-click upgrade system, no need to remove the housing, simple and convenient
● Wide voltage range for safe and reliable operation in the range of 9 to 15V, without fear of voltage fluctuations

The aluminum alloy profile housing, with mounting holes, the volume is only 147× 103×42mm, beautiful appearance, easy to install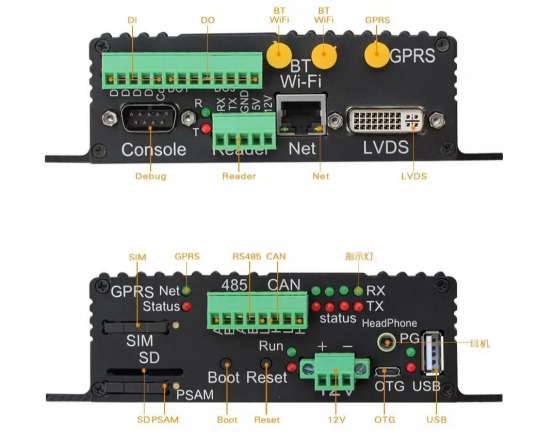 Related products: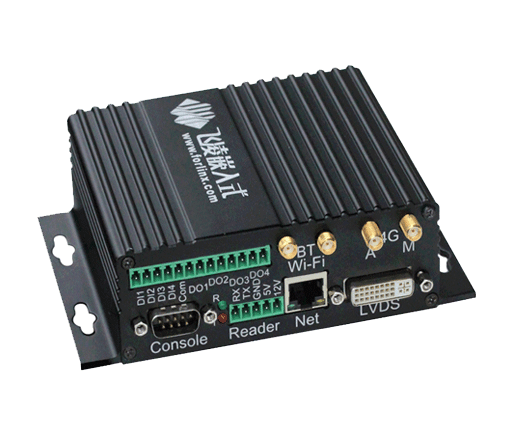 FCU1103 Embedded Computer