High Performance CPU Recommended - Rockchip RK3399
RK3399 is the highest performing chip in the Rockchip product line, offering high performance and scalability in applications. Chip hardware specifications are a leader in the industry.
The CPU of the RK3399 uses the big.LITTLE core architecture and the dual-core Cortex-A72 large core and quad-core Cortex-A53 small core structure. Significant improvements have been made in integers, floats, memory, overall performance, power consumption, and core area. Rockchip RK3399's GPU features a new generation of high-end image processors---Mali-T860, with quad-core ARM, integrating more bandwidth compression technologies such as smart overlays, ASTCs, and local pixel storage, and supporting more graphics and computing interfaces. Overall performance is 45% higher than the previous generation.
Here are seven performance benefits of the RK3399:
Integrated USB 3.0 Type-C dual port and supports the audio and video output of the Type-C display port.
Dual ISP with 800MPix / s pixel processing power, support dual camera at the same time data input and advanced processing (e.g. 3D and depth information extraction).
The MIPI /eDP interface supports 2560× 1600 screens and dual screen displays.
HDMI2.0 interface and H.265 / H.264 / VP9 4K s 60fps support decoding and displaying HD video.
The PCI-e built-in interface supports high-speed PCI-e-based Wi-Fi and storage expansion.
Supports input for 8 digital microphone arrays.
Full support for systems compatible with Android, Linux, and other operating systems.
It has great compatibility and scalability and can be used in VR, game consoles, tablets and other multifunction terminals.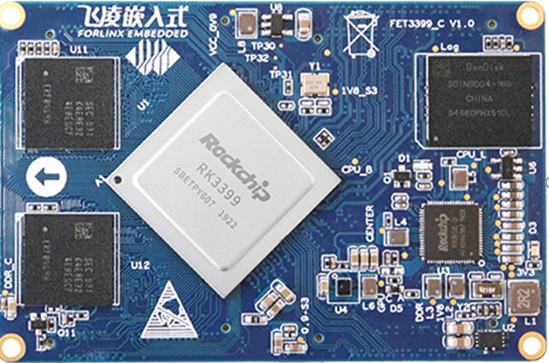 For smart devices such as VR, the RK3399 offers hardware advantages including a screen with 20ms latency, 90Hz refresh rate, 4K UHD decoding and 2K low durability, high-precision positioning and tracking systems, excellent HDR camera shooting technology, excellent 3D processing power, and HD H.265/H.264 video resolution. For tablets, game boxes and other products, the RK3399 is based on a powerful CPU, higher interface standards, faster transmission speeds, support for H.265 / VP9 4K - 60fps10bit video playback and output capabilities, providing the terminal with faster computing speed and better visuals. Coding, better picture decoding, game engine and 3D image processing power. In addition to tablets, VR, TV-BOX, laptops, automotive and communications, the RK3399 is based on sufficient scalability to be used in a wide range of endpoints in the industrial and consumer sectors, including smart home appliances, ad players/multifunction PCs, financial POS machines, in-vehicle control terminals, thin clients, VOIP video conferencing, security/surveillance/police transactions, and the Internet of Things.
Related products: