iMX6 Development Board - iMX6 System On module(SoM)
Freescale i.MX6 family of five processors, with their software and pin definitions basically compatible, requires only one hardware design to cover the entire product family and meet the market's needs for different performance.
The Forlinx iMX6 development board is a 4-core i.MX6 Quad, model MCIMX6Q5EYM10AD, 1GHz main frequency, temperature class of Extended Consumer, 21mm×21mm, 0.8mm ball spacing FCPBGA package, is currently the most cost-effective overall model on the market.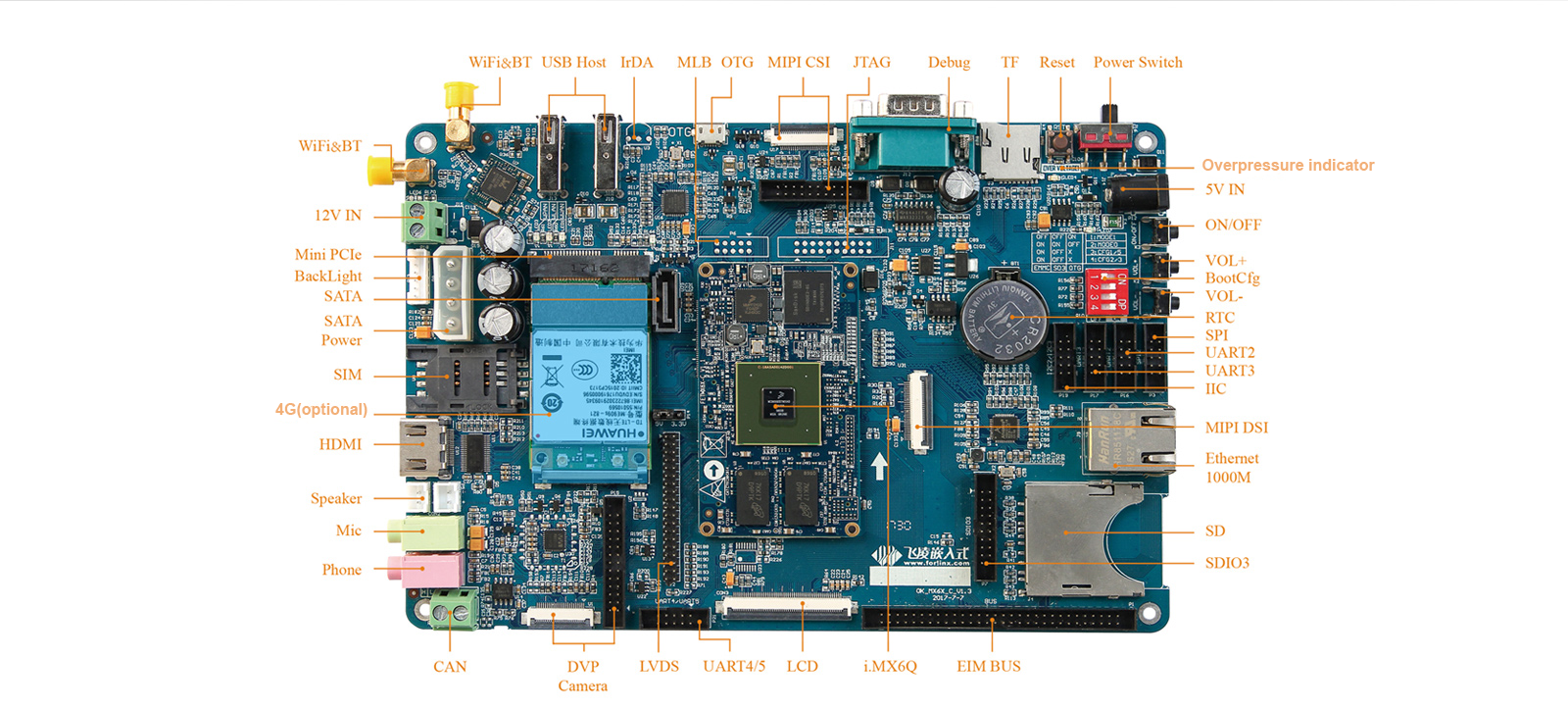 The iMX6 system on module(SoM) is based on the Freescale i.MX6 Quad 4 core processor and operates up to 1.2G in main frequency and 1.2 GHz with 1 MB L2 cache and 64-bit DDR3 or 2 channel, 32-bit LDDR2 support. Integrating FlexCAN, MLB bus, PCI Express® and SATA-2 for superior connectivity, the series of devices, combined with LVDS, MIPI display ports, MIPI camera ports, and HDMI v1.4, is the ideal platform for advanced consumer, automotive, and industrial multimedia applications. Supports Linux, Android 4.4 operating system, can be used in industrial product design. The OKMX6Q-C development board consists of a core board and a base board with the main chips: CPU, eMMc, Memory, PowerManage. With our core boards, you only need to develop your own floors to meet your business needs, which accelerates your time-to-market and frees you from the complex environments your platform builds. Let's describe OKMX6Q-C SoM and base board resources in detail.
ndustrial-grade version of our imx6 quad products, core board expansion commercial grade (-20 °C to 105 °C), industrial grade (-40 °C to 105 °C), automotive grade electronics (-40 °C to 125 °C).
i.MX6 Quad features:
i.MX6 Quad is supported by the accompanying Freescale Power Management Integrated Circuit (PMIC) MMPF0100.
CPU composite devices
• 4 ARM ® Cortex ™-A9 cores, each operating at up to 1.2 GHz
• 1 MB L2 cache
• 32 KB instructions and data cache
• NEON SIMD Media Accelerator
Multimedia
• GPU 3D

Vivante GC2000

200Mtri/s 1000Mpxl/s,OpenGL ES 3.0 & Halti,CL EP

• GPU 2D (vector graphics)

Vivante GC355

300Mpxl/s,OpenVG 1.1

• GPU 2D (Composite)

Vivante GC320

600Mpxl/s,BLIT

• Video decoding

1080p 60 h.264

• Video encoding

1080p30 H.264 BP/Double 720p code

• Camera interface

Type: 1x 20-bit parallel, MIPI-CSI2 (4 channels), three simultaneous inputs
Memory
• DDR

2 x 32 LP-DDR2s, 1x64 DDR3 / LV-DDR3

• NAND

SLC/MLC, 40-bit ECC, ONFI2.2, DDR
Data connection
• 4 USB 2.0

1 x HS OTG plus PHY

1 x Host plus PHY

2 x Host USB HSICs

• Ethernet

1 Gbps + IEEE®1588

Extend the port

3 SD/MMC 4.4, 1 SDXC

5x SPI, 5x UART, 3x I²C
MIPI-HSI
PCIe 2.0 (single channel)
Display
2x4XGA (2048x1536) or 2x (1080p plus WXGA (1280x720)
Advanced power management
• PMU integration
• Freescale PF100 power management unit
Security
Advanced security features support highly reliable boot, encryption engine, random number generator, and tamper detection
Package and temperature
• 21 x 21mm, 0.8 mm BGA
• Consumer electronics (-20C to -105C) up to 1.2 GHz
• Industrial control (-40C to -105C) up to 800 MHz
• Automotive (-40C to 125C), AEC-Q100, up to 1 GHz
Benefits of an industrial development board:
Industrial-grade development board BOM selection using industrial-grade standards.
Industrial-grade development board can be in high and low temperature, electromagnetic radiation and other harsh environments stable operation, such as a wide operating temperature range.
Industrial development board RS485, Can interface provides isolation protection.
Industrial-grade development board through CE, FCC certification.
iMX6 Development Board Features:
1, Freescale i.MX6Q 1GHz processor, ARM Cortex A9 quad-core, 1GB DDR3, 8GB EMMC.
2, Perfect lithium battery management circuit, can be maintained by the battery board and including 2.5-inch hard disk, including all peripherals running.
3, Stamp hole core plate, no plug-in, completely eliminate bad contact, can be used to develop thinner products.
4, The core board itself is the smallest system, connected to 4.2V power can start, reduce the difficulty of development and commissioning.
5, The core board comes with a Flying LCD interface, no base plate can be lit, development and commissioning more convenient.
6, on-board 3G, SATA, GPS, CAN and RS-485 with isolation and protection.
7, the standard dual LVDS interface.
iMX6 Development Board SoM:
Structure size: 60mm× 60mm square stamp hole PCB, a total of 220 feet (55 feet× 4 sides), 1mm spacing.
Platemaking process: thickness 1mm, 8 layers of full through hole deposition PCB, do impedance control, BGA under the plating filling hole, the rest of the perforated cover oil level.
Supply voltage: DC 4.2V (supplied by the base plate).
CPU model: MCIMX6Q5EYM10AD (21mm×21mm, ball pitch 0.8mm), 1GHz main frequency
Memory Model: 1G DDR3 1600, Magnesium MT41K128M16JT-125:K (16Meg×16×8banks) × 4 tablets
Flash model: SanDisk e.MMC, SDIN8DE2-8G
iMX6 Development Board SoM Resources:
System: Android 4.4
Display: Two-way 8-bit LVDS interface, HDMI1.4, RGB888 interface (through).
Over 54 feet 0.5mm pitch under the FPC seat lead out, can be connected to the Flying Liquid Crystal Screen)
I2C: 3
I2S: 1
CAN: 1
Camera: 1
SATA: 1 (SATA-II)
USB: 1 USB 2.0 main port, 1 OTG2.0
SDIO: 2
Ethernet: 1 X-G Ethernet
miniPCIE: 1
Serial: 5 (including 1 debug serial)
SPI: 2
iMX6 development board:
Structure size: 130mm× 190mm rectangular PCB, 50mm × 52mm opening at the bottom of the core plate.
Platemaking process: thickness 1.6mm, 4 layers of all-through hole deposition gold PCB, do impedance control, through-hole cover oil leveling.
Supply voltage: DC 12V.
iMX6 Development Board Resources:
Display: Two-way 8-bit LVDS interface (2mm pitch double-row pin), HDMI1.4 (HDMI-A socket)
IIC: 2 (2mm pitch double-row pin)
Audio: 1 stereo headphone connector, 1 mono microphone connector, both with 3.5mm standard stereo sockets, plus 2 speakers
Interface with XH2.54-2P socket
CAN: 1, led by DG128-2P green terminal
Camera: 1, 5M pixel parallel camera, OV5640
SATA: 1 (3.5-inch hard drive is supported by a 12V power adapter, and when the base plate is battery-powered, only most consumer 2.5-inch hard drives are supported)
Memory card: 1 compatible with MMC, SD, SDHC and SDXC (UHS-I)
SDIO: 1, led by a 2mm pitch 20Pin double-row pin
USB main port: 2 (extended by hub)
USB OTG: 1 standard micro USB socket
Ethernet: 1 Gigabit Ethernet, RG45 interface
3G: 3G module with mini-PCIE interface, SIM slot on the back
RS485: 1 with protection and electrical isolation
GPS: 1, VK1613S3M5 module, SIRF3 scheme, external receiving antenna
Lithium battery: Supports 2 lithium-ion/lithium polymer batteries, which are required by the user
WiFi-Bluetooth: 1, RealTek RTL8723AS Combo Module, IEEE 802.11 b/g/n 2.4GHz 1T1R WiFi with Bluetooth
v2.1+EDR/Bluetooth 3.0/3.0+HS/4.0
Debug port: 1, micro USB interface, on-board USB to 3.3V serial chip
Normal serial: 2 three-wire, 1 five-wire, all 3.3V/RS-232 level optional, the default configuration is 3.3V level.
Infrared receiving head: 1
Sensor: 3-axis acceleration sensor (gravity sensing)
Linux 3.0.35 System Software Resource Features
| | | |
| --- | --- | --- |
| Equipment | The location of the driver source code in the kernel | Device Name |
| Network card drive | drivers/net/fec.c | eth0 |
| LCD backlight drive | drivers/video/backlight/pwm_bl.c | /sys/class/backlight |
| USB connector USB stick | drivers/usb/storage/ | /dev/sdX |
| USB mouse | drivers/hid/usbhid/ | /dev/input/mice |
| USB3G | drivers/usb/serial/ | /dev/ttyUSB* |
| USB Camera | drivers/media/video/uvc/ | |
| SD card drive | drivers/mmc/card/ | /dev/block/mmcblk0pX |
| SATA drive | drivers/ata/ahci_platform.c | /dev/sda* |
| OV5640 | drivers/media/video/mxc/capture/ov5640.c | |
| LVDS | drivers/video/mxc/ldb.c | |
| HDMI | drivers/video/mxc_hdmi.c | |
| LCD FrameBuffer | drivers/video/mxc/mxc_lcdif.c | /dev/fb0 |
| Capacitive touch drive | drivers/input/touchscreen/ft5x06_ts.c | /dev/input/event |
| RTC real-time clock drive | drivers/rtc/rtc-dev.c | /dev/rtc0 |
| SPI drive | drivers/spi/spidev.c | /dev/ |
| Serial (including three serials) | drivers/tty/serial/imx.c | /dev/ |
| Key drive | drivers/input/keyboard/gpio_keys.c | |
| Watchdog drive | drivers/watchdog/imx2_wdt.c | /dev/watchdog |
| RS485 drive | drivers/tty/serial/imx.c | /dev/ |
| CAN drive | drivers/net/can/flexcan.c | can0 |
| USB BlueTooth | | wlan0 |
| Audio drive | sound/soc/codec/wm8962.c | /dev/snd/ |
Android System Software Resource Features
| | | |
| --- | --- | --- |
| Equipment | The location of the driver source code in the kernel | The corresponding device name |
| Network card drive | drivers/net/fec.c | eth0 |
| LCD backlight drive | drivers/video/backlight/pwm_bl.c | /sys/class/backlight |
| USB connector USB stick | drivers/usb/storage/ | /dev/sdX |
| USB Mouse | drivers/hid/usbhid/ | /dev/input/mice |
| USB3G | drivers/usb/serial/ | /dev/ttyUSB* |
| USB Camera | drivers/media/video/uvc/ | |
| SD card drive | drivers/mmc/card/ | /dev/block/mmcblk0pX |
| SATA drive | drivers/ata/ahci_platform.c | /dev/sda* |
| OV5640 | drivers/media/video/mxc/capture/ov5640.c | |
| LVDS | drivers/video/mxc/ldb.c | |
| HDMI | drivers/video/mxc_hdmi.c | |
| LCD FrameBuffer | drivers/video/mxc/mxc_lcdif.c | /dev/fb0 |
| Capacitive touch drive | drivers/input/touchscreen/ft5x06_ts.c | /dev/input/event |
| RTC real-time clock drive | drivers/rtc/rtc-dev.c | /dev/rtc0 |
| SPI drive | drivers/spi/spidev.c | /dev/ |
| Serial (including three serials) | drivers/tty/serial/imx.c | /dev/ |
| Key drive | drivers/input/keyboard/gpio_keys.c | |
| Watchdog drive | drivers/watchdog/imx2_wdt.c | /dev/watchdog |
| RS485 drive | drivers/tty/serial/imx.c | /dev/ |
| CAN drive | drivers/net/can/flexcan.c | can0 |
| USB BlueTooth | | |
| Audio drive | sound/soc/codec/wm8962.c | /dev/snd/ |