Introduction to RK3399's Features
RK3399 chip uses a six-core CPU and the GPU uses The Mail-T864, which is one of the most powerful six-core chips in the RK system. Using the new six-core super-performance RK3399 motherboard solution, compared to the common single-core, dual-core, four-core, six-core, eight-core program on the market, there is a qualitative leap in performance, can play a variety of formats ultra-high-definition 4K x 2K video, can handle complex interactive operations.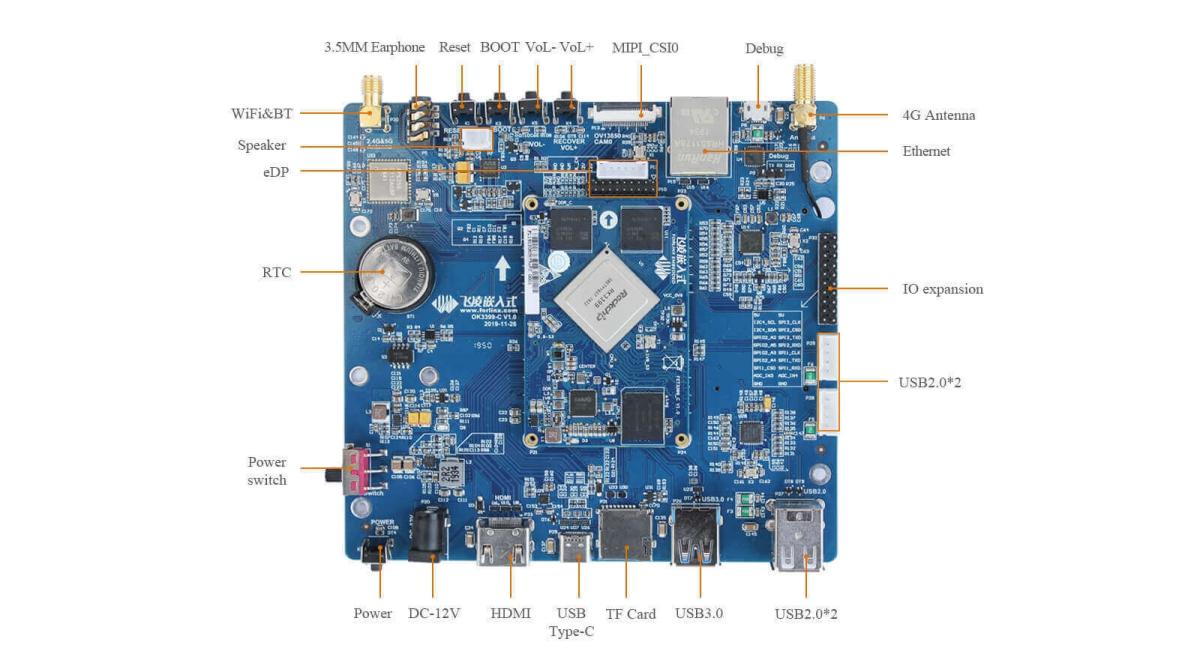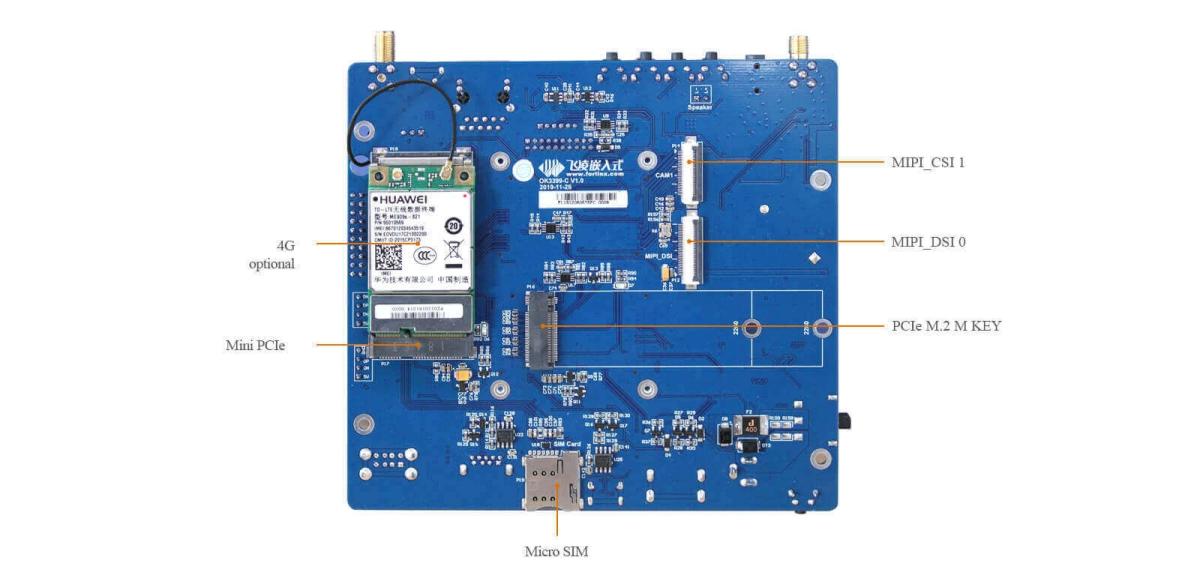 High stability
RK3399 in hardware, software, add their own unique technology to ensure product stability, can make the final product to reach 7 x 24 hours unattended.
High degree of integration
The RK3399 features a TG170-10 layer ultra-high density PCB board with gigabit Ethernet, WiFi, Bluetooth 5.0.1, 6W amplifier, and TF card Extensions, PCIE extensions, TYPE C, USB 3.0, RS232, built-in 4G module interface, HDMI input, HDMI output, LVDS, eDP, microphone, and more simplify the design of the entire machine. Ultra-thin motherboard design, can make the whole machine design more beautiful.
High scalability
RK3399, 4 USB port, 5 serial port, 7 I2C interface, 4 IO expansion port can expand more peripheral equipment.
Introduction:
FET3399-C core board with 2 ARM Cortex-A72 cores, main frequency 1.8GHz, 4 ARM Cortex-A53 core, main frequency 1.4 GHz; GPU with Mali-T864, openGL ES1.1/2.0/3.0/3.1, OpenVG1.1, OpenCL, DX11; On-board 2GB LPDDR3 RAM, 16GB eMMC ROM; With a variety of display interfaces, including HDMI2.0, MIPI-DSI, eDP 1.3, DP1.2, maximum resolution rate of 4K, support for dual-screen synchronous display, dual-screen asynchronous display, while providing a variety of peripheral interfaces, such as PCIe USB 3.0 Host, Type-C, MIPI-CSI, SPIF, 12C, SPI, UART, ADC, PWM, GPIO, I2S (support for 8 digital microphones) and Gigabit Ethernet. Suitable for self-service devices, edge computing, face recognition, 5G smart terminals, 3D printing, POS machines, 4K business display all-in-one machines, game boxes, TV-BOX, NAS, locomotives, thin clients, VOIP video conferencing, security/surveillance/police and IoT fields.
Overview of SoM RK3399









CPU

RK3399 hexa-core, Big.Little architecture
Cortex-A72 Core:
• 2x Cortex-A72
• up to 1.8GHz
• 64-bit Armv8
Cortex-A53 Core:
• 4x Cortex-A53
• up to 1.4GHz
• 64-bit Armv8













GPU

3D graphical engine:
• quad-core Mali-T860MP4
• can support OpenGL ES1.1/2.0/3.0/3.1
• can support OpenCL 1.2

2D graphical engine:
• source form:
ARGB, RGB888, RGB565, RGB4444, RGB5551, YUV420, YUV422(SupportYUV422SP10bit/YUV420SP10bit)
• target form:
ARGB, RGB888, RGB565, RGB4444, RGB5551, YUV420, YUV422(SupportYVYU422/420 output)

• maximum resolution: source 8192x8192, and target 4096x4096

























VPU

Decode:
• H.265/HEVC, up to 4Kx2K @ 60fps
• VP9, up to 4Kx2K @ 60fps
• H.264/AVC, up to 4Kx2K @ 30fps
• MPEG-1,ISO/IEC 11172-2, up to1080P @ 60fps
• MPEG-2,ISO/IEC 13818-2, up to 1080P @ 60fps
• MPEG-4,ISO/IEC 14496-2, up to 1080P @ 60fps
• VC-1, up to 1080P @ 60fps
• MVC based on H.264 or H.265, up to 1080P @ 60fps

Encode:
• 1080p30 AVC/H.264
• 1080p30 VP8

RAM

• 2GB(optional 4GB)
• LPDDR3 1600

ROM

• 16GB(optional 32GB)

• eMMC 5.1 storage
• HS400 mode

Working Temperature

0℃~80℃

Dimensions

46mm x 70mm

Voltage Input

12V

OS

Android 7.1.Linux*
Functional Features
Functional Interface

Spec.

Display




dual-screen engine up to 4096x 2160 and 2560x 1600, can output from below ports:

MIPI-DSI ≤2


• CPU has 3 built-in MIPI PHY, MIPI0 can be only used as DSI, MIPI1 can be used as DSI or CSI, MIPI2 can be only used as CSI




• each DSI port has 4 data lanes, can support data transferring rate up to 6.0Gbps




• each DSI port can support output up to 1080P@ 60FPS

• MIPI0 and MIPI1 combination can support output 2560x 1600@ 60FPS

eDPx1


• eDP V1.3




• RGB 6/ 8/ 10-bit

• 4 data lanes, each 2.7/ 1.62Gbps

• can support PSR

DP x1


• Display Port V1.2




• compatible with HDCP2.2(backward compatible with HDCP1.3)




• only has one built-in DP controller, can output from Type-C*




• support outputting up to 4Kx 2K@ 60Hz

HDMI x1


• HDMI1.4, HDMI2.0




• up to 18Gbps port trunks




• up to 180P@ 120Hz, 4Kx 2K@ 60Hz, QXGA@ 120Hz




• HDCP1.4/ 2.2




Audio

I2S/PCM x3
• I2S0/I2S2 can support 8-channel TX/RX. I2S1 can support -channel TX/RX
• IIS2 internally connected to HDMI and DisplayPort, IIS0 and IIS1 are for peripherals
• audio resolution from 16-bit to 32-bit
• sampling rate up to 192KHz
SPDIF
• can support two 16-bit audio data stored in one 32-bit width location
• can support two-phase formed stereo audio output
• can support 16-bit to 31-bit audio data left or right justified in 32-bit width sampling data frame zone
• can support 16-bit, 20-bit, 24-bit audio data transferring in PCM mode
• can support none-PCM mode

Camera

MIPI CSI ≤2
• can support one 13.0MP camera or two 8.0MP cameras
• two internal ISP
• one ISP with resolution up to 14.0 MP
USB UVC
• USB UVC camera input

USB
Type-C

• USB Type-C x2(multiplexed with USB 3.0)
• USB Type-C 1.1
• can support USB3.0 Type-C and DP 1.2* can switch to USB Type-C mode
• USB3.0 up to 5Gbps
• DP1.2 up to 5.4Gbps(HBR2), can support 1/2/4 mode*
• DisplayPort with AUX channel*

USB OTG3.0

• USB OTG 3.0 x2( contains USB OTG 2.0 x2)
• compatible protocol: USB 3.0, USB 2.0, USB Host 1.1
• USB 3.0 in full-duplex mode up to 5Gbps band width

USB 2.0

• USB 2.0 Host x2(separated, not multiplexed with 3.0)
• compatible with USB 2.0
• can support high speed mode(480Mbps), full speed mode (12Mbps) and low speed mode(1.5Mbps)

SD/MMC

• SD/MMC x2
• can be configured to SD/MMC or SDIO
• compatible with SDIO 3.0
• 4-bit data bus

Ethernet

• Gigabit Ethernet x1
• RGMII is available for 10/100/1000-Mbps
• RMII is available for 10/100-Mbps

SPI

• SPI x5
• can support serial host and slave mode, software configurable
• operation based on DMA or interrupt
• TX and RX are 32x16-bit FIFO

UART

• UART x5
• operation based on DMA or interrupt
• TX and RX are 64Bytes FIFO
• each serial up to 4.0 Mbps

I2C

• I2C x7
• multi-host machine I2C
• standard mode up to 100 kbit/s
• fast mode up to 400 kbit/s

PCIe

• PCIe x1
• compatible with PCI Express revised 2.1
• 4 full-plex channel
• each channel can support 2.5GT/s to each direction
• dual-operation mode: Root Complex(RC) and End Point(EP)

PWM

• PWMs x3
• operation based on interrupt
• 32-bit timer/ counter
• can support capture mode
• can support continuous mode or one-time mode

ADC

• ADC x5
• successive approaching ADC
• 10-bit
• switch rate up to 1MS/ s for sampling
Related products: