Monitoring Solution Based On FETMX6Q-C Embedded Controller
Medical equipment enterprises continue to improve the efficiency of equipment detection at the same time, the test accuracy, digitalization, integration, automation is also constantly exploring and research. How to choose a product that meets both device stability and performance overhead, as well as rapid development and market launch, is a challenge. Forlinx Embedded continues to work deeply in the medical field, introducing a number of embedded core boards that comply with medical products. In this paper, a powerful, high-performance, stable, long lead time core board FETMX6Q-C is recommended for multi-parameter monitors.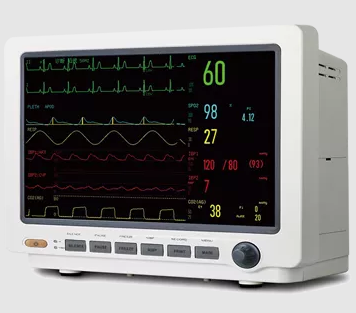 FETMX6Q-C SoM multi-parameter monitor scheme topology: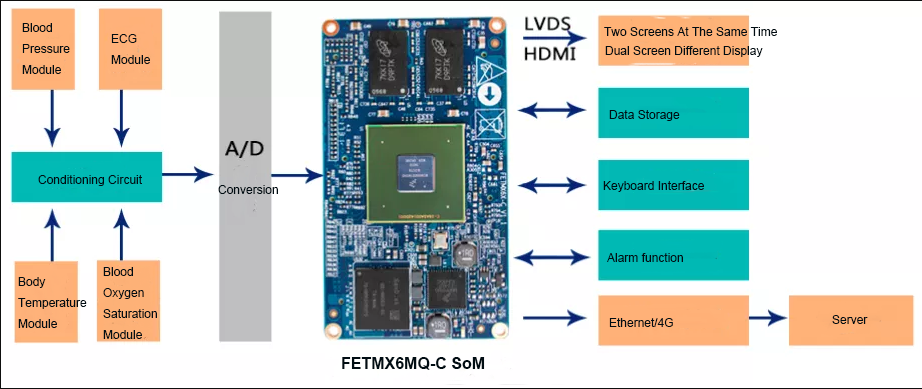 Core benefits:
(1) Monitor mainly collects and measures human physiological parameters, electrocardiogram, blood pressure, blood oxygen, body temperature, etc. need to collect and process a large amount of data, the system needs multi-tasking parallel processing, which requires a large amount of CPU resources. i.MX 6Quad uses a 40nm process, a four-core ARM Cortex-A9 architecture, a single core main frequency up to 1GHz, 1MB secondary cache, external 1GB/2GB of memory, 8GB eMMC, to meet the requirements of big data computing and storage.
(2) Good human-computer interaction experience is the basic requirement of device services, i.MX6Q supports Linux 4.1.15 plus QT5.6, Android 4.4.2, Android 6.0, Linux 3.0.35 plus QT4.8.5, convenient for different applications of engineers with different needs.
(3) Different scene applications may need two screens to display at the same time, small screen can be used as human-computer interaction, large screen can be used as homage or heterogeneous. The i.MX6Q supports dual 8-bit LVDS, RGB, HDMI, MIPI display interfaces with a resolution of up to 1080P. And support dual-screen homage, dual-screen display.
(4) A full-featured interface product can eliminate the hassle of various interface verification, i.MX6Q is a highly integrated application processor, support network, serial, USB, audio, SPI, IIC, and other commonly used interfaces, to meet various types of product applications.
(5) The certification and clinical testing of medical products will occupy a long time cycle, plus one year or so of development cycle, so choosing the length of the processor life cycle is the most important. The i.MX6Q processor has a life cycle of more than 10 years, allowing customers to stop worrying about chip downtime.
(6) Medical testing equipment needs to pass strict electromagnetic compatibility test before going on the market, static electricity, surge, electromagnetic interference test results will directly affect the accuracy of test results. FETMX6Q-C core boards are CE, FCC, RoHs certified, and the core boards are gold-deposited 12-layer PCB process to ensure optimum electrical characteristics.

Related products: