Data Acquisition Based on NXP i.MX6UltraLite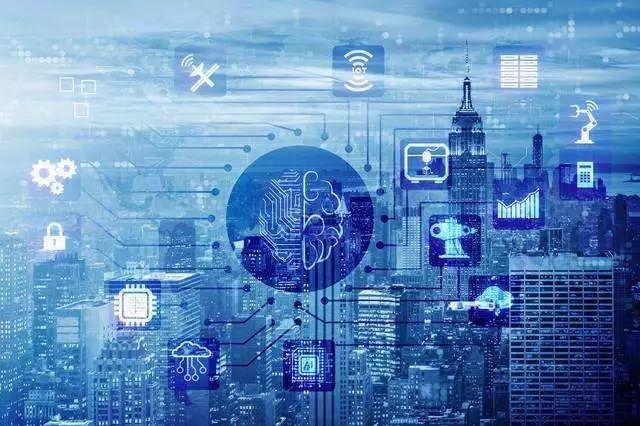 In recent years, the development of science and technology is changing rapidly, the degree of automation of environmental monitoring is constantly improving. However, environmental protection regulatory departments at all levels of pollution source monitoring point data is not fully utilized, environmental monitoring network of the relevant parameters and indicators can not be automatically obtained.
With the increasing number of monitoring power supplies, environmental regulators have multiplied the workload of data monitoring, and although a large number of new technologies are emerging, they are slow to spread and fall far short of ideal conditions due to technical or cost constraints, including local protection.
We design environmental protection data collection transmitter, to provide a variety of digital, analog signal real-time acquisition, excellent wired, wireless network protection, support international, so that regulators can real-time control of environmental governance within the jurisdiction, monitoring equipment operation, easy to day-to-day management and maintenance.
To significantly improve the efficiency of environmental protection supervision departments, reduce the intensity of staff labor, reduce staff efficiency, reduce management and operation costs.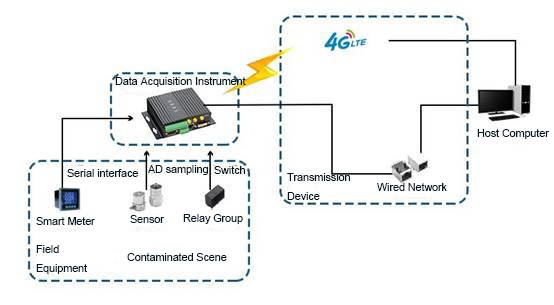 1, Data acquisition front end
The front end of data acquisition is composed of various terminal monitoring equipment, such as COD on-line monitoring, potassium permanganate on-line monitoring, VOCs and other direct data collection of equipment operating status and environmental parameters.
2, Signal acquisition control and transmission
The signal acquisition control and transmission part is composed of environmental protection data acquisition equipment. A variety of protocol support, and equipped with a variety of data acquisition interface can be connected with any online monitoring equipment such as flow meter, PH meter, turbidity meter, etc., to achieve real-time data sampling of pollution source emission monitoring points, pollution source emissions and total sewage monitoring, and monitoring data through the Ethernet network or CDMA wireless network in real time transmission to the monitoring center for data aggregation and analysis.
3, Monitoring center
The monitoring center sets up and monitors the "environmental data collection equipment" through the network, and analyzes and processes the collected information.
Number of harvester system requirements
1. According to HJ477-2009 "Technical Requirements for On-line Automatic Monitoring (Monitoring) Data Acquisition Transmitter for Pollution Sources", the communication protocol of the data acquisition transmitter conforms to the communication protocol in the standard HJ/T212-2005. And can be wired or wireless with any composite industry standard communication protocol of the environmental protection center platform docking;
2. Due to the need to work long hours in unattended areas, there is a need for stable hardware and software resources to ensure the normal operation of the equipment, and in the event of abnormal devices can be automatically restarted to ensure that data is not lost;
3. The non-stop operation of the equipment will produce a large amount of historical data and system logs, the equipment needs to have large-capacity storage, support more than 10 years of data backup, and data query to be convenient and fast, can be managed;
4. Docking with environmental monitoring terminal equipment requires support for a variety of digital, analog, switching interfaces. And support multi-channel communication interface;
5. Device and environmental protection center platform data transmission, need to support a variety of transmission protocols to ensure that data is stable and reliable delivery to the cloud center;
6. Supports good human-machine interface operation, real-time display of data output;
7.Special occasion equipment requires backup battery power, and the use of backup battery power requires the device to have a low power consumption to prevent data from being uploaded to the cloud platform after a power outage.
The scheme of several harvester systems is implemented
Designed with NXP's i.MX6 UltraLite processor design, this solution is a high-performance, ultra-efficient processor family with advanced Arm ® Cortex ®-A7 cores running at speeds of up to 528MHz.
■ The i.MX6 UltraLite processor natively supports two 10/100 Mbps adaptive Ethernet networks with separate MAC addresses, only two separate PHY chips are designed and can be extended to support two separate 100M mesh outlets.
■ Support a variety of wireless communication modules, support Huawei ME909S, remote EC20, square N720 and other all-Netcom 4G modules, support 5-mode, 7-mode.
■ The i.MX6 UltraLite core board uses a 6-layer PCB deposition process, designed with full regard for electromagnetic compatibility and signal integrity design, optimizes the power architecture, adjusts the power-on timing, and improves system robustness. The core board is tested at high and low temperatures of -40-85°C to ensure the stable operation of the equipment in harsh environments!
■ The i.MX6 UltraLite processor supports large-capacity storage media such as NandFlash, eMMC, and TF cards. Large amounts of data can be stored over a long period of time. YaFFS file system is an embedded file system designed specifically for Nand Flash memory and suitable for high-capacity storage devices. Fat32, EXT3, EXT4 and other file formats are supported. The operating system supports the sqlit3 database, which can normally create read and write data operations.
■ i.MX6 UltraLite processor natively supports 8 serials, 2 CAN, 10 AD, and multiple GPIO. The RS485 interface supports the Modbus RTU communication protocol and facilitates docking with environmental monitoring terminals without expansion.
■ Supports alibaba Cloud and other cloud platform access capabilities, supports HTTP, MQTT, TCP/IP, UDP, IPTABL and other network protocols, can be quickly developed and used.
■ The i.MX6 UltraLite processor supports a 24-bit high-definition true color digital screen with a maximum resolution of 1366 x 768.
■ Compared with ARM9, ARM11 power consumption drop of 50%, the core board power consumption is only about 60mA, can be safely applied to battery-powered scenes.

Supports Linux 3.14 plus QT4.8.5, Linux4.1.15 plus QT5.6 operating systems.