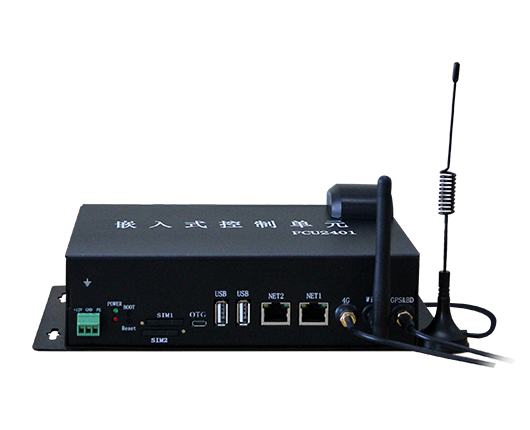 FCU2401 Embedded Computer
---
FCU2401 embedded computer is designed based on Allwinner Cortex-A7 featuring quad-core processor A40i @1.2GHZ, it integrates with MAli400MP2 GPU, RAM 1GB(2GB upgradable) and 8GB eMMC. It has a variety of peripheral sources, such as RS485, CAN, ESAM, USB, Ethernet, 4G, WiFi, GPS, LVDS, HDMI, DI, DO, audio and SATA. All communication interfaces are designed with isolation protection solution and tested by ESD4. It can support dual-screen playing. Applicable for edge computing, EV charger, express cabinet, advertising machine, vending machine and other self-service devices.
Product features:
Can support HDMI and LVDS display out, can be used together;
Supports two analog camera input, applicable for video monitoring and image analysing;
Has two isolated Ethernet ports;
Has two isolated RS485;
Has two RS232, one is debug port and the other is a general RS232 isolated;
Two isolated CAN;
4x DI, dry contact input, optocoupler isolation;
4x DO, relay output, contact point 5A 250VAC, 5A 30VDC;
Complies with ISO7816 protocol;
2x USB HOST;
WIFI available for both STA and AP;
Can support 4G wireless network (optional module);
SATA: can support a 2.5'' portable hard disk;
Has 1 speaker channel;
Can support GPS/Beidou;
Built-in super capacitor for power failure solution, the capacitor can support system running for 15 seconds(with 7'' display) to avoid data loss;
DC 12V power adapter, with anti-reverse protect solution
Industrial grade quad-core processor, advanced performance, low power and high reliability
Applicable for 3D graphical and advanced video processing, various communication interfaces, excellent quality, power efficient and high-integrity.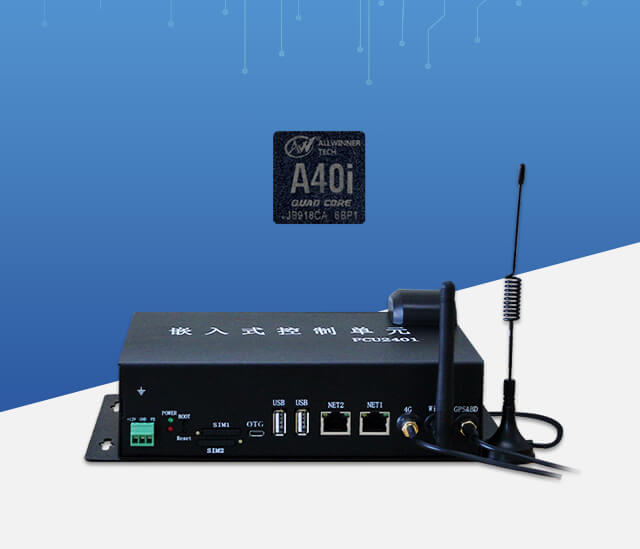 Multiple wired communication interface
Dual-Ethernet, dual-CAN, dual-RS485, practicable for power management, EV charger and car electronics gateway and other applications
4G wireless module and 2.4G Wi-Fi both supported
All netcom supported, Wi-Fi available for both STA and AP, can expand AP by 4G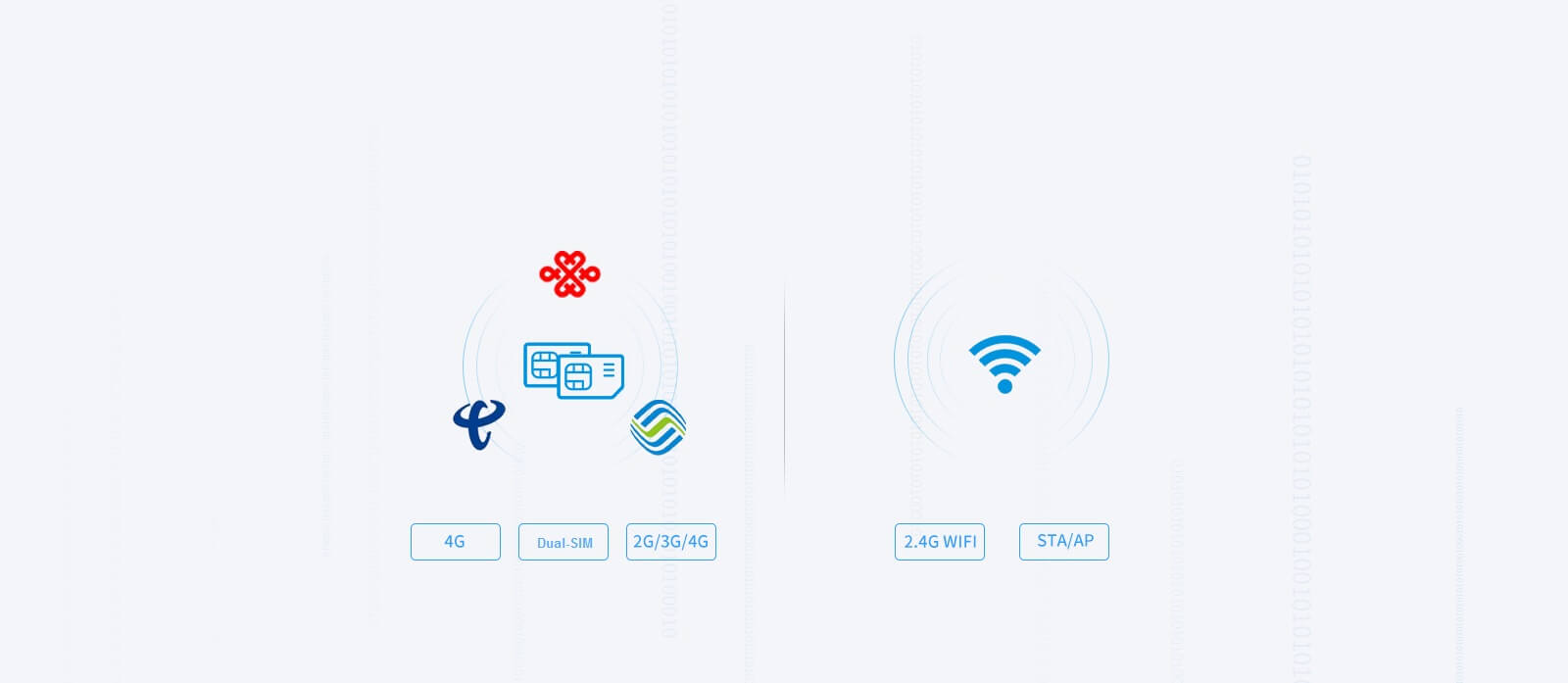 Beidou&gps positioning
Can support A-GNSS, can support BD2 B1 together with GPS L1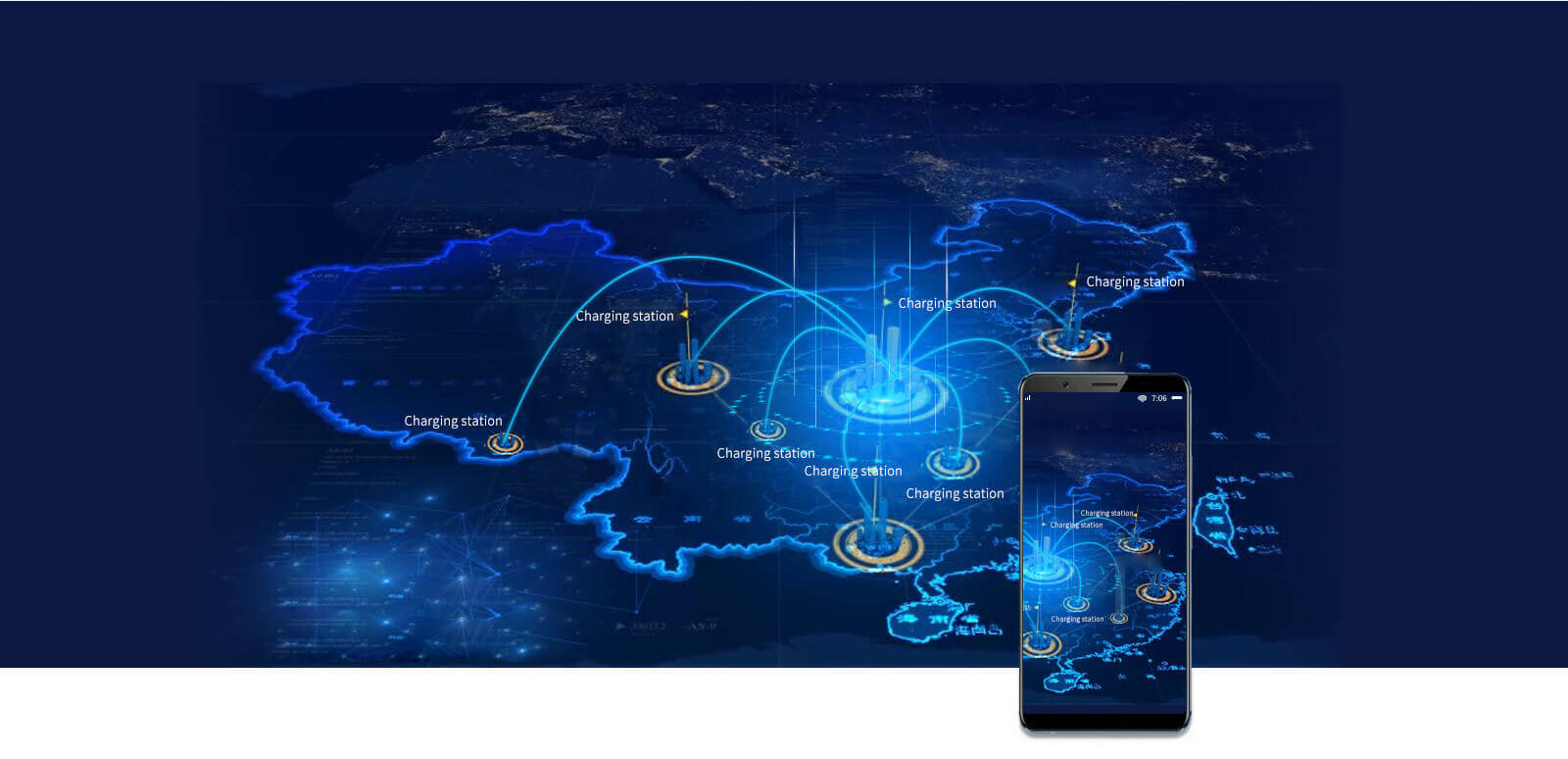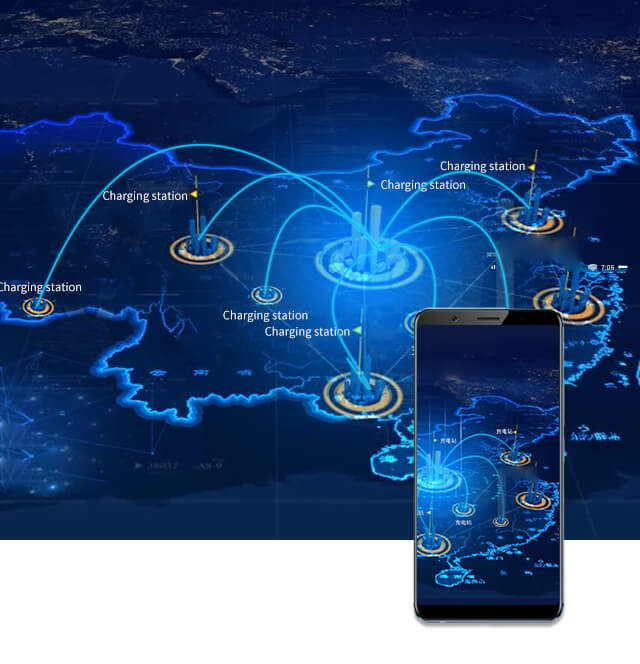 Power failure solution to avoid data loss
super capacitor can support system running for 15s once CPU detects external power failure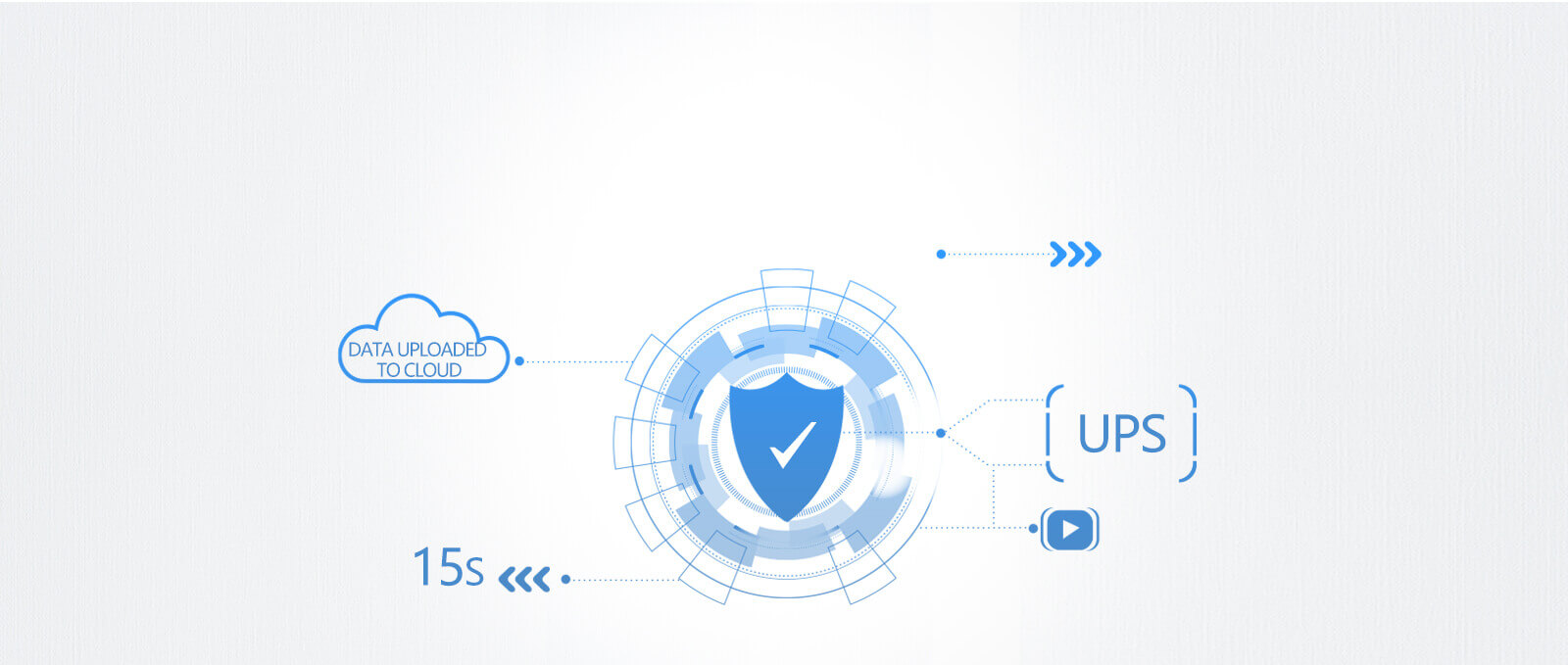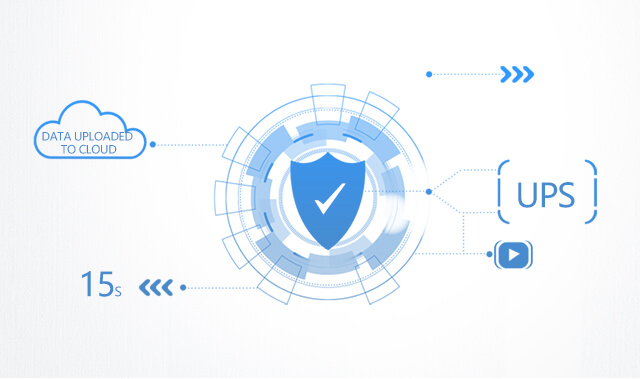 Dual-screen displaying, stereo audio, analog monitoring
Can support HDMI and LVDS,up to 1080P,dual analog cameras input,
can be used for video monitoring and image analyzing, external standard 3.5mm stereo headphone seat, can support a 4Ω 1w speaker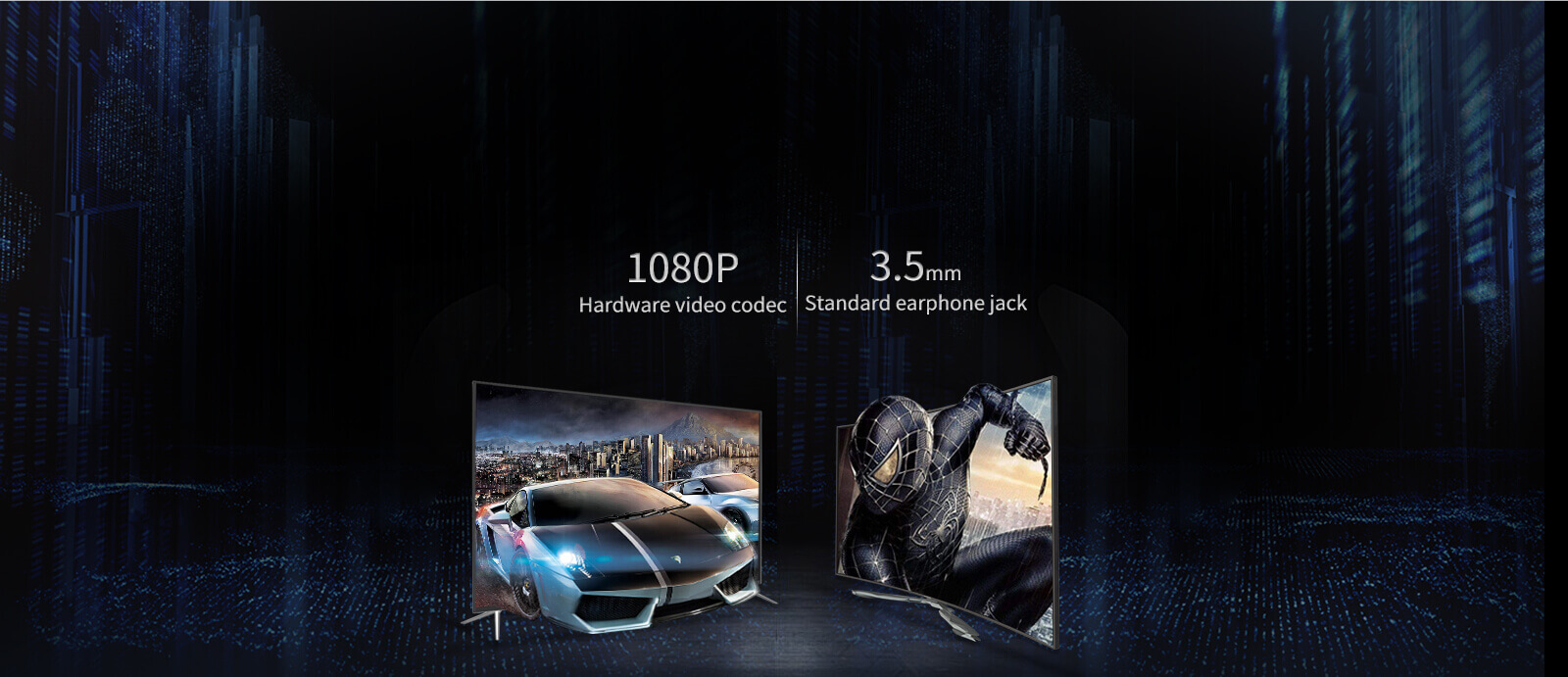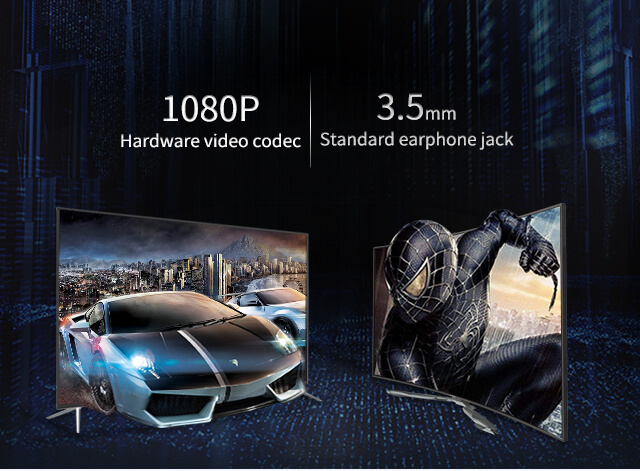 Industrial grade, isolated communication peripheral interface
The device can work stably in -40℃~+80℃, communication interface tested by ESD4,
FET3 , make the device can bear tough envrionment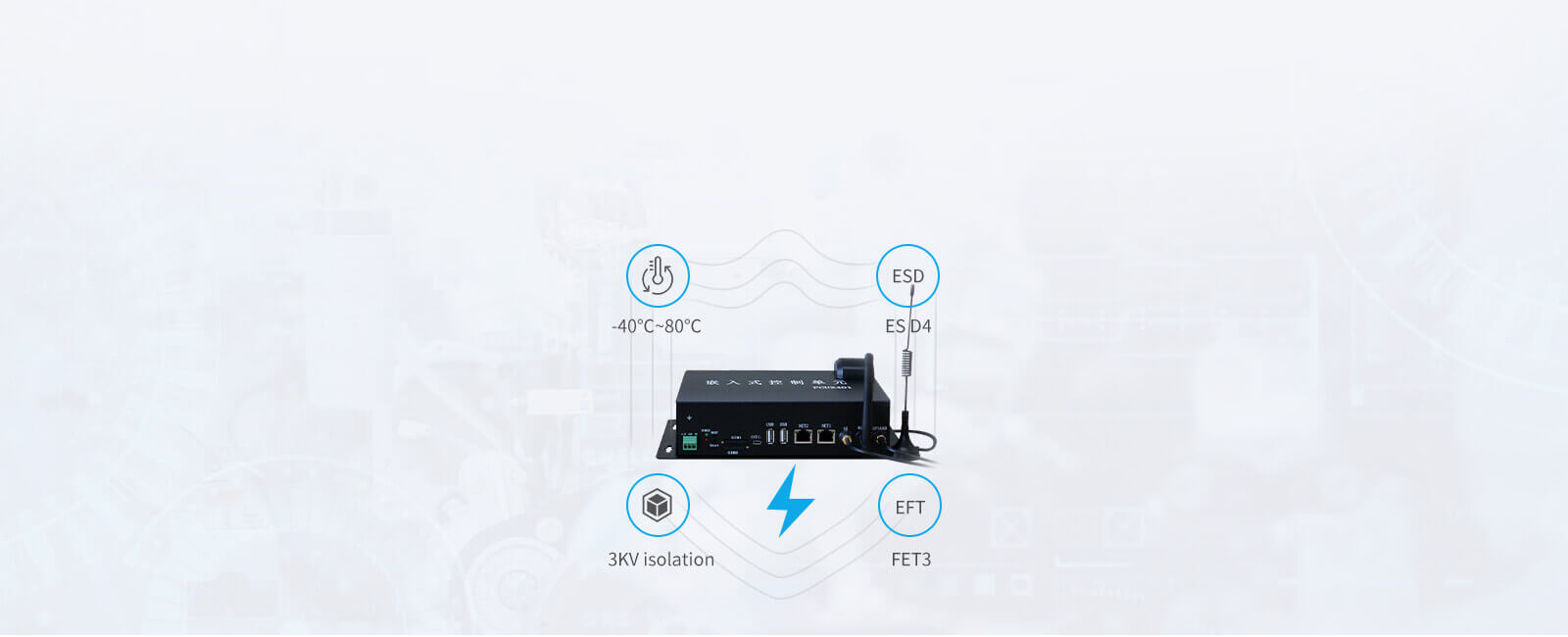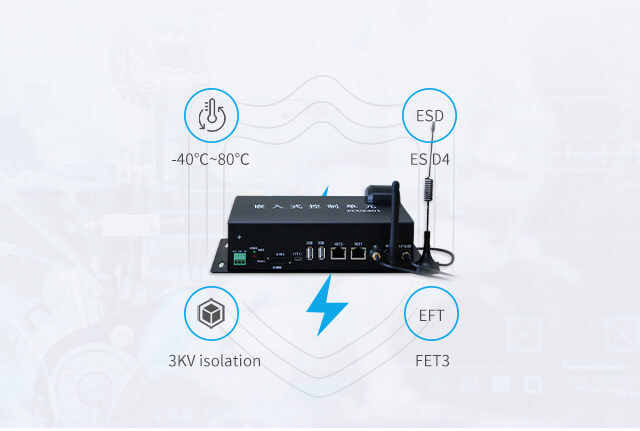 Compact outline, easy for installation
Aluminium alloy enclosure with dimensions of 236x152.8x53.3mm
Various peripheral interface
RS485, CAN, ESAM, USB, Ethernet, 4G, WiFi, GPS, LVDS, HDMI, DI, DO, audio, SATA,
all passed ESD4 testing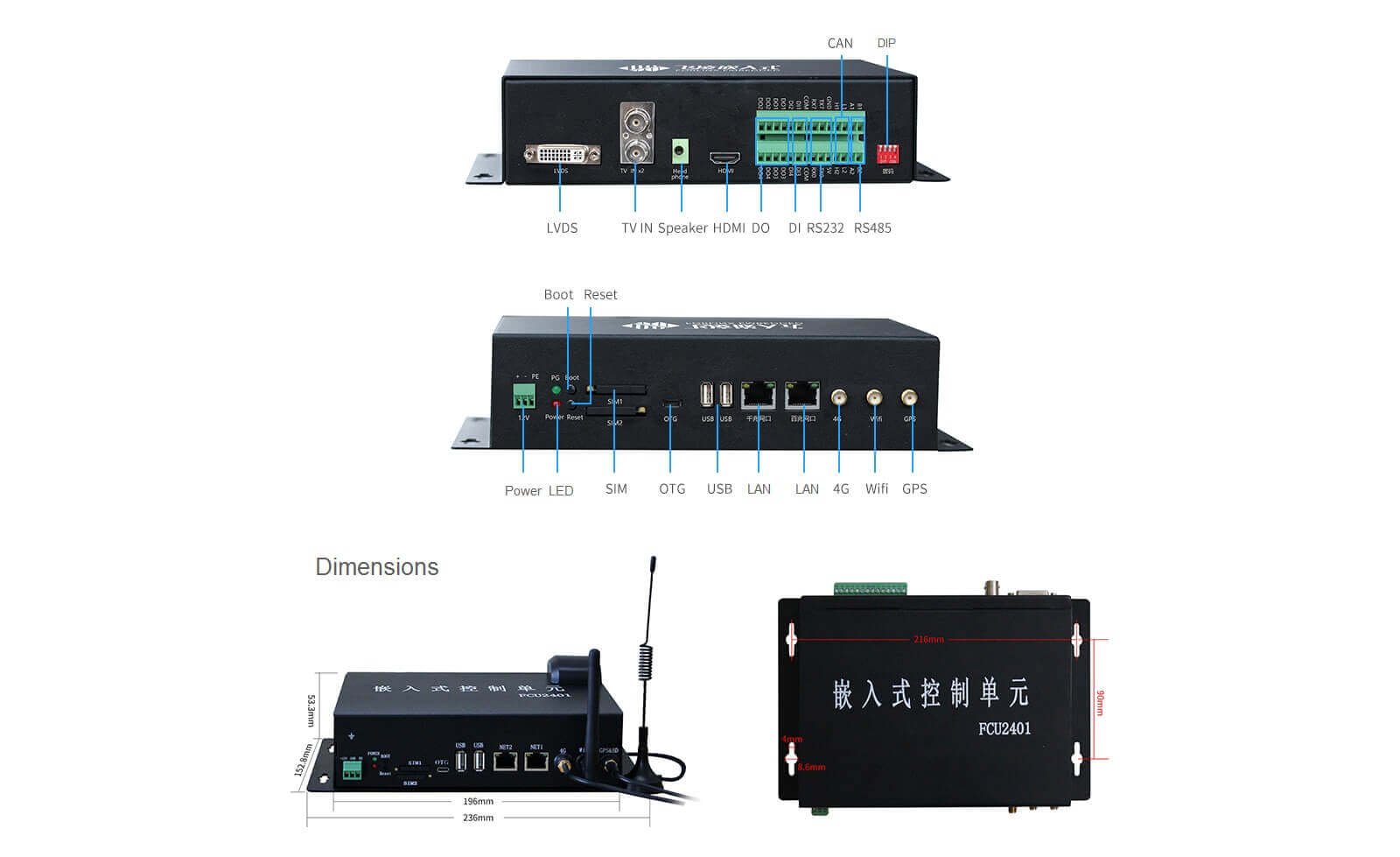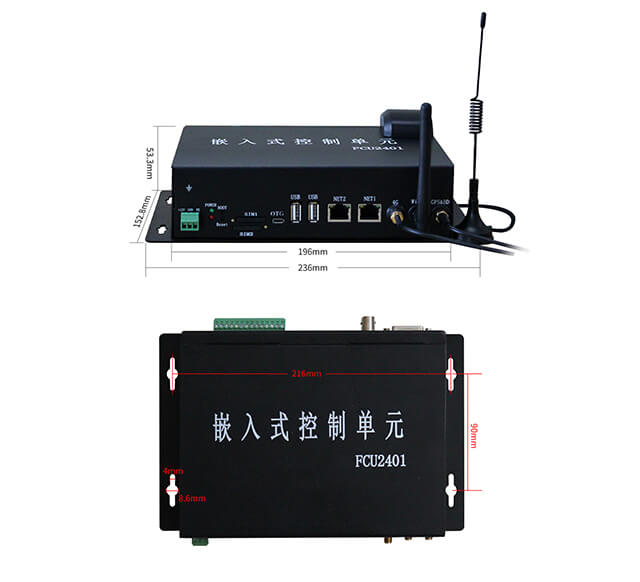 Target Application
Applicable for IoT, edge computing, IoV, express cabinet, advertising machine, kiosk and other self-service terminals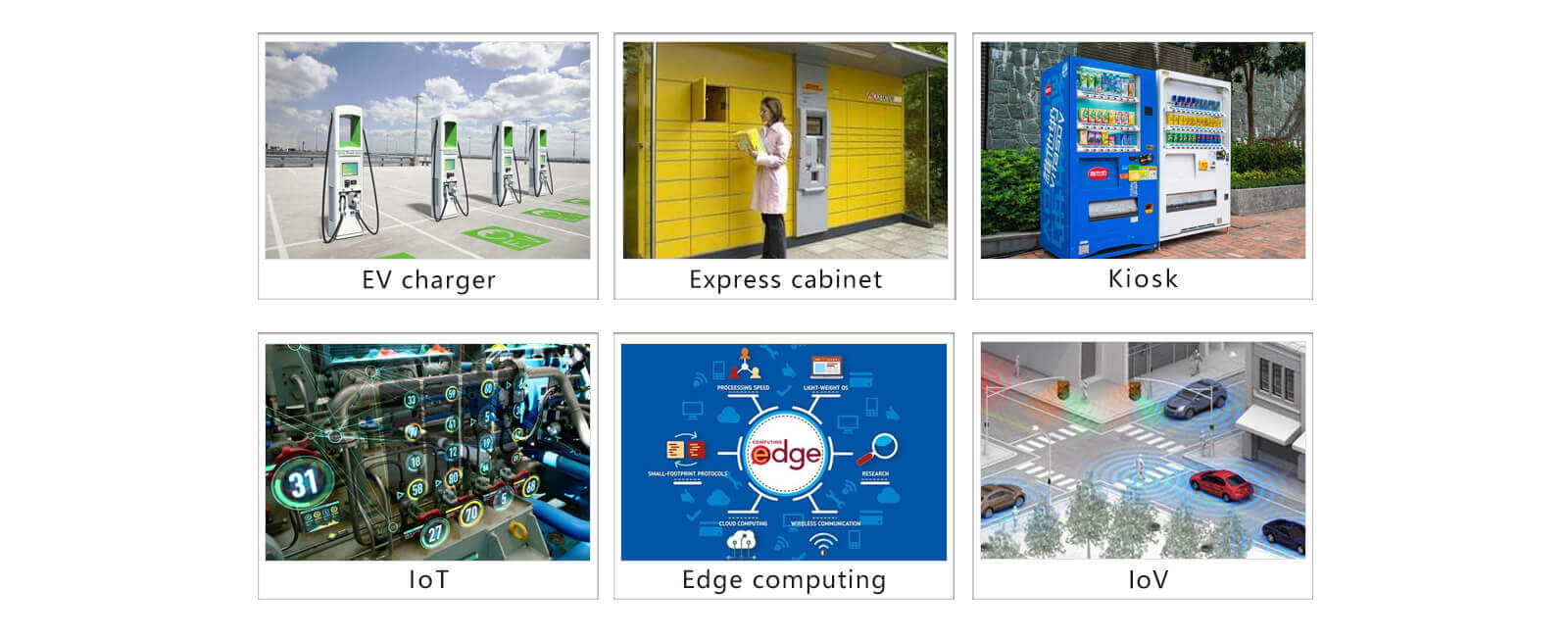 ▊ Hardware Features
---
Item
Spec.
CPU
Allwinner A40iARM Cortex-A7 1.2GHz
RAM
DDR3L 1GB(2GB optional)
ROM
eMMC 8GB
Ethernet
1x 10/100Mbps,1x 10/100/1000Mbps, ESD4, EFT3
RS485
2x RS485, 3KV isolation, ESD4, EFT3
RS232
2x RS232,

3KV isolation, ESD4, EFT3, one debug port and one isolated with 5V power output, output rate

1W
DO
4x DO, replay output, contact point 5A 250VAC, 5A 30VDC
DI
4x DI, dry contact input
CAN
2x CAN, 2.5KV isolation, power 3KV isolation, ESD4, FET3
GPS
can support Beidou& GPS dual-mode
HDMI
one standard HDMI 1.4, can support [email protected]
LVDS
standard DVI-I
TV IN
two analog cameras input, can support NTSC and PAL
Audio
1x speaker, can support a 4Ω 1W speaker
4G
Model: Quectel EC20, China Mobile 4G/3G/2G, China Union 4G/3G/2G and China Telecom 4G, has two SIM card slots
Wi-Fi
can support both STA and AP
USB HOST
2x USB Host 2.0, ESD 4
USB OTG
for system flashing and debug, can not supply power to peripherals
RTC
on-board CR2032
ESAM
ISO7816 protocol
Hard disk storage
can support a 2.5'' SATA disk
DIP switch
RS485, CAN optional
Power IN
DC 12V, anti-reverse and over-current protection
Power failure solution
super capacitor can support system running for 15s once CPU detects external power failure
Reset Key
system reset key
Boot Key
used together with reset key for system firmware updating
Indicator
2, to detect power supllying mode, external power supply or super capacitor power supply
Working environment
RH: 5%~95%, non-condensing, working: -40℃~+80℃ , storage: -40℃~+85℃
▊ Software features
---
Linux3.10+QT5.9
Driver
Driver code path in kernel
Device name
NIC
drivers/net/ethernet/allwinner/
/sys/class/net/eth*
LCD backlight
video/sunxi/disp2/disp/
LED
drivers/leds/leds-gpio.c
/sys/class/leds/
U-disk
drivers/usb/storage/
/dev/sdx
USB 4G
drivers/usb/serial/
/dev/ttyUSB*
USB Camera
drivers/media/usb/uvc/uvc_video.c
SD card
drivers/mmc/card/drivers/mmc/host/sun*
/dev/block/mmcblk0pX
LCD FrameBuffer
drivers/video/sunxi/disp2/disp/lcd/
/dev/fb0
RTC
drivers/rtc/rtc-rx8010.cdrivers/rtc/rtc-sunxi.c /*not loaded*/
/dev/rtc0/dev/rtc0
Serial
drivers/tty/serial/sunxi-uart.c
/dev/tty*
Watchdog
arch/arm/mach-sunxi/sun8i.c
/dev/
WIFI
drivers/net/wireless/
wlan0
Audio
sound/soc/sunxi
/dev/snd/
Smart card reader
drivers/char/sunxi-scr/sunxi-scr.c
TVIN
drivers/media/platform/sunxi-tvd/
TWI
drivers/i2c/i2c-sunxi.c
SATA
drivers/ata/ahci_sunxi.c
▊ Packing list
---
| | |
| --- | --- |
| Name | QTY |
| FCU2401 | 1 |
| 12V/3A power adapter | 1 |
| 2.4G antenna | 1(for Wi-Fi) |
| Beidou&GPS antenna | 1(SMA male header, 5 meters) |
| 4G wireless module | 1(optional) |
| 4G full-band antenna | 1(optional) |
| 2.5'' hard disk | 1(optional) |