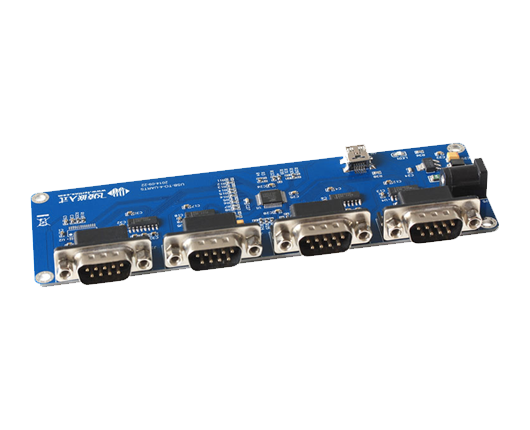 USB to Uart Module
Description:
USB to UART interface module allows all Forlinx development boards to switch interfaces
Features:
With the development of technology, there is a lot of use of RS232 serial communication in industry, but the application of commercial technology, has slowly replaced RS232 serial port using USB-to-UART technology, the vast majority of notebook computers already do not have serial port this thing, so you can add a USB re-serial chip on the circuit, you can successfully realize the USB communication protocol and standard UART serial communication protocol conversion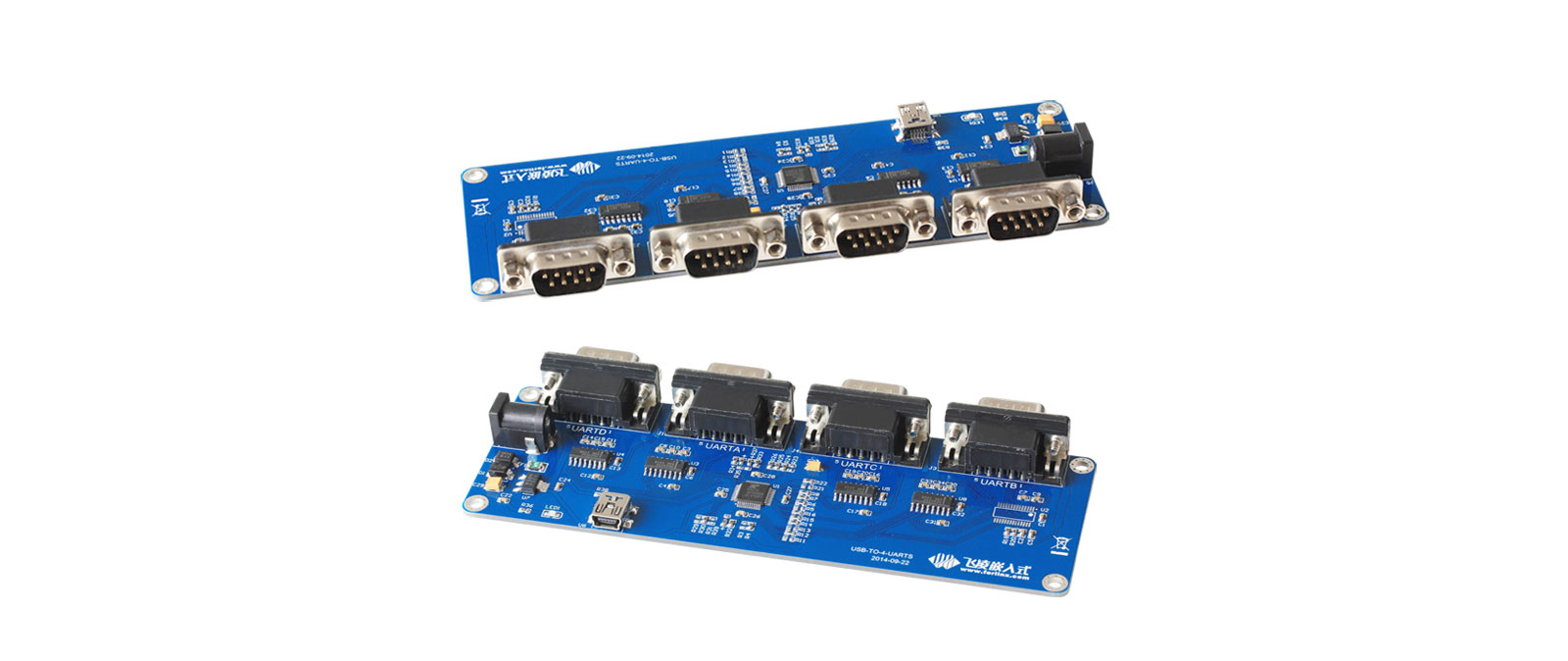 USB to Quad UART Module Features
Product Name
USB to quad UART module
Model
FIT-USB-TO-4-UARTS
Working Temp
-40℃~+85℃
SPec.
can support four 5-wire serial port
Chipset
XR21V1414
Main function
XR21V1414(V1414)is an enhanced convert chip to convert USB to 4-ch UART. It can completely compatible with full speed USB2.0 and support USB data transferring rate up to 12Mbps. It can also support suspend, restore and remote wakeup operations. XR21V1414 works at speed of 48MHz but no need any external crystal. Internal separate baud rate generator runs at speed of 48MHz for precise baud rate generating. XR21V1414 is available for 128 bytes sending FIFO and 384 bytes receiving, which can improve data throughout and reduce CPU consumption. Can support auto transceiving direction control, simplified half-duplex RS485 application in both hardware and software. In multi-point (9-bit) mode, it can support auto half-duplex transceiving control function which simplified RS485 application. XR21V1414 working voltage ranges from 2.97V to 3.63V, 5V withstand input, and it is TQFP-48 package
Compatible with USB 2.0

can support 12Mbps full-speed USB data transmission rate, can support USB suspend, recovery and remote waken

up

Strongthen UART Features
data transmission rate up to 12Mbps
auto software flow control(Xon/Xoff)
separate baud rate generator
multi-point mode w/ auto half duplex transceiver
128-byte TX FIFO
multi-point mode w/ auto TX enable
384-byte RX FIFO
sleeping mode and remote waken up
can support 7, 8 or 9 data bits, 1 or 2 stop bits
half-duplex mode
auto hardware flow control(RTS/CTS or Dtr/DSR)
optional GPIO or Modem I/O
one 9-wire serial and three 5-wire serial can be custimized
Applicable Single Board Computer
Single Board Computer
OS
OKMX6Q/DL-C
Linux3.0.35, Android4.4
OKMX6Q/DL-S3
Linux3.0.35, Android4.4
OKMX6UL-C/C2
Linux3.14.38
OK335xD
Linux3.2, Android2.3/4.2
OK335xS
Linux3.2, Android2.3/4.2
OK335xS-II
Linux3.2
OK4418/6818-C
Linux3.4.39, Android5.1.1
Packing List

1x USB to quad UART module
1x Mini USB cable
---

▊ How to buy
---
1. Order Online
We have an online store on Alibaba, please contact us to start ordering
2. Order offline
pls send your inquiry to our mailbox [email protected];
3. Payment Terms
Samples(100% T/T in advance),Bulk Order(please contact with our sales)
▊ Shipment
---
1. Delivery: Goods will be sent out by express as requested
2. Lead time: generally, goods could be sent out within five working days for a sample order, for a bulk requirement order, please contact us to check stock status and estimated delivery time.
3. Shipping charge: buyers should bear related shipping cost.