No-man's Shop in the New Era of Smart Retail
The unmanned economy is now a trend, from drone delivery, unmanned cars, unmanned banks, unmanned hotels, unoccupied, so that unmanned factories, unmanned shops, etc., are all behind artificial intelligence; AI) and the Internet of Things (Internet of Things;IoT) technology integration of all kinds of intelligent combination (AIoT) innovation. Among them, no one shop is closest to the general public's consumption life, and has subverted e-commerce platform and traditional retail department store business model, but also by the commercial market attention.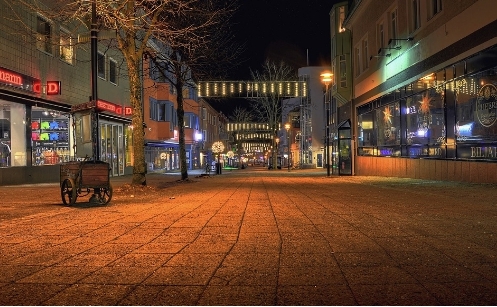 E-commerce companies are vying for unmanned store leaders
Analysis of the rise of this unmanned shop boom dates back to October 2016. At the time, Business Insider, the US news agency, reported that Amazon, the online retail giant, was planning a new type of retail brick-and-mortar store and planned to open more than 2,000 stores within 10 years. Two months later, Amazon's Seattle headquarters officially launched the Amazon Go concept convenience store, while uploading a two-minute demonstration video that shocked the market.
The shopping model, where consumers can check out without a line, became the hottest topic, followed by in July 2017, Chinese e-commerce giant Alibaba launched a variety of uneconomical innovations, from smart stores to coffee mining, to unmanned restaurants with smart touch tables, and smart hotels offering artificial intelligence voice services.
Further in-depth analysis of unmanned stores can thus trigger a market boom, on the one hand, electric traders try to expand the market, connecting the physical retail market. Although the growth of global e-commerce is strong, but the turnover generated, accounting for less than 10% of the overall retail market, e-commerce into the physical retail industry to help to achieve online business is not easy to do well. Unmanned stores can use technology to quickly copy the show, extend the market map, and further effectively connect online and offline platforms for the best use of virtual integration (Online To Offline; O2O).
On the other hand, it is a counter-attack from the traditional retail industry. Faced with the problems of childlessness, aging population and rising labor costs, traditional retailers are planning ahead and want to reduce the demand for manpower. The technological content of unmanned shops will not only increase the consumer sentiment of the Internet generation, but also better understand consumers through information technology.
With intelligent sensing set in stores, operators record consumer action paths, dynamic lines, stop points, gender, preferences and other information, through big data analysis, to understand consumer preferences and shopping habits, further integrated with the supply chain, improve consumer shopping experience and service satisfaction. Finally, brick-and-mortar stores are truly unmanned through automation and intelligence, effectively reducing operating costs and further enabling them to become more connected to e-commerce without physical stores.
Low-touch services are promising in the future
Observe the development of no-man's shops at present, the physical retailers step beyond the unmanned stores slower pace, but is a lot of e-commerce leaders, optimistic that no-man's shops suitable as a virtual integration of the field, preemptively in the physical retailers before the first layout of unmanned stores, in order to develop physical business positions, and even as a flagship display store to implement the experience economy, improve brand value.
Since unmanned shops can enhance the competitiveness of physical stores to counter or integrate the development of e-commerce, the geographical conditions, no-man's shops are the most enthusiastic development of the place, is often the most prosperous market for e-commerce development. In terms of the Chinese market, which is actively developing its online innovation model, iiMedia Research data show that unoccupied retail store transactions are expected to reach RMB38.94 billion in 2017, with high growth rates expected to reach 281.3 percent in 2020 and more than RMB1.8 trillion in 2022.
In addition, the popularity of mobile intelligent life, resulting in changes in consumer shopping habits, but also to traditional brick-and-mortar stores must actively introduce various artificial intelligence and Internet of Things technology, and even to the transformation of unmanned stores.
Earlier this year, UBS Securities released a survey of 31,000 people in the Asia-Pacific region, which showed that 71% of People in Asia Pacific shopped with "left-handed mobile phones, right-handed in-store products", only looking for data on the "network" instead of shoppers only 15%; After doing their homework, the place where the purchase took place still slightly better than the physical store, accounting for 58%, and the online consumption accounted for only 42%.
UBS reports that companies must recognize that online and offline is already the same sales pipeline, consumers have the network price information, far more than the clerk can provide, and consumer patterns and habits change, customers expect "if my eyes do not contact you, please do not harass me" "low-touch service." How to improve consumer satisfaction with low-contact services, so that customers back to brick-and-mortar stores, it is no one shop by the physical market high hopes, and actively invest in development of a key.
No one shops the two major technologies each lead the way
Thanks to the rapid development of intelligent technologies such as artificial intelligence and the Internet of Things, the concept of unmanned stores with "low-touch service" qualities has been put into practice. Technically, there are two types of unmanned store technology commonly used in the market, first of all, artificial intelligence, using visual sensing, face or biometrics, biological payment, deep learning and other artificial intelligence technology to build the eyes and brain of machines, to achieve consumer identity verification and automatic checkout of intelligent solutions, and even let consumers "take away" goods. Amazon Go and Wahaha's Take Go Smart Convenience Store are among them.
Then there's the Internet of Things, which uses radio Frequency Identification; RFID) sensors, sensors, code-sweeping guns and other technologies to achieve identification checkout, Auchan and Darunfa launched in China's uninhabited convenience store "color fruit box", the solution is RFID technology, each item is labeled RFID (Tag), after selecting the product can be self-sense checkout in the product identification area, and complete the collection.
The above two technologies as the core of application, and derived from the third artificial intelligence with the Internet of Things hybrid mode, 7-ELEVEN X-STORE and Enychry mainly use this program, it mainly combines the intelligent identification system that can identify people and objects, do not need too complex calculation and a large number of sensors, it can be simple series of people, goods and consumption processes, complete shopping management.
There is also a long-standing vending machine model, such as China's F5 Future Store, which is similar in concept to a large vending machine that uses robotic arms to pick up items, the biggest feature of which is the availability of fresh food. Green's "O2O Uninhabited Convenience Store" in Wanhua, Taipei, also uses multiple vending machines to sell natural drinks and food, and customers are required to use a leisure card as an identification card to enter.
Overall, the key technologies of unmanned stores in this wave rely on aithorn technology innovation applications such as visual sensing, Internet of Things, face or biometrics, deep learning, radio frequency identification, and the core key is still the AI application platform that integrates a variety of smart terminals, data analysis and cloud solutions.
Forlinx embedded FCU1401 products in the new retail industry applications can not only meet the needs of the "Internet of Things", but also to meet the "artificial intelligence school" of the senseless experience, of course, can also support hybrid mode applications.
The FCU1401 is a block diagram in a new retail application as follows: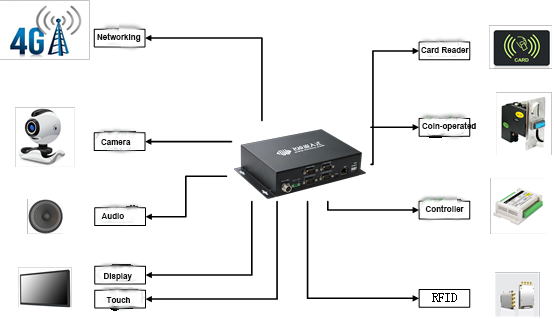 FCU1401's Design:
FCU1401 Function: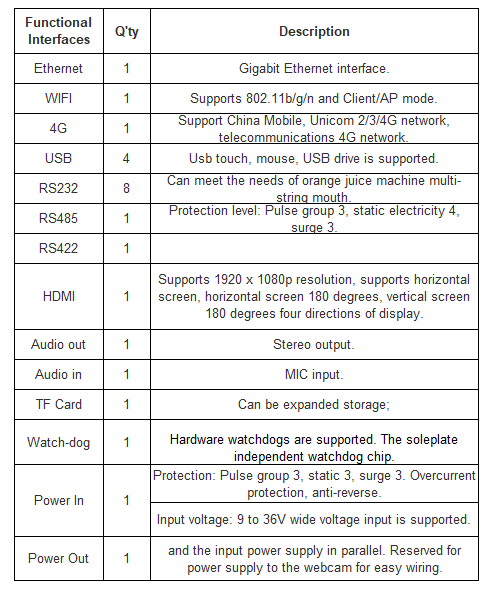 Except embedded industrial control machines, Forlinx can also provide core board card products, you can design your own base plate to meet the individual needs of the product. Several core boards can be used in new retail industries, FET4418-C, FET6818-C, FETMX6Q-S, FETMX6Q-C, FETMX6DL-S, FETMX6DL-C, FETMX6UL-C, FET33xD, etc. From low-cost, high-performance, industrial-grade aspects have suitable solutions.
It is conceivable that in the next five years there will be more uninhabited stores with innovative models flowering everywhere.
Related products: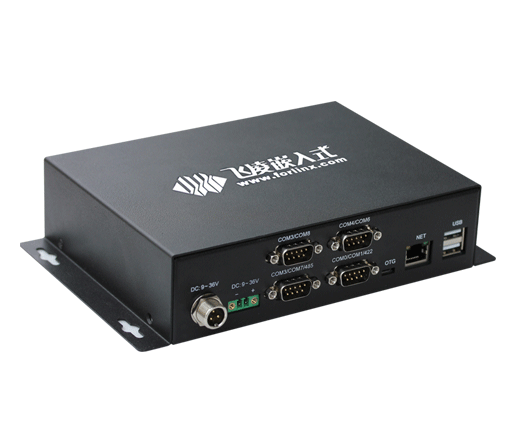 FCU1401 Embedded Computer