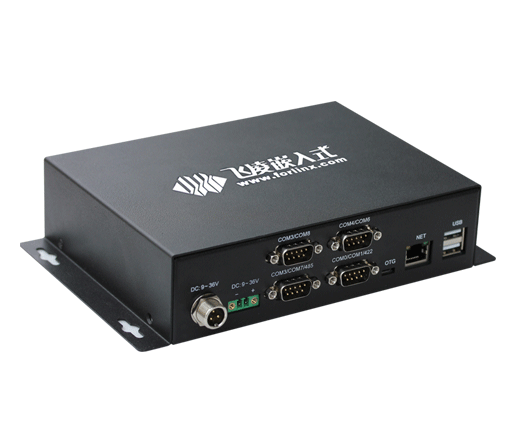 FCU1401 Embedded Computer
FCU 1401 is an embedded computer was designed based on S5P4418 specially for self-service terminal, vending machine, advertising machine, HMI terminals, etc. It's s high integrated embedded computer with display, communication, controlling functions all-in-one.
This item is with frequency of 1.4GHz that makes it excellent Android OS performance and available for displaying with resolution of 1080P that takes users ultimate HMI experience. What's more, interfaces such as 4G, WIFI, Ethernet, UART, USB and audio are all ready-to-use, which will shorten your time for product development.
---

OS Android 5.1.1 and Linux 3.4.9 are available
The S5P4418 is a quad core processor with frequency of 1.5G Hz and excellent software performance of optimizated Android 5.1.1 and Linux QT5.6.

Dual-display takes supurior HMI experence
HDMI and LVDS interfaces are both available to support high definition touch panel sized from 7'' to 55'' with resolution of 1080P,dual displays
Multi-functional interfaces ready-to-use
HD camera is supported with monitoring and recording functions to guarantee device security, and 8-ch UART are available to communicate with microcontrollers, which make it convenient for equipment cluster management.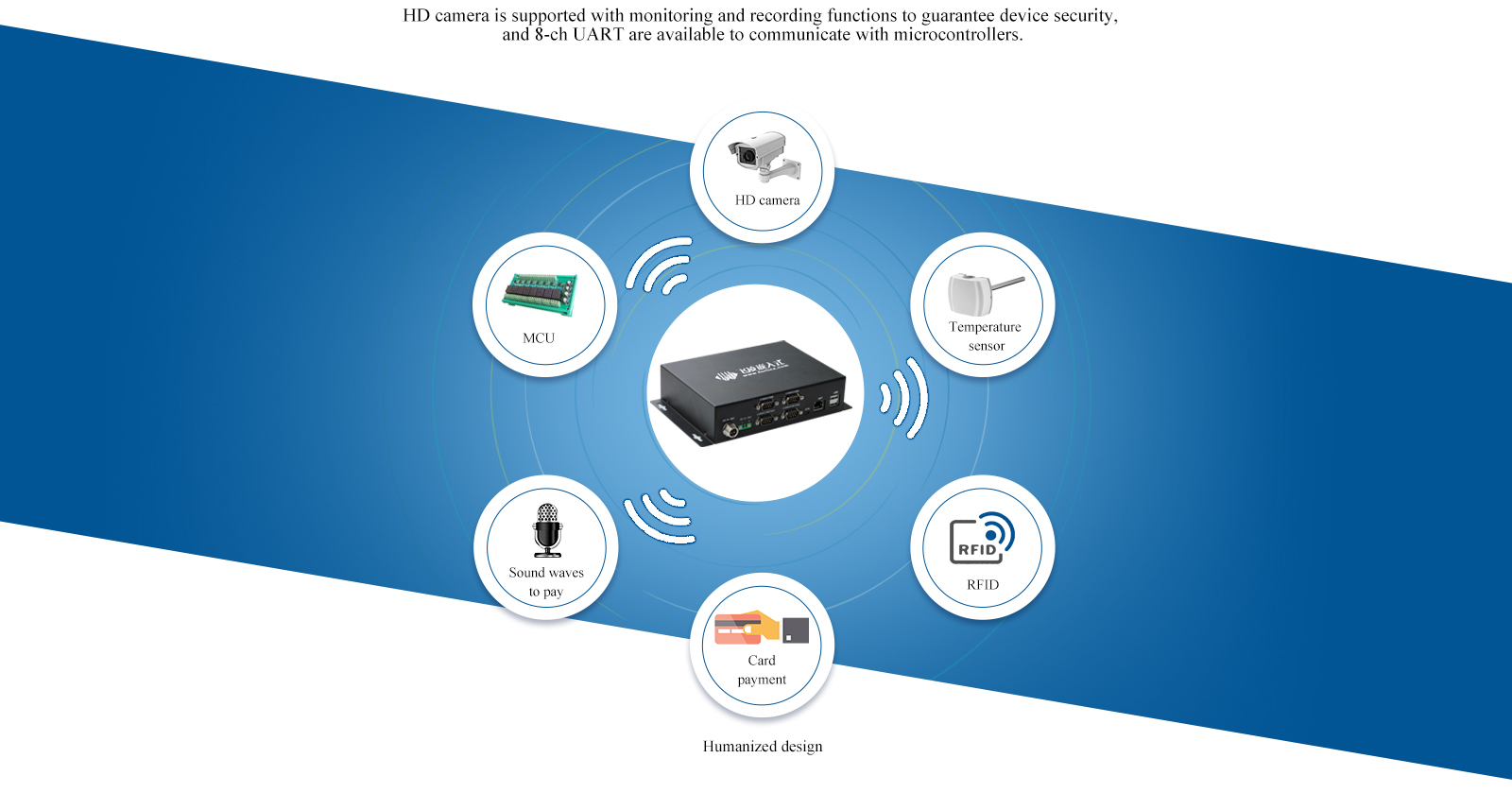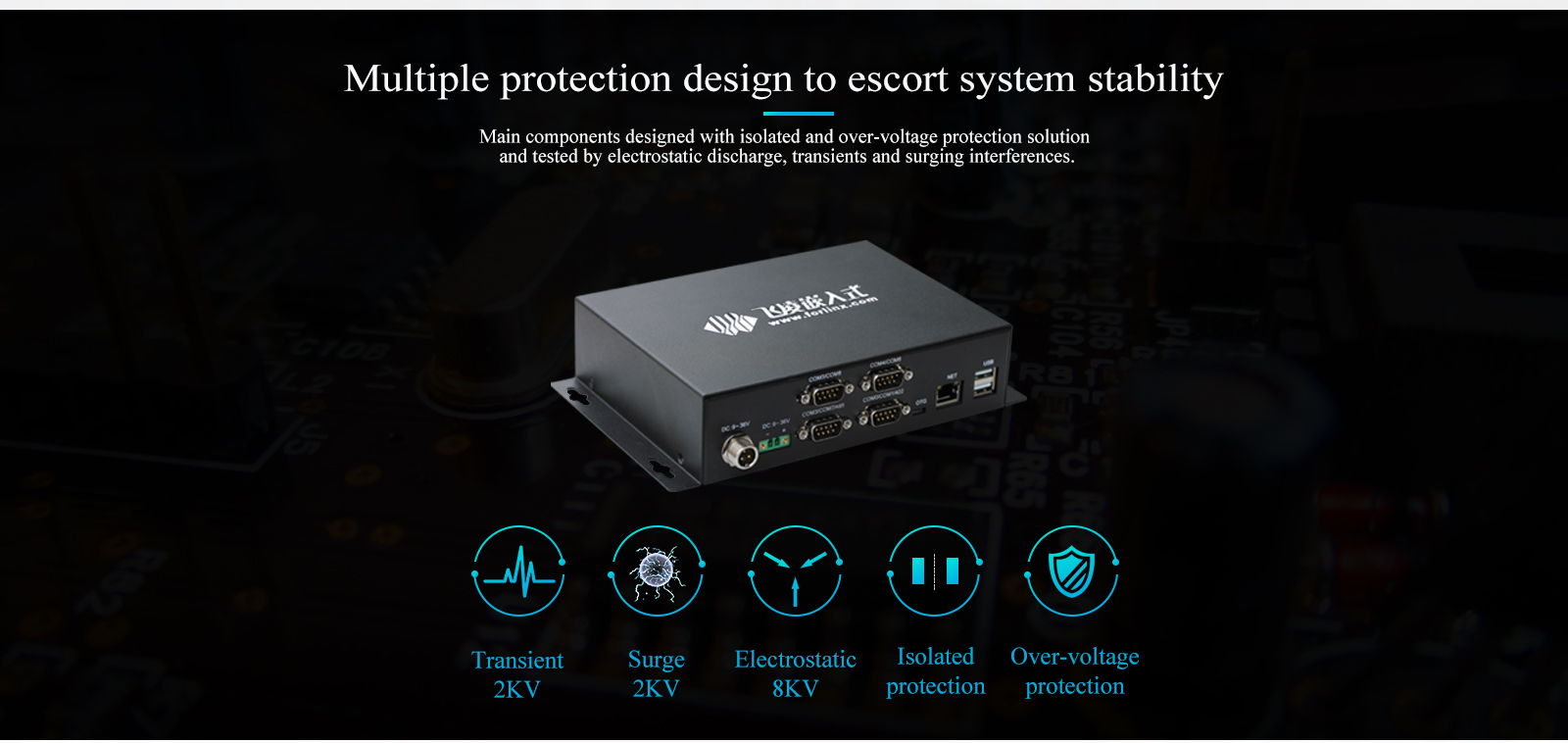 Applications
FCU1401 embedded computer could be widely used in applications like vending kiosks, express cabinet, self-service terminal, IoT, multi-media displaying, digital signature, access control, etc.

▊ Spec.
---
Hardware Features


Basic Information
CPU
ARM Cortex-A9 quad-core 1.4GHz
RAM
1GB DDR3
ROM
8GB eMMC
Interface
Display
HDMI 1.4, up to 1920X1080, ESD: Con ±6KV、Air ±8KV
LVDS(1ch,8bit), in enclosure which should be removed when using it
Touch
USB touch screen
Serial

8x RS232, one can be multiplexed to RS485, one can be multiplexed to

RS422; ESD: Con ±6KV, Air ±8KV; EFT: ±1KV; Surge: 2KV

Ethernet
10M/100M/1000Mbps auto-negotiation, ESD: Con ±6KV, Air ±8KV
WIFI
802.11b/g/n, can support STA/ AP
4G/3G/2G
China Union 4G/3G/2G, China Mobile 4G/3G/2G, China Telecom: 4G
USB Host
4x USB TypeA, can support USB 2.0 Host, ESD: Con ±6KV, Air ±8KV
USB OTG
Micro USB, USB 2.0 OTG
Audio
1x Headphone, 1x MIC
TF
1x TF card slot for external storage
Functional Key
1x key, function set by application
Power Key
1x power key
RTC
available
Buzzer
powering indicator
Hardware Watchdog
supported
Voltage Input
Voltage Input
9~36VDC
Rate
12V/2A(in status of no external power output)
Protection

onver-current protection, reverse polarity connection,

ESD: Con ±6KV, Air ±8KV, EFT: ±2KV, Surge: 2KV

Working Environment
Temperature(working)
-20℃~+70℃
Temperature(storage)
-40℃~+125℃
RH(working)
10%~90%
RH(storage)
1%~95%
Software Features
Support
Spec.
OS
Android5.1.1
File System
EXT4, FAT32
HDMI
resolution: 1080p/720p/640p/576p, can switch by software and get the setting valid by reboot, can support display horizontal and vertical mode switch,可在操作系统中设置切换,重启生效。 支持横屏、竖屏切换。
Touch
standard HID touch input, plug-and-play
Serial
provided with demo
Ethernet
can support fixed IP and allocate IP by DHCP; can support MAC address setting
WIFI
can support wireless network; WIFI AP to 4G
4G Network
can support China Mobile, China Union, China Telecom 4G wireless network; China Mobile SMS
USB HOST
can support standard HID input device, UVC camera and U-disk storage
USB OTG
can support ADB in device mode; and can support standard HID input device, UVC camera and U-disk storage in host mode
HOME Key
provides API and demos
RTC
can support NTP
Activiate Logo Changing
APP for booting acitiviate logo changing
Media
compatible third party media player, can support audio record and play, volume adjusting
OTA
supported
Packing List: Option 1(standard version)
FCU1401 x 1
power adapter x 1
2.4G antenna x 2
Packing List: Option2(4G version)
FCU1401 x 1
4G wireless module x 1
4G full-band antenna x 1
2.4G antenna x 2
power adapter x 1
Optional Module
serial expanding module
note: each DB9 connector on FCU1401 contains two serial, but only one is available if using a standard DB9 cable, by this module, both of the two
serial will be available
▊ How to buy
---
Payment term: 100% payment in advance no matter sample orders or bulk purchasing orders.
1. Order Online
We have an online store on Alibaba, please contact us to start ordering
2. Western Union
Tell us which item and model you want to order, and we will send you a PI with Western Union account.
3. Bank Transfer(T/ T)
Tell us model and quantity, and we'll send you a PI with our company's bank account for payment.
▊ Shipment
---
Payment term: 100% in advance
1. Delivery: Goods will be sent out by express as requested
2. Lead time: generally, goods could be sent out within five working days for a sample order, for a bulk requirement order, please contact us to check stock status and estimated delivery time.
3. Shipping charge: buyers should bear related shipping cost.