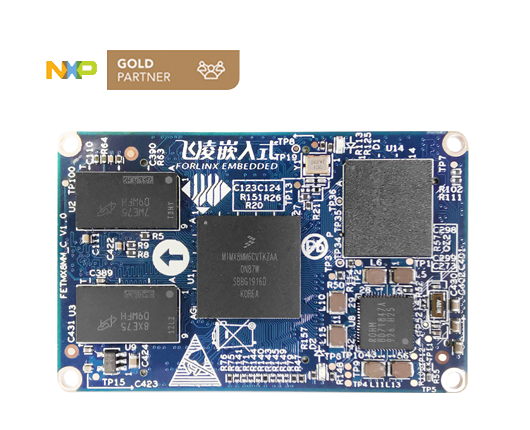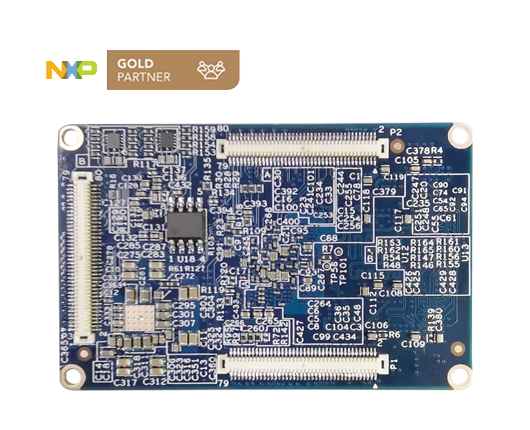 FETMX8MM-C system on module (SoM) is based on NXP's i.MX8M Mini processor with 1.8GHz Cortex A53 quad core and single Cortex M4 core. i.MX8M Mini SoC built with advanced 14LPC FinFET process technology. This cutting-edge building block is tailor made for a wide range of IoT and industrial applications, featuring 2GB DDR4, 2 x USB 2.0, powerful network connectivity options including Bluetooth and optional WiFi, PCIe 2.0 and robust multimedia features including 7 audio channels (32bits), MIPI-DSI, and 1080p encoder and decoder.
It is NXP's first embedded multicore application processor built with advanced 14LPC FinFET process technology, delivering higher speeds and energy efficiency. i.MX8M Series is commercially and industrially certified and supported by NXP's Product Life Plan for any general industrial and IoT application.
Main features of i.MX8M Mini SoM
1. Heterogeneous Multi-core Processing Architecture;
2. Quad-core Cortex-A53 core up to 1.8GHz;
3. Cortex-M4 at speeds of 400+MHz;
4. 1080p video encode and decode;
5. Display and camera interfaces;
6. Multi-channel audio and digital microphone inputs;
7. Connectivity (I2C, SAI, UART, SPI, SDIO, USB, PCIe, Gigabit Ethernet);
8. Low-power and standard DDR memory support;
9. Multiple pin-compatible product offerings;
10. support Android9.0 and Linux4.14(QT5.10);
---
Superior Performance cool experience
Based on ARM Cortex-A53 quad-core processor iMX8M Mini@ 1.8GHz,
with 2GB DDR4, high performance and powerful hashrate make system running more smoothly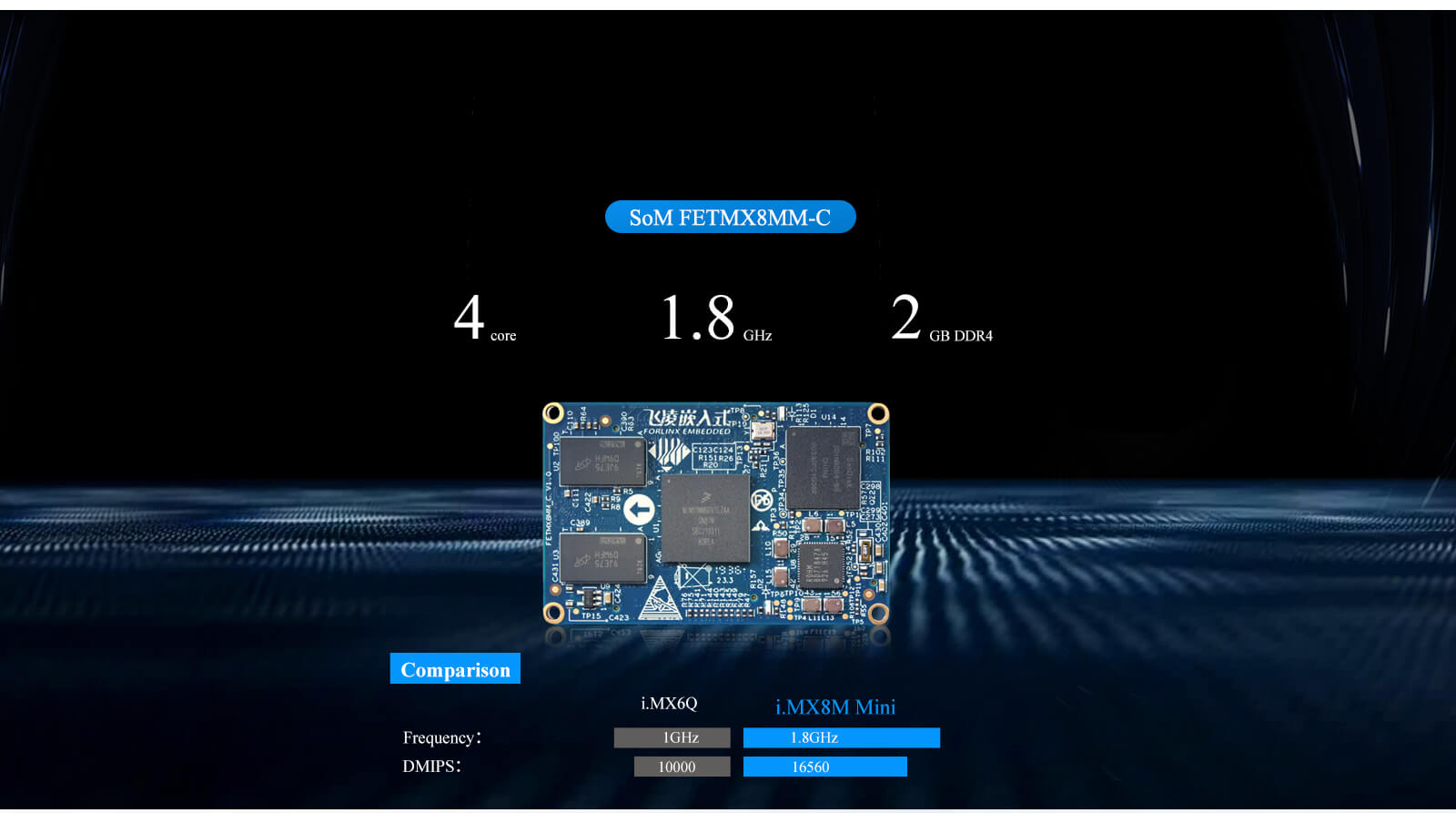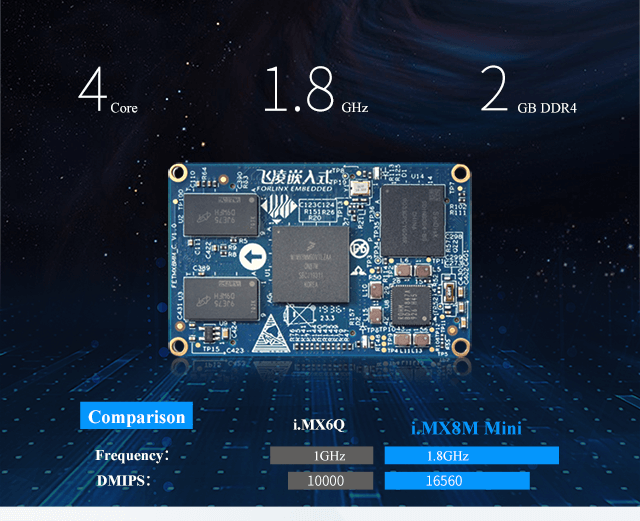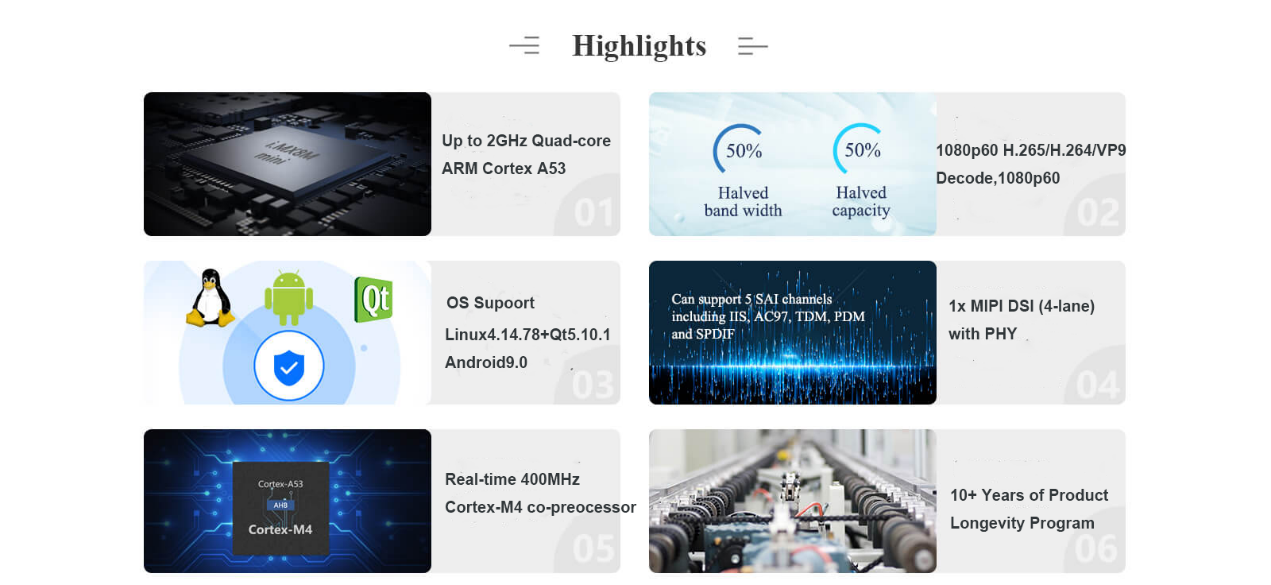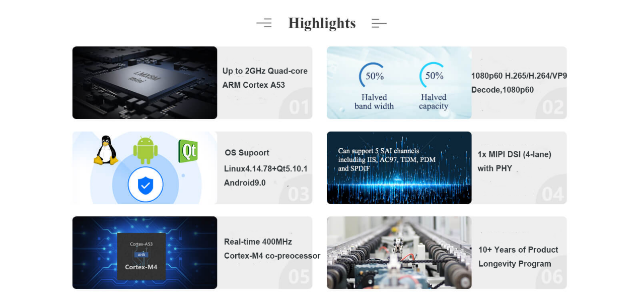 1080p60 H.265 decode, 1080p60 H.264 encode

Reduce band width occupancy rate VP9 and H.265 decoder can support 1080P@ 60Hz,
which is 50% more efficient, but bandwidth and capacity only 50% of H.264.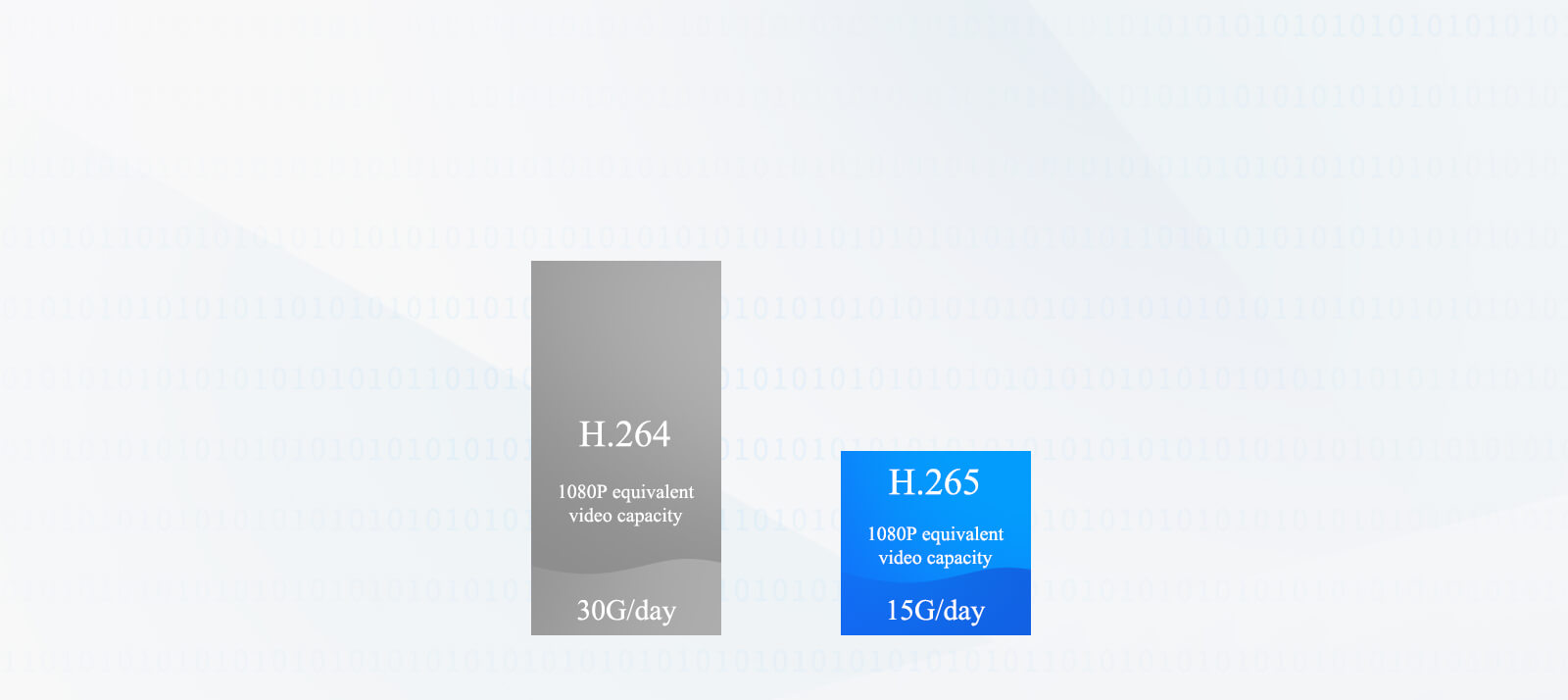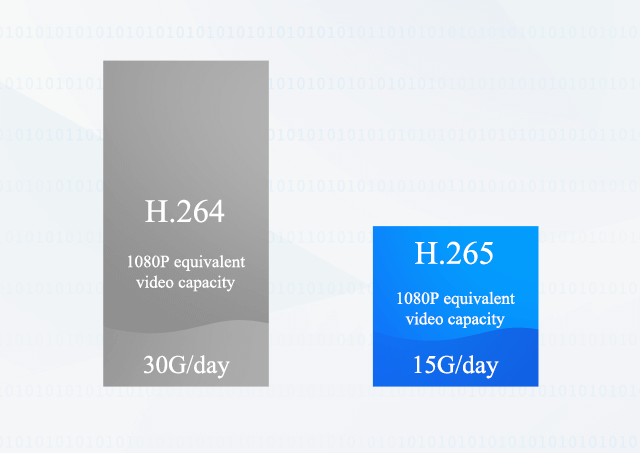 Operating Systems: Linux4.14+Qt5.10.1, Android9.0
SoM FETMX8MM-C can support Android9.0 and Linux4.14(QT5.10)
64-bit systems, which can take users higher security and better human-machine interactive experience.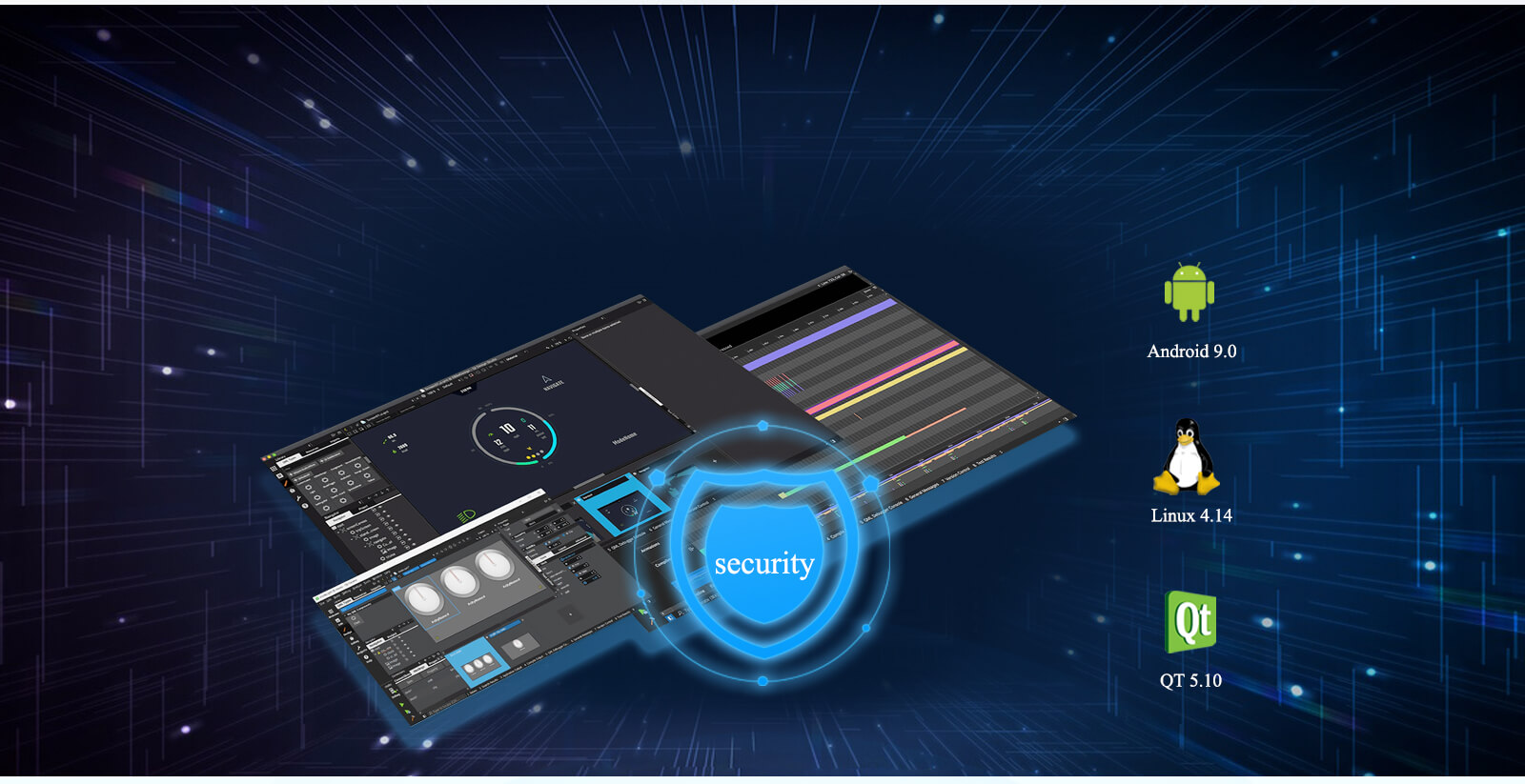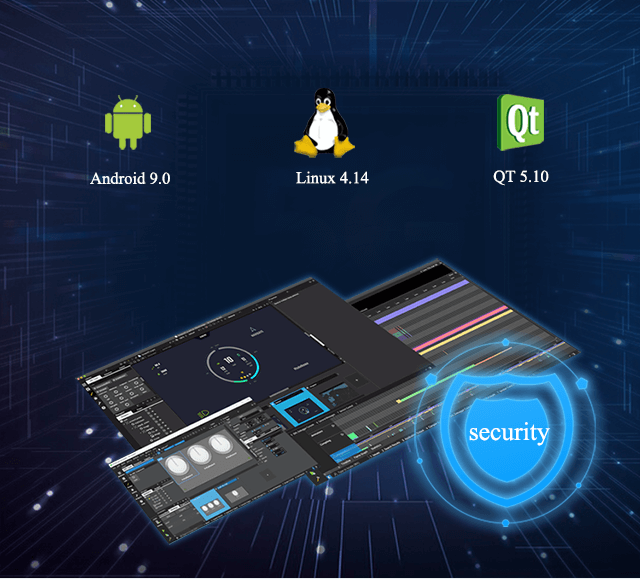 Multiple Audio Interfaces

Support 5-ch SAI,IIS,AC97,TDM and S/DPIF digital audio interface,
suitable for Hi-fi Voice System and Speech Recognition.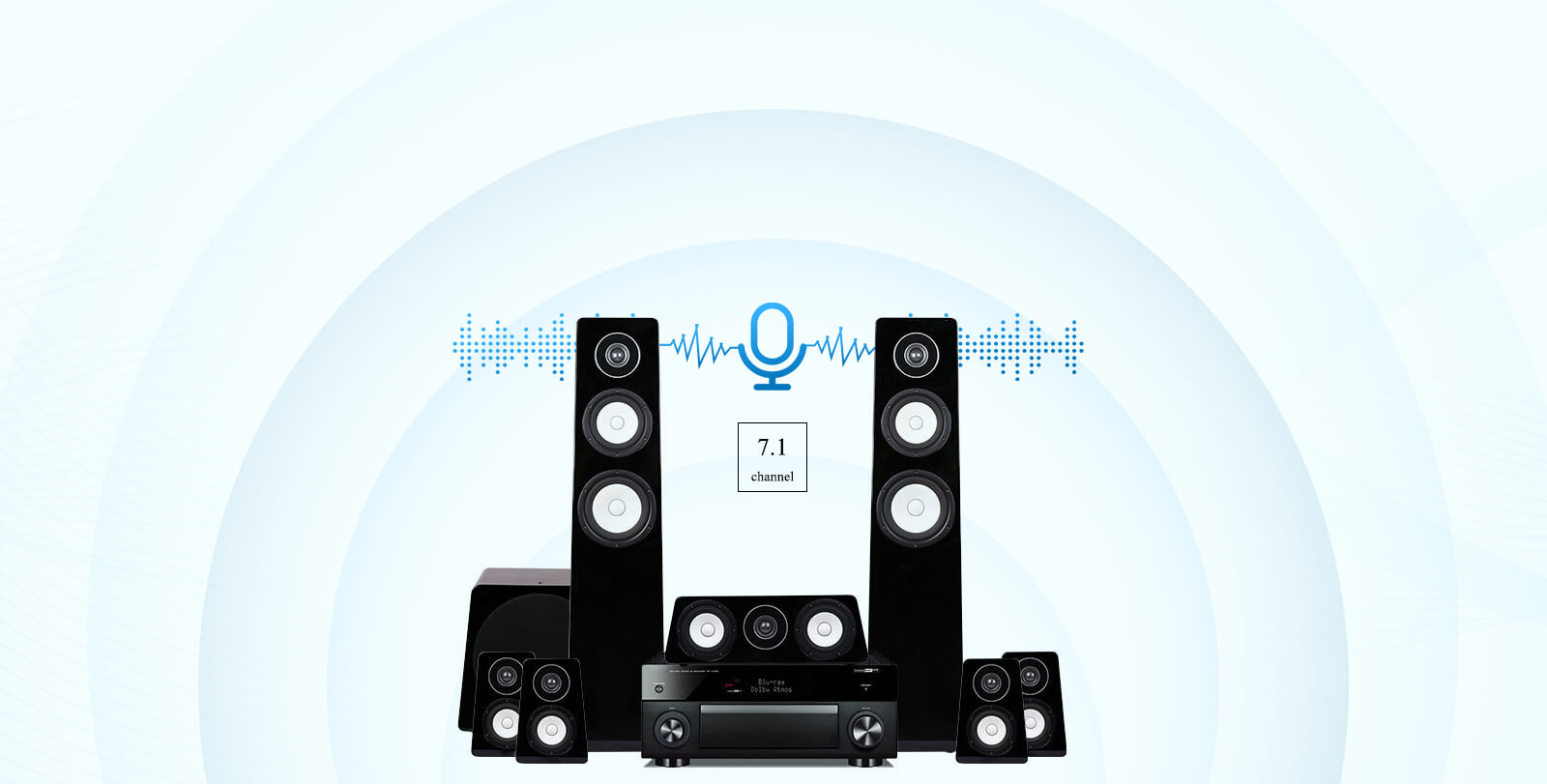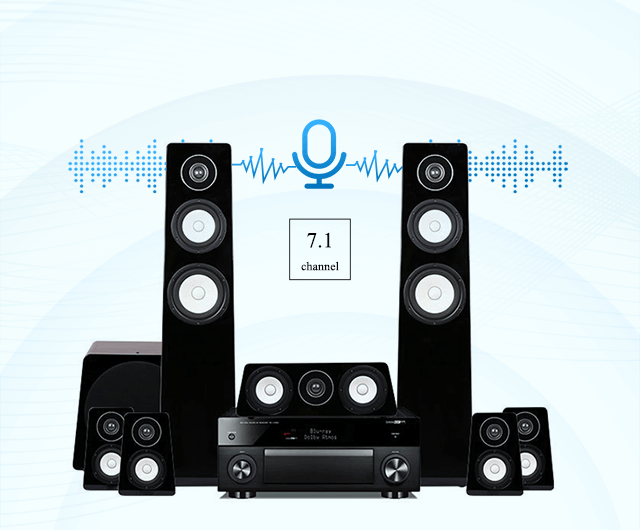 Power Optimized Design
The HMP architecture can reduce the power even more by letting the Cortex-A53 cores sleep until needed.
The Cortex-M4 can wake them up on demand.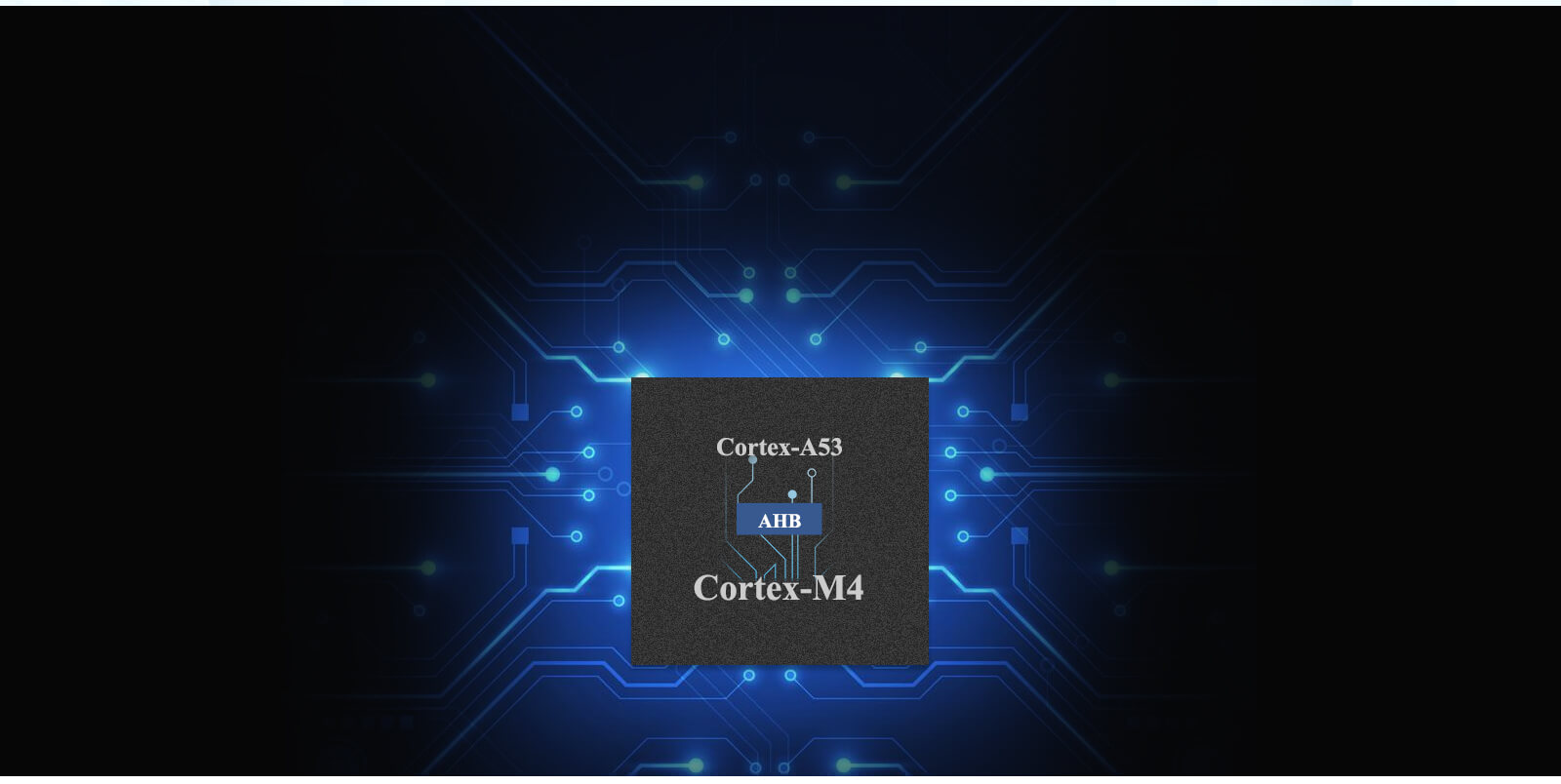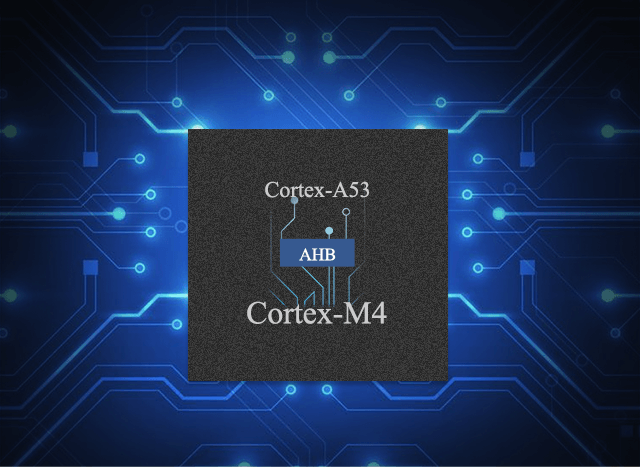 10 years of product longevity program
i.MX8M Mini processor's life time is more than 10 years, which ensures users of stability of product supplying.


▊ Product Video
---
Four Video Hard Decoding Demo Based on OKMX8MM-C SBC
▊ Hardware Features
---
Overview of FETMX8MM-C System on Module
CPU
NXP i.MX 8M Mini
Architecture
Quad-core Cortex-A53+ single core Cortex-M4
Main Frequency
≤1.8GHz
RAM
2GB DDR4
ROM
8GB eMMC
OS
Linux4.14.78+Qt5.10.1, Android9.0
Voltage Input
5V
Package
ultra thin connector(3*80pin, pitch of 0.5mm)
Working Temp Width
0℃~70℃
Dimensions
56mm×36mm
FETMX8MM-C System on Module Features
Peripherals
QTY
Spec.
CAMERA
1
4-lane MIPI, up to 1.5Gbps
SD/SDIO
≤2
SD, SDIO, 1.8V mode and 3.3V mode
USB
2
USB 2.0( up to 480 Mbps), both can be configured to OTG
SAI
≤5
up to 5x SAI
UART
≤4
each up to 4.0 Mbps
eCSPI
≤3
full duplex strengthened synchronous serial interface, up to 52 Mbit/s, it can be configured to host/ slave mode
IIC
≤4
320Kbps
Ethernet
≤1
10/100/1000Mbps auto-negotiation
PWM
≤4
16-bit
JTAG
supported


FlexSPI
1
support single pad/dual pad/quad pad mode
Display
1
4-lane MIPI display, up to 1.5Gbps
PDM
≤1
up to 4-wire 8 channels
PCIe
1
PCIe 2.0
▊ Carrier Board
---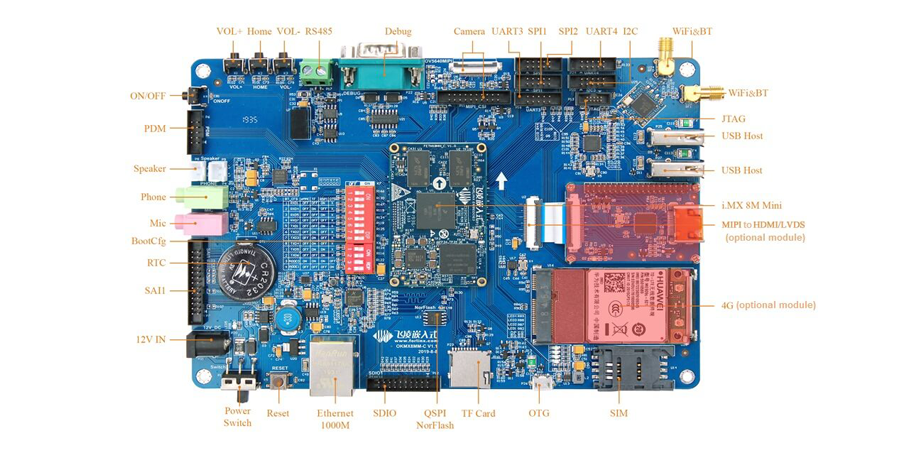 OKMX8MM-C Single Board Computer
To minimize your development workload, we can provide starter kits that can be used as complete development platforms for evaluation and application development.

The OKMX8MM-C Single Board Computer from Forlinx is based on NXP i.MX8M Mini SoC and adopts a separate SoM+carrier board design. The tiny motherboard gives full play to the processor's capabilities, with 2GB DDR4, 8GB eMMC. It offers a wide range of peripheral interfaces such as MIPI-CSI, MIPI-DSI, USB, PCIe, UART, eCSPI, IIC and Gigabit Ethernet, and is widely used in medical inspection, machine vision inspection and management, machine learning and automotive multimedia, etc. and supports Linux 4.14.78 system. Featuring open system architecture design, it can provide technical information for your secondary development.
OKMX8MM-C Single Board Computer Features
Peripherals
QTY
Spec.
MIPI_DSI
1
4 data lanes, protocol V1.01r11; resolution up to WQHD(1920x1080p60, 24bpp)
MIPI_CSI
1
4 lanes; OV5640MIPI
Audio
1
1*MIC, 1*Phone, 2*Speaker
PDM
1
10-pin header with pitch of 2mm
SAI
1
26-pin header with pitch of 2mm
USB Host
2
expanded by hub, USB2.0( up to 480 Mbps)
USB OTG
1
standard micro USB connector, USB 2.0 OTG (up to 480 Mbps)
Ethernet
1
10/100/1000Mbps auto-negotiation, RJ-45 connector
Mini PCIe
1
can be mounted with 4G wireless module with mini PCIe interace, it also contains PCIe2.0 single channel
WiFi
1
Model: F23BUUM13-W2


WiFi standard: IEEE 802.11b/g/n ,2.4GHz

Bluetooth: V2.1+EDR/BT v3.0/BT v4.0

Bluetooth
1
TF Card
1
compatible with SD, SDHC and SDXC(UHS-I)
SDIO
1
20-pin header with pitch of 2mm, 8-bit
SPI
2
10-pin header with pitch of 2mm
QSPI
1
on-board 16MB QSPI NOR FLASH
PWM
1
display backlight adjusting
IIC
4
standard mode: 100kbits/s, fast speed mode: 320kbits/s
UART
1

UART3 is a 3-wire serial interface, 3.3V up to 4.0 Mbps

UART Debug
1
UART2, RS232, DB9 male connector, default baud rate is 115200
A53 Debug
1
UART4, 3.3V, by a 10-pin header with pitch of 2mm
M4 Debug
RS485
1
isolated RS485, up to 500kbps
JTAG Debug
1


▊ Technical Support
---
Forlinx provides software resources including kernel and driver source code, detailed user manual, schematic documentations to help customer start their development rapidly.
Forlinx provides embedded hardware reference manual, embedded software reference manual, including NXP i.MX8M Mini embedded software Android system reference manual, and Linux system reference manual.
Consult customer service online to obtain relevant manuals
▊ Accessories
---
Provides the modules and accessories used in Forlinx's i.MX8M Mini Sbc.
See here for communication modules, LCD screen, SBC expansion module and further accessories »
▊ How to buy
---
1. Order Online
We have an online store on Alibaba, please contact us to start ordering
2. Order offline
pls send your inquiry to our mailbox [email protected];
3. Payment Terms
Samples(100% T/T in advance),Bulk Order(please contact with our sales)



▊ Shipment
---
1. Delivery: Goods will be sent out by express as requested
2. Lead time: generally, goods could be sent out within five working days for a sample order, for a bulk requirement order, please contact us to check stock status and estimated delivery time.
3. Shipping charge: buyers should bear related shipping cost.
▊ Related News
---
▊ Other Forlinx Hot Products
---