i.MX8M Mini EVK Reference Manual
In recent years, with the evolution of AIOT technology and the rapid development of industry 4.0, strong performance, cost leadership, long leading delivery cycle of embedded board has become a common demand for the development of these two types of equipment hardware.
iMX8M series core board and development board, i.MX 8M Mini series chips are now available. OKMX8MM-C board offers a wide range of audio interfaces, including I2S, AC97, TDM, PDM and SPDIF. A wide range of peripheral interfaces are available, such as MIPI-CSI, MIPI-DSI, USB, PCIe, UART, eCSPI, IIC and Gigabit Ethernet, while System-on-Module is cost-effective in bulk and has a stable lead time of up to 10 years.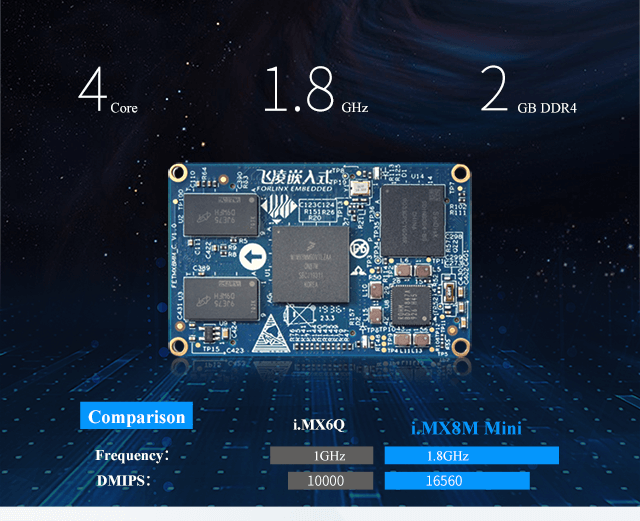 Let's take a look at what a cost-effective development platform looks like:
First, high-performance low-power "core"
NXP's i.MX 8M Mini series processor is NXP's new embedded multicore application processor built with advanced 14LPC FinFET process technology to deliver faster speeds and higher power efficiency. Supported by commercial and industrial certifications and NXP's 10-year supply program, it can be used in a wide range of general industrial and IoT applications.
Chip system block diagram: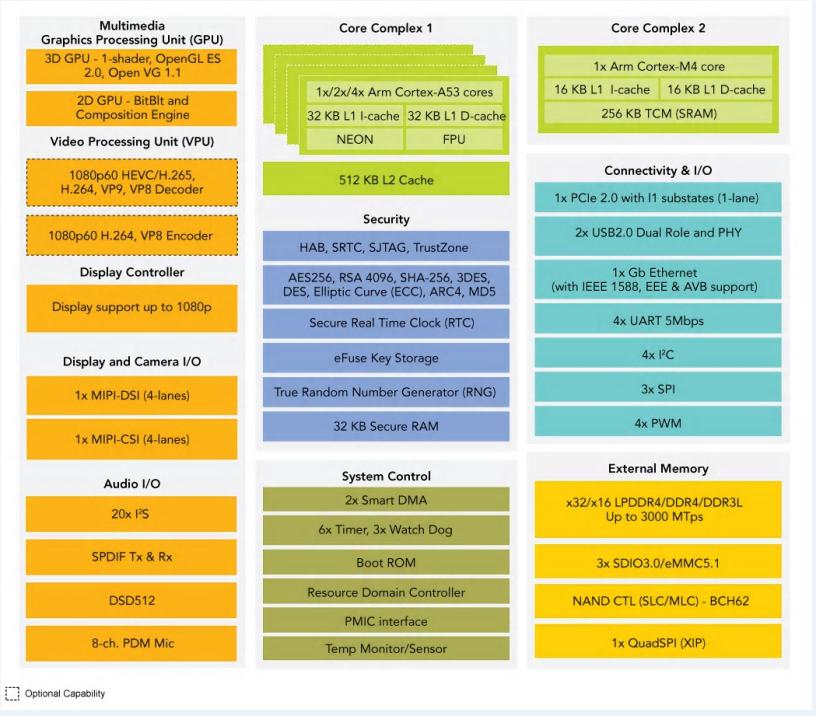 Second, rich hardware and software resources of development board
In order to meet the functional needs of various product equipment, OKMX8MM-C SBC provides a wealth of peripheral interface, can maximize the use of core board resources and provide users with reliable reference circuits for hardware development, simplifying development difficulty and time.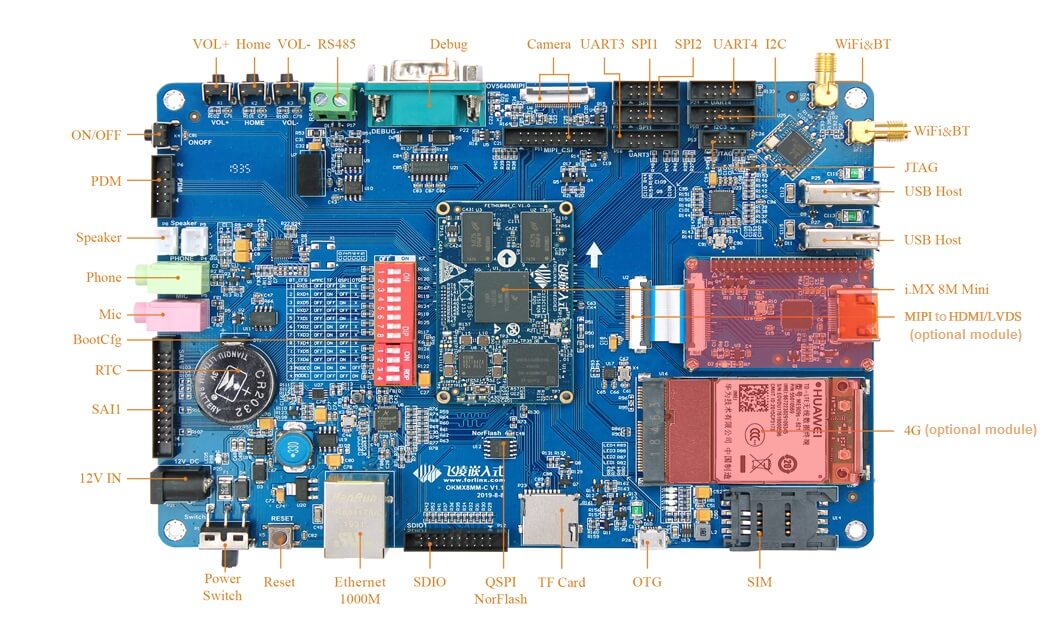 OKMX8MP-C board block diagram: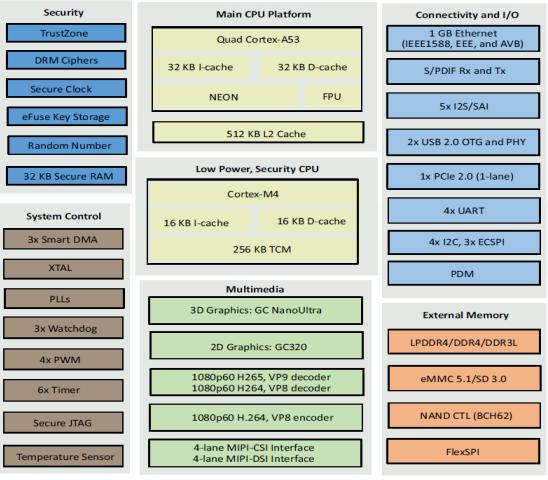 Adopt i.MX8M Mini quad-core processor, combined with 2G DDR4 plus 8G eMMC high-capacity memory, makes the system faster and smoother, with industrial-grade temperatures and a ten-year product program.
Multimedia interface: MIPI-DSI-MIPI-CSI, up to 1080p60, support hi-fi audio input and output, greatly enrich the user's digital multimedia design applications.
Communication interface: WIFI/Bluetooth module, Gigabit Ethernet, 4G LTE, to provide a stable and rapid connection to industrial Internet of Things and AIOT products.
Support for SSD storage extensions for M.2 PCI-E interfaces, making data storage faster.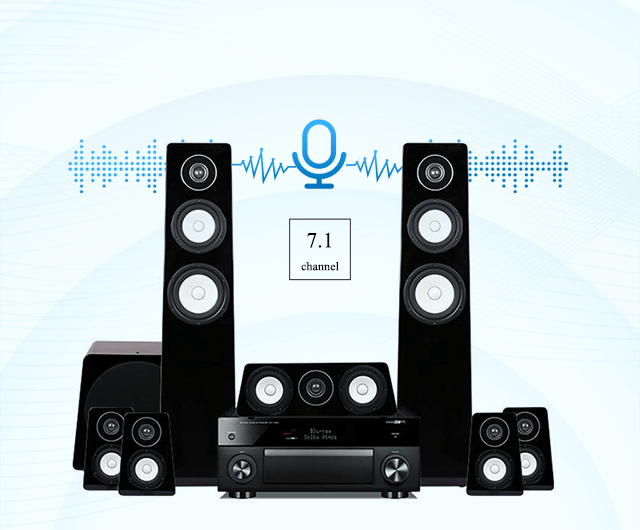 Companion software resources:
Android 9.0
Linux 4.14,
QT5.10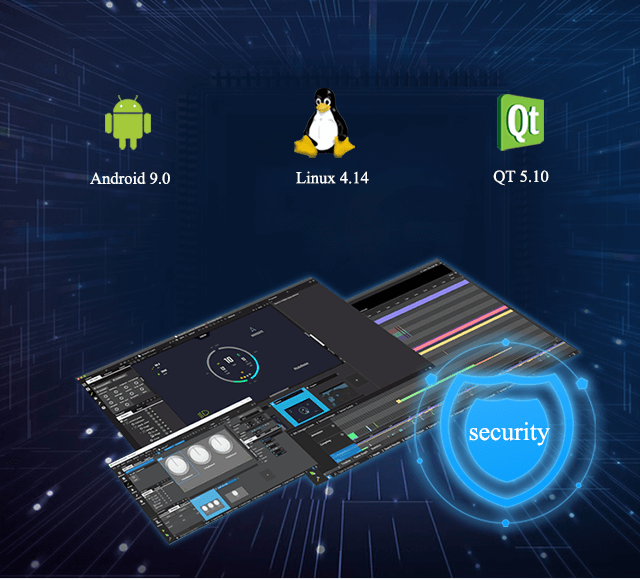 Third, the core board with great cost-effective advantages
The FETMX8MM-C core board features NXP's i.MX8M Mini family processors, 4-core ARM Cortex A53 processors up to 1.8G HZ main frequency, and integrated power management chips, DDR4, eMMC, QSPI FLASH, Gigabit Ethernet PHY, and 240 PIN signal expansion connectors for complex applications and industrial-grade temperature requirements.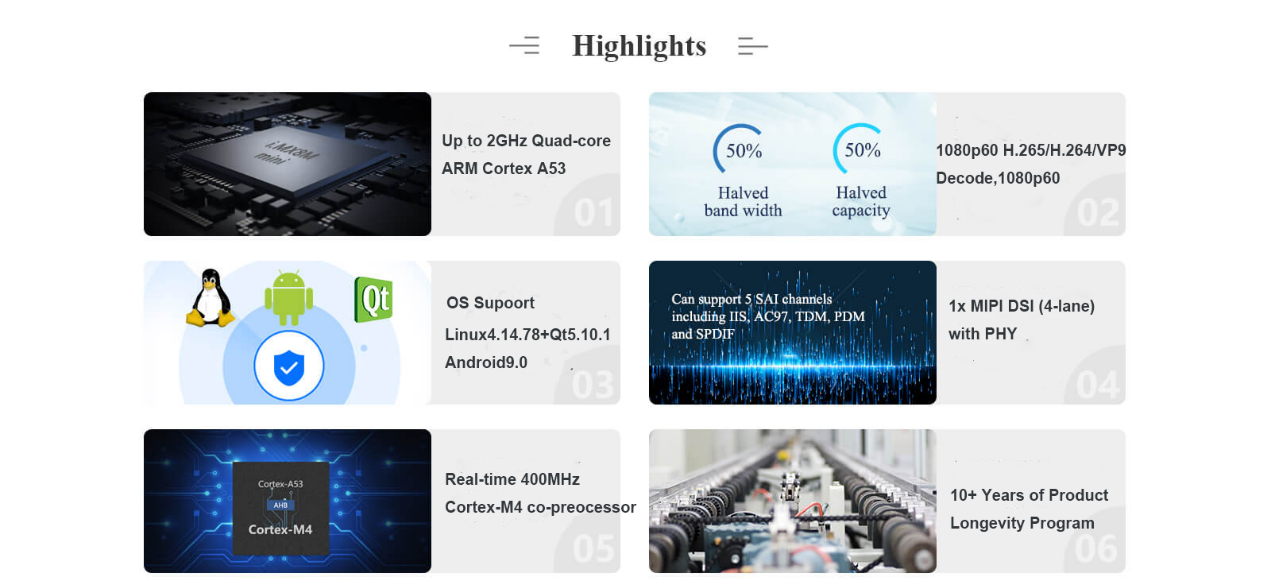 Four, a wide range of applications
Forlinx iMX8MM core boards and development boards for industrial control of high-performance board requirements and the Internet of Things, enabling computing and real-time processing tasks to be released from the cloud to the edge, accelerating industrial IoT and AIOT product landing applications.
Products can be widely used in intelligent charging piles, smart light poles, advertising machines, new retail vending / ticket machines, human-machine interactive inquiries and business processing machines, car networking (V2X), general power Internet of Things, high-performance instrumentation (industrial and medical), industrial control and human-machine interactive devices, intelligent transportation, intelligent fire, smart cities, smart buildings and other fields.
Related products: