iMX8M mini SoM VS iMX6 SoM
Prior to the release of the NXP i.mx8 series, the imx6 series was the main force of the NXP imx series, used in industrial products, data acquisition, automotive products and other fields. In the age of the Internet of Everything, there are further requirements for products, more devices, faster processing speed, lower energy consumption, and constantly updated high-performance, low-power processors.
Forlinx launched FETMX8MM-C based on NXP i.MX8M Mini, which is an upgrade to FETMX6Q-C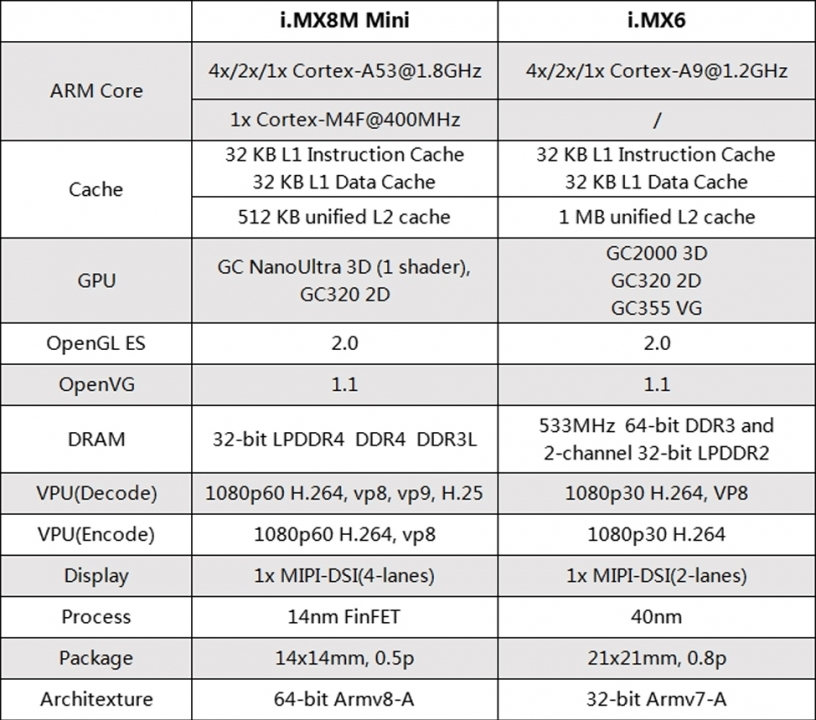 Forlinx iMX6Q System on Module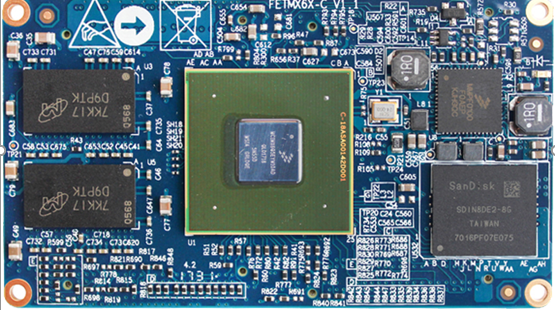 Based on arm Cortex-A9 processors, FETMX6Q-C is equipped with quad-cores and can be up to 1.0GHz, with 2D, 3D graphics accelerators, 1080p30 video codecs, integrated IO, HDMI, MIPI, LVDS, USB, PCI-e, gigabit mesh and other interfaces, and can be expanded for embedded products in the consumer, industrial, and automotive sectors.
Forlinx iMX8MM System on Module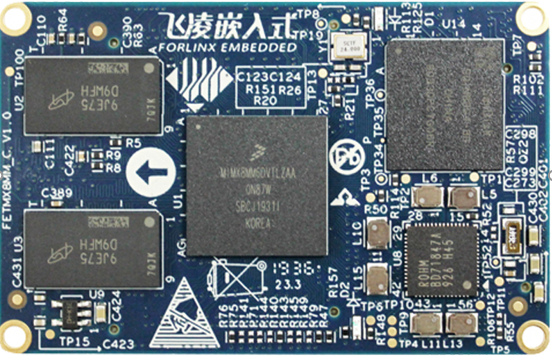 The NXP i.mx8 series offers a further improvement in performance over the i.mx6 Forlinx's FETMX8MM-C core board is based on a 4-cortex-A53 core-1-Cortex-M4 real-time processor, and the microprocessor M4 can perform real-time tasks individually for lower power consumption; OpenCL, DirectX9.3; supports 1080p60 H.265/VP9 video hard decoding; 5 SAI channels for scalable multi-digital audio interfaces, integrated gigabit ports, PCI-e, MIPI-DSI, MIPI-CSI, and flexible memory interfaces, advanced processing power combined with outstanding audio, video, and graphics, commercial and industrial certification, and a 10-year long-term supply plan to deliver low-power, high-performance solutions for embedded consumer and industrial applications.
| | | |
| --- | --- | --- |
| FETMX6Q-C | VS | FETMX8MM-C |
| ARMv7-A | Architecture upgrade, big. LITTLE architecture, reduced power consumption, improved energy efficiency | ARMv8-A |
| Cortex-A9,Quad-Core | Same-frequency workload, A53 20% higher throughput per core instruction | Cortex-A53*4+Cortex-M4 Multicore heterogeneity |
| 1.0GHz | The computing speed increases | Cotex-A53*[email protected]@ 400MHz |
| DDR3 | The energy consumption ratio is increased | LPDDR4 |
| eMMC | HS400 DDR signaling, up to 400 MB/sec | eMMC5.1 |
| 1080p30 H.264 | Decoding efficiency increased by 50% | 1080p60H.265/1080p60 H.264 |
| MsASP | More professional audio fidelity | 5-lane SAI, I2S, AC97, TDM and S/PDIF interfaces |
| LVDS,HDMI,VGA | Lower power consumption and higher data transfer rates | 4 Lanes MIPI |
FETMX8MM-C SoM continues the high energy and low consumption of the iMX6 core board, and upgrades the audio and video performance, which will further promote the upgrading of products in the fields of industrial property, industrial gateways, human-computer interaction, consumer electronics and other fields.