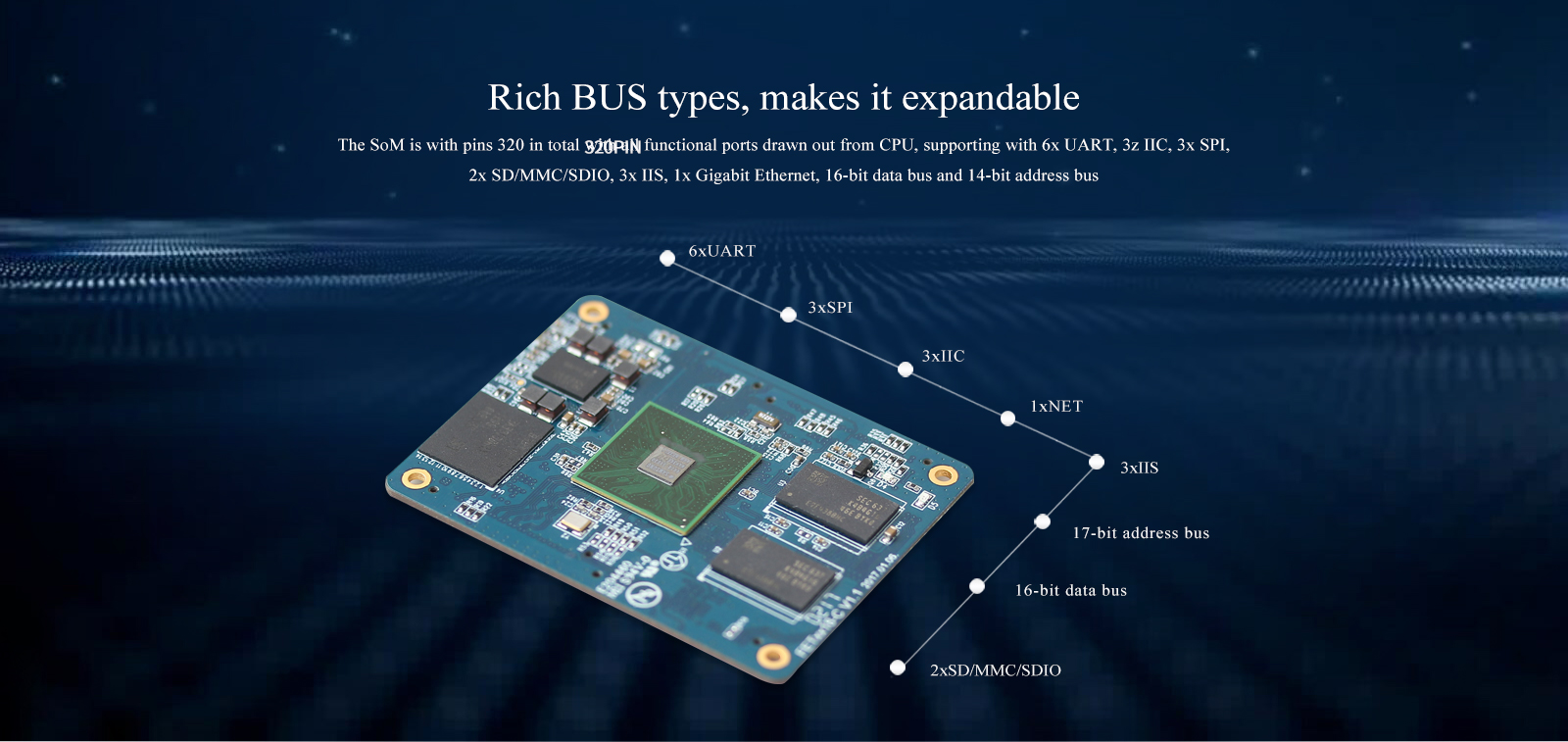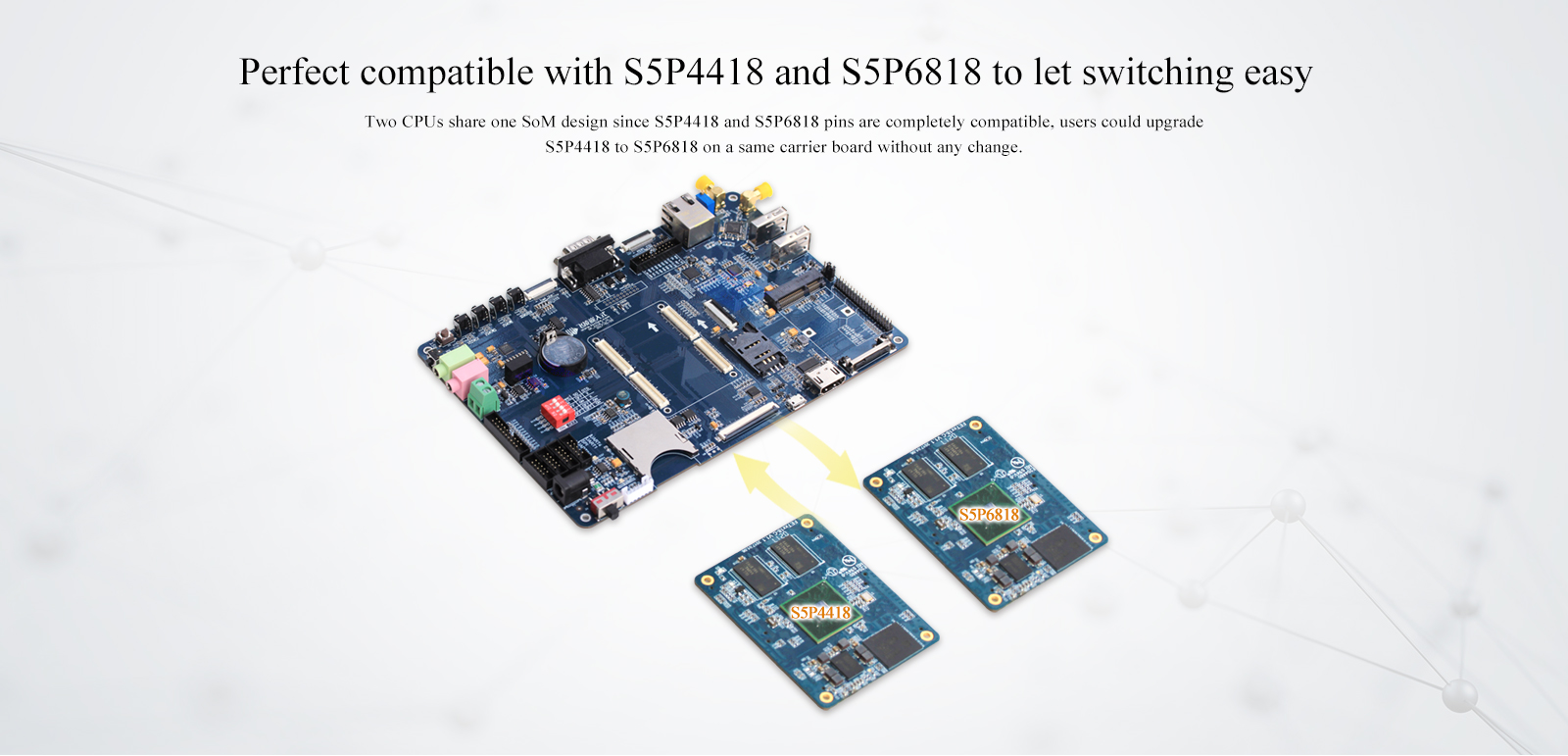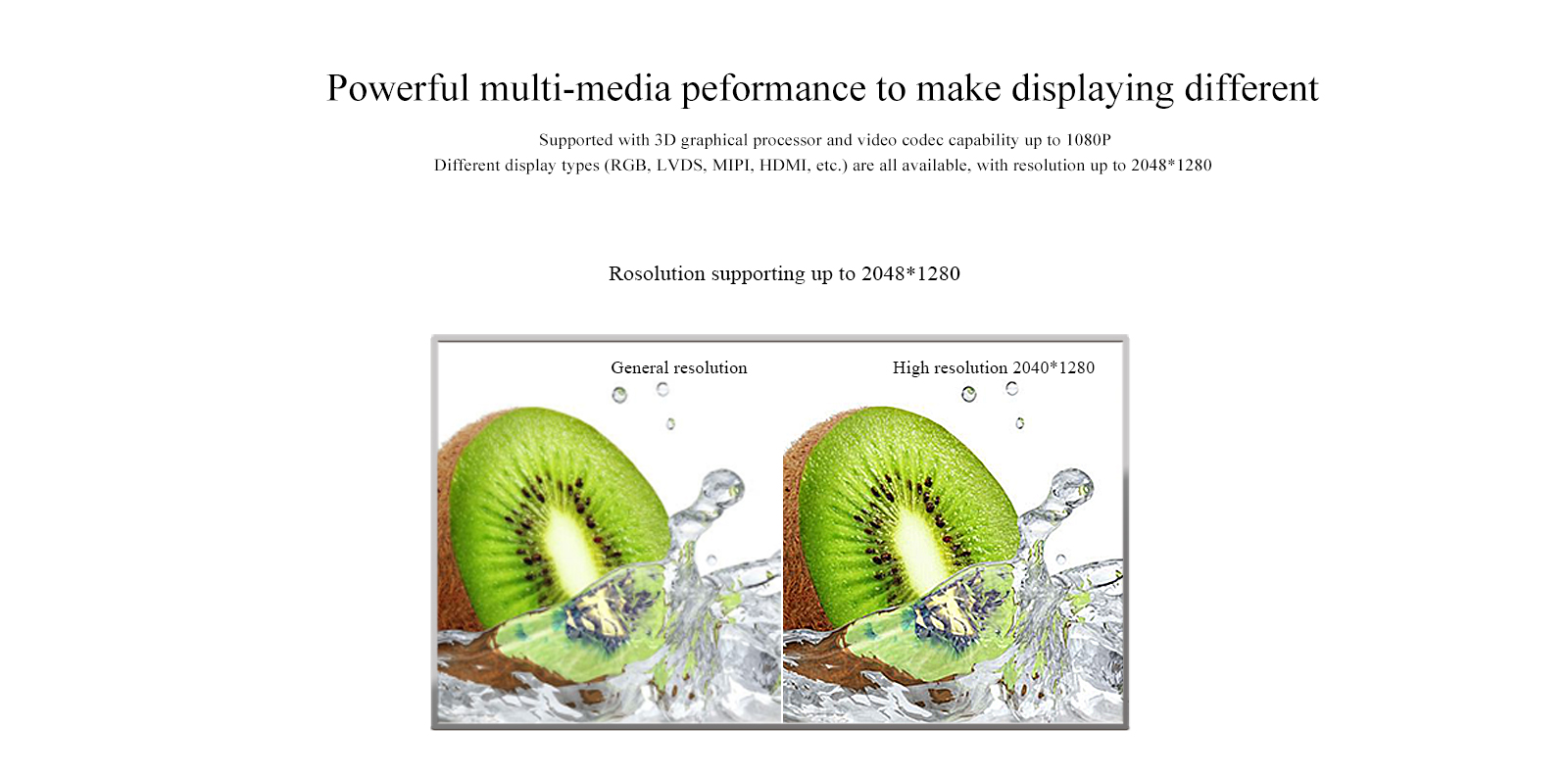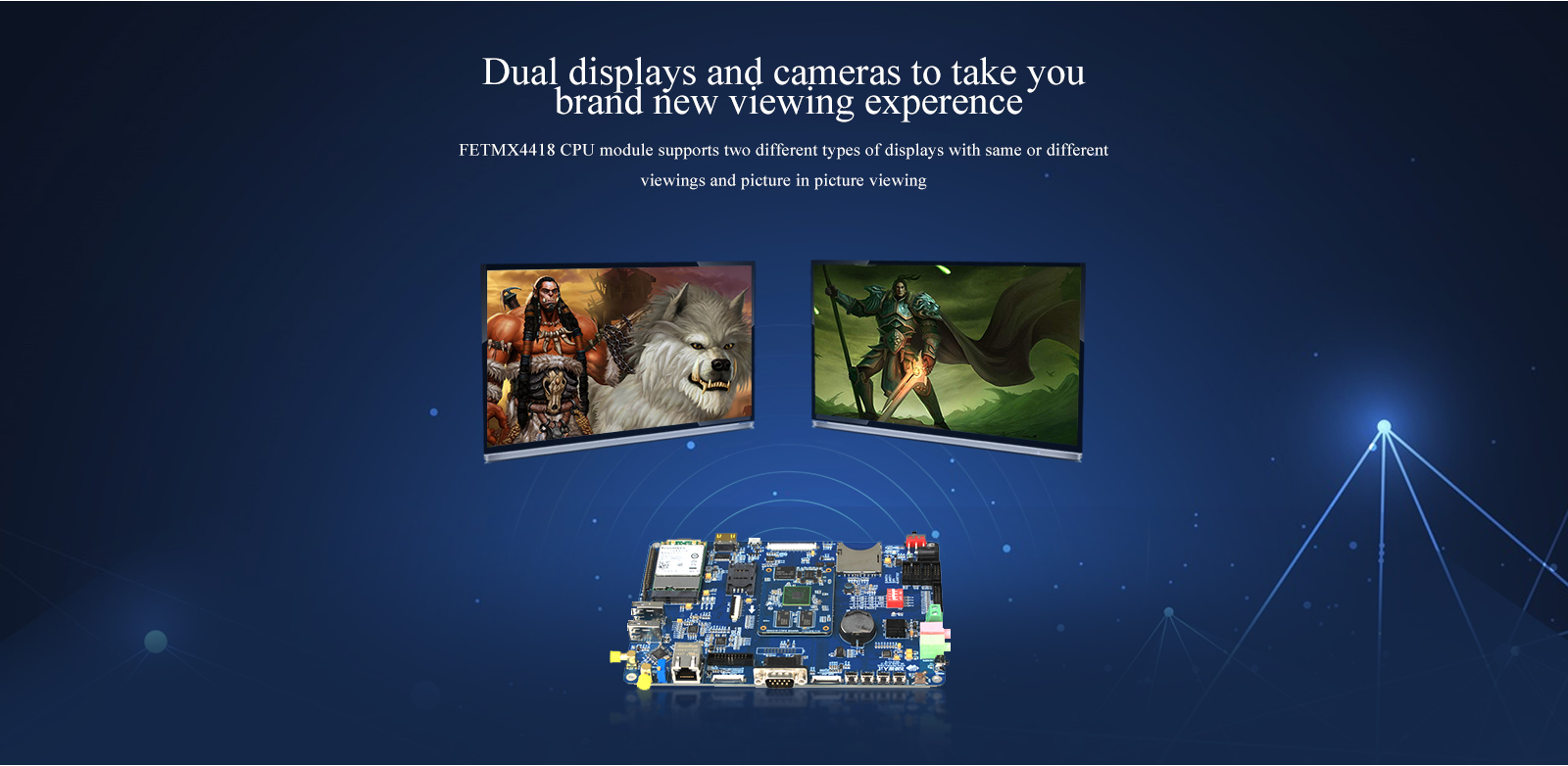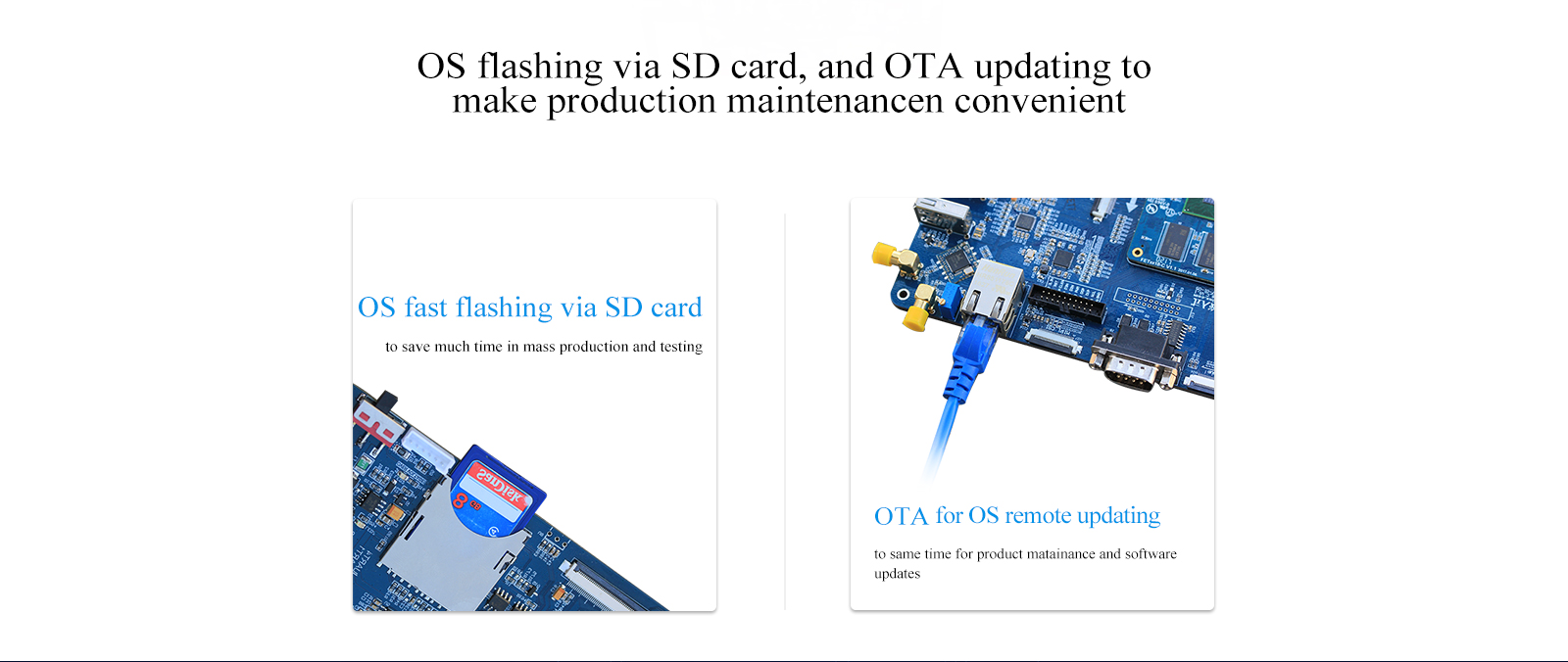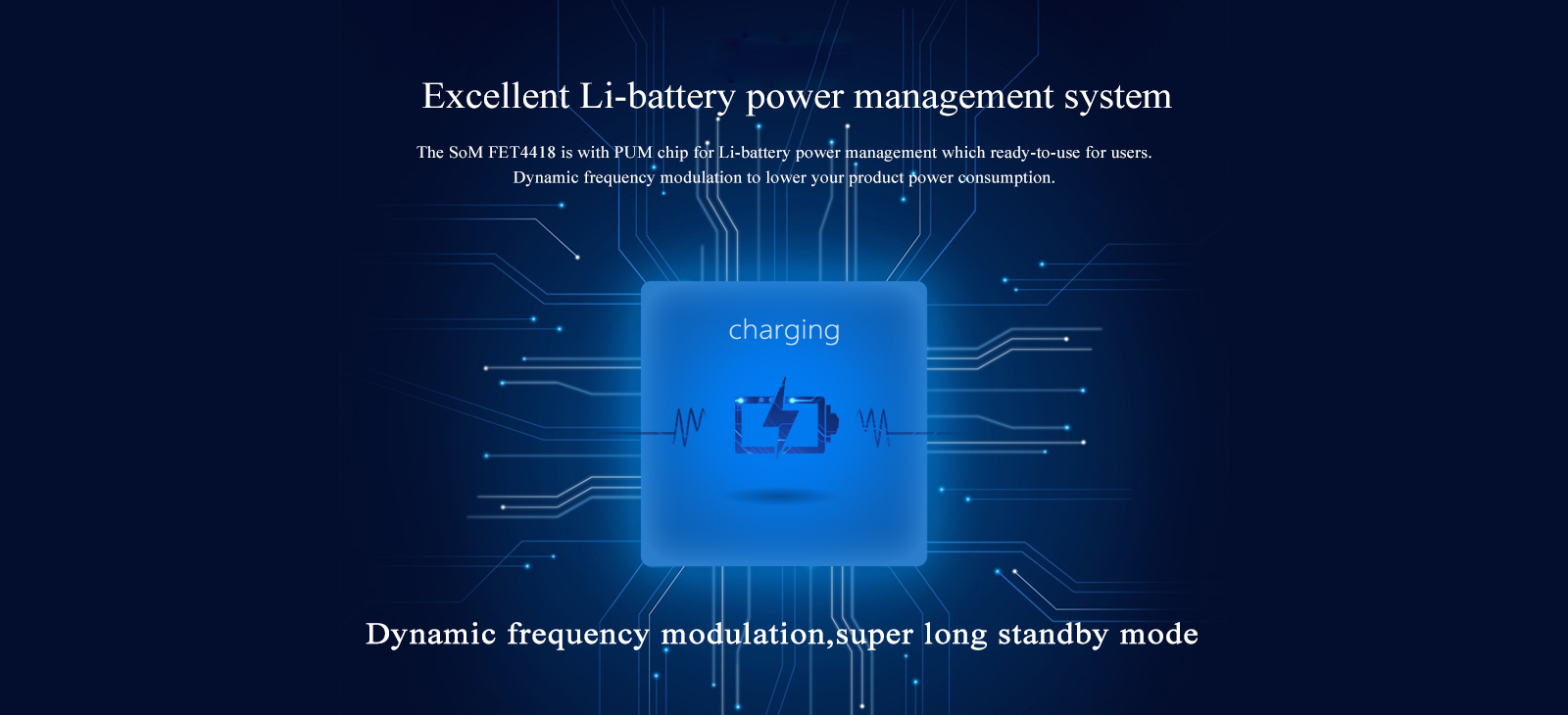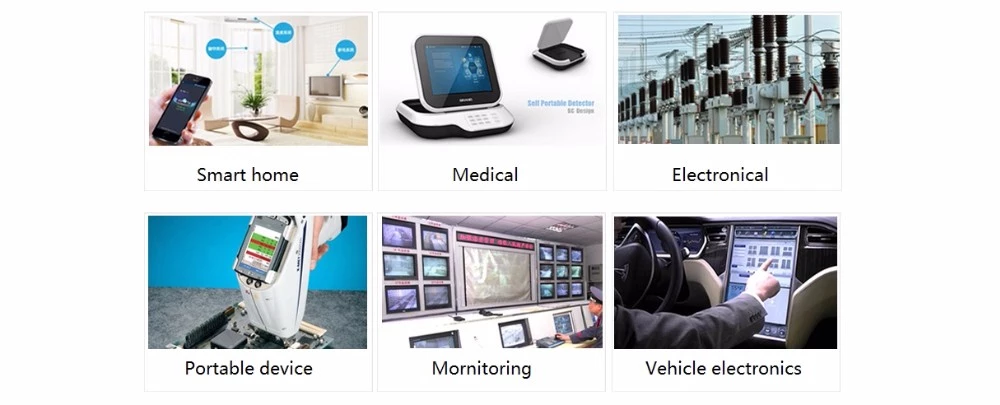 ▊ Hardware Features
---
Overview of FET4418-C System on Module

CPU

S5P4418XCO-LA40

Architecture

ARM Cortex-A9

Main Frequency

1.4GHz

Core Number

4

RAM

1GB DDR3(2GB DDR3 optional)

Flash

8GB eMMC

Dimensions

60*45mm

Package

board to board connector

PMU

NXE2000

Voltage Input

DC4.2V

Working Temp Width

0℃-70℃

RH

10-90%RH non-condensing

OS

Android5.1.1, Linux3.4.39, QT5.6, QT4.8.6
FET4418-C System on Module Features

Peripheral

QTY

Spec.










Display

LCD
1

RGB 888, maximum resolution supporting: 2048*1280

LVDS
1

supporting JEIDA and VESA output, 4x data channel, 1x clock channel, maximum resolution supporting: 2048*1280

HDMI
1

HDMI 1.4, maximun resolution supporting: 1080*1920

MIPI_DSI
1

MIPI DSI SPEC V1.01r11, up to 4x data channel, resolution up to 1920*1200




CAMERA

MPEG
2

8-bit parallel interface, pixel up to 5-Megapixel

MIPI_CSI
1

D-PHY spec V1.00, pixel up to 5-Megapixel

SD/MMC/SDIO

2

3-ch supported by CPU, and 2x SD/MMC drawn out by SoM, while the eMMC channel was not drawn out

USB HOST

1

USB2.0 host (rate up to 480Mbps), integrated with HS USB Phy

USB OTG

1

USB2.0 OTG (rate up to 480Mbps), integrated with HS USB Phy

UART

6

each transferring rate up to 5.0Mbps

IIC

3

supporting 100kbit/s and 400kbit/s

IIS

3

supporting up to 3x IIS

SPI

3

supporting up to 3x SPI

Ethernet

1
10/100/1000Mbps auto-negotiation

PWM

4
4x PWM output

SPDIF

1
supported

ADC

7

12-bit resolution, maximum input frequency 100KHz, power input range: 0-1.8V

EBI

1

Maximum data bus width: 16-bit, maximum address bus: 17-bit

JTAG

1
standard JTAG connector
Overview of OK4418-C Carrier Board

Dimensions
130mm×190mm
Thickness
1.6mm,
PCB Layer
4-layer PCB
Voltage Input
DC5V3A, with anti-reverse and over-voltage protection
Working Temp Width
0℃-70℃
RH
10-90%RH non-condensing
OK4418-C Carrier Board Source

Peripheral
QTY
Spec.










Display

LVDS
1

8-bit, dual-row pin connectors with pitch of 2mm, can support capacitive touching

HDMI
1
HDMI 1.4, HDMI-A connector
LCD
1
RGB888 24-bit, can support capacitive/ resistive touching
MIPI
1
4 differencial couples, can support capacitive touching
CAMERA
DVP
1
8-bit DVP, up to 5.0MP
MIPI
1
MIPI CAMERA
Audio
1
1*MIC, 1*Phone
SD/MMC/SDIO
1
SD card, capatible with SD, SDHC and SDXC(UHS-I)
SDIO
1
drawn out by dual-row pin connectors with pitch of 2mm
USB Host
2
expanded by hub, USB2.0(480 Mbps)
USB OTG
1
standard micro USB connector, USB 2.0 OTG(up to 480 Mbps)
UART
5

UART5 is a RS232, and others are all TTL, each up to 5.0Mbps;

4x 3-wire, 1x 5-wire

IIC
3
IIC1 and IIC2 are CPU native source, IIC3 is IO agalogous
SPI
1
Ethernet
1
10/100/1000Mbps auto-negotiation
WiFi
1
RL-UM02WBS-8723BU-V1.2 IEEE 802.11b/g/n 1T1R WLAN and Bluetooth
Bluetooth
1
RL-UM02WBS-8723BU-V1.2 IEEE 802.11b/g/n 1T1R WLAN and Bluetooth
RS485
1
isolated RS485
Mini-PCIe
1
for 3G, 4G wireless modules
ADC
1
mounted with precise potentiometer
IrDA
1
not soldered
Key
6

1x power key, 1x reset, 4x functional ke

power key can be used for system sleeping, waken up or cut off.

In Android system, the power key can be used together with volume keys for screenshot
▊ Software Features
OS Android 5.1.1
Compiler
arm-eabi-gcc-4.8, OpenJDK 7.0
OS Flashing
by SD card
U-boot
for boot mode selection
Kernel Version
Linux 3.4.39
Android Version
Android 5.1.1








































Driver Source

eMMC
UART/RS232
SD card
RS485
LVDS display
ADC
LCD
accelerator
MIPI display
IrDA
HDMI display
RTC
LCD/MIPI/LVDS capacitive touching
IO
PWM
LED
LCD/MIPI/LVDS backlight, 255-rating adjustable
user key
DVP OV5640
IIC
MIPI camera OV5645
SPI
Gigabit Ethernet
USB HOST: mouse, keyboard, etc.
4G wireless module
USB DEVICE
BT
WM8960
Wifi
sleeping mode waken up
OS Linux QT 4.8.6
Compiler
arm-cortex_a9-eabi-4.7-eglibc-2.18
OS Imag Flashing
SD card
USB
UBoot
booting mode selection































Linux Kernel

Version: linux3.4.39

LCD backlight, 255-rating

File system: EXT/ NFS/ VFAT

LCD driver (7'' by default)

eMMC

USB host driver: U-disk, USB HUB, mouse, keypad, etc

Watchdog
USB Device
RTC
TF/SD/MMC card
IO
UART
user key
WM8960 audio
SPI
Ethernet
IIC
3G wireless network
camera module OV5640
USB converted to serial port
PWM
MIPI 7'' display
capacitive touching
LVDS



















Testing APP

GPS testing
GPRS wireless network
RTC testing
audio recording/ playing back testing
camera testing
ADC testing
IP/Mac address setting
watchdog testing
touching/ mouse mode switching
lighttpd Web Server
TTL to RS232
display backlight adjusting
UART testing
video playing and mp3 file testing
SDIO wifi


Single Board Computer Consumption Sheet




Model




OS




Testing




Voltage

Current output
Instant peak value(Ma)
Stable (Ma)













OK6818-C SBC













Andriod

with 7'' MIPI display+ video playing
5V±5%
1134
843
with 7'' MIPI display, no other operations
5V±5%
1134
711
with 7'' LCD+ video playing
5V±5%
1030
733
with 7'' LCD, no other operations
5V±5%
1030
624
no display and any other operations
5V±5%
714
351

---
▊ Accessories
---
Provides the modules and accessories used in Forlinx's Samsung S5P4418 SBC.
See here for communication modules, Evaluation Kit, LCD screen, SBC expansion module and further accessories »
Technical Support
Forlinx provides software resources including kernel and driver source code, together with detailed user manual(OK4418-C reference manual), schematic documentations to help customer start their development rapidly.
Forlinx provides embedded hardware reference manual, embedded software reference manual, including Samsung S5P4418 embedded software Android system reference manual, and Linux system reference manual.
For more details on solution design with OK4418-C SBC.

---
▊ How to buy
---
Payment term: 100% payment in advance no matter sample orders or bulk purchasing orders.
1. Order Online
We have an online store on Alibaba, please contact us to start ordering
2. Western Union
Tell us which item and model you want to order, and we will send you a PI with Western Union account.
3. Bank Transfer(T/ T)
Tell us model and quantity, and we'll send you a PI with our company's bank account for payment.
▊ Shipment
---
Payment term: 100% in advance
1. Delivery: Goods will be sent out by express as requested
2. Lead time: generally, goods could be sent out within five working days for a sample order, for a bulk requirement order, please contact us to check stock status and estimated delivery time.
3. Shipping charge: buyers should bear related shipping cost.
▊ Recommended system on module(SoM)
---