Introduction to Forlinx's Hot-sale SoMs Based on Rockchip
In this article, we will introduce the SoMs of the Rockchip.
Rockchip x Forlinx
Since 2020, Forlinx Embedded has launched three SoM products based on Rockchip RK3399, RK3568, and RK3588 processors and got affirmation and recognition from thousands of enterprise users.
01 RK3588 Series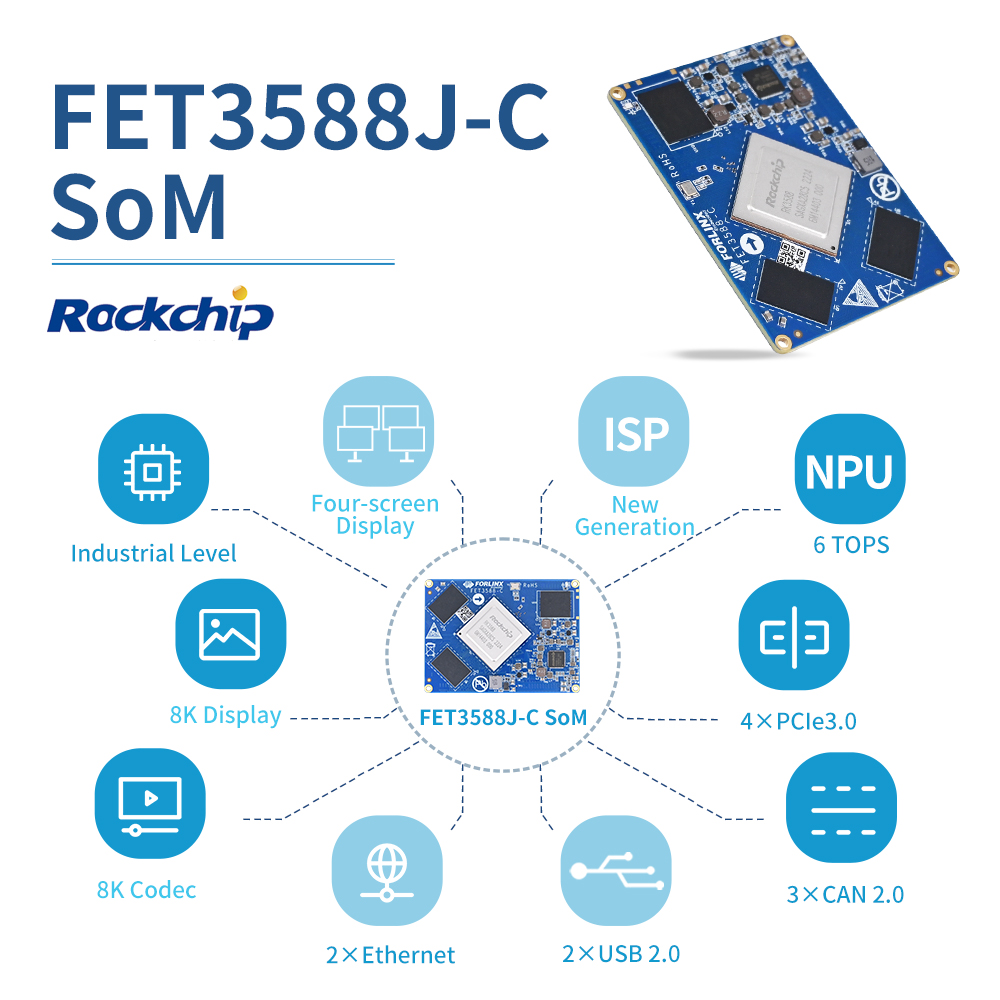 The FET3588J-C SoM is developed and designed based on the Rockchip new generation flagship RK3588J processor, which adopts an advanced 8nm process and integrates quad-core Cortex-A76 + quad-core Cortex-A55, with A76 cores frequency up to 1.6GHz and A55 cores frequency up to 1.3GHz, providing powerful performance support. It supports an 8K ultra-high-definition display and a four-screen heterodyne display, and it is equipped with a wealth of high-speed data communication interfaces to meet the diverse needs of users.
After rigorous test, it can operate stably for a long time under -40~+85℃.
02 RK3568 Series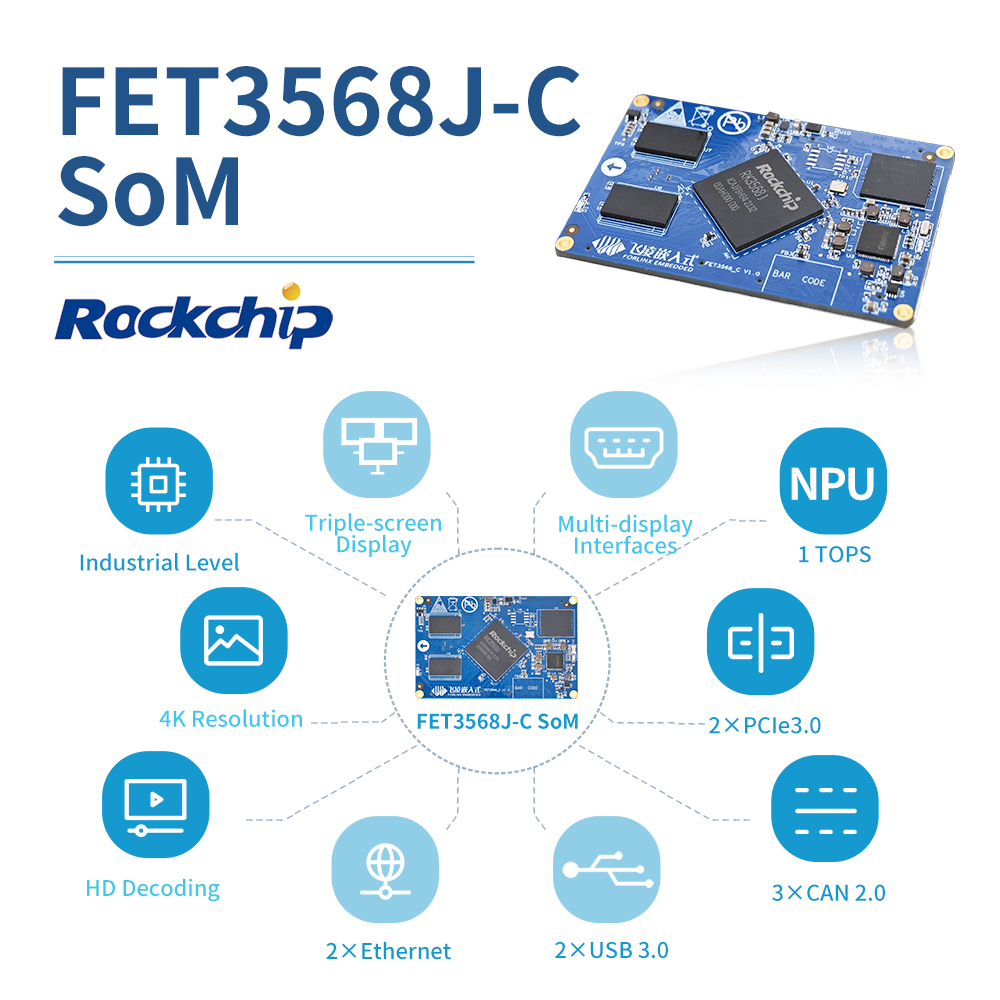 FET3568J-C SoM is developed and designed based on Rockchip RK3568J processor, which integrates quad-core 64-bit Cortex-A55 architecture, with frequency up to 1.8GHz and built-in NPU. It is a high-performance, low-power, feature-rich application processor built by Rockchip for the AIoT and industrial markets.
The FET3568J-C SoM has been subjected to industrial-grade standard ambient temperature tests, pressure tests, and long-term stability operation tests to ensure its stable and reliable operation.
03 RK3399 Series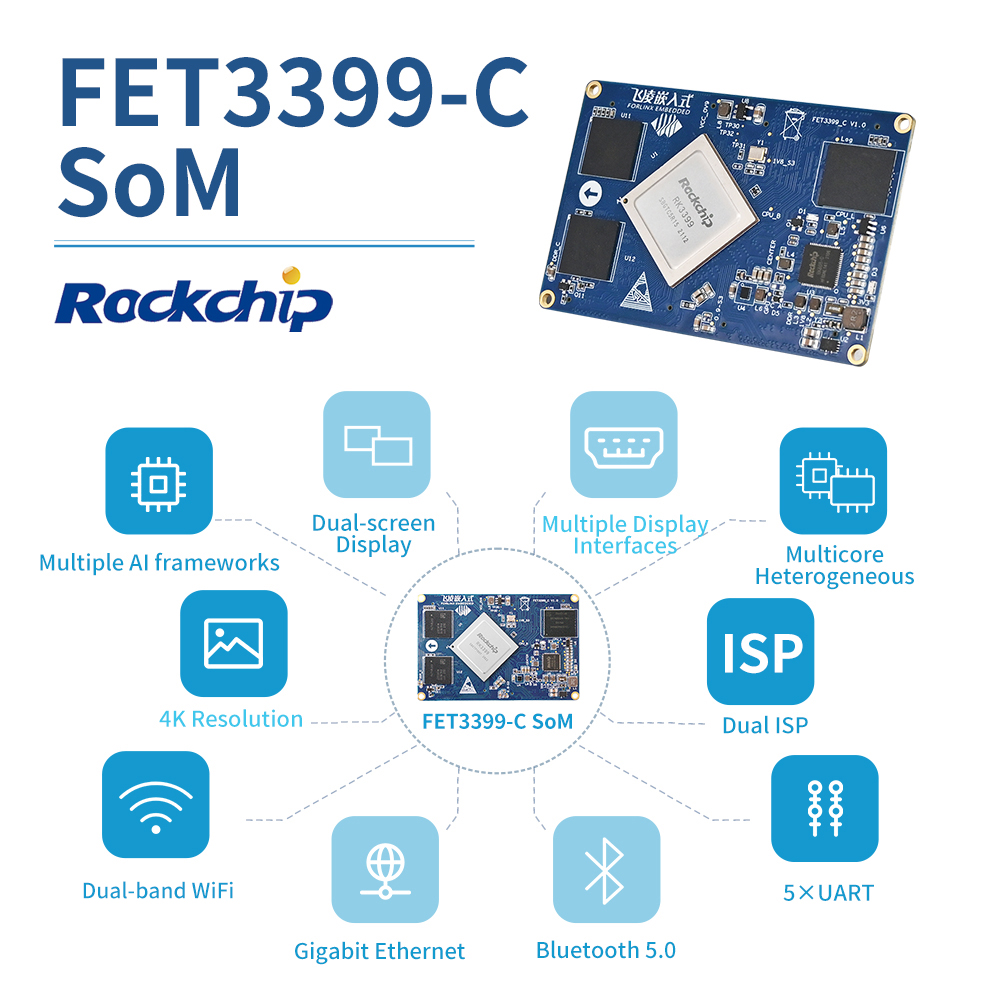 FET3399-C SoM is the first product jointly launched by Forlinx Embedded and Rockchip. It is based on Rockchip's RK3399 processor design and has two ARM Cortex-A72 cores at 1.8GHz and four ARM Cortex-A53 cores at 1.4GHz; the GPU adopts Mali-T864 and supports OpenGL ES1.1/2.0/3.0/3.1, OpenVG1.1, OpenCL, DX11; 2GB LPDDR3 RAM on board (4GB optional), 16GB eMMC ROM.
With its powerful performance configuration, this SoM has been widely used in cutting-edge technology fields such as intelligent self-service terminals, edge computing, 5G intelligent terminals, visual recognition, etc.