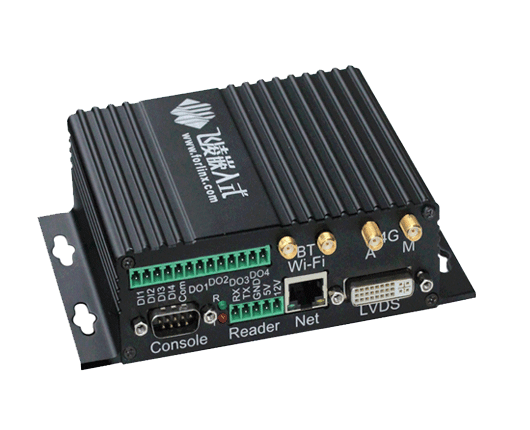 FCU1103 Embedded Computer( OKMX6UL-C3)
Main Control Unit for IoT Gateway / HMI / EV Charging Pile / Data Collecting
FCU1103 Embedded Computer Features
1. Designed based on Freescale i.MX6Ul traLite processor, high performance, ultra low power;

2. Open source code makes it more convenient for users to do hardware designing and software tailoring;

3. CPU is with native supporting and complying with ISO7816 protocol, users could work it with encryption module;

4. Power fail safeguard to allow the system continue running for 15 seconds to avoid critical data loosing;

5. On-board ready-to-use connectors: 4x DI, 4x DO, 2x RS485, 2x CAN, 1x Ethernet (could be expanded to 2-ch), all are designed with isolated protection circuit;

6. Status LED indicator, make it convenient for users to know about system running, network communication and hardware interface working status;

7. Multiple communication types: on-board Ethernet (100M), WIFI&BT, 4G or GPRS modules;

8. Standard SD card slot, compatible with SD, SDHC and SDXC card, capability up to 64G;

9. Standard 3.5mm stereo earphone jack, builtin micphone, and users could also expand with 1Wx 2 speaker or 3.5mm single track micphone;

10.a 7'' LVDS display is supported;

11. Users could upgrade OS kernel by SD card;

12. Wide voltage range: system running stable from 9V to 15V to avoid system failure by voltage fluctuation;

13. External case designed by aluminium alloy and the case is with mounting holes, dimensions with 147 x 103 x 42mm.
---
SoM designed based on i.MX6UltraLite Processor
Cost efficient, open source file, low power performance and compact outline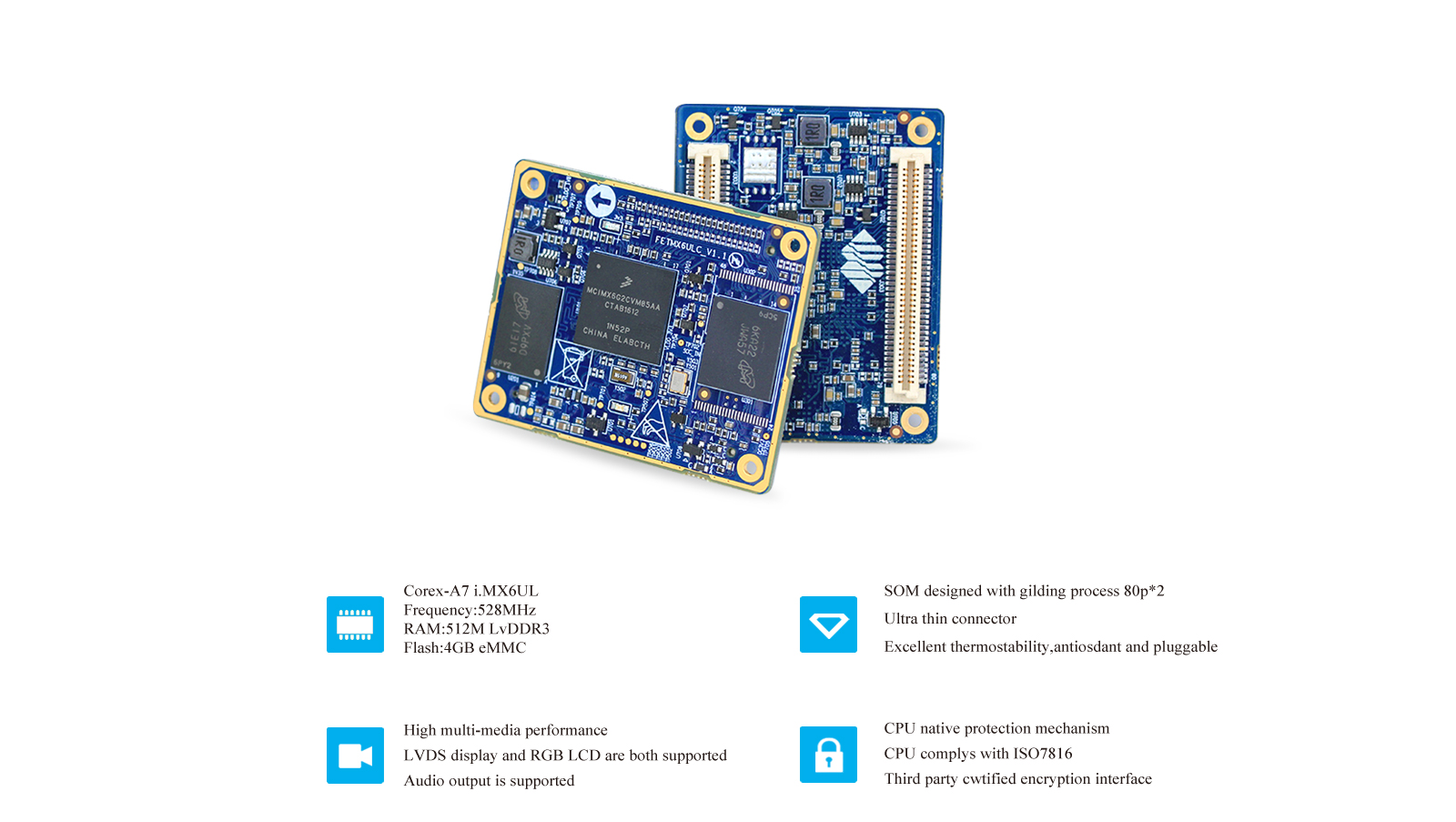 Multiple network communication options
GPRS, WIFI&BT, Ethernet are all optional to users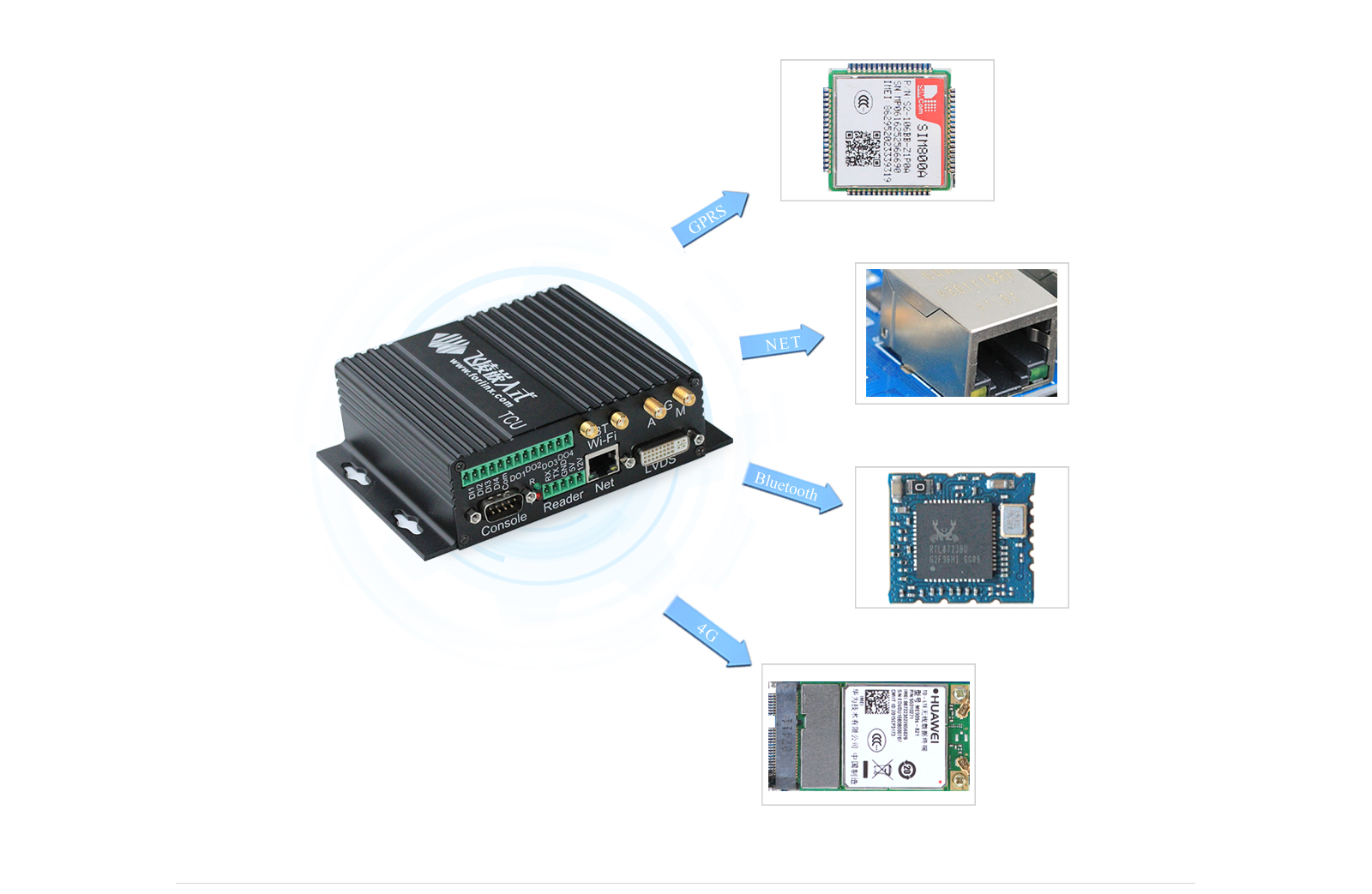 Abundant data acquisition interfaces for terminal device
2x RS485, 2x CAN, 1x RS232, 4x DI, 4x DO, all are with isolated and
ground protection circuit, make the communication safe and realiable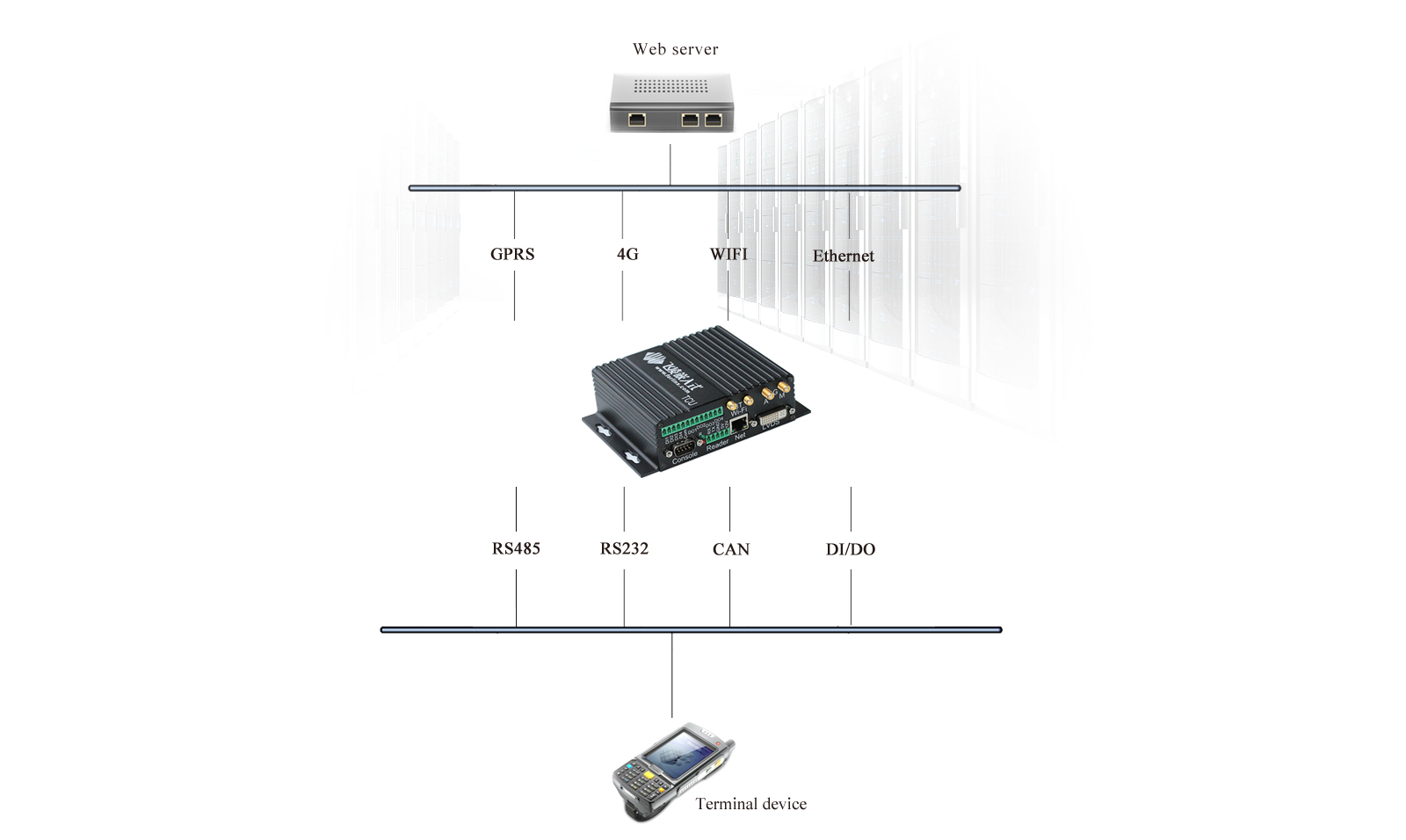 Audio playing, LVDS display and multi-media for HMI are all available
Standard 3.5mm stereo earphone jack with builtin micphone
users could also mounting with 1W x2 speaker or 3.5mm single track micphone, 7'' LVDS display,
and DVI-I interface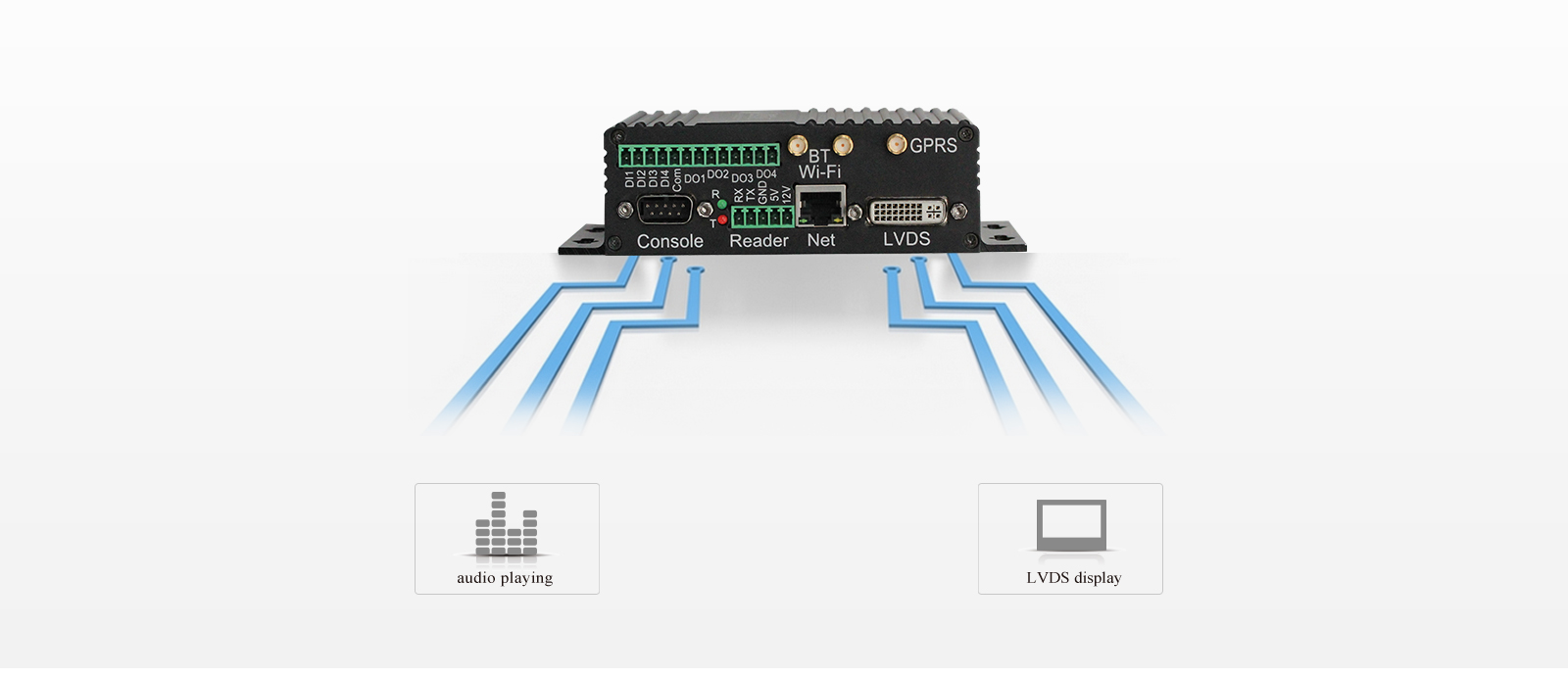 This unit can meet users' all demand for power charging metering.
▊ Accessories
---
Provides the modules and accessories used in Forlinx's SBC.
See here for communication modules, LCD screen, SBC expansion module and further accessories »
▊Spec.
---
Overview of FETMX6UL-C System on Module
CPU
NXP single core i.MX6UL
CAN
2x CAN
Architecture
Cortex-A7
USB
2x USB
Frequency
528MHz
SD/MMC/SDIO
2x SD/ MMC/ SDIO
RAM
512MB LvDDR3(commercial grade) 256MB LvDDR3(industrial grade)
Ethernet
2x Ethernet, 10/100M auto-negotiation
Flash

4GB eMMC (commercial grade)

256MB NAND FLASH ( (industrial grade)

UART/IrDA
8x UART/ IrDA
Voltage Input
5V
EINT/GPIO
supported
GPU
PXP
Video Coder
software code
Dimensions
50mm*40mm
EBI BUS
supported
Package
board to board connector
JTAG
supported
OS
Linux 3.14.38
CAMERA
1x camera, 5.0MP, parallel
LCD
RGB 24-bit
PWM
8x PWM
AUDIO
3x audio
ADC
10x ADC
I2C
4x IIC
ISO7816-3
2x ISO7816-3
SPI
4x SPI
Keypad Port
8*8
QSPI
1x QSPI
SPDIF
1x SPDIF
Hardware Features

Interface
Spec.
CPU
NXP i.MX6UltraLite, ARM Cortex-A7, 528MHz
RAM
512MB LvDDR3

(commercial grade),

256MB LvDDR3

(industrial grade)

FLASH
4GB eMMC

(commercial grade),

256MB NAND FLASH

(industrial grade)

External Storage
standard SD card slot, can support SD, SDHC, SDXC card, SDXC up to 64G
Wireless Network
SIM800A, China Mobile, China Union GPRS, Mini SIM card slot (marked withSIM-GPRS)
ESAM

ISO7816 protocol

PSAM
Mini SIM card slot(marked with "SIM")
DO

4x DO, electromagnetic relay isolation . contact rating: 1A 30V DC/0.5A, 125V AC/0.3A, 60V DC. Connector: green terminal bond with pitch of 3.81mm

DI

4x DI, photo coupler isolation, green terminal bond with pitch of 3.81mm, it's configured as direct current voltage input, voltage from 3V to 24V set to be high level and voltage below 1V DC set to be low level, it also could be set as internal isolated 5V power input and external dry contact

Display

Standard DVI-I connector, Topway brand LMT070DICFWD-AKA LCD is supported by default

Power Failure Protection

CPU is with 1x GPIO for external power supply mode detecting, when external power input voltage is above 8V, IO will be high level, and PG green LED on case is lighting; otherwise IO will be low level and PG green LED will be light off.




When external power input cut off, system will be automatically switch to get power supply from supercapacitors and the PG red LED will be lighting, the supercapactiors could supply power at least 15 seconds and detect whole unit internal 5V main power voltage. When voltage falls more than 10%, the whole device will be cut off to avoid system failure because of overlow voltage

UART (contains RS485)

UART1: 3-wire debug port, DB9 connector, without isolation, it's marked as Console on case




UART2: for card reader, 3-wire, green terminal bond, without isolation




UART3: for GPRS module, not drawn out




UART4: it's converted in device to RS485-1, drawn out by green terminal bond, with electrical isolation




UART5: it's converted in device to RS485-2, drawn out by green terminal bond, with electronical isolation

USB

1x USB 2.0 OTG, standard Micro USB connector




1x USB 2.0 Host, standard USB A connector

CAN BUS

CAN1: CAN2.0 B, 1Mbps, with electronical isolation, it's used for communication with power charging controller




CAN2: CAN2.0 B, 1Mbps, with electronical isolation, for backup

Ethernet

Net1: standard RJ45 connector, 10M/100M adaptive, for connecting with supra system




Net2: standard RJ45 connector, 10M/100M adaptive, backup interface

WiFi& BT

RL-UM02WBS-8723BU-V1.2 module, IEEE 802.11b/g/n 1T1R WLAN and Bluetooth 2.1/3.0/4.0

RTC

RX8010SJ chip, on-board RS232 battery, it could continue working for a year

Audio

standard 3.5mm stereo earphone jack, built in single track micphone, users could also expand 1W x 2 speaker connctors or 3.5mm single track micphone jack (pad is preserved on PCB but without mounting hole on enclosure

Power Consumption

Rated voltage: 12V, work normally between 9V to 15V, it's designed with reverse polarity protection




power consumption is below 5W if works with a Topway display LMT070DICFWD-AKA

Dimensions
147mm×103mm×42mm
Mounting

4 screws Φ4mm
Software Features
U-boot
u-boot-2015-04
Kernel
Linux-3.14
Driver source
NIC
LCD backlight
CAN
SD card
ESAM
U-disk
ext3 file system
USB touch screen
RTC
watchdog
GPIO
4G
UART
RS485
GPRS
▊ How to buy
---
1. Order Online
We have an online store on Alibaba, please contact us to start ordering
2. Order offline
pls send your inquiry to our mailbox [email protected];
3. Payment Terms
Samples(100% T/T in advance),Bulk Order(please contact with our sales)
▊ Shipment
---
1. Delivery: Goods will be sent out by express as requested
2. Lead time: generally, goods could be sent out within five working days for a sample order, for a bulk requirement order, please contact us to check stock status and estimated delivery time.
3. Shipping charge: buyers should bear related shipping cost.