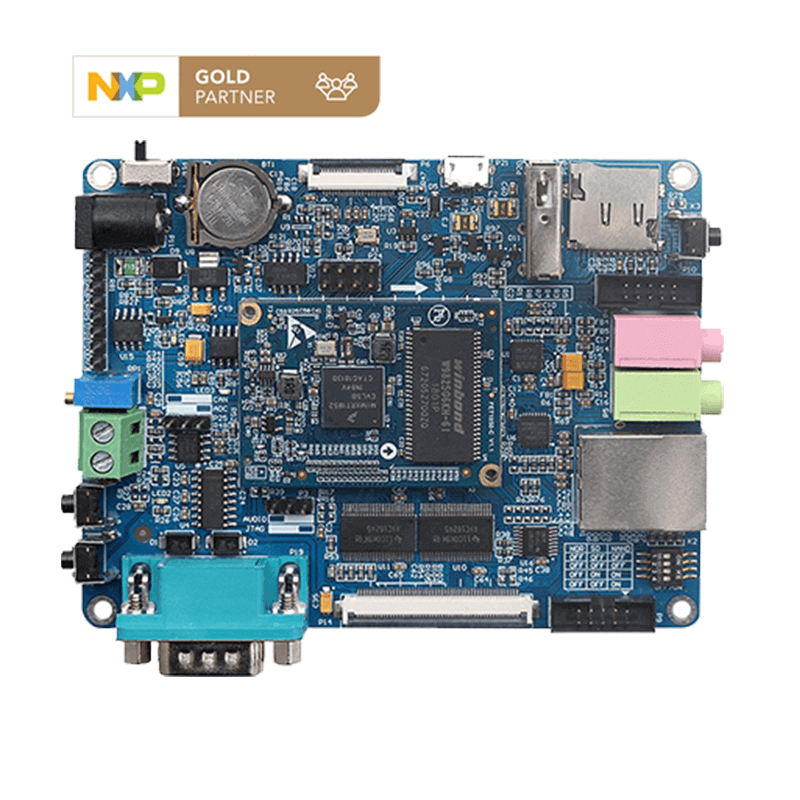 NXP i.MX RT 1052 based Single Board Computer OK1052-C
OK1052-C is a single board computer/ development board designed based on NXP Cortex-M7 crossover processor i.MX RT1052 belongs to i.MX RT1050 series MCU. It operates at speeds up to 528MHz to provide high CPU performance and best real-time response. The i.MX RT1052 processor has 512 KB on-chip RAM,which can be flexibly configured as TCM or general-purpose on-chip RAM. 16MB/ 32MB SDRAM, 4MB/ 16MB QSPI-NorFlash are optional.
The OK1052-C consists of SoM and carrier board and is an industrial grade item with working temperature ranges from -40℃ to +85℃. Peripheral pins such as UART, Ethernet, USB, CAN, PWM, ADC, LCD and CAMERA are all available on carrier board. What's more, OS uClinux is supported very well.
---
















▊ Hardware Features
---
Overview of FET1052-C System on Module
CPU
i.MXRT1052
Power In
5V
Architecture
Cortex-M7
Dimensions
31mm×43mm
Frequency
528MHz
PCB
thickness 1.6mm, 4-layer PCB, ENIG
RAM
SRAM 512KB; SDRAM 16MB/32MB
Package
board to board connector, 2*80pin, pitch 0.8mm
Flash
QSPI Nor Flash 4MB/16MB
Working Temperature
-40℃~+85℃
OS
Bare metal, FreeRTOS, uCLinux, RT-Thread
FET1052-C System on Module Features

Interface

QTY

Spec.

LCD
1

upto RGB888, resolution up to 1366* 768*(WXGA), 480*x 272 and 800* 480 are available

CAMERA
1

8-bit DVP, up to 5.0MP

SD/MMC/SDIO
≤2

SD card or SDIO card with 1-bit or 4-bit mode

USB
2

1x USB2.0 OTG(up to 480Mbps), 1x USB2.0 host, integrated with HS USB Phy

SAI
≤3

up to 3x IIS audio

SPDIF
1

Sony/ Philips digital audio interface

UART
≤8

each up to 5.0Mbps

SPI
≤4

full duplex enhanced sync. serial interface, up to 52Mbit/s, it could be configured to host/ device mode, four chip selections are available

IIC≤4

IIC
≤4
Ethernet
≤1
10/100Mbps auto-negotiation
PWM
≤32
32x PWM
SWD
supported
KeyPad
supported
8*8
QSPI
2
CAN
≤2
CAN 2.0B
ADC
≤20

2x 12-bit ADC, up to 20 input channels

SEMC BUS
1

16-bit parallel bus
OK1052-C Carrier Board Features

Interface

QTY

Spec.

LCD
1

up to RGB888, resolution up to 1366* 768*(WXGA), 480*x 272 and 800* 480 are available

CAMERA
1

8-bit DVP, up to 5.0Mp

Audio
1
1*MIC, 1*Phone
USB Host
1

USB2.0(up to 480Mbps)

USB OTG
1

standard micro USB connector, USB2.0 OTG(up to 480Mbps)

Ethernet
1

10M/ 100Mbps auto-negotiation, RJ-45

RTC
1
RX8010SJ, CR1220
EEPROM
1

24C02 chip with capability of 256 bytes

TF Card
1

compatible of MICRO SD, SDHC

LED
1

users indicator

POR_BUTTON
1

reset key

WAKEUP
1
ON/OFF
1

keep pressing it to power on or power off the board

BOOT
1

DIP switch for booting mode selection, presently, only TF card mode and QSPI NOR Flash mode are supported

PWM
1

for LCD backlight adjusting

ADC
5

4x ADC for resistive touching panel, and 1x ADC for adjustable resistor

IIC
1

for mounting of touching, camera, WM8960, EEPROM, RTC, IIC converted to 4-wired touching chip

CAN
1
CAN 2.0B
SPI
1

pin connectors (10-pin) with pitch of 2.0mm

UART
1

3 wired UART, 3.3V, up to 5.0Mbps, 10-pin header with pitch of 2.54mm

IIS
1
WM8960
UART Debug
1

RS232, DB9 connector

SWD
1

debug port, 8-pin hearder with pitch of 2.54mm

Resistive Touch
1

the carrier board compative the original touch and TSC2007 touching chip, TSC2007 is the default configuration

KEY BOARD
1

4* 4 metrix keypad port by 8-pin header with pitch of 2.54mm
▊ Software Features
---
Bare Metal DEMO
gpt
lpi2c
pit
kpp
PWM
enc
BEE
rtwdog
sai
ewm
lpspi
dcp
enet
snvs
flexspi
src
sdcard
trng
sdcard_fatfs
cache
edma
flexcan
tsc
gpio
usb(HOST, OTG)
gpio
semc
adc
csi:CMOS
adc_etc
elcdif
cmp
PXP
qtmr
emwin
lpuart(UART2)
flexram
uCLinux Demo
build up of compiling environment
Ethernet
Compile application
UART
Make file system image
LED GPIO OUT
TF card booting/ iamge flashing
User key
micro SD/TF card driver
LCD FrameBuffer
USB HOST
Tsc resistive touching
USB OTG
RTC
I2C EEPROM
FreeRTOS Demo
lpi2c
Lwip
event
queue
mutex
sem, sem_static
swtimer
tickless
generic
RT-Thread Demo
read and write file system
UART testing
gpio
enet
i2c
rtc
spi
LCD/resistive touch screen/emwin testing
▊ How to buy
---
Payment term: 100% payment in advance no matter sample orders or bulk purchasing orders.
1. Order Online
We have an online store on Alibaba, please contact us to start ordering
2. Western Union
Tell us which item and model you want to order, and we will send you a PI with Western Union account.
3. Bank Transfer(T/ T)
Tell us model and quantity, and we'll send you a PI with our company's bank account for payment.
▊ Shipment
---
Payment term: 100% in advance
1. Delivery: Goods will be sent out by express as requested
2. Lead time: generally, goods could be sent out within five working days for a sample order, for a bulk requirement order, please contact us to check stock status and estimated delivery time.
3. Shipping charge: buyers should bear related shipping cost.
▊ Recommended system on module(SoM)
---