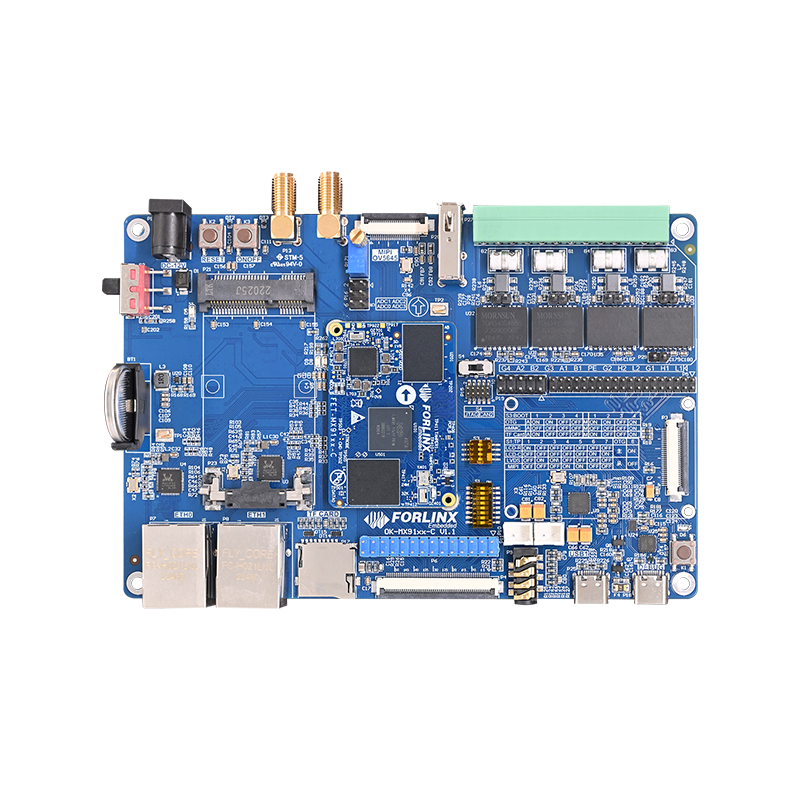 Based on the new generation of NXP i.MX91xx series, Forlinx Embedded OK-MX91xx-C single board computer adopts a separated design - SoM+carrier board. It features an Arm Cortex-A55, frequency 1.4GHz, 8xUART, 2xEthernet, 2xUSB2.0, 2xCAN-FD bus and other common interfaces. And it's compatible with Folinx Embedded newly promoted i.MX93x series, providing easy application selection for customers.
---

New Generation Linux Controller

Various Peripheral Interfaces - Easy for Extending


i.MX93x VS i.MX91x
I.MX91x and i.MX93x both belong to i.MX9 series processor family,
but i.MX91x has more streamlined configuration and lower cost compared to i.MX93x.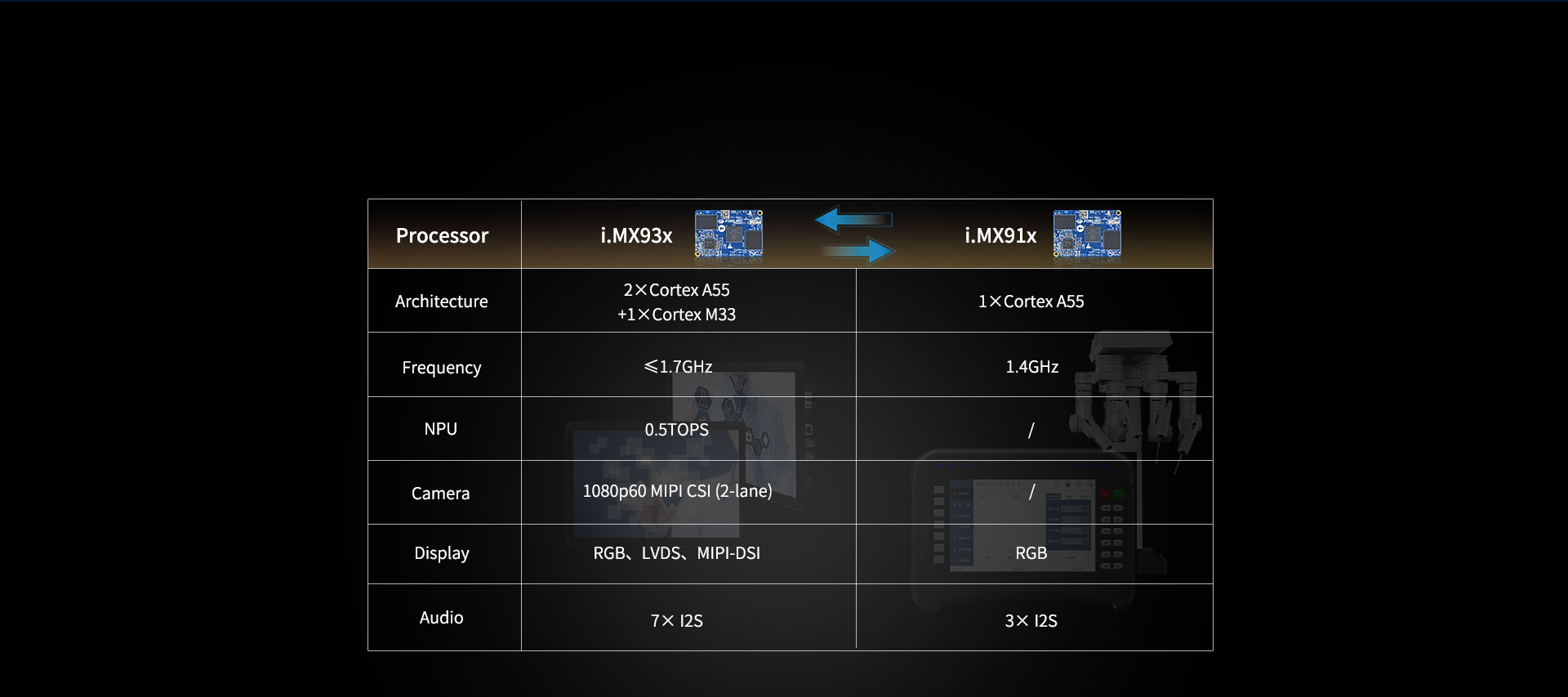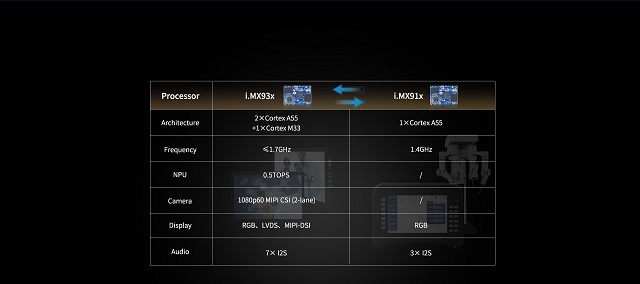 Super-long Longevity
i. MX91xx series have joined NXP's long-term supplying product program, with a 15-year longevity, which will be a warranty for supplying.




▊ Video
---
Coming Soon: Forlinx's FET-MX91xx-C SoM & SBC based on NXP i.MX91x series
▊ Hardware Features
---
FET-MX91xx-C SoM Features

CPU

NXP i.MX91x

MPU: 1×Cortex-A55@ 1.4GHz

RAM

1GB LPDDR4

ROM

8GB eMMC

Voltage input

DC 5V

Operating temperature width

-40℃ ~ 85℃

Package

Board-to-board connector(2*100-pin, 0.4mm pitch, combined height 1.5mm)
Specifications

Interface

QTY

Spec.

LCD

1

Parallel RGB888, up to 1366×768p60 or 1280×800p60

Ethernet

≤2

2x RGMII

Transmission rate 10/100/1000 Mbps, complies with IEEE 802.3

UART

≤8

Baud rate up to 5Mbps

Supports serial data transceiver configuration, including programmable parity bit

CAN-FD

≤2

Supports CAN-FD and CAN 2.0B

USB

≤2


Two USB2.0 controllers integrated with PHY

SD

≤1


Complies with SD3.0

Supports SDR up to 200MHz and DDR up to 50MHz

SDIO

≤1


SDIO3.0

SAI

≤3


A Synchronous Audio Interface (SAI) is available

SAI1 supports 2 lanes, SAI2 supports 4 lanes, and SAI3 supports 1 lane

Support full-duplex serial with frame synchronization, such as I2S, AC97, TDM and codec/ DSP

PDM

1


24-bit, supports linear phase response and AOP MIC

Camera

1

8-bit parallel camera interface

SPI

≤8

Supports to configure master or slave mode

I2C

≤8

Rating up to 100Kbit/s in standard mode, and 400Kbit/s in fast-speed mode, 1000Kbit/ s in enhanced fast-speed mode, 3400Kbit/s in high-speed mode, and 5000Kbit/s in super fast speed mode

I3C

≤2

2 Improved I3C;

Support 400Kbit/s fast mode and 1000Kbit/s fast mode enhanced version, and backward compatible with I2C

Support up to 12.5M clock rate, support HDR-DDR mode

ADC

≤4

12-bit 4-lane 1MS/s ADC
▊ i.MX91x Development Board
---
OK-MX91xx-C Single Board Computer Features

Peripherals

QTY

Spec.

LCD
1
RGB888 24-bit, up to 1366×768p60 or 1280×800p60
TF card slot
1
For OS image flashing, complies with SD card 3.0 protocol
4G modem
1
Mini-PCIe slot, available for EC20 module with external antenna
Ethernet
2
2x 10M/100M/1000M RJ45 connector, ENET1/ETH1 supports TSN
GPIO
28
dual-row pin headers, multiplexed with LCD
ADC
4
12-bit ADC with sampling rate 1MS/s
CAN-FD
2
with static, surge and pulse protection circuits level 4, and Galvanic isolation complies with CAN2.0B
RS-485
2
with static, surge and pulse protection circuits level 4, and Galvanic isolation with automatic transceiving control
USB2.0
2
can be mounted with 4G wireless module with mini PCIe interace, it also contains PCIe2.0 single channel
UART
2

3.3V TTL, by pin headers with pitch of 2.54mm

WiFi & BT
1
on-board BL-M8723DU, 2.4GWiFi, Bluetooth 2.1/4.2
RTC
1
on-board RTC battery holder, for real-time updating
Audio
1
1 four-part phone jack with dual-channel HP and MIC and 2 speaker jacks
KEY
3
reset, power on/ off and user key
LED
1
user defined
DEBUG
1
serial converted to USB for debug, TYPE-C connector
▊ Accessories
---
Provides the modules and accessories used in Forlinx's i.MX91 development board.
See here for communication modules, Evaluation Kit, LCD screen, SBC expansion module and further accessories »
▊ How To Buy
---
1. Order Online
We have an online store on Alibaba, please contact us to start ordering
2. Order offline
pls send your inquiry to our mailbox [email protected];
3. Payment Terms
Samples(100% T/T in advance),Bulk Order(please contact with our sales)



▊ Shipment
---
1. Delivery: Goods will be sent out by express as requested.
2. Lead time: generally, goods could be sent out within five working days for a sample order, for a bulk requirement order, please contact us to check stock status and estimated delivery time.
3. Shipping charge: buyers should bear related shipping cost.
▊ Other Forlinx Hot Products
---