4 Forlinx's SoMs and SBCs Based on Quad-core Cortex-A53 Processor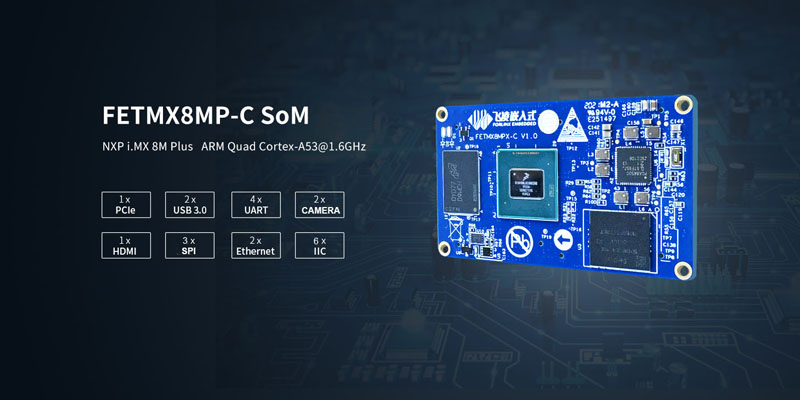 What is Cortex-A53 processor?
Cortex-A53 processor, a product of A50 processor, marks the further expansion of ARM's leadership in high performance and low power consumption, which led to the birth of Cortex-A53 processor. ARM Cortex-A53 is one of the first two microarchitectures to implement armv8-A 64-bit instruction sets designed by ARM Holdings. Cortex-A53 is an oversized processor capable of issuing some instructions in double quantities.
Cortex-A53 is not only the most power efficient ARM application processor but also the world's smallest 64-bit processor. Can operate independently or integrated into ARM big. LITTLE processor architecture. The scalability of this processor family enables ARM partners to develop system-level chips (SoCs) for a wide range of market needs, including smartphones and high-performance servers.
Which core board and development board products are based on Cortex-A53 quad-core processor?
Forlinx iMX8M Plus core board and development board, iMX8M Mini core board and development board, iMX8M Quad core board and development board, LS1043A core board and development board, all use Cortex-A53 processor, see the specific differences: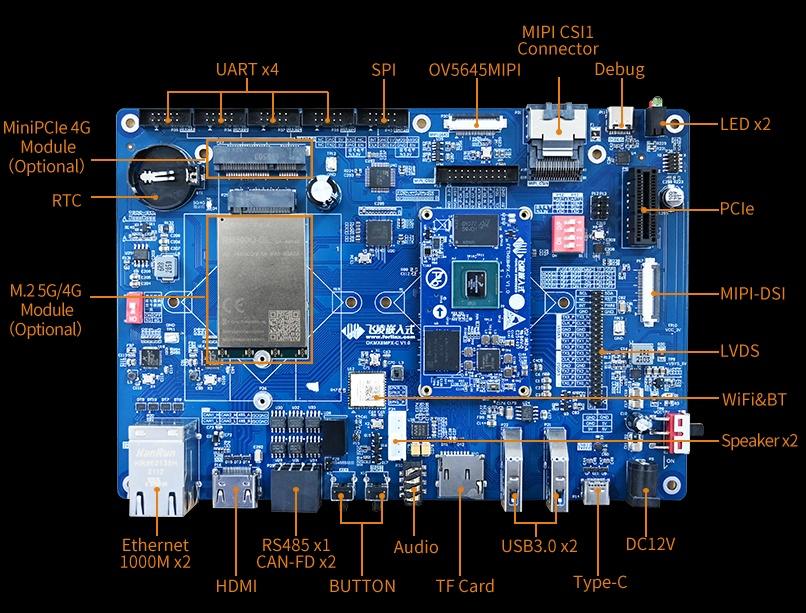 Developed and designed based on NXP i.MX8M Plus quad-core application processors for machine learning and vision, advanced multimedia, and highly reliable industrial automation. Supports 2 gigabit Ethernet, 2-way CAN-FD, 4-way UART, 4G, 5G, dual-band WiFi, PCIe3.0, USB3.0, HDMI2.0, LVDS, MIPI_CSI, MIPI_DSI and other interface resources to maximize CPU resources. Widely used in a variety of fields to meet the needs of smart cities, industrial Internet, intelligent medical, intelligent transportation and other applications.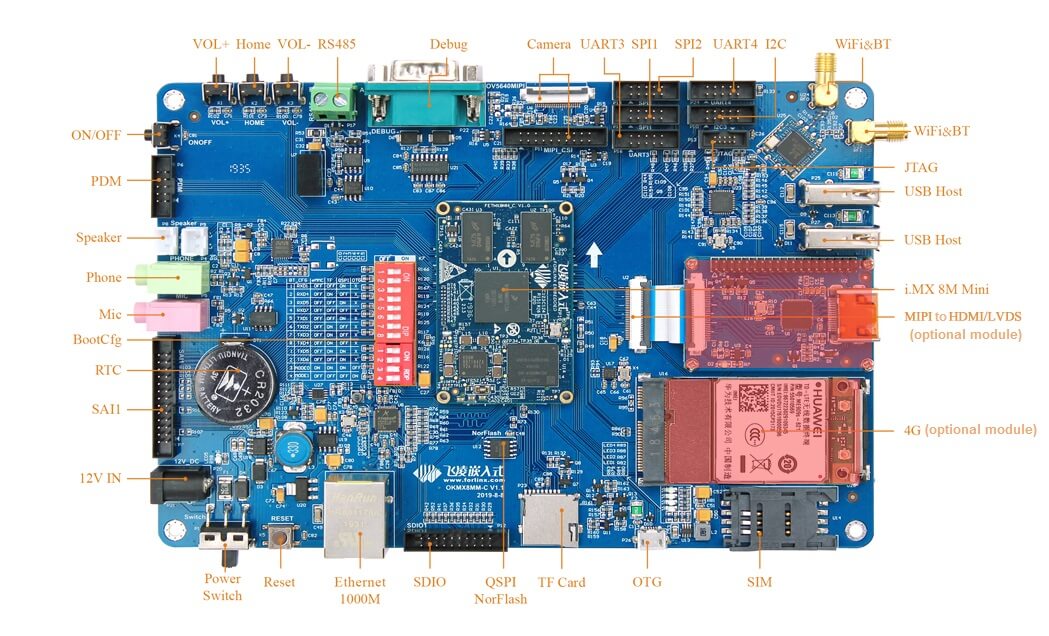 With NXP i.MX8M Mini series Cortex-A53 quad-core processors (supporting a universal Cortex®-M4 400MHz core processor), a variety of audio interfaces are available, including I2S, AC97, TDM, PDM, and SPDIF. Provides a variety of peripheral interfaces, such as MIPI-CSI, MIPI-DSI, USB, PCIe, UART, eCSPI, IIC, and Gigabit Ethernet, widely used in IP camera video surveillance, two-way video conferencing, visual doorbells, image analysis, audio processing, audio broadcasting systems.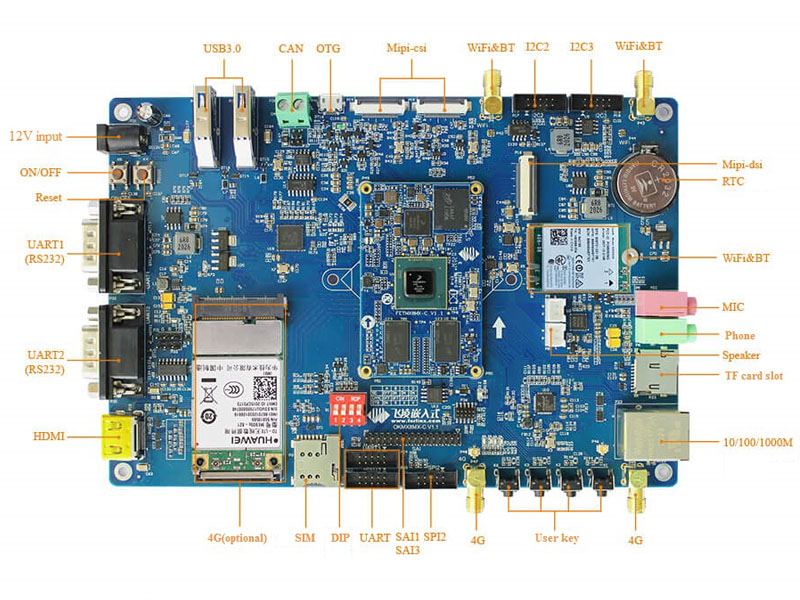 Based on the NXP i.MX8M processor design and development, supports 2 or 4 Cortex-A53-Cortex-M4 core processors with processor operating speeds of up to 1.5Ghz, on-board 2GB RAM, 8GB ROM. Industry-leading audio, voice, and video processing capabilities with 4K UltraHD resolution and HDR (Dolby Vision, HDR10, and HLG) provide the highest level of professional audio fidelity for fanless operation, low thermal system costs and long battery life.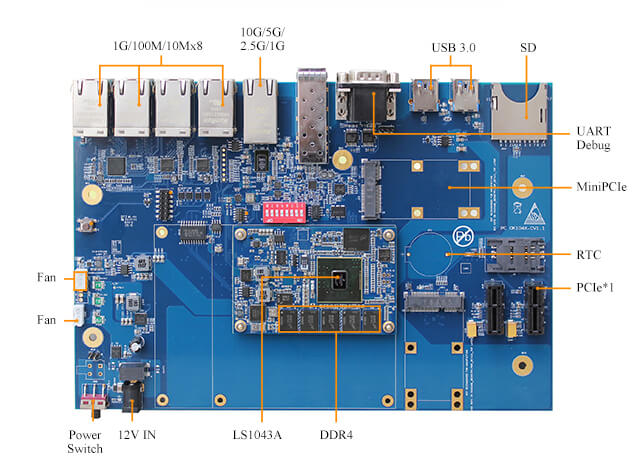 With NXP LS043A quad-core ARM Cortex-A53 processor, main frequency is 1.6Ghz, natively supporting 7 Ethernets: 1 x 10Gbps and 6 x 1000Mbps. Supports PCIe 2.0, SATA3.0, USB3.0, UART, IIC and other functional interfaces, as well as Ubuntu, OpenWrt operating systems. Suitable for products such as routers, IoT gateways, IP-PBX, and applications such as edge computing, energy IoT, smart cities, industrial automation, and video surveillance.