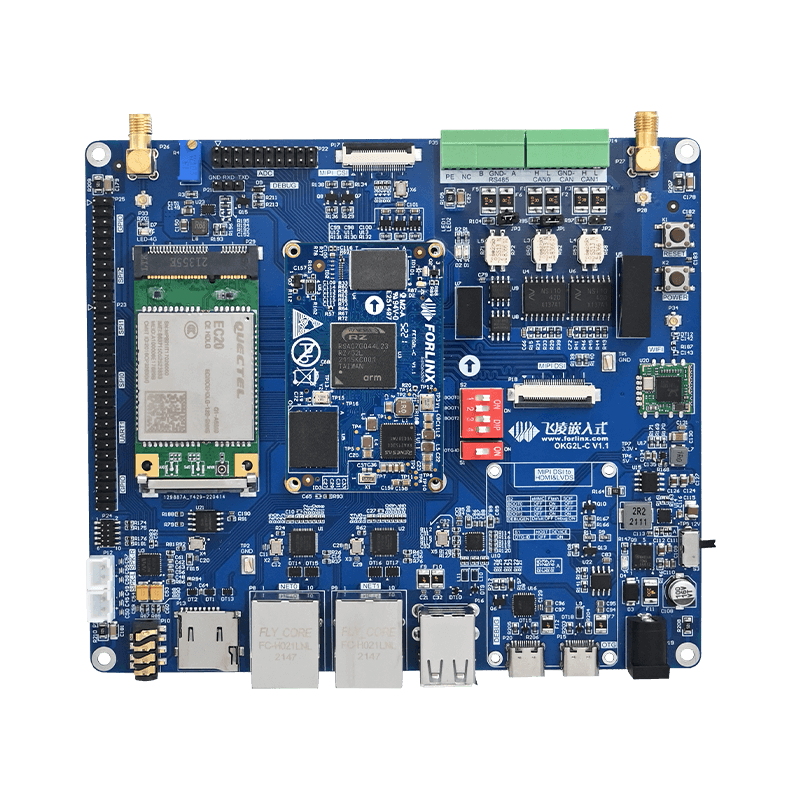 OK-G2LD-C SBC carries high-performance and ultra-efficient processor Renesas RZ/G2L, which is Cortex-A55, 1.2GHz, and integrates a MCU Cortex-M33, 200MHz. It's split design of SoM+Carrier Board, which is convenient for user secondary development. And it adds EMC protection reference design for RS485, CAN, which simplifies user design and facilitates on-site evaluation and testing. It is applicable to industrial, medical, electric power, transportation and other pan-industrial application scenarios.
Main Feature
Rich interface resources, 2x 1000Mbps Ethernet (GMAC), 2x CAN-FD, 7x UART, USB 2.0, SPI, IIC, MTU, ADC, etc.

Multi-function timer pulse unit, supports Toggle, PWM, complementary PWM and reset synchronous PWM modes, supports dead time compensation counter function;

Multiple display interfaces MIPI-DSI, RGB, up to 1920x1080;

Onboard QSPI Flash, separate storage of uboot, more stable;

Safe and reliable from Renesas' technical accumulation of Automotive Electronics.
---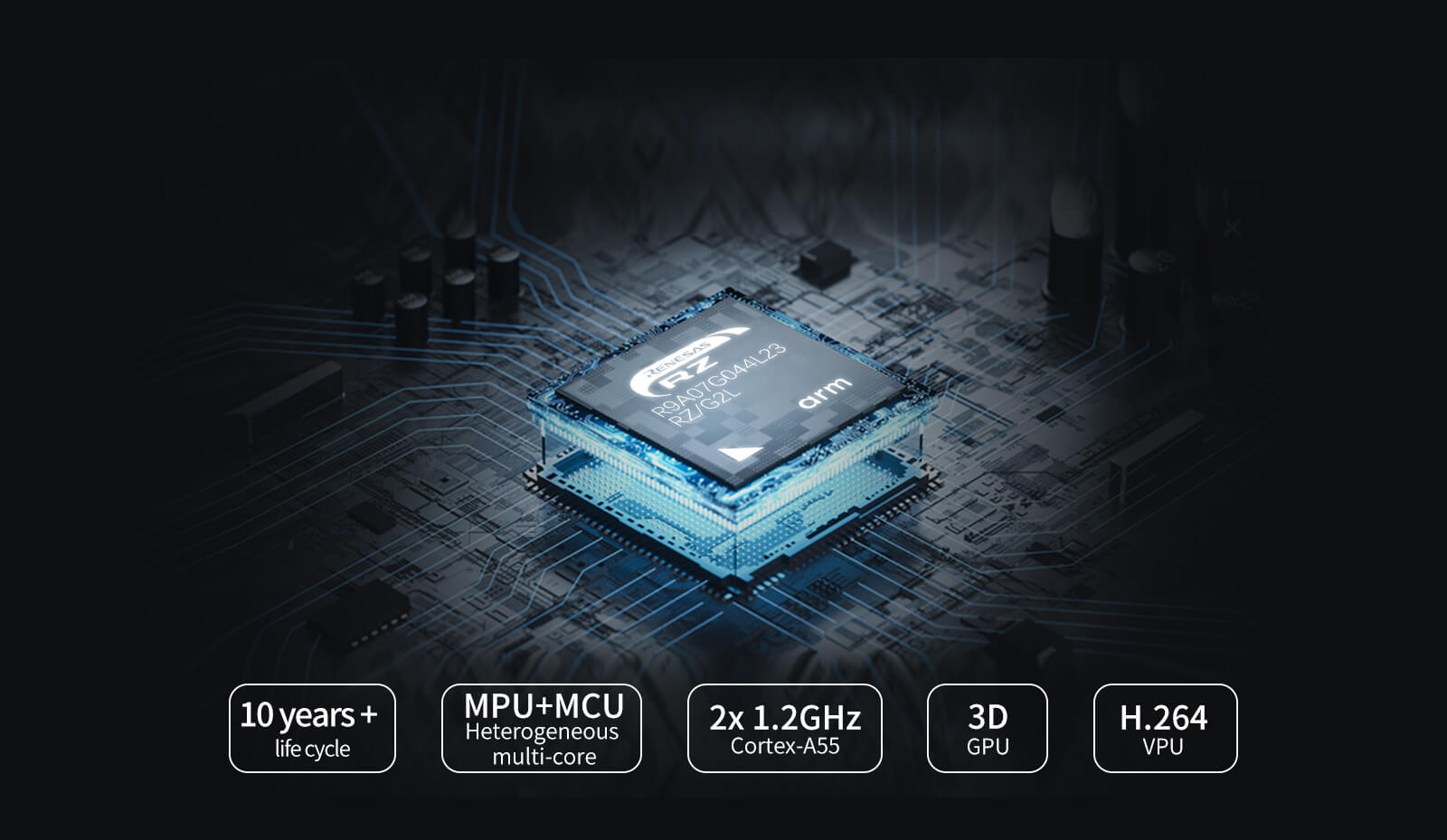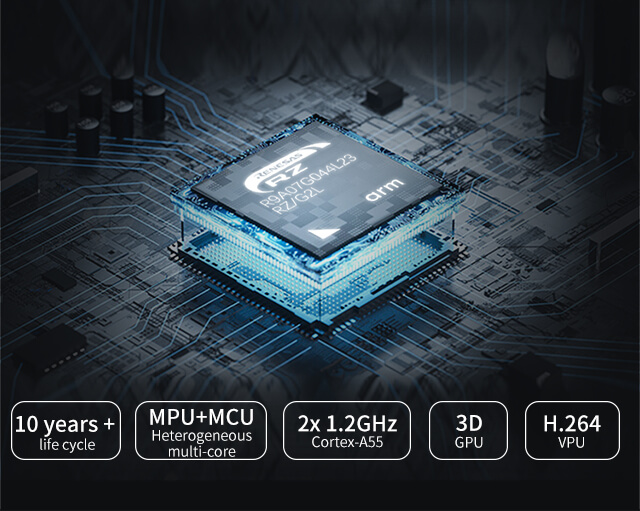 Industrial Grade Core Board
All components of FET-G2LD-C core board are industrial-grade temperature, including CPU, RAM, ROM,
resistors, capacitors, inductors, connectors, operating temperature -40°C~+85°C. Thus it can easily cope with various harsh scenarios.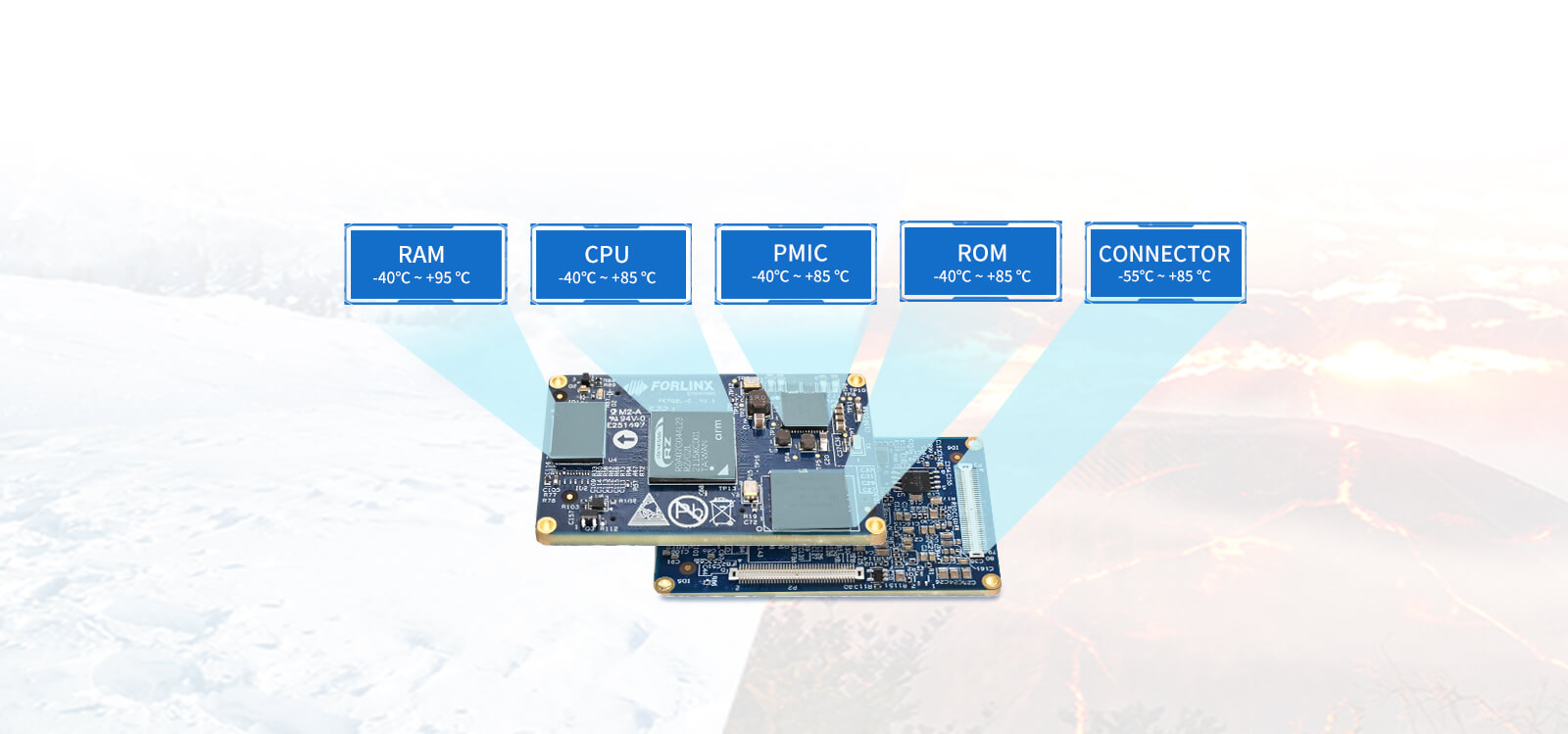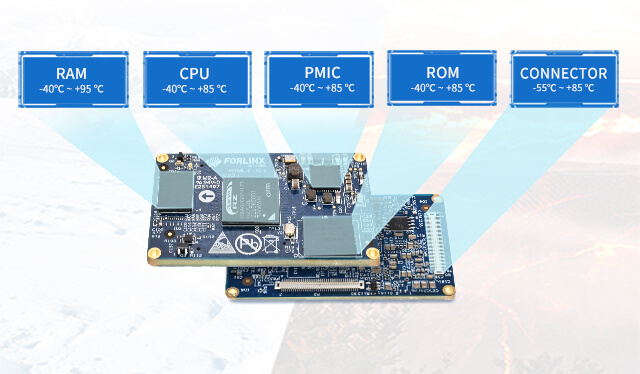 10+ Product Service Life
RZ/G2L has a 10-year+ life cycle guarantee,
and its Linux kernel is the super long-term support (SLTS) Kernel maintained by CIP, escort the long life cycle of customer products.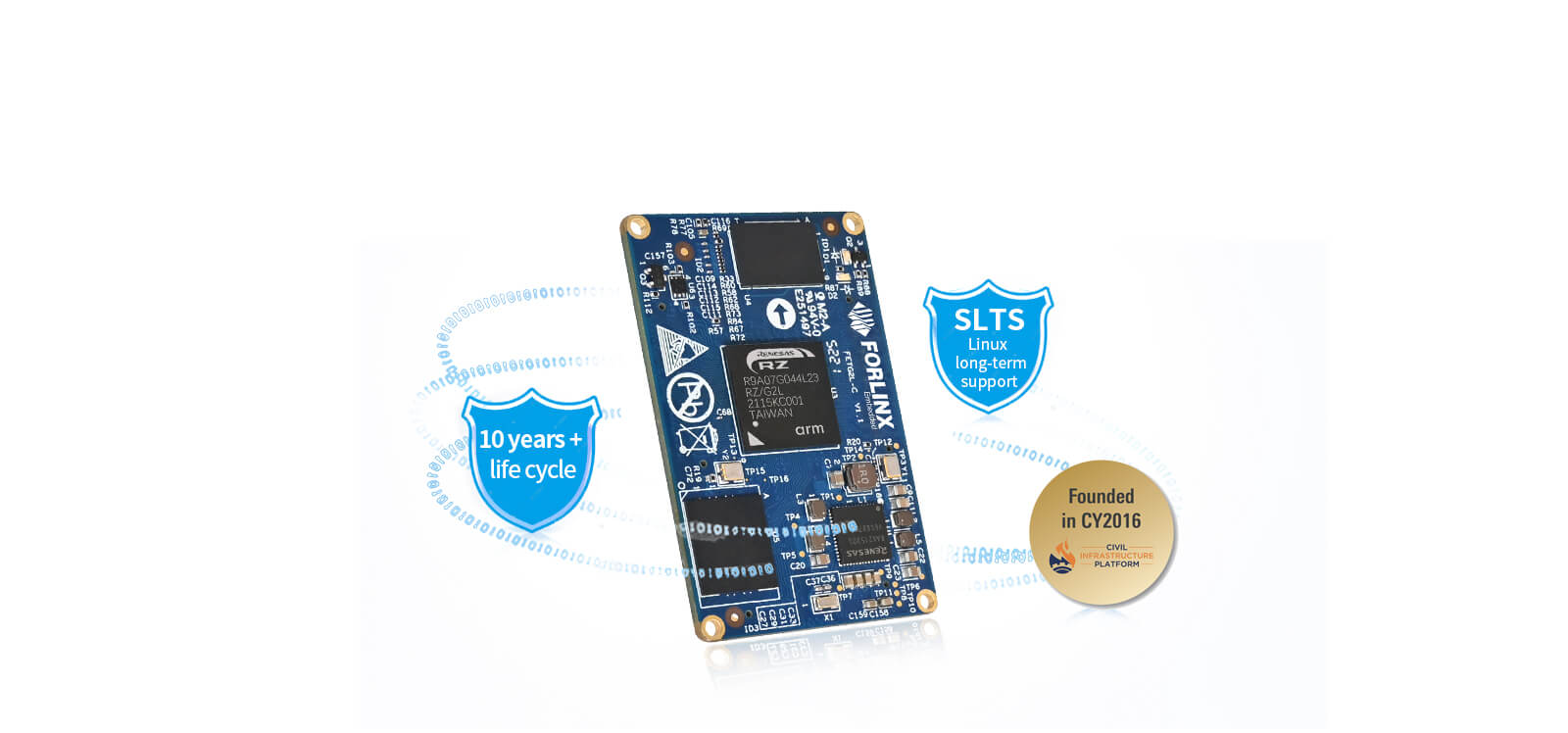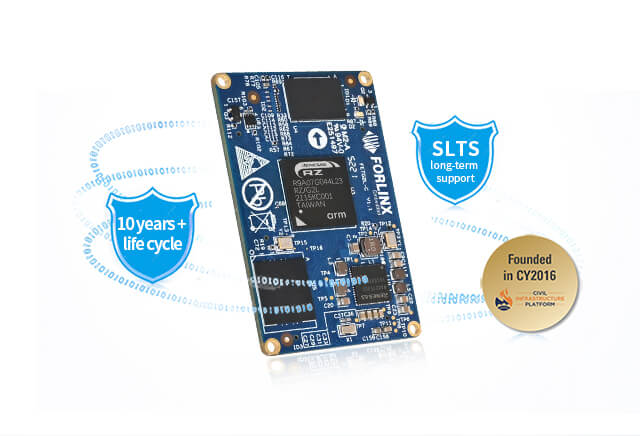 Rich Interface Resources, Wider Application Scenarios
FET-G2LD-C SoM is very ease of use and versatility with rich peripheral interface resources,
like 2 Gigabit Ethernet controllers, 2 CAN-FD, 2 USB 2.0, 7 UART , MIPI-DSI, Parallel RGB, MIPI-CSI, DVP, SD, IIS, IIC, SPI, QSPI, PWM, ADC, etc.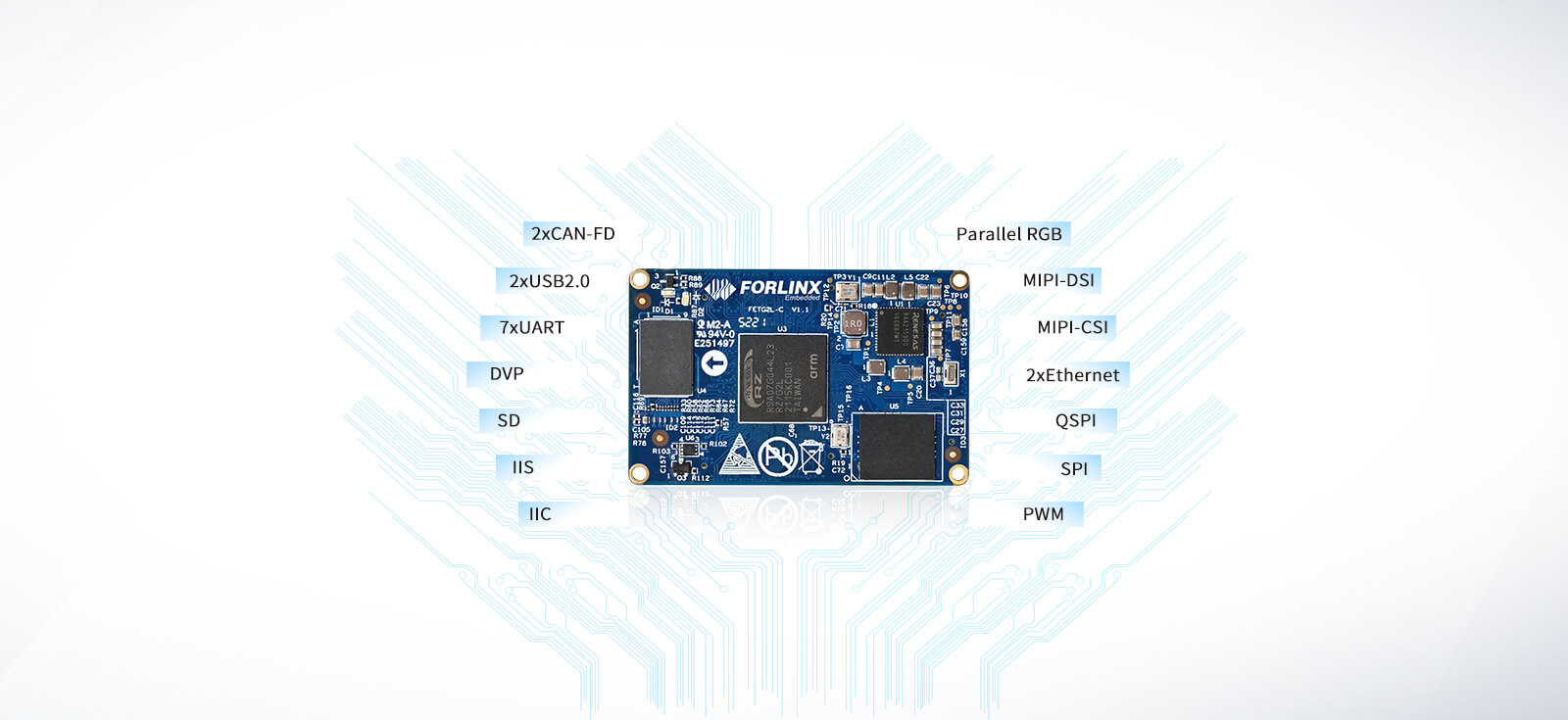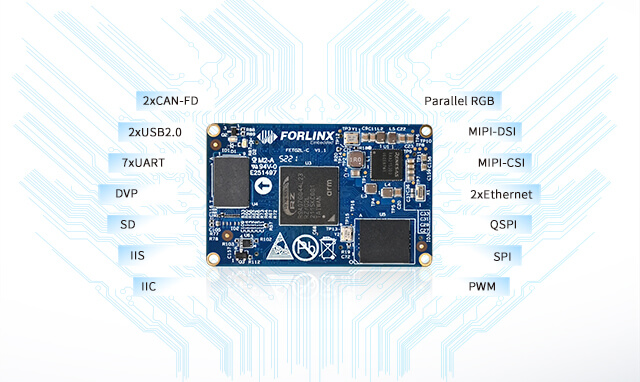 Rich Multimedia Resources
Rich display, camera and audio interface resources to meet the requirements of HMI and image acquisition. And it has a 3D GPU and video hardware
codec VPU to improve HMI experience; VPU hardware codec supports H.264 1920x1080x30fps Mali G31@500MHz, 3D GPU supports Vulkan, OpenGL, OpenCL.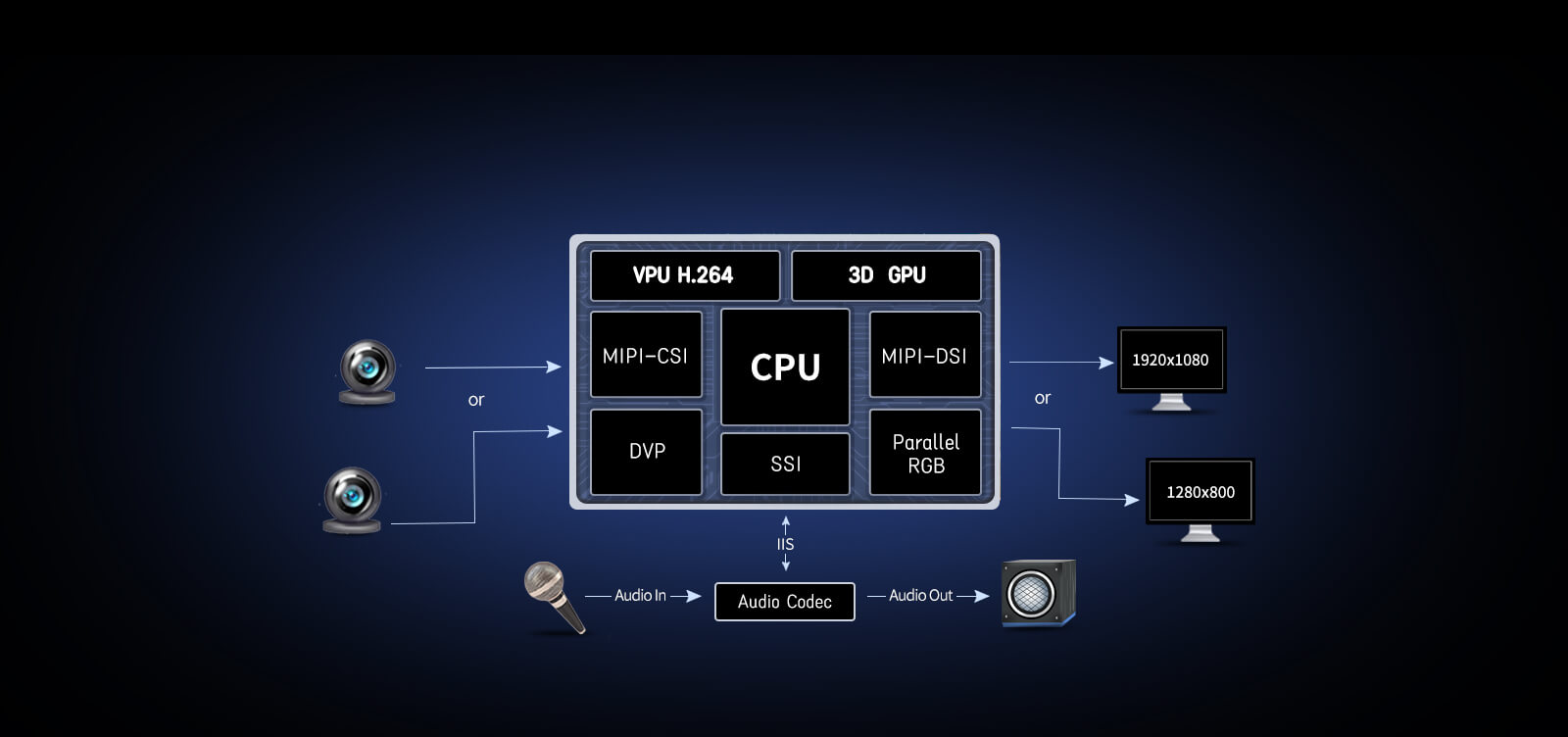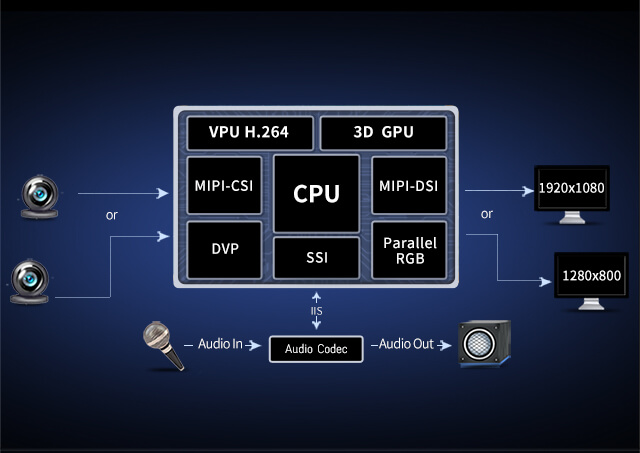 Multi-function Timer Pulse Unit, MTU3a Enchantments
Its timer resources include 1-channel 32-bit MTU3*, 8-channel 16-bit MTU3*, 8-channel 32-bit PWM*, and 3-channel watchdog*.
The integrated Multi-Function Timer Pulse Unit 3, MTU3a, consists of eight 16-bit timer channels and one 32-bit channel.
It can realize PWM complementary input and output for encoder signal input and motor control.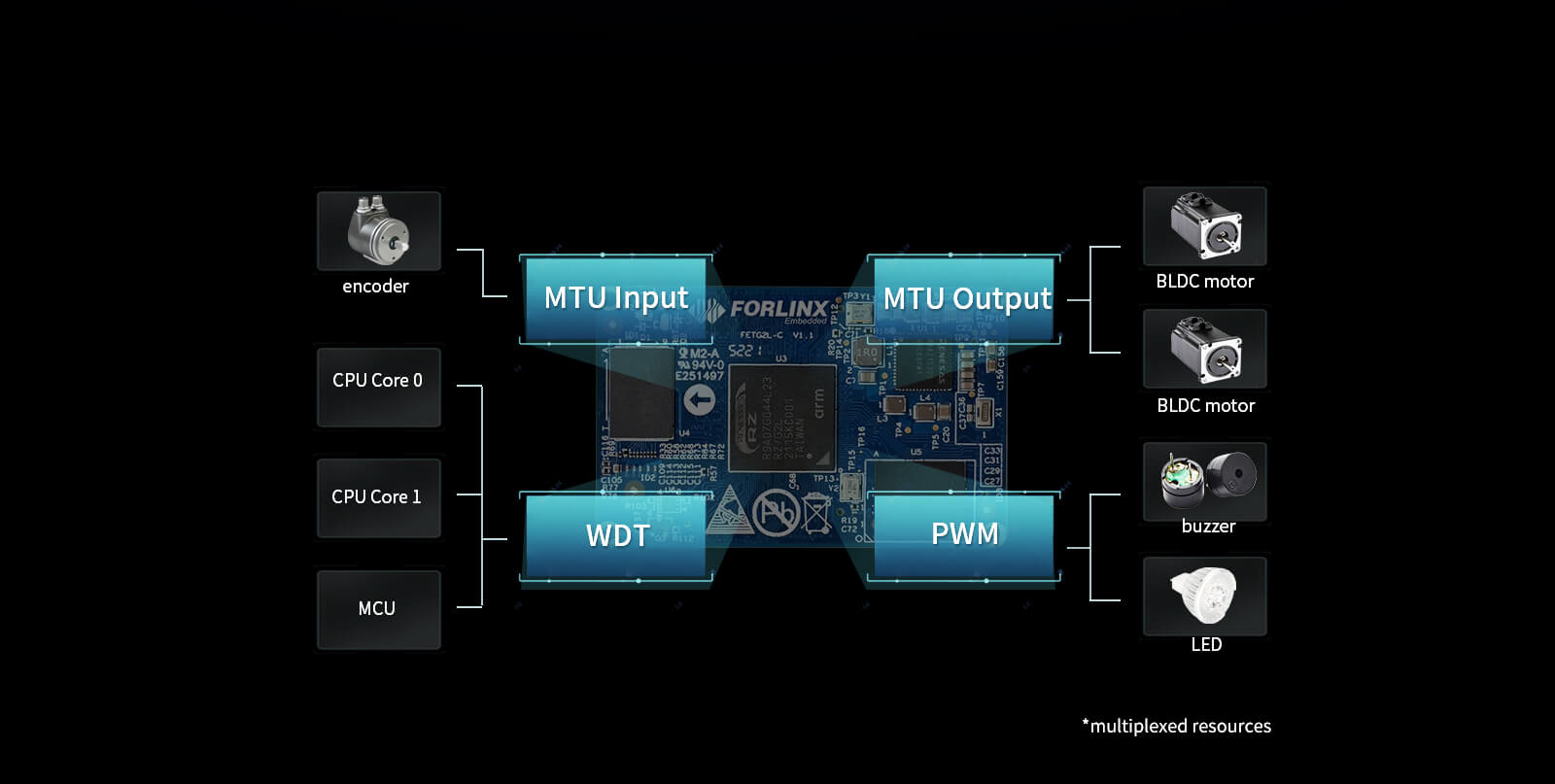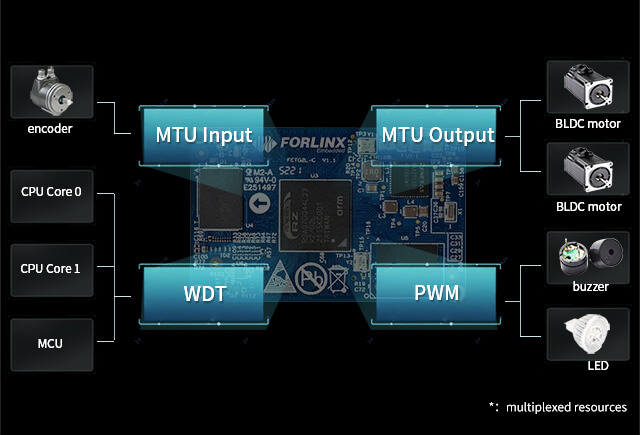 Target Applications
FET-G2LD-C SoM is applicable to industry, healthcare, electric power, vehicle transportation, security, energy and chemical industry, communication, industry and so on.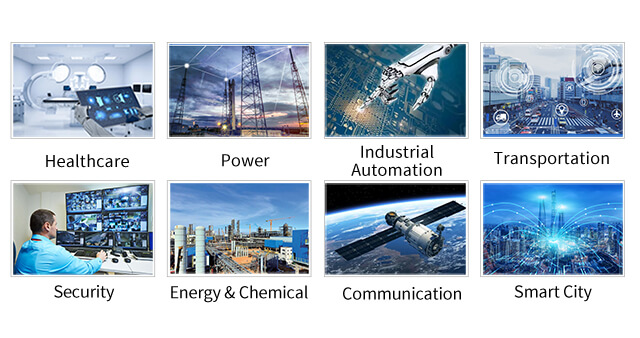 OK-G2LD-C SBC Interface
OK-G2LD-C SBC consists of FET-G2LD-C SoM and carrier board. It integrates rich functional interfaces and makes product evaluation easier.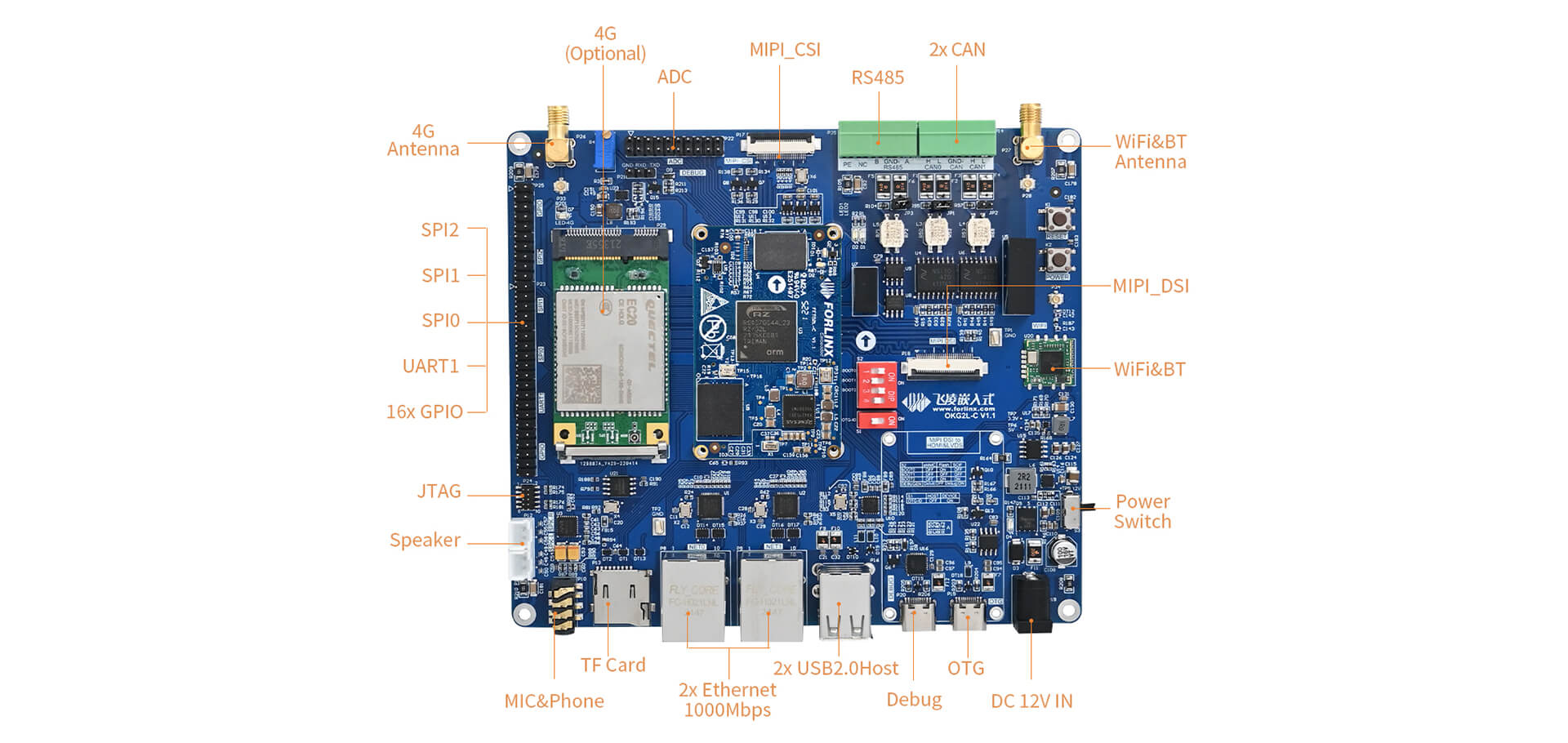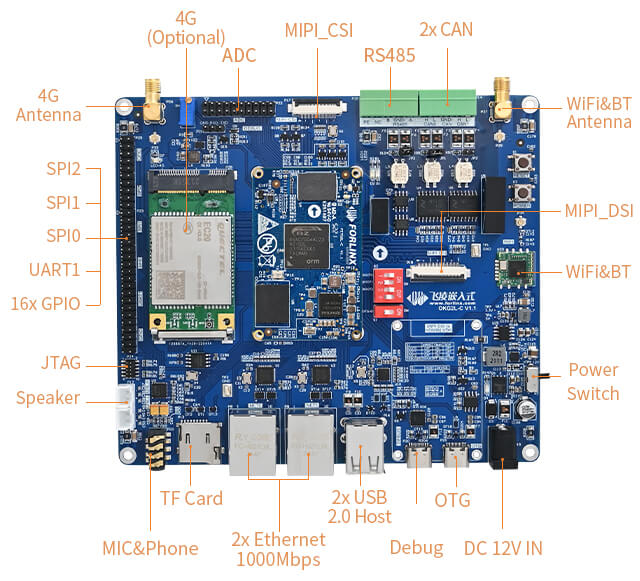 ▊ Product Video
---
Single board computer demo based on Renesas RZ/G2L
▊ Spec.
---
FETG2LD-CSoM Basic Parameters

Processor

Renesas RZ/G2L (R9A07G044Lxx)




MPU Core: Arm [email protected], 1-core or 2-core

MCU Core: Arm Cortex-M33@200MHz, 1-core




GPU:

• Arm Mali-G31

• OpenGL ES 1.1/2.0/3.1/3.2, Vulkan 1.1, OpenCL 2.0




VPU: Encoding / Decoding

• H.264 / AVC (High Profile / Main Profile / Baseline Profile)

• H.264 / MVC (Stereo High Profile)

• up to 1920 x 1080 x 30 fps




ISU:

• image input up to 5M (2800×2047)

• image output up to Full HD (1920×1080)

• Support color format conversion

• RGB / ARGB / YcbCr422 / YcbCr420 / RAW(Grayscale)

RAM
1GB / 2GB DDR4
ROM

QSPI NorFlash: 16MB

eMMC: 8GB / 16GB optional

Working Voltage
DC 5V
Working Temperature
-40~85℃
Package
board to board connector(3*80pin Spacing 0.5mm, height 2mm)
Dimensions
38mm x 60mm
OS
Linux4.19
FET-G2LD-C SoM Function Parameter

Interface
QTY
QTY
MIPI-DSI
1

One 4-lane MIPI display serial interface, each lane supports up to 1.5 Gbps

Up to 1920 x 1080@60fps

Pin multiplexing interface, choose one
Parallel RGB
1
One parallel display interface, up to WXGA (1280x800@60fps)
MIPI-CSI
2
two 4-lane MIPI camera serial interfaces, 4lane up to 4000Mbps
Pin multiplexing interface, choose one
DVP
2

Support ITU-R BT.656 (support Interlace, YcbCr422 8-bit/10-bit)

Support HD, 30 fps (YCbCr422 Interleave), 60 fps (YCbCr422 Y/CbCr separate data, binary data)

Maximum input pixel clock: 74.25MHz

Input data format: YcbCr422 8-bit / 10-bit; Binary data 16-bit.

USB HOST
1
USB 2.0 (up to 480 Mbps)
USB OTG
1
USB 2.0 (up to 480 Mbps)
QSPI
1
maximum clock frequency: 50 MHz (Quad-SPI DDR), 66 MHz (Quad-SPI SDR), 100 MHz (Octal-SPI, HyperFlash)
SD
1
1-bit / 4-bit SD bus, support default, high speed, UHS-I/SDR50, SDR104 transmission mode
Audio
≤4
Support I2S, mono, tdM mode
Ethernet
≤2

1000/100/10 Mbps

IEEE802.3 PHY RGMII and IEEE802.3 PHY MII

CAN FD
≤2
CAN-FD ISO 11898-1 (CD2014), up to 4Mbps
I2C
≤3

Support master mode and slave mode, support multi-master operation, support timeout detection

Support 7bit and 10bit slave address format

UART
≤5

Supports separate 16-byte FIFO registers for transmit and receive

Support full duplex mode

Supports modem control functions (channels 0, 1 and 2 in asynchronous mode)

UART
≤2

without FIFO

without FIFO

Support modem control function

Selectable Clock Synchronous Mode, Asynchronous Mode or Smart Card Mode

Encode and decode IrDA communication waveforms according to IrDA 1.0 (on channel 0)

SPI
≤3

Supports master mode and slave mode

Programmable bit length, clock polarity, clock phase selectable

up to 50 Mbps

MTU3
≤9

Multi-function Timer Pulse Unit 3

Supports Toggle, PWM, Complementary PWM and Reset Synchronous PWM modes

Support dead time compensation counter function

Digital filter function supporting input capture and external count clock pins

GPT
≤8

General PWM Timer

Support counting up or down (sawtooth wave), counting up or down (triangle wave)

Independently selectable for each channel, 2 input/output pins per channel

WDT
3

Watchdog Timer

WDT CH0: WDT to check the operation of Cortex-A55-CPU Core0

WDT CH1: WDT to check the operation of Cortex-A55-CPU Core1

WDT CH2: WDT to check the operation of Cortex-M33 CPU

ADC
8

Resolution: 12-bit

Input voltage: 0V~1.8V

Conversion Time: 1us

Operation Mode: Single Scan/Continuous Scan

A/D conversion start condition:

· Software trigger

· Asynchronous trigger (support external trigger)

· Synchronous triggering (MTU and PWM timers)

JTAG
1
debug
OK-G2LD-C SBC Function Parameter
Interface
QTY
Spec.
MIPI DSI
1

The carrier board leads out 4 lane MIPI_DSI through FPC socket;

default adaptive Forlinx 7-inch MIPI screen, resolution 1024 x 600@30fps

Reserve support Forlinx MIPI-DSI to LVDS & HDMI module;

MIPI CSI
1

Lead out through 26Pin FPC socket and 2 x 10Pin 2.0mm sockets;

Support OV5645, up to 2592X1944

USB Host
2
Two USB 2.0 extended by the hub (up to 480 Mbps)
USB OTG
1
USB2.0 lead out through USB Type-C( up to 480 Mbps)
Ethernet
2
10/100/1000Mbps, RJ-45
WiFi
1

Module: RL-UM02WBS-8723BU-V1.2

WiFi: IEEE 802.11b/g/n 2.4GHz

Bluetooth: BT V2.1/BT V3.0/BT V4.0

Bluetooth
1
4G
1
Support 4G module EC20 by default
QSPI
1
One QSPI Flash chip on QSPI1 to store user data
TF Card
1
The carrier board leads out SD signal through TF card holder, which can mount TF Card
Audio
1

WM8960 default onboard;

Support headphone output and MIC input, integrated on one 3.5mm headphone jack;

Support two 1W8Ω speaker output, lead out through XH2.54 white terminal

CAN
2
CAN-FD with Electrical isolation
RS485
1
Automatic control of sending and receiving direction, with electrical isolation
I2C
3
to mount audio, RTC, camera and other equipment on carrier board
PWM
1
adjust backlight brightness
RTC
1
Independent RTC chip onboard. The time will be recorded by button battery when carrier board is powered off.
SCIF(UART)
1
Lead out through 2.54mm pins
SPI
3
Lead out through 2.54mm pins
ADC
8

Lead out through 2.54mm pins

ADC_CH4 is additionally connected to a sliding rheostat to facilitate user debugging

JTAG
1
Lead out through 1.27mm pins
▊ Accessories
---
Provides the modules and accessories used in Forlinx's RZ/G2L SBC.
See here for communication modules, LCD screen, SBC expansion module and further accessories »
Technical Support
Forlinx provides software resources including kernel and driver source code, together with detailed user manual, schematic documentations to help customer start their development rapidly.
Forlinx provides embedded hardware reference manual, embedded software reference manual, including Renesas RZ/G2L embedded software Android system reference manual, and Linux system reference manual.
For more details on solution design with OK-G2LD-C SBC
▊ How To Buy
---
1. Order Online
We have an online store on Alibaba, please contact us to start ordering
2. Order offline
pls send your inquiry to our mailbox [email protected];
3. Payment Terms
Samples(100% T/T in advance),Bulk Order(please contact with our sales)



▊ Shipment
---
1. Delivery: Goods will be sent out by express as requested.
2. Lead time: generally, goods could be sent out within five working days for a sample order, for a bulk requirement order, please contact us to check stock status and estimated delivery time.
3. Shipping charge: buyers should bear related shipping cost.
▊ Related News
---
▊ Other Forlinx Hot Products
---